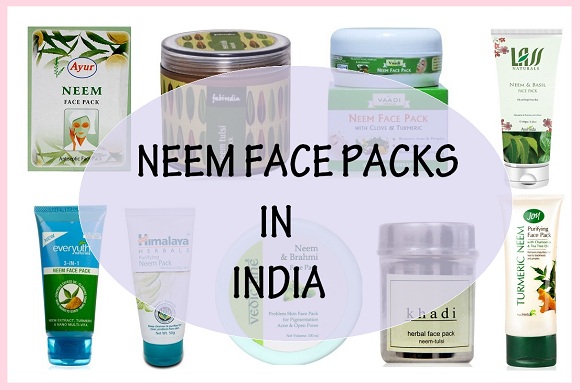 Best Neem Face packs in India with price
Neem is an amazing herb especially for acne pimple prone oily combination skin. Its antiseptic and antibacterial properties help clear the skin and deep cleanses the pores. These packs also give fairness and glow. Earlier we had shared homemade neem face packs and in this post at tipsandbeauty.com, we will share readymade neem face packs available in India with their price. You can buy these online also.
List of Best Neem Face Packs in India and Benefits

1. Himalaya Purifying Neem face pack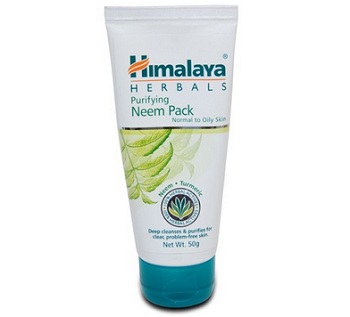 Himalaya neem face pack is the most popular neem face pack in India, which is our personal favorite too. This is for 90 rupees and has the neem extracts which gently deep cleanses the skin and pores, keeps excess oils away and takes off the dirt and grime also. Neem's antibacterial properties protect the skin from pimples and other skin related problems and also clarify pimples. There is Himalaya neem face scrub too, you can read the review.
2. Ayur Neem face pack
 Another popular neem face pack in India is this one which is in the powder form and comes very cheap at 40 Rupees. Neem is the best herb known for antiseptic, anti-bacterial features. This face pack helps cure acne and skin eruptions by detoxifying the skin deeply.
3. Vedic line Neem and Brahmi Face Pack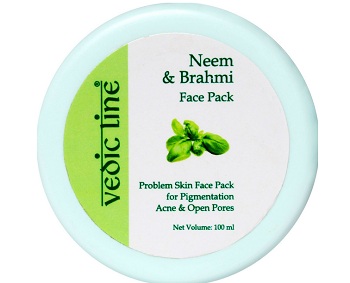 VEdicline face pack is infused with the goodness of the Brahmi which makes the skin complexion clear from acne and pimples. It is soothing and antiseptic properties make this a good pack for oily acne prone skin. This face pack with neem is for 210 rupees in India.
4. Joy Turmeric and Neem Face Pack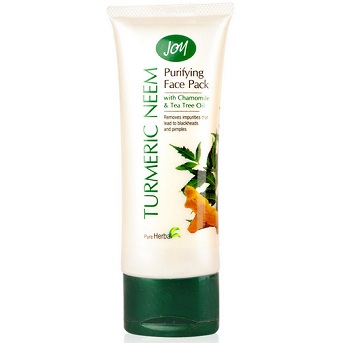 Joy Turmeric Neem Purifying Face Pack has tea Tree Oil and these active ingredients help unclogging the skin pores, keeps them clean and thus prevents acne and skin problems. Neem also heals the pimples for clear skin. This neem face pack in India is for 60 rupees.
5. FabIndia Neem Tulsi Mud Pack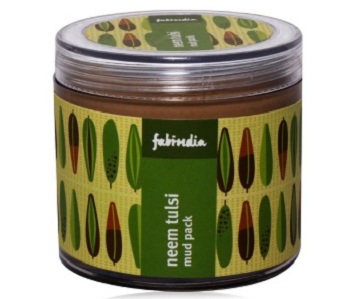 Fabindia pack has Tulsi (Holi basil) and neem with mud as the base. This pack unclogs the pores and deeply purifies the skin. This combination is also good for pimple prone skin. This pack with neem is priced at rupees 250, though can be bought at discount online.
6. Everyuth Naturals 3-in-1 Neem face pack
Everyuth pack is for 60 rupees and is enriched with neem and turmeric extract. Turmeric and neem both are well known for their antiseptic and antibacterial properties as of which this face pack is good for clearing acne from skin. It controls excess oils and keep pores oil free.
7. Banjara Neem Face pack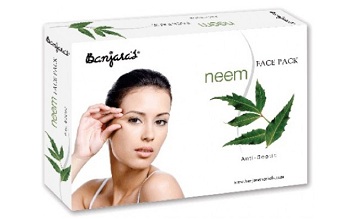 This face pack is for 85 rupees and has the neem powder along with other herbs which keeps the skin oil free and cures all types of skin problems like pimples, itching, blackheads, whiteheads and boils.
8. Vaadi Herbals neem face pack with clove and turmeric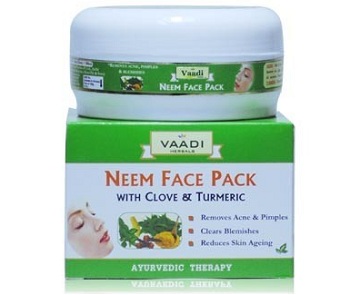 Vaadi neem face pack has clove and turmeric along with the neem which gives this face pack extra antibacterial properties. It is for 60 rupees and good for oily combination skin which is prone to acne and skin problems.
9. Khadi Herbal face pack with neem and Tulsi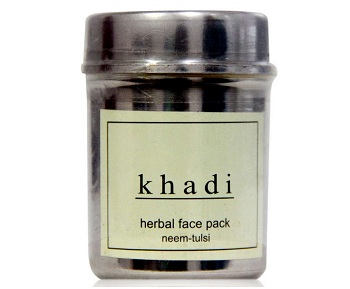 This khadi face pack also has neem and Tulsi and comes for 90 rupees. It claims to remove pimples and tighten the skin. This face pack is in powder form that needs to be mixed with water or rose water to make a paste and use.
10. Lass Neem and Basil Face Pack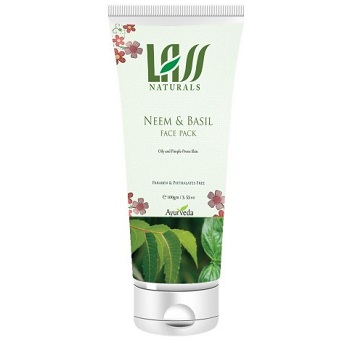 Lass Neem & Basil Face Pack is a good face pack has neem and Tulsi extracts. Its anti-bacterial properties help to eradicate the acne-causing bacteria and keeps check on excess oil. It also tightens the pores for smoother refreshed skin. This face pack with  neem is for 110 rupees.
So, this is the list of the best ready made neem face packs available in Indian market. These are inexpensive and can work well to give you pimple free skin.