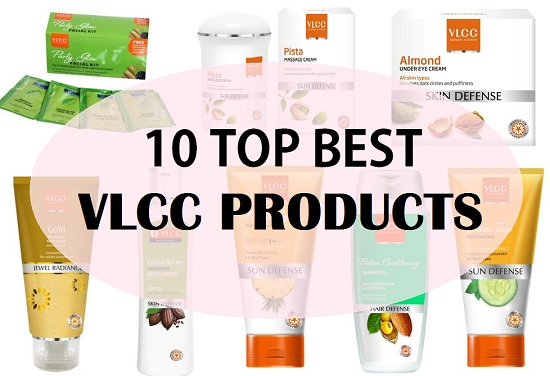 Best VLCC products for Skin, Hair and Body for Men and Women with Price List
VLCC is a herbal brand that makes numerous herbal products which includes makeup, cosmetics, skin care and hair care. The brand has become a very popular brand that is known worldwide. It was established by Mrs Vandana Luthra in 1989. So, it has been a long journey that the brand has made and these days, it has become one of the hot favorite brand, whose products have been used by the salon in every nook and corner of the country. Their wellness products are also most sought after products. Not just for the hair and skin you can have VLCC products for hand care and foot care as well. We have personally love VLCC facial kits which are highly affordable and are good with their quality. Even they have a separate line for the Ayurvedic products which are loaded with the herbal and botanical ingredients that have suited majority for men and women. Coming to men, VLCC even has men skin care products as well and multiple number of massage oils.
List of Top Best VLCC Products in India with Reviews
VLCC makes some good herbal ingredient infused skin care and good hair care products. I have used so many of their products and some of the products are really worth trying. These are the products which suited a lot of people. Here are some best VLCC products for whitening, skin care and also for hair care that you can try depending on your requirements and need. 
This is the quick list of best products from VLCC.
VLCC Anti Tan Lightening Face Wash

VLCC Party Glow Facial Kit

VLCC Gold Jewel Radiance Polishing Face Scrub

VLCC Cocoa Butter Hydrating Body Lotion

VLCC Almond Under Eye Cream

VLCC Clear Tan Fruit Face Pack

VLCC Protein Conditioning Shampoo

VLCC Papaya Fruit Facial Kit

VLCC Pista Massage Cream

VLCC Matte Look Sunscreen SPF 30++
1. VLCC Anti Tan Lightening Face Wash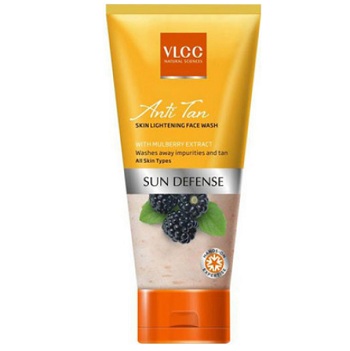 This is VLCC Anti Tan Lightening Face Wash that deep cleanses the skin and washes out the skin tan and impurities. This is ideal for dull and tanned skin. This facial wash is enriched with mulberry and extracts of kiwi fruit and it provides an even skin tone skin and deep cleanses the pores. So skin feels smooth moisturized.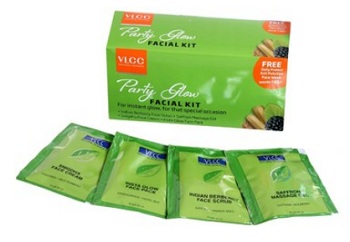 VLCC Party Glow Facial kit has 4 products in it i.e. a cleanser, scrub, a massage cream and a face pack. The party glow pack is for 250 INR for a single usage kit. This is great for getting a single glow facial done for cheap. Like before going out for party, wedding etc when your skin is dull and needs some extra glow. Just a tip: Always do your facial 2 days before the party or function you will be going to. It will give great glow on the face.
3. VLCC Gold Jewel Radiance Polishing Face Scrub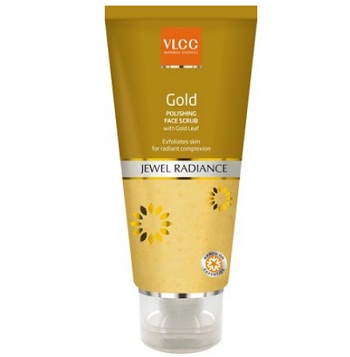 This is a skin polishing facial scrub with the goodness of 2 very powerful ingredients like turmeric powder and gold. It is suitable for all the skin types and ensures a smoother and baby softer looking skin. This gold scrub will exfoliate the dead skin and also helps to eliminate the whiteheads, blackheads etc and opens the pores. You can buy this for rupees 175 Rupees.
4. VLCC Cocoa Butter Hydrating Body Lotion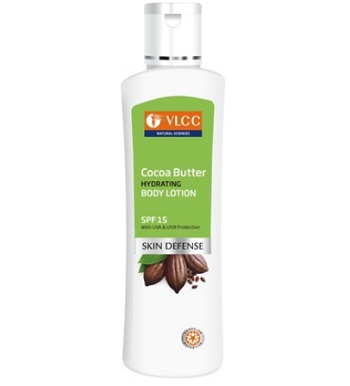 A hydrating body lotion is good for the dry skin. This body lotion comes fortified with coco butter. Cocoa butter as you may know is very rich emollient and keeps the skin softer and smoother. This VLCC Body lotion will cost you 155 Rupees. This body lotion also contain SPF 15 which is good as it can be used for the day time as well to keep the skin protected from sun rays and skin darkening.
5. VLCC Almond Under Eye Cream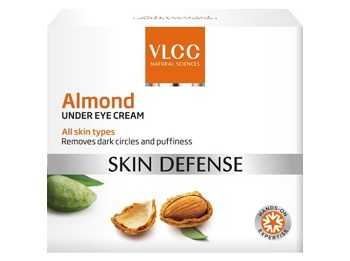 This used to be one of the favorite best VLCC products. This is almond infused under eye cream which lightens the darkness and shadow under the eyes and also this cream helps to get rid of the puffiness of the eyes. This even tones the delicate skin under the eyes. This cream is very affordable and online available at cheaper price.
6. VLCC Clear Tan Fruit Face Pack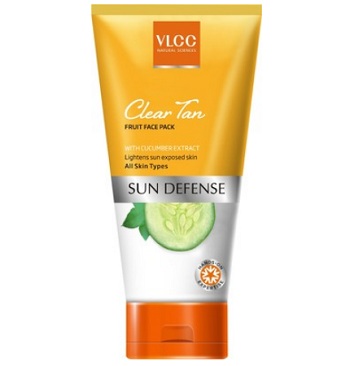 Skin tanning is a concern during summers for most of the men and women who have to go out in the sun. This detanning face pack from VLCC will lighten the darkness of the skin caused by sun tan. It will also lower down the melanin production so that the skin gets back to its original color It has cucumber extracts, aloe vera gel, almond oil, mulberry, sandalwood, turmeric and pineapple extracts.
7. VLCC Protein Conditioning Shampoo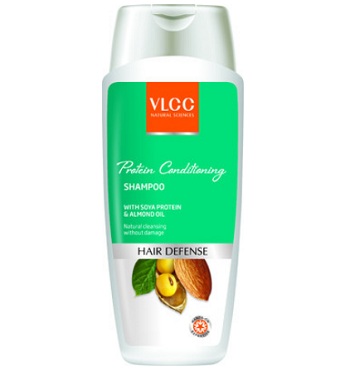 VLCC shampoo is infused with the beneficial almond oil and soya proteins. This protein shampoo naturally cleanses the oily scalp and hair without being too harsh on them. The soya protein helps to give relief in hair fall and makes them bouncier and shinier. This too is one of the best VLCC products for hair care that will suit all hair type.
8. VLCC Papaya Fruit Facial Kit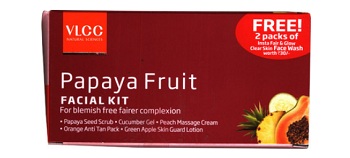 Papaya is beneficial in lightening the skin and making it glow. A facial kit can give you glow and radiance without shelling out too much money while getting facials done at the parlours. This papaya fruit facial kit is for 250 rupees where you will get 4 small packs of papaya cleanser, papaya scrub, papaya cream and pack. It is easy to be used at home.
9. VLCC Pista Massage Cream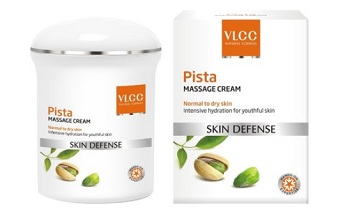 A massage cream and can make the skin stay youthful and healthier. This pista massage cream s the make suggest is enriched with the goodness and beneficial properties of pistachio. It's a thick cream that is extremely good for the dry skin as this will heal the dry dark patches and gives the glow all day long. It also has nutmeg extracts will further replenish the moisture and soothes the skin. This pista cream is a good VLCC massage product.
10. VLCC Matte Look Sunscreen SPF 30++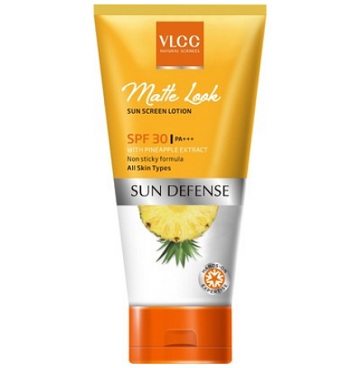 A matte sunscreen is essential for oily skin that is already prone to excessive sebum production. This has SPF 30 and a non greasy texture which will not make you sweat or feel oily. It is also a broad spectrum sunscreen that is for everyone. 
These are the top selling VLCC products that are not just good quality but very affordable and in reach for the most of the women out there.