Tulsi which is known as Holy basil, is a very popular plant that is known for its medicinal properties. This wonderful plant's leaves can help to eliminate the acne causing bacteria. Acne and pimples are problematic. It leaves scars and marks even when they are treated. So, a plant like Tulsi is good to cure the pimples and marks. Furthermore, you need to avoid certain things that create trouble for your skin like excessive exposure in the sun, pollution, over usage of chemical based products. All these factors can lead to dull and lifeless looking skin and face. Here, are the best ways you can try tulsi for the natural treatment for acne and spots.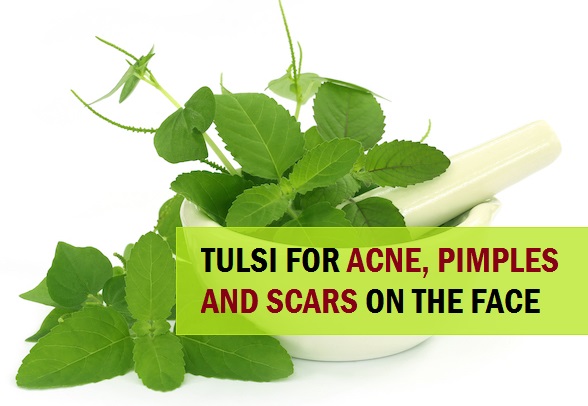 Benefits of Tulsi for skin
Tulsi leaves and plant has several benefits for the skin, hair and general health. These benefits are mostly due to the nourishing and anti septic properties of Tulsi. Let's see some of the noteworthy benefits of Tulsi for skin.
Tulsi is rich in anti bacterial properties, hence, this will keep the irritated acne prone skin calm and prevents pimples.
This also treats the pimples by killing the bacteria that causes the pimples.
Moreover, the leaves of Tulsi purify the blood and remove the toxins from the body as well.
Not just the topical application but Tulsi also shows great results in improving the acne infections. This will purify the blood and minimizes the pimple emergence.
Tulsi promotes cell renewal and this gets rid of acne scar marks and even tone the skin.
Tulsi also whitens and lightens the skin tone effectively especially in summers.
Basil leaves also cures the blackheads and whiteheads removal by exfoliating the skin.
Tulsi leaves reduce the inflammation and redness of the swollen pimples.
Open pores not only look bad but also attract dirt and dead skin cells. Regular application of Tulsi leaves also tightens the pores.
How to make Tulsi powder at Home
Making tulsi powder is an easy process. You will need 2-3 cups of tulsi leaves.

Wash the leaves with clear water so that the dust, dirt can be removed.

Once you have washed them properly, keep these Tulsi leaves in the sunlight.

It takes 3-4 days for the tulsi leaves to get completely dried and lose the moisture.

To check, if the leaves are fully dried or not, you can break a leave and try to mash it. If it does easily then the leaves are dried completely.

Take these dried leaves and put them in the grinder. Grind the leaves till you get powder.

This is the Tulsi powder.

This powder can be used to prepare tulsi face packs, scrubs and remedies to cure pimples, blemishes, pigmentation etc.
How to use Tulsi to Cure Pimples and Acne Scars on the Face
1. Tulsi and Neem Pack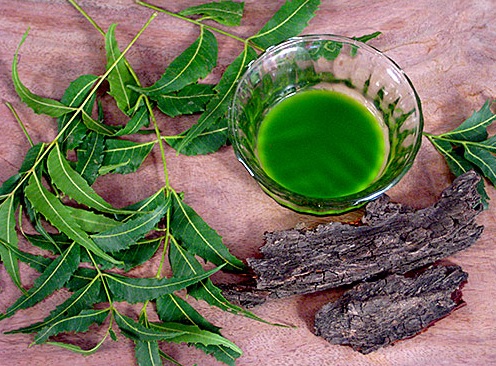 Tulsi a natural plant that has anti-bacterial properties which protect your skin and body from all kinds of infections and disorders. It smoothens out the face and makes it clean. Tulsi paste is good for oily skin type. Neem is again the best remedy to cure acne and zits naturally.
How to use it?
Take 12 leaves of neem and tulsi

Grind them with little water in a grinder

Now add a pinch of turmeric in it

Apply onto your clean and dry face by using a face pack brush

Keep it for 25 minutes

Wash it off with cold water
2. Tulsi and Honey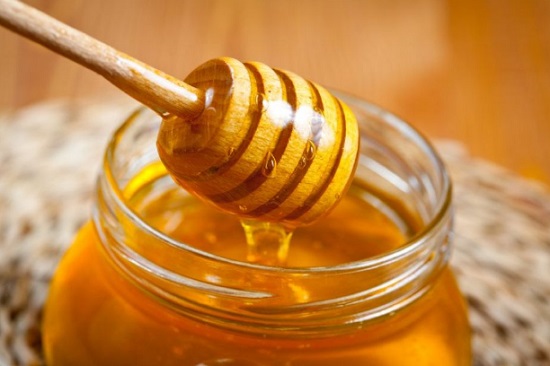 Tulsi contains anti-inflammatory properties that give a shield to your skin from acne and other skin troubles. It cleanses your skin deeply. Honey also works against infections and restore moisture into your face. It removes dullness and adds shine and whitening. Honey also helps in removing dark spots and controls wrinkles at an early age.
How to use it?
Take adequate amount of tulsi powder in a separate bowl

Add 1 full spoon of honey in it

Mix all the ingredients well using a spoon

Now apply it onto your clean face and skin and leave it for 20 minutes.

Wash it off with cold water.
3. Tulsi and Mint Leaves
Mint has a cooling effect on the face. It controls acne production and stops its recurrence. It improves your skin tone and suitable for all skin types. Tulsi combine with mint leaves will work great on spots and excessive oiliness.
How to use it?
Take 5 spoons of tulsi powder in a small bowl

Add 3 spoons of mint powder in it

 You can dry mint and tulsi leaves under sunlight and then grind them in a grinder to form a paste.

Now add 2 full spoons of fresh and cool rose water

Also add a few drops of lavender oil in it

Now clean your face using a mild cleanser.

Pat dry your face, apply this face mask onto your acne prone skin

Leave it for 30 minutes or until dries out

Rinse it with lukewarm and cold water.
4. Rice flour and Tulsi Leaves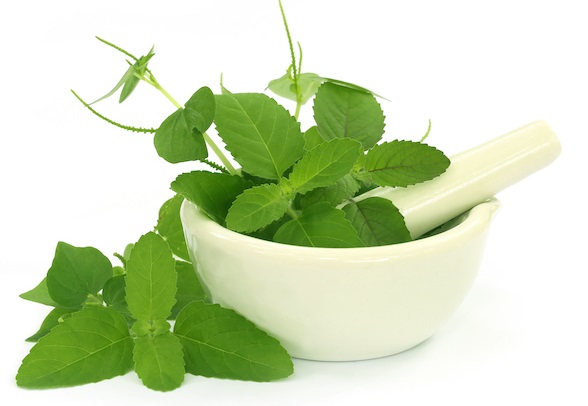 Rice flour is good for acne prone skin and it helps in disappearing spots and acne. It whiten and lightens the skin color and makes it more smooth and glowing than before. It cleans your skin pores and takes out all the dirt and dust away.
How to use it?
Take 4 full spoons of rice flour

Also take 3 spoons of tulsi powder

Add 1 spoon of yoghurt in the bowl

Mix all the ingredients using a spoon

Massage it onto your clean face for a few minutes

Let it dry for sometime

Rinse it off with cold water.
5. Tulsi and tomato juice
Take 1 teaspoonful of Tulsi powder or the paste of crushed Tulsi leaves.

Put that in a bowl. Mix with 1-2 teaspoonful of tomato pulp.

Mix them well.

Apply on the face and rinse with plain water after 20 minutes.
6. Tulsi and Papaya Slice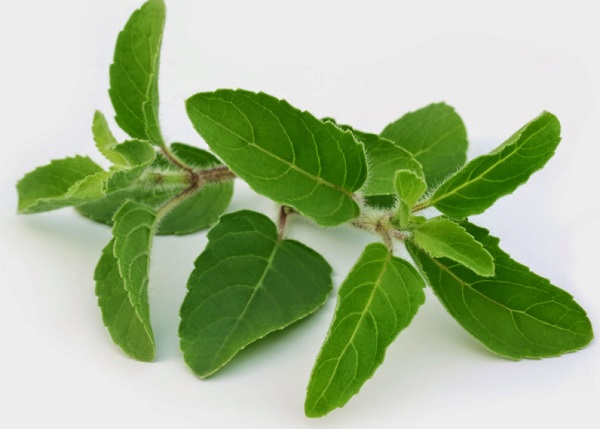 Take a thin slice of fresh papaya and mash this in a plate or bowl.

Add 1 teaspoonful of Tulsi powder.

Apply evenly on the face.

Wash face after 20 minutes.

Repeat and try this remedy 2 times in a week.
7. Tulsi Leaves and Sandalwood Paste
Take 1 teaspoonful of Tulsi powder and one teaspoonful of sandalwood powder.

Mix them using some rose water.

Rose water is very refreshing for the acne prone skin.

Smear evenly on the face and neck also.

Try this 3 times in a week for fair and acne scar free skin tone.
8. Tulsi and Curd or Yoghurt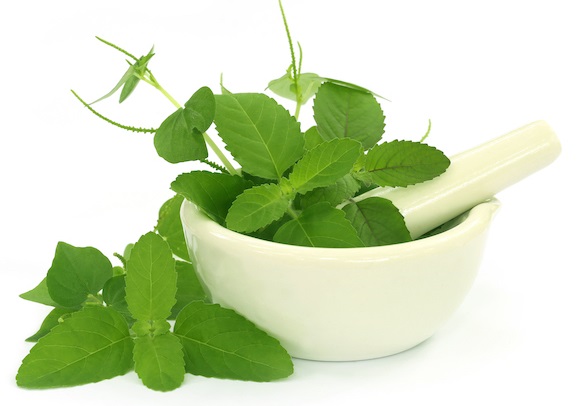 Mix little bit of Tulsi powder of tulsi leaves paste in a 1-2 teaspoonful of fresh curd or yoghurt.

Apply on the face and neck area.

Rinse with normal water after 30 minutes.

This will provide relief in acne, pimples and their scars.
9. Tulsi Face Scrub
You will need some tulsi leaves or tulsi powder.

Add 1-2 teaspoonful of fine sugar crystals in a bowl.

Crush 10-12 tulsi leaves and add in the sugar or add 1 teaspoonful of tulsi powder.

Mix 1 teaspoonful of honey in this.

Use this to scrub the face and neck gently.

Scrub for 1-2 minutes using circular movements.

Once the scrubbing is done, keep this as a face mask to cure the pimples for another 10 minutes.

Then wash the face and neck.
Repeat this 2 times in a week for smooth and acne free face.
Tulsi Skin Toner for Pimples and Pores
Benefits:
Tulsi skin toner is for the acne prone skin and for the open pores. It will refine the skin pores and makes them fresh.
This toner will shrink the pores and also removes the dead skin on the face. Regular application will improve the skin tone by regulating the pH balance and sebum.
It can be used at night for the best results. Moreover, this Tulsi toner also treats pimples on the face. It is suitable for teenagers and young adults.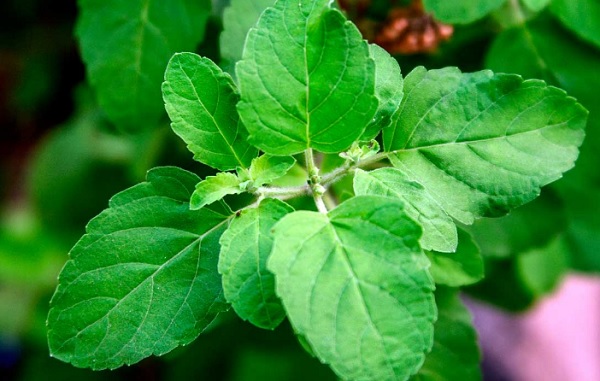 How to prepare this toner with tulsi leaves
Take 3 cups of filtered water in a saucepan.

Let the water boil.

Then, add 18-20 crushed leaves of tulsi in it.

Let this boil for another 5 minutes.

Stop boiling the water and allow this to get cool down.

Strain the water and fill in a clean bottle.

Bottle with spray pump would be better.

Use this tulsi toner on the face by sparing or taking little bit on the cotton pad.

Gently dab with cotton pad and press.

Keep this overnight.
Steaming with Tulsi Leaves and Tea tree oil
Another beauty recipe with tulsi that helps a lot in the natural treatment of pimples at home is steaming the face with tulsi water.
For this treatment, you will need:
Tulsi leaves

Tea tree oil

Bowl of water
Method:
Take 4-5 glasses of water in big bowl.

Add 10-12 drops of tea tree oil and 10-12 leaves of tulsi in it.

Let the water get boiled.

When the water get steaming boiled, stop boiling.

Take this bowl and put on the floor, floor is safe as the hot water bowl will not damage the table.

Take a towel and cover you head. Then stoop or lean over the bowl and let the steam come over your face.

It feels hot at first but after some time it feels okay.

Take this steam for 4-5 minutes.

After that using a wash cloth rub the face, but be gentle. Doing so will remove the dead skin cells, blackheads, whiteheads etc.

Apply a toner and a light acne cream.

Evening time is the best for steaming the face.
With the above mentioned tips and treatments using tulsi leaves you can get rid of the pimple and acne at home. Tulsi is a great medicinal plant that is easily found in Indian homes. If not, you can buy a tulsi plant which are very inexpensive. Keep that plant in one of the corners of the house but not with too much of sunlight. Try the remedies and tips with tulsi leaves regularly to get clear skin and blemish free tone.
If acne and scars is your major concern then do read our related posts on combating the acne and pimple marks.
How to cure chest acne and scars
Homemade tips for scars and Marks on face
How to use tomato for Acne Scars
Aloe vera for Pimples, Acne and scars