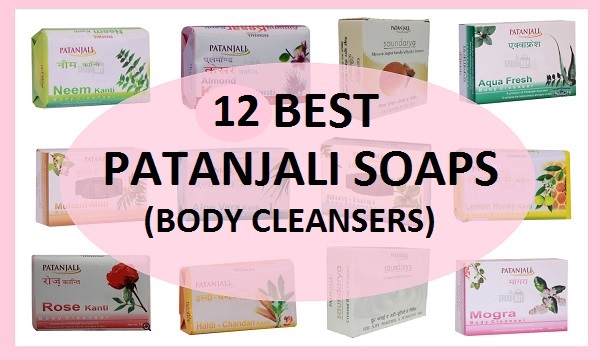 Best Patanjali Soaps in India for bathing, oily skin, acne and dry skin 
Patanjali beauty products are becoming extremely popular and they are indeed in demand. After using their products, we have really found out, why they are so much in demand. Patanjali products by Baba Ramdev has become the most selling daily use products like for the skin care, hair care, groceries etc. In this post, we have compiled this list of the best Patanjali beauty soaps in India. Their soaps are really effective and worth trying. So, after using all these soaps we have created this list. Soaps too should be used as per the skin type and concern. It helps in finding out which is the best Patanjali soap for you or the appropriate soap for your oily combination skin?
Top Patanjali Soaps in India with Reviews (2023)
In this post, we are sharing this list of Best Patanjali beauty soaps available in the market. We have seen that there were so many Patanjali soaps or body cleansers for various purposes like some are the bathing soaps, while some are suitable for dry skin.
1. Patanjali Lemon Honey Kanti Body Cleanser
Patanjali Lemon Honey Soap as the name suggest is made with the lemon or Nimbu and honey or Shahad. Lemon and honey is an excellent combination to get glowing skin. The beauty lies in the fact that this mixture of lemon and honey is for all skin types. Yes, even when the skin type is extreme dry or very oily, a combination like this is suitable and benefits giving.
This Patanjali soap is one of the best Patanjali Beauty Products and is very effective. It has the goodness of natural honey and lemon. This is beneficial in rejuvenating the skin and in getting natural glow. The organic soap also nourishes and glorifies the dull skin. It minimizes the dryness of the skin and also prevents the skin from getting rough. This Patanjali body cleanser soap is for all skin types and is more for summers due to refreshing scent.
Used For: Glow on the skin, dullness and tired skin
Recommended For: All skin types
2. Patanjali Kanti Almond Kesar Bathing Soap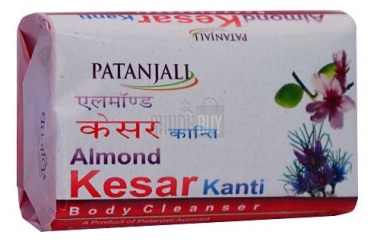 Patanjali Kanti Almond Kesar Bathing Soap has the goodness of kesar and badam. Kesar known as saffron and badam as almonds. They are known as skin lightening agents in Ayurveda too. The body cleanser soap is extremely affordable and can be used daily. Kesar and almonds are known to brighten the skin complexion. In fact, saffron and almonds are beneficial in reducing darkness, dark spots, pigmentation and blemishes on the skin. This Patanjali beauty soap also works on the sun damage and sun tanning. This Patanjali soap too is a body soap which is glycerin based. This is suitable for every Indian skin type. There are no cons for this product as it does cleanse the skin well.
Used For: Everyday for sun tan removal, fairness and skin glow
Recommended For: All skin types
3. Patanjali Rose Kanti Body Cleanser Soap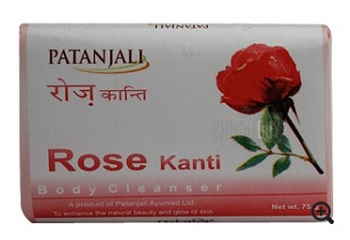 We just love this Patanjali soap as this Rose Kanti soap has the essence and pleasant fragrance of roses. This Patanjali soap gets melted bit fast due to its glycerin base but undoubtedly, is very good to use for the bathing. Roses are known to give the skin whitening effects when used regularly. Although the soap melts fast but yet gives good moisturization for the dry skin. Can be used on the facial skin. This Rose soap from Patanjali is amazing for its refreshing smell and the rich satiny lathers which cleanse the skin thoroughly. It does not over dry the skin which is something that many soaps do.
Used For: Glowing skin, Dryness cure and to get skin fairness
Recommended For: All skin types
4. Patanjali Mogra Bathing Soap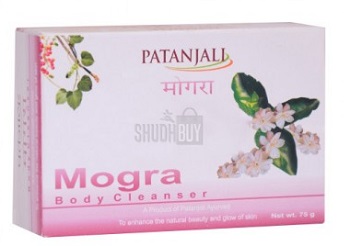 Patanjali Ojas Mogra Soap has an amazing smell which oozes of the luxurious scent of mogra. The mogra or Jasmine is a rich smell which is very Indian. There are several beauty products these days, that have unleashed the beauty benefits of Mogra in getting glowing skin and healing the dull skin or aging skin. Jasmine infused soap also makes you feel good and fresh. It is also a glycerin based body cleanser that can be used on face too, but the same problem is there that it has to be placed on a dry place else the soap can melt faster than you think. Patanjali Mogra Bathing Soap has the smell of fresh jasmine flowers. This is great body soap to get a refreshing floral scent. Although the scent may not linger long yet it is a good option for the summer bathing soap from Patanjali. It is dark olive green in color and is devoid of the harmful chemicals. When we used this soap, it fills the bathroom with its intoxicating pleasant fragrance. This is a glycerin based Patanjali soap thus is hydrating for dry skin.
Used for: Refreshing smell, Glow and curing minor dryness
Recommended For: All skin types
5. Patanjali Aquafresh Body Cleanser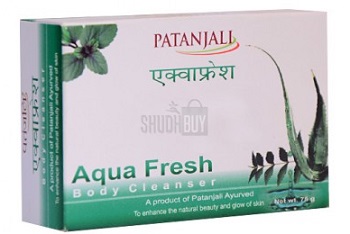 Aquafresh body soap by Patanjali is great for eradicating the skin problems and dryness. This also prevents the roughness of the skin in winters. This is enriched with the neem, tulsi, turmeric and aloe vera. It can be used for all skin types every day for bright and glowing skin. It revitalizes and nourishes the skin for glow and sheen.
This Patanjali soap is also known to eradicate skin diseases like itching, boils, prickly heat etc. Regular use can ensure the removal and cure of the skin dryness and roughness of skin. Skin allergies can also be eliminated with the use of anti-septic ingredients like tulsi, turmeric, neem and aloe vera that are there in this soap.
Used For: Dryness, Dullness, Skin issues and glow
Recommended For: All skin type
6. Patanjali Saundarya Cream Body Cleanser
Patanjali Saundrya Cream body cleanser is made using the natural oils, milk cream, aloe vera and zinc oxide. This Milk cream Soap is exclusively made for the dry skin. It revitalizes the skin cells and makes the skin complexion fresh and glowing. This Patanjali soap cleanses the skin gently and reveals a brighter complexion.
Used For: Dry skin cure, Brightening effects and glow
Recommended For: Dry skin and normal skin
7. Patanjali Saundarya Mysore Super Sandal Body Cleanser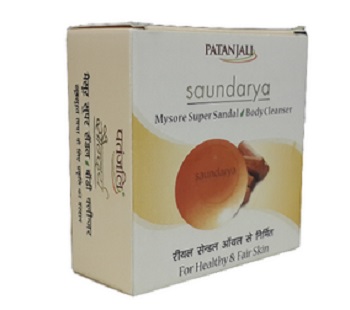 Patanjali beauty soap is enriched with Mysore sandal. Earlier Mysore sandal soaps were very popular and now Patanjali has introduced this Mysore sandal soap. This is made from the sandalwood oil and aloe vera extracts which cleanses the skin on a deeper level and skin looks nourished and healthier. Sandalwood oil is known to cure the skin problems and also gives benefits in improvising the dark complexion. Dark and dull skin gets rejuvenated with the continuous use of sandalwood. The Ayurvedic soap for fairness is a bit expensive that the other Patanjali soaps but is worth it.
Used For: Glowing skin and skin whitening with sandalwood oil
Recommended For: All skin types
Patanjali Soaps with Antiseptic ingredients
8. Patanjali Haldi Chandan Kanti Soap
Patanjali Haldi and Sandalwood soap is a natural body cleanser which is all natural and is filled with anti-septic qualities. This keeps the skin glowing and moisturized. Haldi which is known as turmeric is an anti bacterial product that helps to kill germs that cause skin infections and skin odor. It cures the skin itching and inflammation when used on regular basis for shower. Sandalwood known for its soothing and healing properties makes this soap suitable or everyone and all skin types. Even kids can use this soap to bath. The gentle soap lathers well and is able to cleanser the body and facial skin well.
Used For: You can try this if you have oily skin, dry skin or even the acne prone skin type for glowing skin
Recommended For: All skin types
9. Patanjali Mint Tulsi Body Cleanser Soap
Patanjali Mint Tulsi body soap is made with two very high in anti-bacterial properties products, i.e. Mint and Tulsi. Tulsi is known as Holy Basil and mint is Pudina. These are rich in the bacteria killing parameters and also cures the skin against the infection. In fact, these two ingredients have proven wonderful in curing the excessive oils, sebum and also the acne problems. While Acne can be dried and minimized using a mint and tulsi loaded soap. It can also be used on the body. This Patanjali soap is primarily a body soap but as the glycerin base of this soap also gives moisturization, they can be used on the face too.
Therefore, this Patanjali soap is an excellent soap for acne and pimple prone body skin. In summers, when the skin gets itchy, scaly and gets filled with boils then this Patanjali antibacterial soap is beneficial. Since this Patanjali cleansing soap is with made with mint and tulsi, it is bound to give you glowing skin. These natural products give a natural looking beautiful skin. In addition, this soap also has turmeric and aloe vera. It is a good Patanjali soap for acne.
Used For: Pimples, acne, oily skin cure and for prickly heat too
Recommended For: All skin types but for oily combination skin more
10. Patanjali Aloe vera Kanti Body Cleanser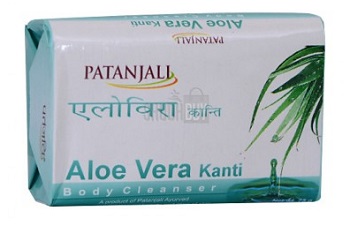 Now, what can be said about aloe vera. Aloe Vera or Ghritkumari in Hindi is a versatile natural product. We don't know where to start telling the wonderful benefits of Aloe vera. It is used in so many skin care and hair products. Even Patanjali range has aloe vera gel, aloe vera shampoo, aloe vera soap and even the aloe vera soap. Aloe Vera is a widely used natural product in hair care and skin care product. This Patanjali aloe Vera based soap is rich in moisturizing properties. This also heals the dry, rough skin. In fact, aloe Vera is also good for the oily skin since it maintains the pH balance while getting rid of the excessive oils on the facial skin.
Used For: Bathing and for face cleaning as well
Recommended For: All Skin types including dry skin and oily skin
11. Patanjali Multani Mitti Body Cleanser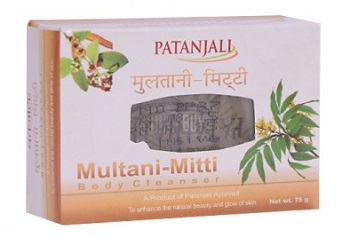 Patanjali Multani Mitti Soap is made using the multani mitti which is also known as Fuller's Earth. The benefits of Mulatni mitti are numerous and it is the sole reason as to why this clay or mud is used for so many thing. These days when you have oily skin and acne prone skin, even dermatologists suggest using products rich in Multani mitti. Besides controlling the sebum, it also contributes towards lessening of the oils. Acne and pimples are also dried. Not just you're your face, Multani is also used for the body to get rid of the impurities and prickly eat in summers. The Patanjali soap aids in the skin glow too since clay has minerals which also gives radiance to the skin
So, in short, multani mitti is a great skin healing and prickly heat preventing product. This Patanjali soap absorbs the excessive oils and dries the acne.
Used For: Prickly heat, boils and pimples
Recommended For: Oily skin and Acne Prone skin
12. Patanjali Neem Kanti Body Soap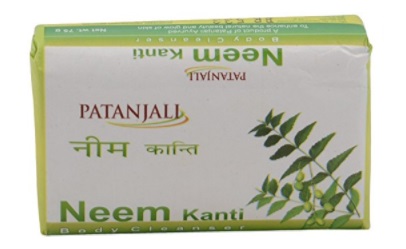 When you have prickly heat or pimples, then using Patanjali Neem soap can be beneficial. It is one of the best and affordable neem soaps in Indian market. The soap is dark green in color and oozes a fresh neem smell. This is a little drying hence, is not the best for the dry skin. The soap is suitable for summers for all skin types and for everyone for all around the year. Neem along with its anti-bacterial properties.
Recommended for: All skin types especially oily skin and acne prone skin types
Used For: Rashes, Pimple and Acne 
These are the best Patanjali soaps in the market that can be used for different purposes and for different skin types. Have you used any of these? Which is your favorite Patanjali soap?
Recommended Articles: