Latest Blouse Back Designs for Saree and Lehenga 2022
A blouse design is important to make the outfit even more sophisticated, in trend and classy. He way neckline in a blouse plays an important role in putting together the entire outfit or the neckline can also transforms a outfit totally. Similarly back designs for blouses are also crucial as they add an extra glam quotient and sensuality to the Indian attire. Doris with beaded balls are used to accentuate the design and bling factor. But it also makes it more attractive so that all eyes are on you. Here are some very stylish and stunning designs for the back of the blouse which you can also try as per the preference with your silk sarees, chiffon sarees, net sarees or net lehengas.
1.Beautiful Strappy Back Neck for Blouse
A double band at the back is also beautiful and when the embroidery and sequin work is there it makes the outfit perfect for weddings and ceremonies.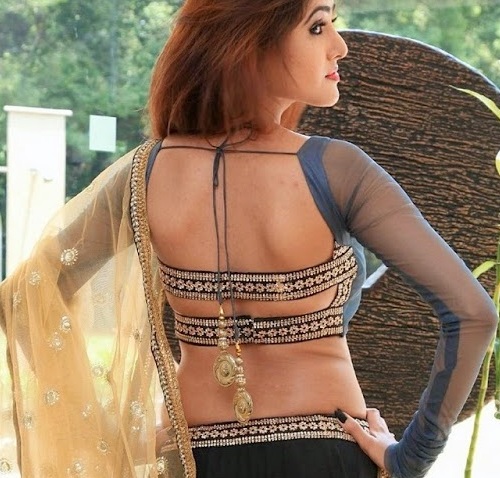 2. Net and Stone Work Back Neckline Design
Some designs are almost backless with just a narrow parallel band or just the strings.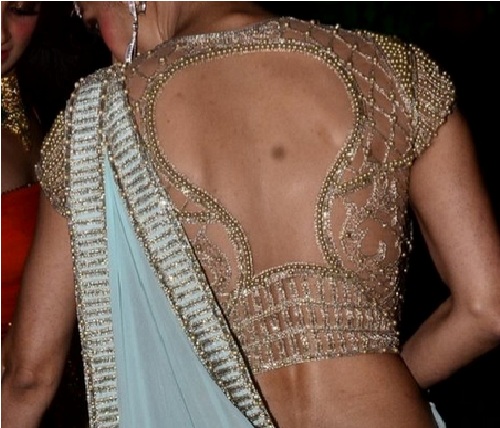 3. Backless Blouse Pattern For Pattern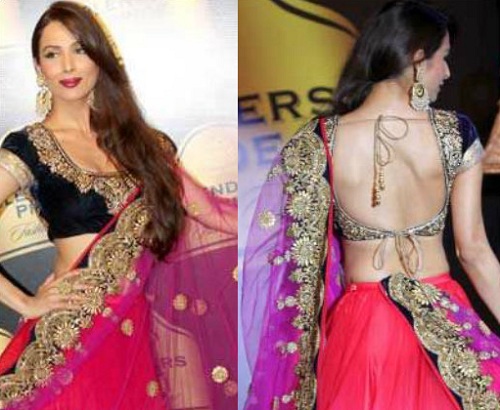 4. Backless Stylish Blouse Pattern for Weddings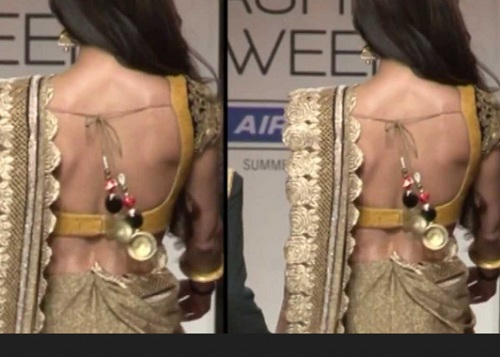 5. Backless Back Blouse Pattern with Bows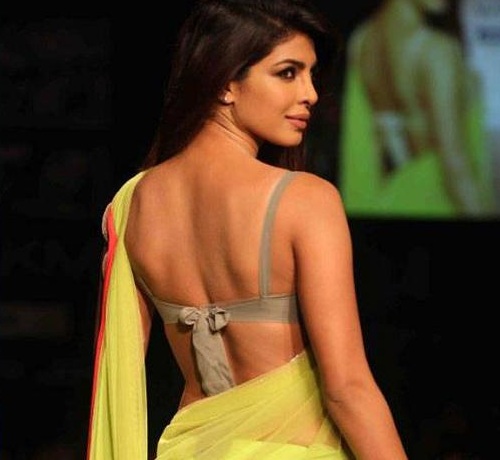 6. Beautiful Embellished Back Neckline Design
This back blouse pattern if not much skin showing and is good for being stylish without showing much of the back.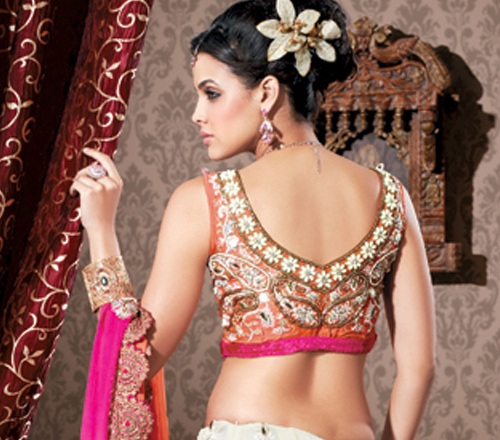 7. Deep Back Neck Design For Fancy Blouse pattern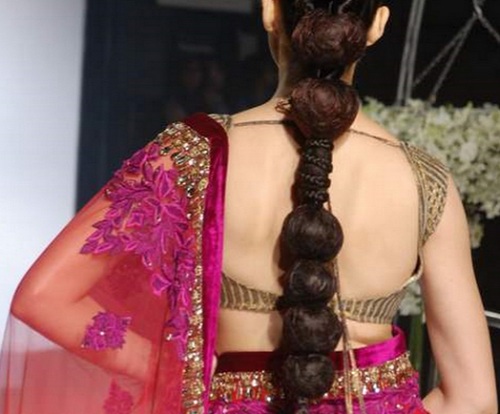 8. Back Neckline With Latkan and Strings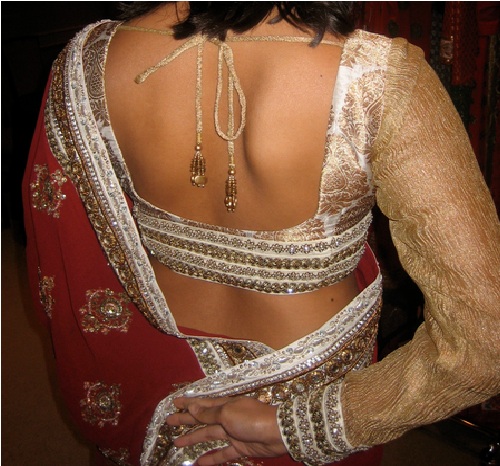 9. Sleeveless Blouse Design with deep Back Design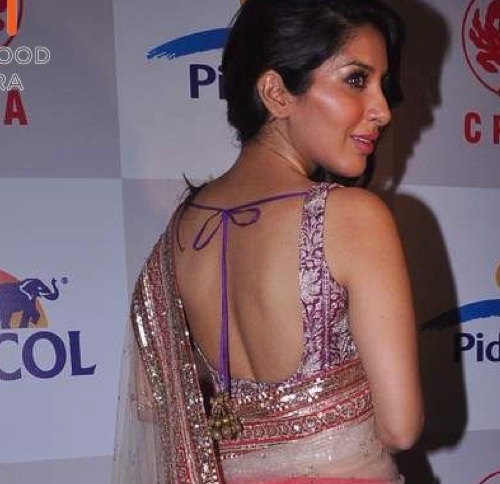 10. Deep back V Neck Designer Blouse With Collar
A dainty net bow or even two straps that can be tied plays a role in enhancing the design of the blouse.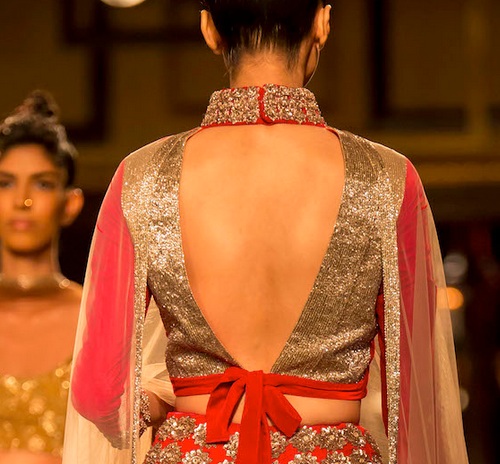 11. Bow Design Deep Back Neckline Design
12. Designer Criss Cross Pattern Back Blouse Design
Such deep back neck back blouse designs look good when you make up do hairstyle where the nape and the back is visible. A braid is also a good option as there too the design is visible adding style to your traditional attire.
But few things to remember before going for such blouse back designs. you should make sure that the back is hair free and is moisturized well. The hooks, strings or straps should be tied securely else that can cause embarrassment.  The inner wear are generally not there with such deep neck line but if there are then make sure that the straps are invisible.

13. Back Boat neckline with boat shape blouse pattern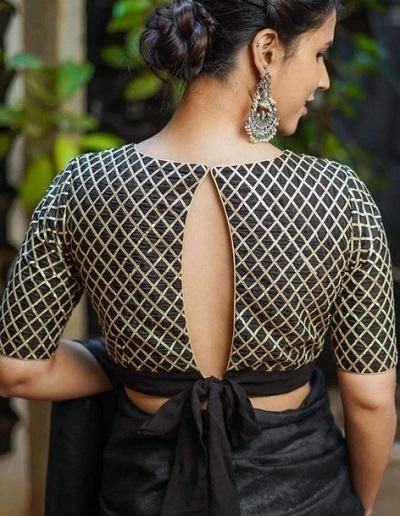 The beautiful back blouse design has a bow in black is used at the waist and the blouse at the back has a nice vertical boat shape cut as well. It has elbow length sleeves and it looks really beautiful and yet very elegant.
14. Backless blouse with bow shaped pattern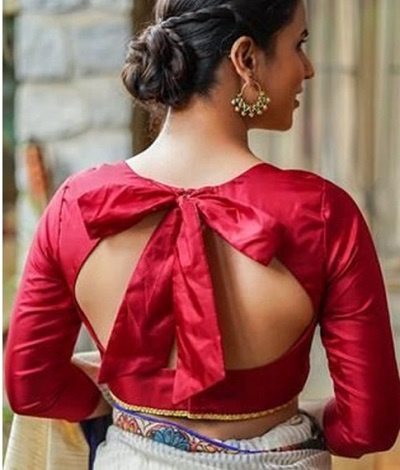 The beautiful blouse in red silk fabric has a nice cut that makes it almost like a backless blouse. But it also has a big bow at the back is on the upper centre of the back.  This is a really beautiful saree blouse pattern that is perfect for even the lehengas.
15. Stylish back neckline with lace fabric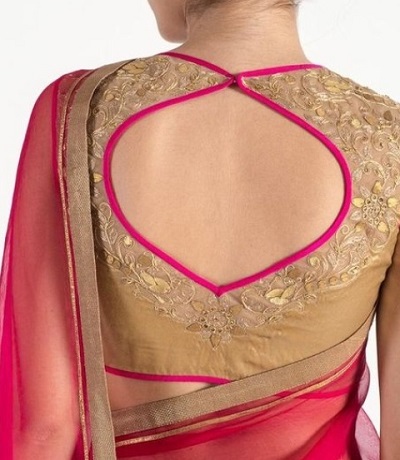 This is a gorgeous blouse with contrasting piping used for the back neckline. The nice cut at the back makes it very stylish and modern.
16. Designer Back pattern for the saree blouse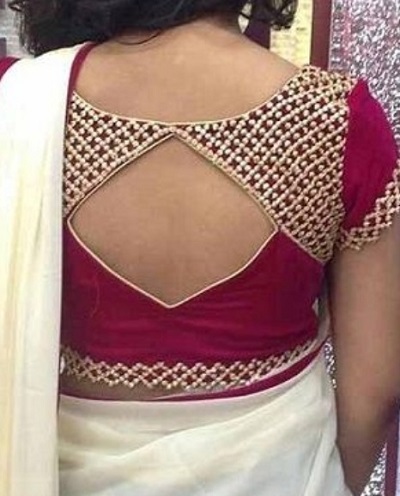 The beautiful blouse pattern has a nice square cut at the back. The back neck line has a scoop pattern and it also has a very embroidered kind of pattern on the shoulders and near the baseline.
17. Net Patchwork embroidered back blouse pattern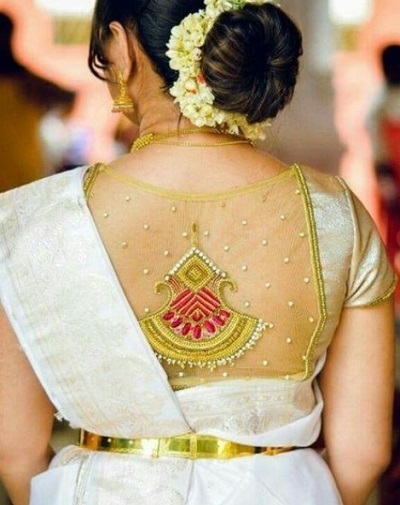 The very beautiful attractive design has been made on the sheer Golden net fabric that has been used as a patch for the backside. So, technically, it says blouse with a backless pattern but because of the net and embroidery, it becomes a semi backless kind of blouse. It is a perfect saree blouse design that goes really well with the silk sarees. Not just the silk sarees, such blouses would look really beautiful with the chiffon, georgette and the beautiful embroidered net sarees as well.
18. Beautiful round cut back blouse pattern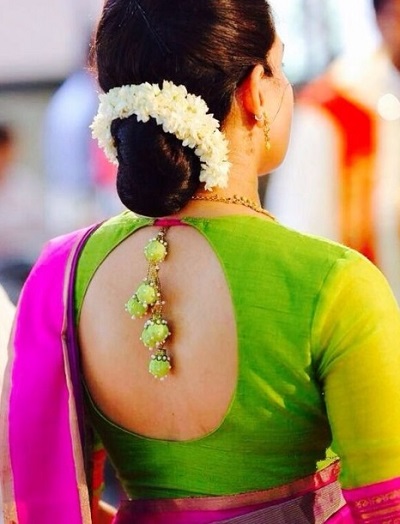 The round cut the back is a very popular pattern for the back neck line for the blouses. Here the back but also carries tassels and pom poms. It elevates the pattern and design, making it really attractive.
19. Stylish Designer Blue Silk Round Cut Backline Design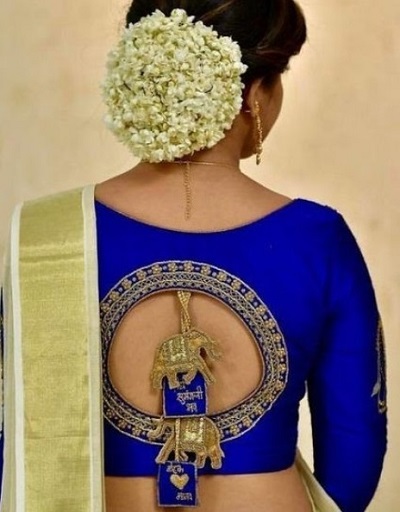 This is yet another beautiful blouse pattern where in a round cut has been used at the back. This blouse has the elephant shape patterns used that looks really beautiful and makes it really innovative and stylish.
20. Cutwork Inspired Back Neckline For Saree Blouse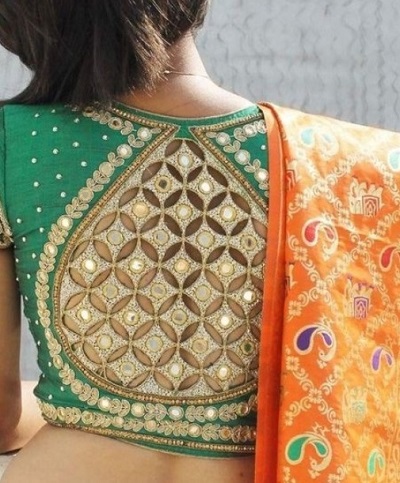 We simply love this blouse because of the beautiful design and the mirror work. The cut work in a teardrop shape with mirror work embellishing the entire design makes it a beautiful and gorgeous saree blouse pattern. This blouse is in silk material and here it is full silk saree as well. One can pair such a blouse with cotton silk, paithani silk, tissue silk and other such silk sarees.
21. Stylish Lace Work Butterfly Pattern Blouse Designs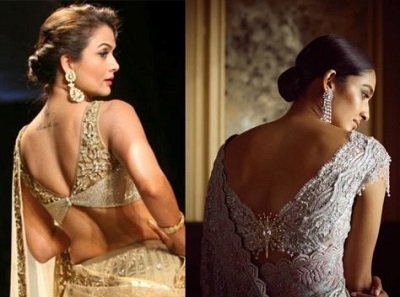 22. Gorgeous Back Blouse Pattern in Brocade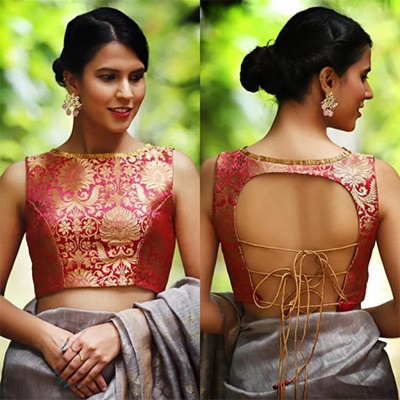 23. Stylish Patch Work Blouse With Cut Work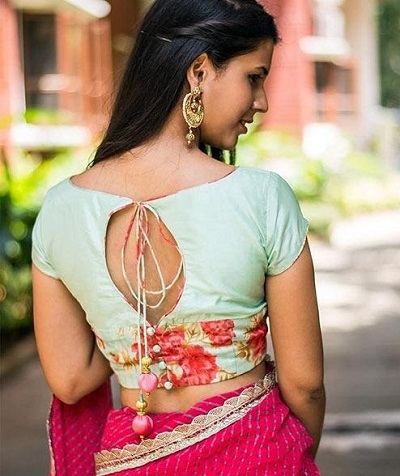 24. Backless Golden Blouse Design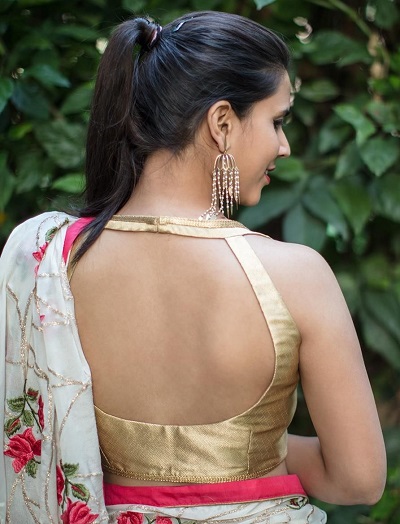 25. Satin And Lace Work At The Back Blouse Pattern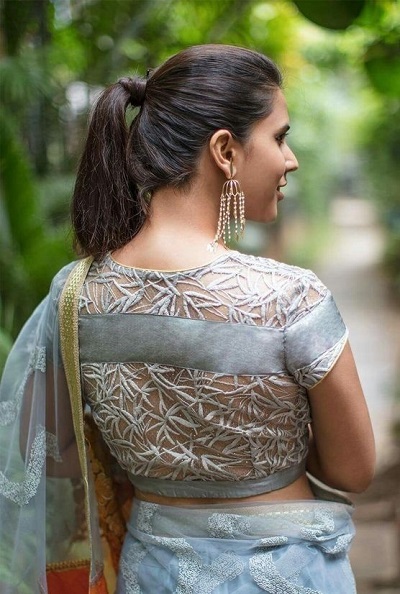 26. Embroidered Patch Work Back Blouse Pattern
27. Back Blouse Pattern With Button Placket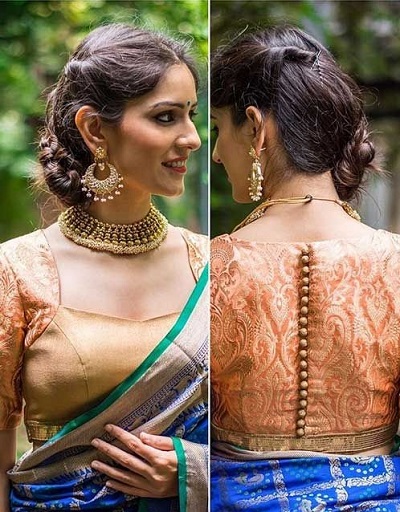 28. Stylish Back Blouse Pattern In Gold Color With Bow

29. Inverted Triangle Shape Cut At The Back Blouse Pattern
30. Blue Silk Blouse With A Boat Shape Cut At The Back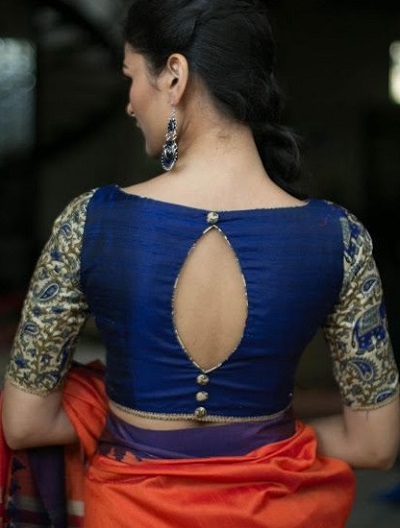 31. Boat Cut Blouse At The Back Silk Thread Blouse Pattern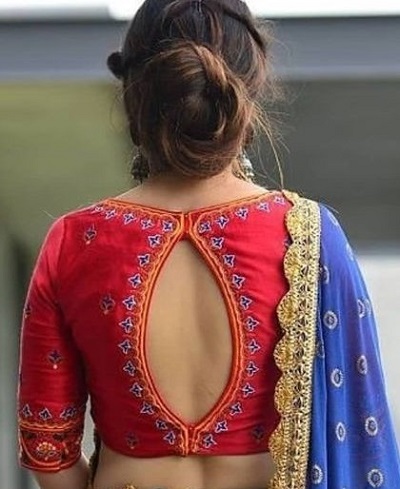 32. Stylish Backless Saree Blouse With Heavy Embroidery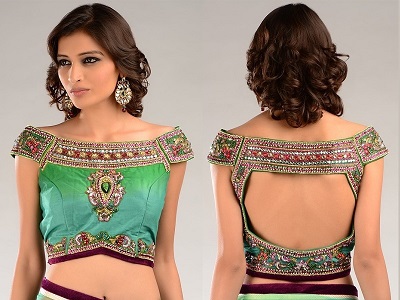 33. Embroidered Net Patch Blouse Pattern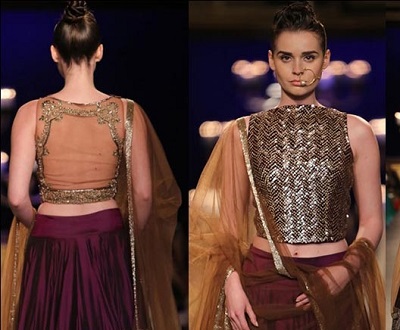 34. Backless Blouse Design With Strings At The Back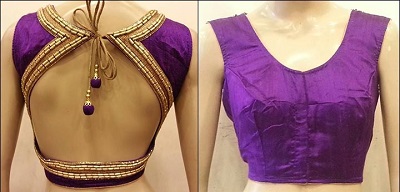 35. Stylish Sweetheart Neckline At The Back Blouse Design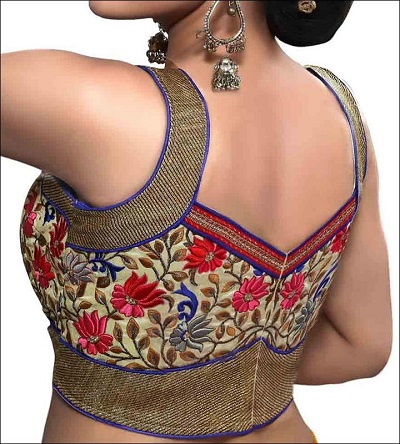 36. Back Blouse Pattern With Pom Poms And Strings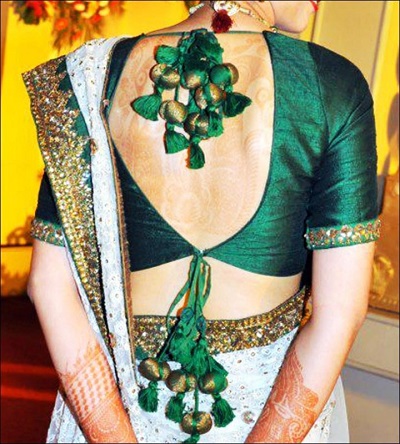 37. Deep Back Neckline Mirror Work Blouse Design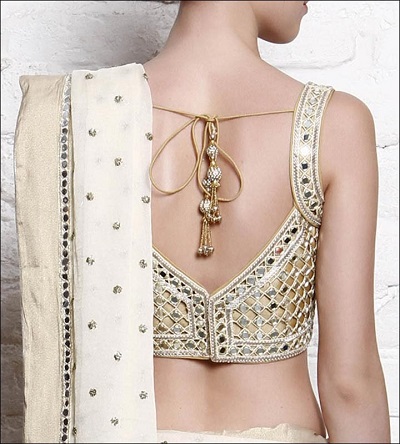 38. Jewelery Work Back Blouse Pattern With Heavy Stone Work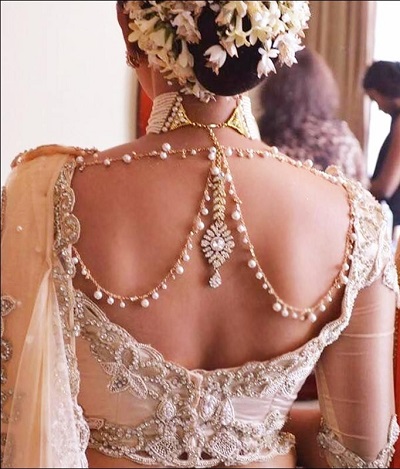 39. Sequin Embellished Work Back Neckline Design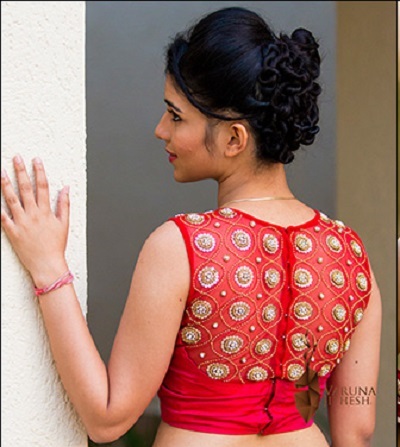 40. Stylish Horizontal Cut Work Blouse Pattern At The Back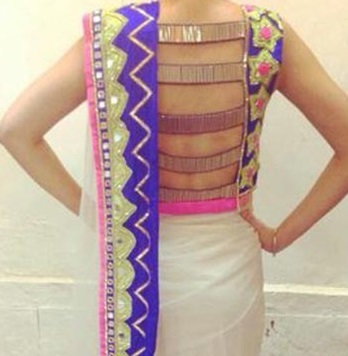 41. Beautiful Net Patch Work Blouse With Embroidery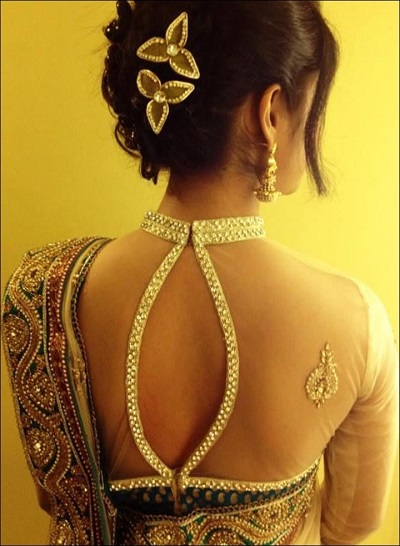 42. Patch Work Blouse With Buttons On Printed Fabric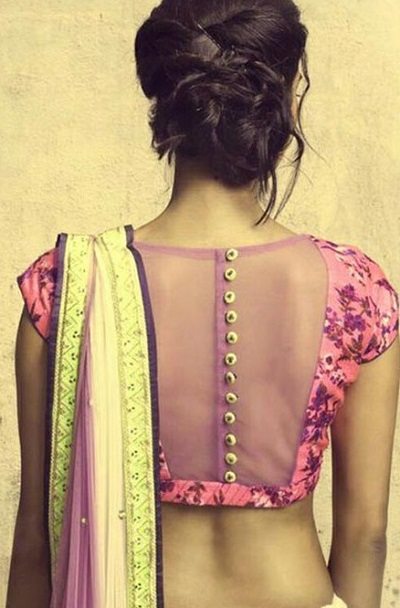 43. Backless Blouse Pattern With Sequin Studded Strip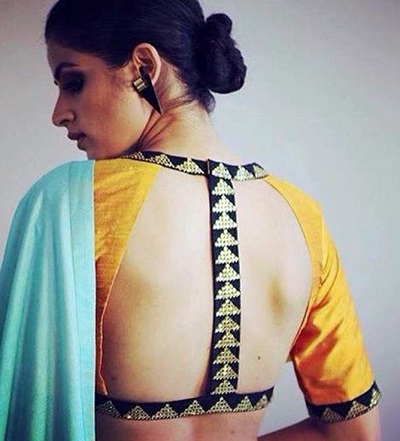 44. Stylish Butterfly Pattern Blouse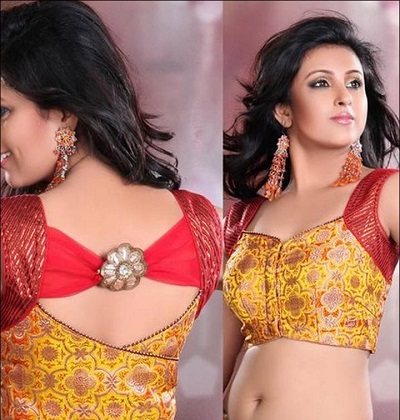 45. Designer Blouse With Tie Strings At The Back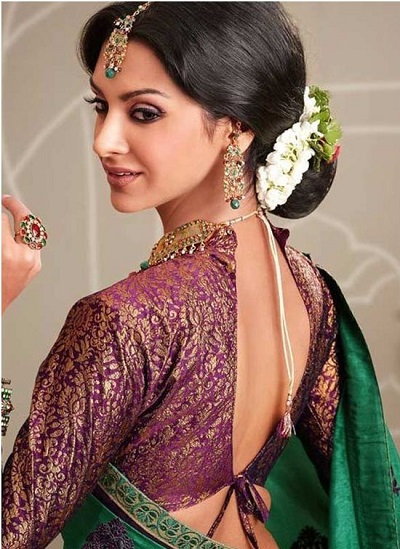 46. Square Cut Blouse Pattern In Wine Color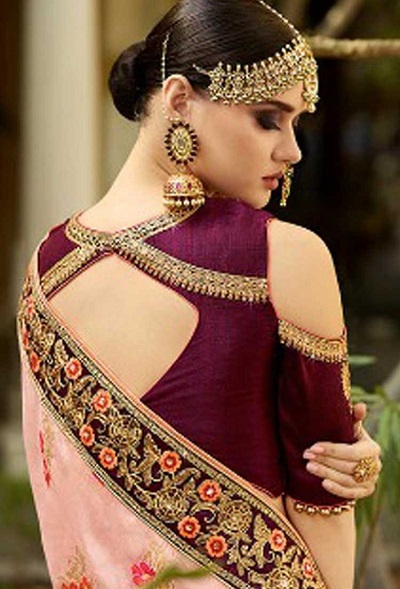 47. U Shape Cutwork Brocade Blouse Design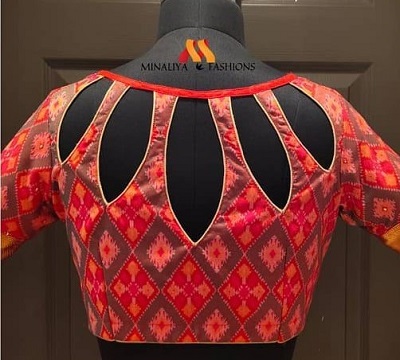 48. Semicircular Cut Work With Buttons Blouse Pattern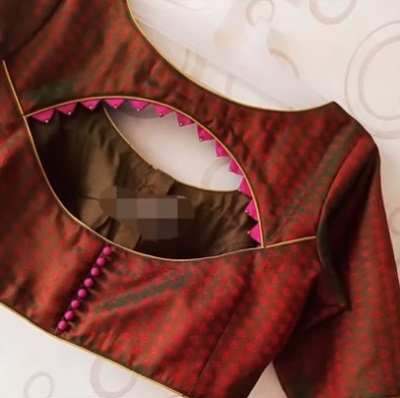 49. V Neckline At The Back Blouse Design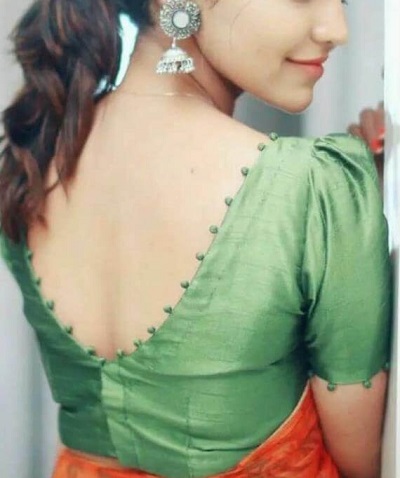 50. Back Blouse Pattern With Multiple Strings And Latkan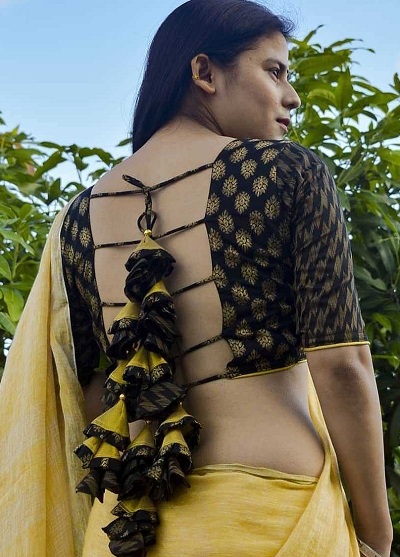 51. Stylish Back Pattern Design With Tassels And Bow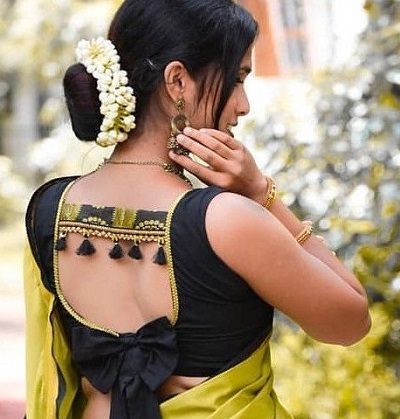 52. V Cut Back Brocade Silk Blouse Design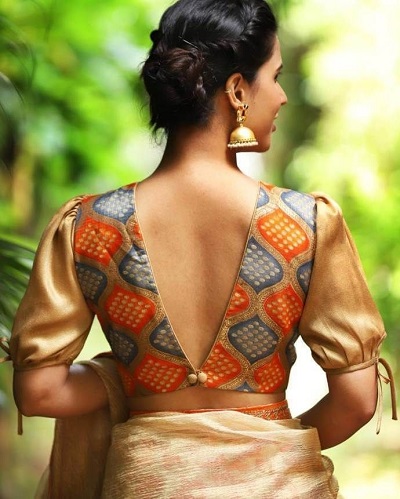 53. Deep Back Neckline With Buttons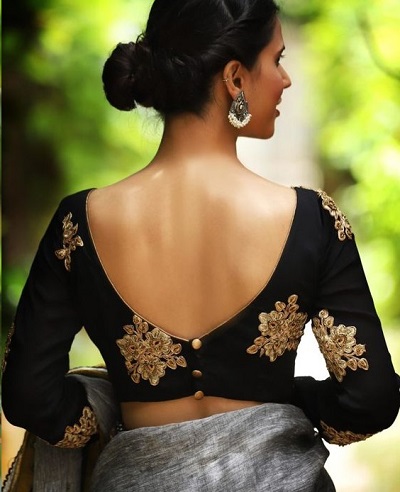 54. Stylish Criss-Cross Looped Blouse Back Pattern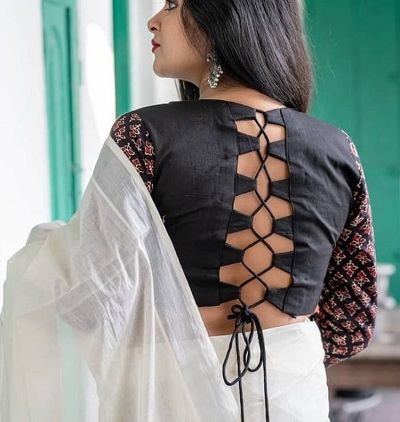 55. Designer Stripped Blouse Pattern At The Back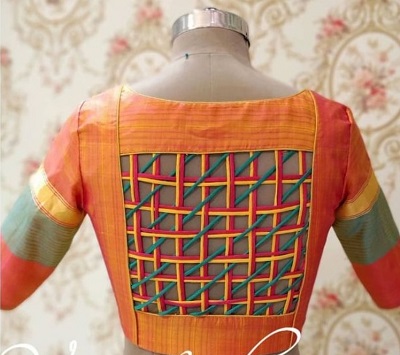 56. V Cut Blouse With Bow For Silk Sarees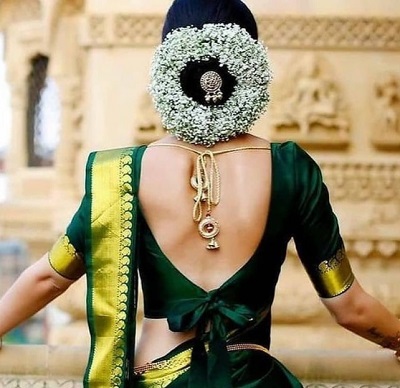 57. Innovative Blouse Back Pattern Design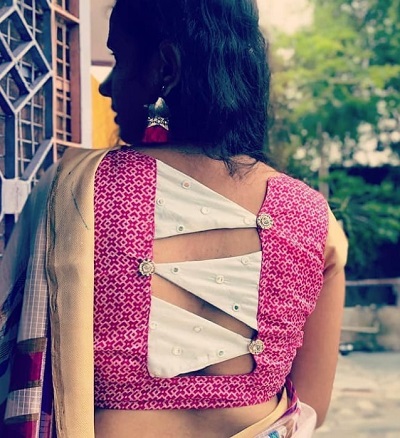 58. Simple And Stunning Back Pattern For Blouse Design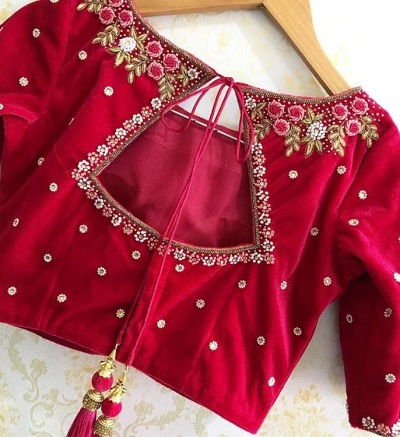 59. Blouse Back Pattern With Ruffle Work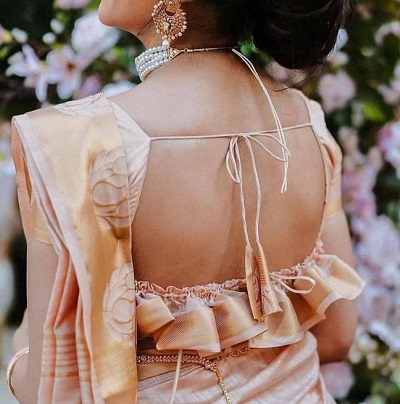 60. Button And Latkan Designer Blouse Back Pattern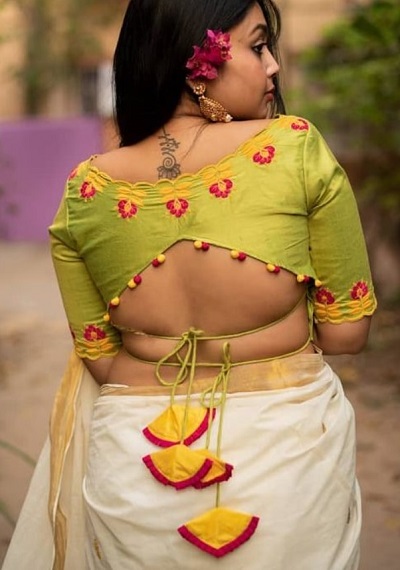 61. Round Cut Latkan Design Pattern
62. V Neckline For Blouse With Patch Work
63. Pearl And Sequin Work Embellished Velvet Maroon Blouse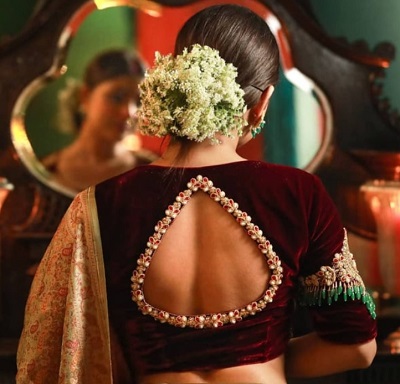 64. Designer Back Pattern With Strings And Beads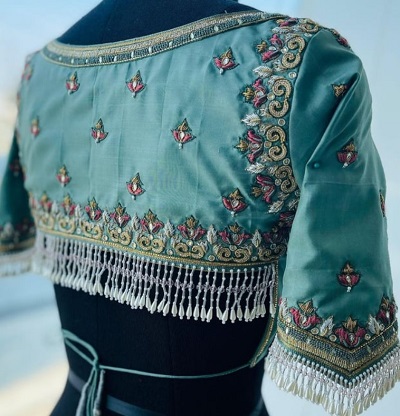 65. Multiple Bows At The Back Golden Sequin Studded Blouse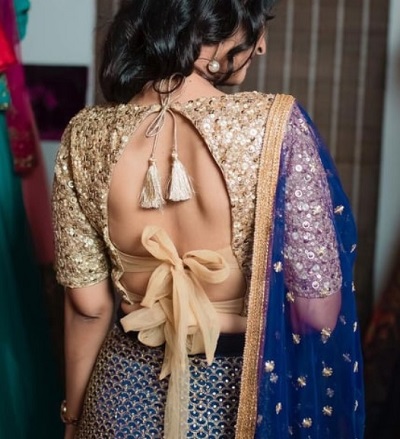 66. Butterfly Pattern Back Backless Blouse Design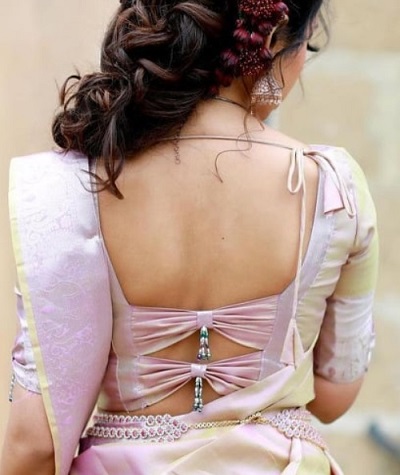 67. Heavy Embroidery Work Backless Blouse Pattern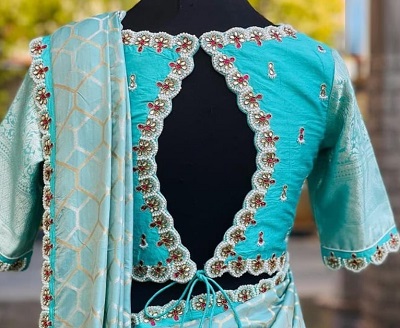 68. Gold Beaded Pattern Backless Blouse Design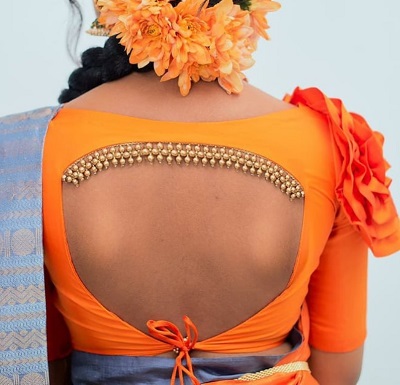 69. Beautiful Blouse With Bangle Design At The Back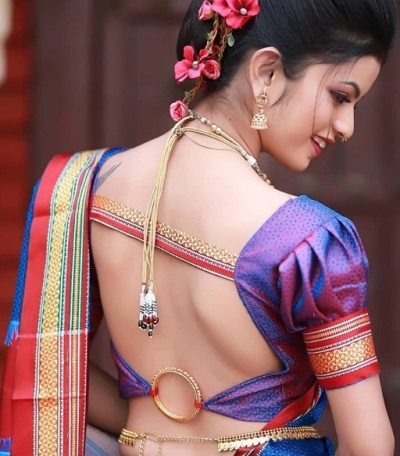 70. Bridal Blouse With Exclusive Back Pattern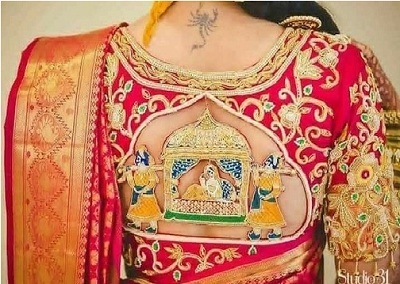 71. Cut Work Pattern For Silk Blouses With Embroidery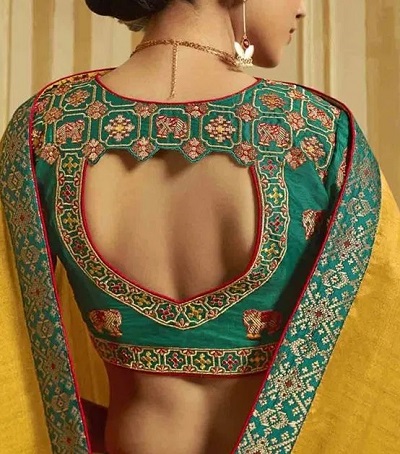 72. Back Halter Mirror Work Blouse Design
73. Wrap Around Style Back Blouse Pattern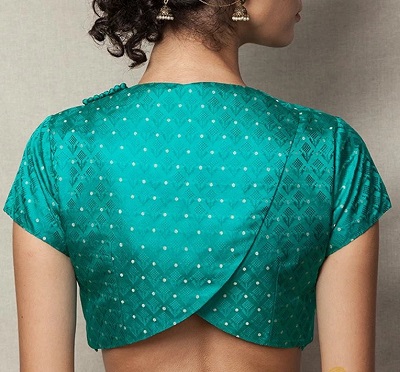 74. Bridal Inspired Heavy Embroidery On Net Back Blouse Design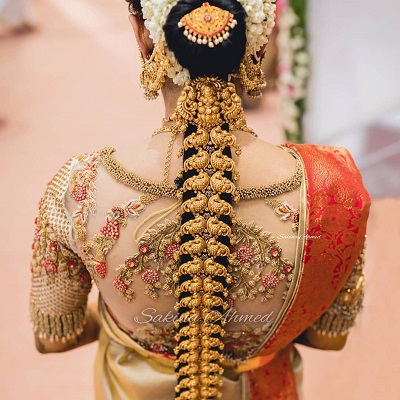 75. Mirror Work Golden Back Work Simple Blouse Pattern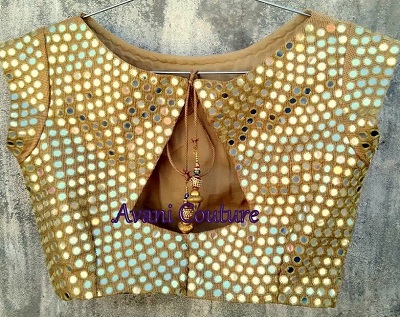 76. Deep V Neckline With Latkan Design Pattern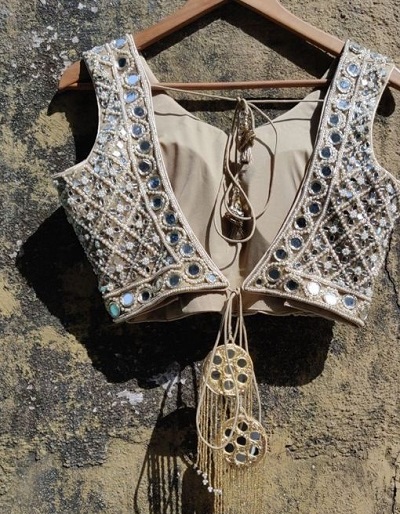 77. Tassel Work At A Back Velvet Red Blouse
These are the beautiful blouse designs for the back. These back patterns for the blouses can be tried for saree blouses as well as for the lehenga blouses. Other thing that, you must remember is that the design that you choose must be comfortable for you. The design is not comfortable for you to wear, then it will not look as good. However, the comfort comes first. So, just a tip to follow, if you are going for a stylish and backless kind of back blouse pattern, then keep the front blouse neckline not very deep.