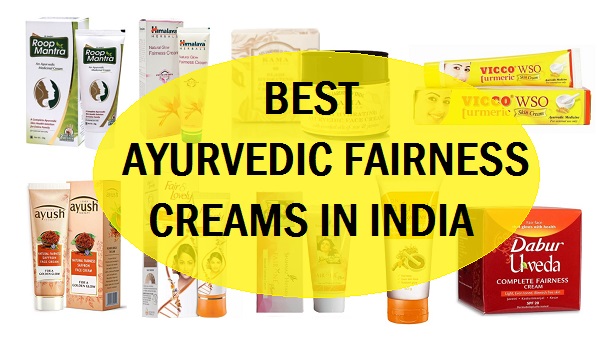 12 Top Best Ayurvedic fairness creams in India for Oily Skin, Dry Skin and Sensitive skin
A lot of us are concerned about our skin. It reflects a lot about our internal health. Good skin is not a heavy or impossible task till the time we are willing to take good care of it. Skin darkening is an issue for a lot of girls and boys so, we decide to use fairness creams but what would be better if we use Ayurvedic fairness creams. Ayurveda has answers to a lot of ours skin problems. For fairness and skin whitening too Ayurvedic formulations are best suited. Ayurvedic creams are free from the harmful ingredients so you get fairness without risking the skin from exposing it to chemical loaded products.You can check our Ayurvedic fairness skin tips also. 
12 Best Ayurvedic Fairness or Whitening Creams Available in India (2022)
So, here is the list that can ease you up in deciding which is the best Ayurvedic fairness creams in India for different skin types like oily skin, dry skin, sensitive skin etc. The list also includes some of the fairness creams for sensitive skin as well that people with sensitive facial skin can try and use.
1. Roop Mantra Ayurvedic Cream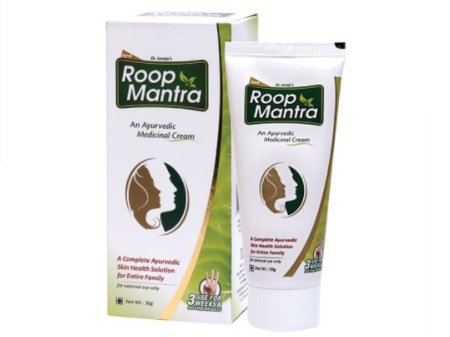 Roop Mantra Ayurvedic Cream is made with the Ayurvedic herbs and the cream is a blend of the several herbs like neem, tulsi, lemon extracts, sandalwood etc along with the Ayurvedic ingredients. The cream has a soft subtle texture and smell. It is not very strong and get blend on some massaging. This is a daily use herbal cream that gets into the skin after some massage strokes so you have to be careful. It is suitable for oily skin and oils come after few hours. For dry skin, we find this face whitening Ayurvedic cream to be a bit thick and low on hydration. Roop Mantra Ayurvedic Cream aids in the lightening of the dark spots, blemishes, pigmentation and signs of skin aging.
2. VLCC Snigdha Skin Whitening Day Cream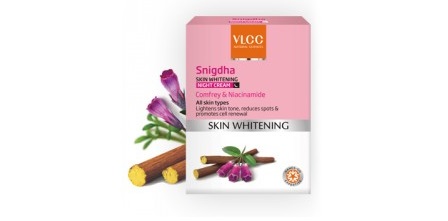 VLCC snigdha skin cream is a part of the snigdha skin care range that includes products like whitening day cream, night cream, serum, face pack and face wash. The main ingredients of this Ayurvedic kin cream is licorice and mulberry.
Licorice or mulethi is a natural herbal ingredient that can help in the whitening of the skin. The ingredient is also safe for the oily skin as it is non comedogenic. This herbal cream is for daily use. It also offers the sun protection of SPF 25. So, if you fear of the sun darkening of the skin then this will also act as a sunscreen for the skin. The herbal day cream is appropriate for the day time and for daily use. Mulberry is a berry rich in the antioxidants that helps in skin lightening effectively.
3. Patanjali Saundarya Swarn Kanti Fairness Cream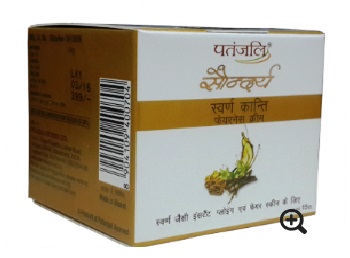 Patanjali Saundarya Swarn Kanti Fairness Cream is a blend of the Ayurvedic ingredients and has been formulated with the knowledge of the Ayurveda for skin whitening. This Ayurvedic skin whitening cream has multiple ingredients that gives the boost of the skin lightening and rejuvenation. The cream is a light cream that blend on the skin like a velvet and gives glowing skin. It is for all the skin types like oily skin and dry skin. It also stimulates the cell renewal. The price is also affordable as this is for 399 rupees but the quantity is really less like 15 g which gets exhausted in 15 days only. So, considering that the cream is expensive. It is also one of the best skin whitening Ayurvedic cream in the market for dark skin.
Skin whitening creams for dark skin in India
4. Ayush Natural Fairness Saffron Face Cream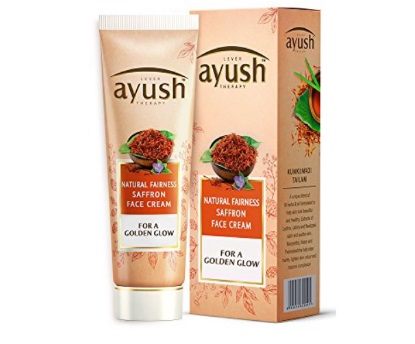 Lever Ayush products are based on the extensive Ayurvedic knowledge. This is a Ayush natural fairness face cream with saffron which is called as kesar in hindi. You must have seen that kesar is used for skin whitening in many fairness cream. The ingredient has been an integral part of skin lightening creams and face packs. Even brides use kesar packs to whiten their skin complexions before wedding. Kesar along has medicinal properties. The cream has a texture which is thick and when applied on the face, it gives a matte finish. This is not at all a skin cream for the dry face. It also has Kumkumadi tailam which is a unique blend of 16 herbs and oil. It also has the extracts of lodhra, ushira, neeloptal, Manjishtha, kesar and padmakashtha that  help clear marks, lighten skin colour and improve complexion.
Best Medicinal Creams to treat Acne and Pimples
5.
Blue Nectar Ayurvedic Brightening And Lightening Cream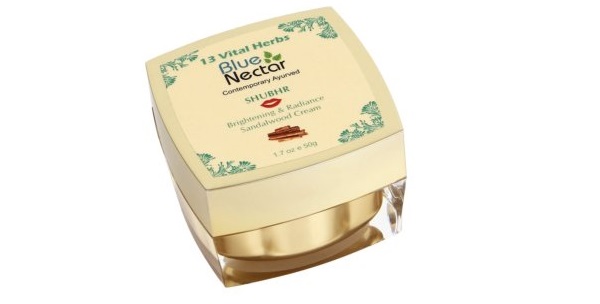 The herbal fairness cream has a unique formula that fights the over production of the melanin and it reduces the dark spots. The cream has a nice smooth texture but this is more for the oily skin. It combines the goodness . People with normal to oily skin or even the people with combination skin try it. The Ayurveda inspired fairness cream for oily combination skin effortlessly application is also a good point of this face skin cream. Natural treatments for the skin give healthy looking skin in no time. It's more like an anti aging cream for oily skin.
6. Jovees Saffron Bearberry Fairness Cream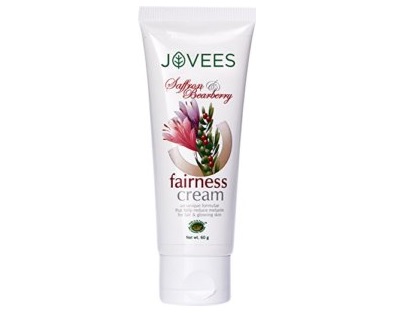 Jovees is a skin care and herbal hair care brand that uses the knowledge of Ayurveda and its formulations. This is why this herbal brand makes skin friendly products. The bearberry skin fairness cream is a daily use skin cream which has the power of the bearberry. Berries are rich in antioxidants that increase the rate of cell renewal. Increased cell renewal helps in skin lightening. It also diminishes the appearance of age spots, marks, blemishes and lines on the face.
7. INLIFE Saffron Fairness Cream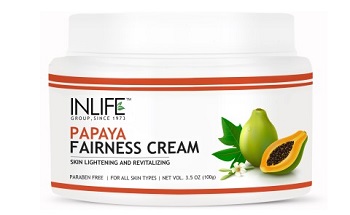 Inlife saffron cream has saffron which is kesar. Kesar has that inbuilt power to reduce the excessive melanin cells called melanocytes which are responsible for the skin darkening. The cream is light and blends well over the skin. This is for normal to dry face. The cream has smooth texture and mild smell. The availability of the product is low but you can always find it online. It is a paraben free product and helps reduce skin blemishes and pigmentation.
8. Himalaya Herbals Natural Glow Fairness Cream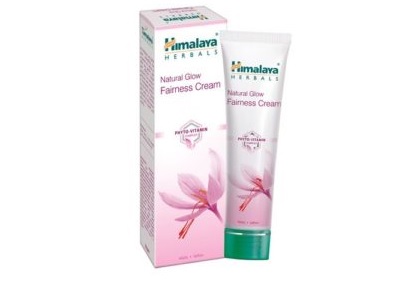 Himalaya herbals fairness cream is also a bestselling Ayurvedic fairness cream in India. This is a natural cream that enhances the dark skin complexion and even out the skin tone. The skin color gets darker due to skin which increase the number of melanin cells on the skin surface to help protect it against sun damage. The cream's formula aids in lessening those melanocytes. Well, most of the fairness creams works like that. It also reduces the sun tanning with its active ingredients. It's an ayurvedic cream for oily skin types. 
9. Lotus Herbals Whiteglow Skin Whitening And Brightening Gel Cream
Lotus Herbals Whiteglow Skin Whitening And Brightening Gel Cream gives you the best of the both worlds like it is a gel formula and a cream. So, the product is useful for every skin type even boys too can try it. The gel formula is extremely light and easy to blend. It glides nicely on the skin. It also has the sunscreen that protects the skin layer from UV rays. It is enriched with grape, mulberry, saxifraga extracts and milk enzymes which are popular fairness inducing agents. Girls and boys with acne prone skin can also give this cream a shot.
Best winter fairness creams in India
10. Khadi Fairness Cream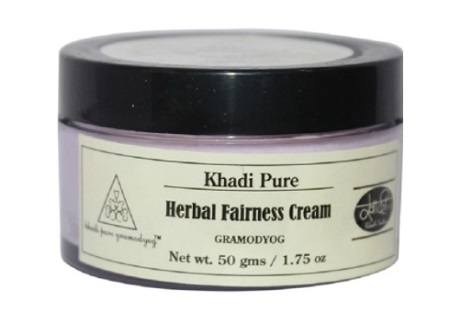 Khadi Fairness Cream is a herbal Ayurvedic formulation that is made by the natural extracts which enhances the skin complexion and increases the fairness of the skin. Application of this cream twice in a day can help get a smooth and fair skin. The herbal product is not that easily available in stores but one can get this online.
The Ayurvedic fairness cream has sandalwood extracts and rose oil promotes the lightening of the skin complexion. It also cures those red pimples and acne. But the formula of this cream is thick which is useful for the normal to combination skin Very oily skin may not be best for this cream as this gets greasy after some time.
11. Fair & Lovely Ayurvedic Care Face Cream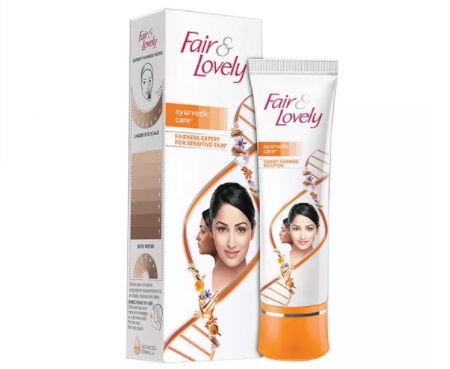 Fair & Lovely Ayurvedic Fairness Cream has ingredients like Lodhra, Khas, Neelotpal, manjistha, kesar and padmak. The cream has texture like the regular Fair & Lovely fairness cream but only thing is that it contains these Ayurvedic ingredients. This a suitable everyday use fairness cream for sensitive skin and oily skin too. For dry skin, the cream is not suitable. Though you can try it. It has low moisturization so the dryness may not be healed.
12. Azafran Organics Skin Brightening Face Cream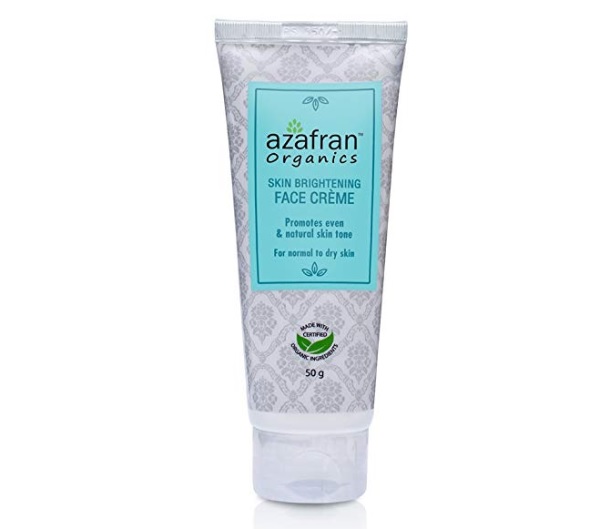 This is a unique formulation containing certified organic ingredients makes this the best herbal fairness cream for dry skin.. It helps the skin surface look fairer, brighter and more refined. The creamy is affordable and but worth the money.
These were the top best Ayurvedic fairness creams for the oily skin, dry skin and normal skin in India. Which is your favorite? Have you used any of these? 
Benefits of Using Ayurvedic Fairness Creams
Such creams are suitable for sensitive skin too that gets red or itchy post using the chemical loaded skin creams.
These Ayurvedic creams helps in even out skin tone and reduces the appearance of blemishes.

Their application is easy and such creams gets absorbed nicely to nourish the skin effectively.

The herbal formulas of such skin creams also improve hydration and skin cell renewal at the epidermal cell layers.

Benefits of organic skin creams in getting fairness are immense as the skin gets clearer and visibly fairer looking.

Creams with natural ingredients impart a natural glow and radiance to the skin.

Organic ingredients also removes dirt, blackheads, pimples, dead cells and nourishes the skin.