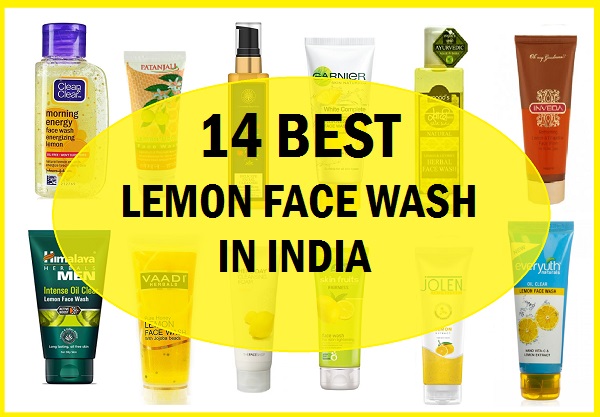 14 Best Lemon Face Wash Available in India. Lemon face wash anyone!! Lemons are rich in citric acid or vitamin C so when we use lemon rich products on our face then naturally it gives a burst of freshness. Lemon is considered as a power fruit for oily skin and acne prone skin. Lemon is being used in face washes as well. Such face cleansers with lemon can help minimize the pores on the oily skin and also deep cleans the skin. Lemon is also just the right thing to minimize the dark spots, pimple marks and scars effectively. This is why; we have shared so many home remedies with lemon to cure acne pimple marks on oily skin and its woes.
14 Top Best Lemon Face wash Available in India with Reviews 
So, Let's have a look at the best lemon face wash which are there in the Indian market at reasonable prices. Most of these are affordable and easy to avail so that everyone can try these out.
1. Himalaya Oil Clear Lemon Face Wash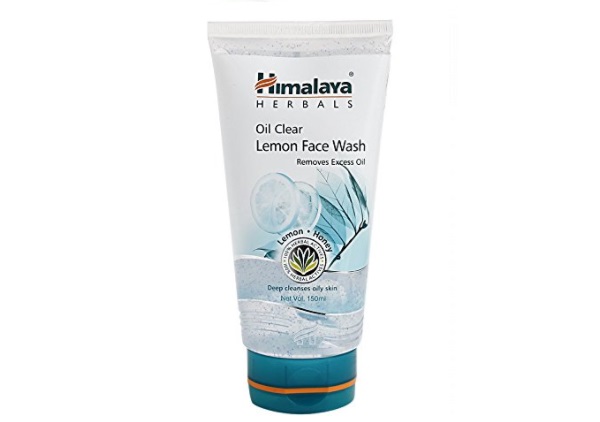 Himalaya Oil Clear Lemon Face Wash is a very popular and old product from Himalaya. The face wash is loaded with the wonderful astringent properties of lemon. Lemon is an age old beauty products which is extremely cheap and yet gives effective results. The lemon gives a cool refreshing sensation when we wash with lemon face wash. Moreover, it tightens the pores and skin look better than before. It's a gel face wash which lathers well and cleanse the face from the sweat, dust dirt etc. Himalaya's oil clear lemon face wash is a soap-free and purely herbal formula which not only has lemon but has honey as well.
Recommended for: All skin types
Price: 140 rupees for 150 ml and small pack is also there.
2. Clean & Clear Morning Energy Lemon Face Wash
Clean & Clear Morning Energy Face Wash is also popular face wash amongst the younger people. It is because this face wash is very affordable and you can get a mini pack for just rupees 15. Most of the clean and clear face washes are targeted for the youngster and have been made for the oily to combination skin type. It is an energizing face wash which has the micro beads that helps to re-energize the dull skin. Those micro beads will burst on the skin but it is also true that the face wash is so gel and slippery textured that the beads will escape and will not burst. So, it's better to rub the face wash on the palms first to burst the beads and then use it over the face. With lemon this face wash will not clog your face pores rather it helps to declog the congested pores. This is suitable for all skin types due to its formula but oily skin and combination skinned one will like it for their daily usage.
Recommended for: All skin types
Price: 65 rupees for 50ml
3. Himalaya MEN Intense Oil Clear Lemon Face Wash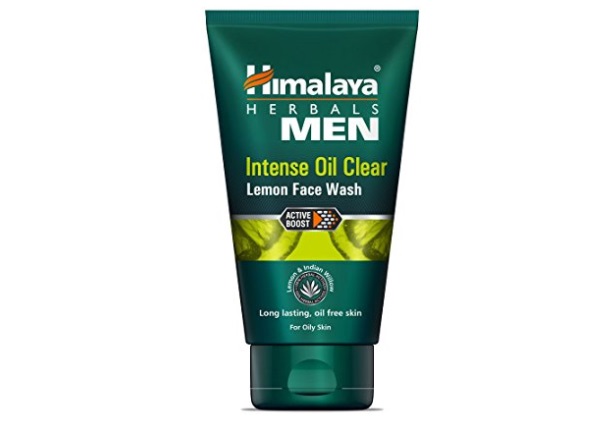 Men are also getting a lot of choices in their skin care products. This is a lemon face wash for acne and pimples on men's skin. It is rich in the amazing lemon peel extract which regulates the oil balance and also minimizes the appearance of the large pores on the men's face. Men with oily to acne prone skin can try it but I have also noticed that this does not have drying formula. Therefore, even if you have normal to dry skin, you can still try it. It says that other than the lemon peel extracts, it also contains the Indian Willow bark extract. These extracts are rich in the flavinoids which are considered as wonderful antioxidants that slow down the aging process. Moreover, when men shave then too these Indian willow bark extracts will heal the cuts and bruises effectively. Just like the most of the Himalaya face washes this too is a soap free face wash that is non-drying for all the skin types.
Price: 100 ml for 120 rupees
4. Patanjali Lemon Honey Face Wash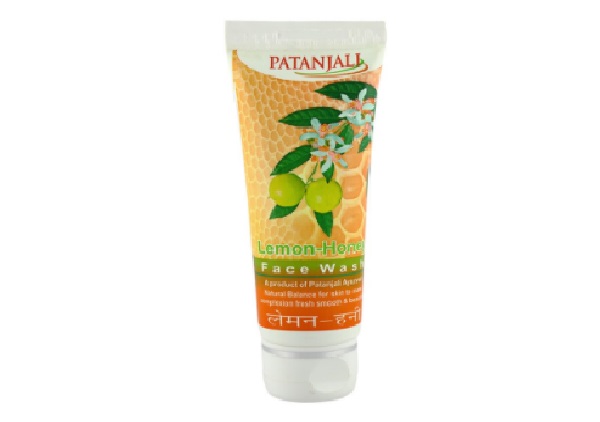 Patanjali Lemon and Honey face wash is one of their best face washes for the oily skin and acne prone skin. As oily cane prone skin needs face wash that can reduce the oil production plus helps to treats the pimples too. So, this facial cleanser from Patanjali is rich in the lemon and honey. So, when you apply it creates immense foaming lathers which cleanse the skin thoroughly. But I will also recommended that you only use this when you have very oily skin else this can be drying or your skin. This also means that this is not at all for the dry skin. It says that it is effective against dry and rough skin, but in reality it is NOT. It is amongst those very affordable face washes in India.
Recommended for: All skin types
Price 60 g for 45 rupees
5. Forest Essentials Mashobra Honey, Lemon and Rosewater Facial Cleanser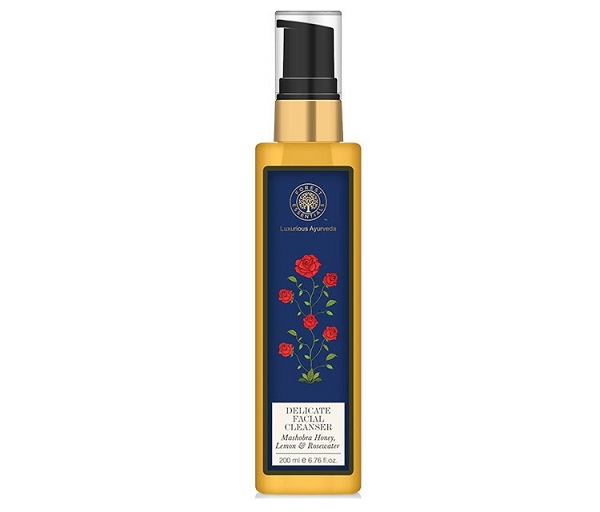 For all those, who love to use organic, no chemicals and only pure botanical ingredients, this can be the perfect choice of face wash. Forest Essentials Mashobra Honey, Lemon and Rosewater Face wash has the Pure raw honey which has the essential skin healing vitamin B complex and Vitamin C. Lemon in it makes it rich in the citric acid which helps to tone and tighten the dull lifeless skin. The constant oiliness can make the skin look dark and dull therefore, the combination of honey and lemon also regulates the sebum release from the glands. This face wash purifies the skin and removes the dead skin cells by gently exfoliating the skin. Price is not that affordable as this is over 1000 bucks but still can be tried if you do not mind spending that much.
Recommended for: All skin types
Price: 1075 rupees for 200ml
6. Garnier Skin Naturals White Complete Face Wash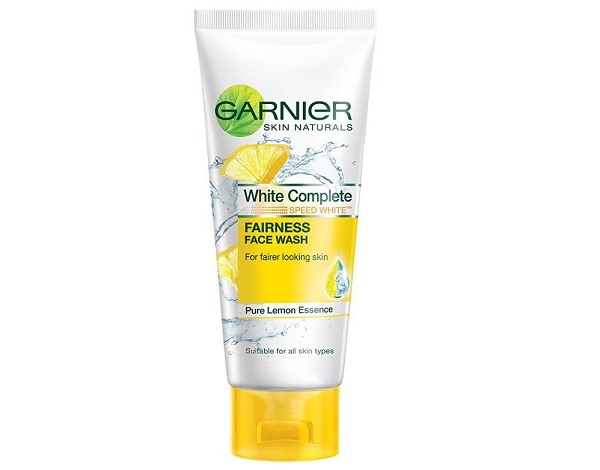 Garnier white complete face wash is from the Garnier skin whitening range which can boost the clarity and visible fairness of the skin. These Garnier products are used a lot by the younger people like those who are in college or are in teenage. This face wash for skin whitening is enriched with lemon and fights the dark spots and dullness of the skin. The Pure Lemon Essence acts as a mild bleaching agent which also gives a blemish free skin. It also declogs yours stuffed pores with sebum and oils. Regular usage can give a brighter looking complexion and also boost the fairness. By the way, the texture of this face wash is thick and a bit drying hence, if you already have dry skin then leave it.
Recommended for: All skin types except for dry skin
Price: 150 INR for 100ml
7. Vaadi Honey Lemon Face Wash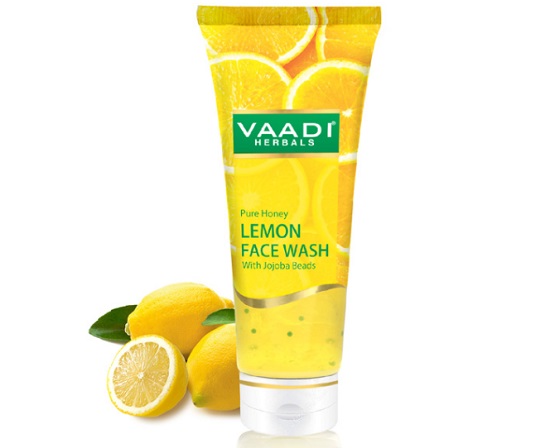 Vaadi herbal makes so many natural products but honestly, I do not think, that their products are very organic and herbal like the Himalaya, Lotus etc. But still,  their products are olaky to use. Most importantly, they are very inexpensive and are available on very major online shopping sites.
This Vaadi cleanser has lemon and honey both. It seems like honey and lemon is a popular deadly combination for face wash.  It can fight the acne and pimples plus also clears the blackheads. This too is a refreshing gel face wash for everyone.
Recommended for: All skin types
Price: 60 rupees
Best Garnier face washes in India
8. The Face Shop Herb Day 365 Lemon Cleansing Foam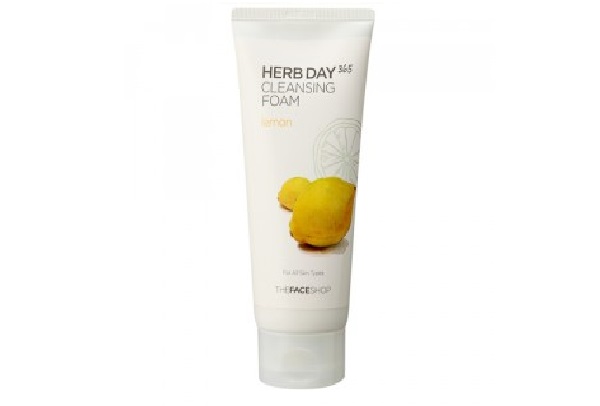 Korean beauty products are high in depend all over the world. Korea is the beauty capital of the world that makes innovative products which are just amazing. Remember the BB creams? Yeah! This cleansing foam is rich in lemon and clarifies the skin deeply by eliminating the oils and clearing the skin's clogged pores. Other than the lemons, it also has the nine kinds of herb extracts which does wonders for the skin. Price of this face wash is okay and affordable I should say!
Recommended for: All skin types
Price: 300 rupees
9. Joy Skin Fruits Fairness Face Wash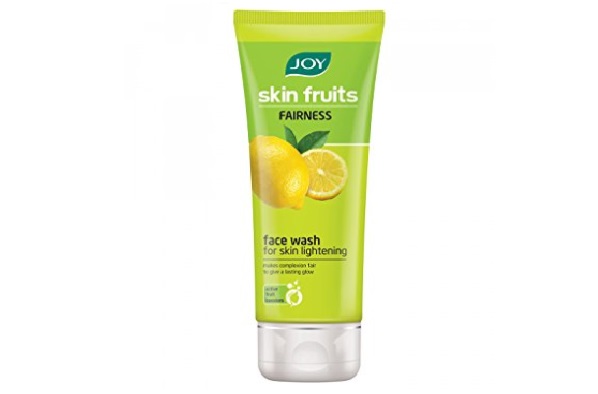 Joy Skin Fruits Fairness Face Wash is made to lighten the skin tone by the extracts of lemon. Lemon extracts makes the skin tone lighter by giving a glow and lighten the skin. The face wash is also gel textured and does not make your skin dry or feel stretchy hence dry skinned boys and girls can try this as well. For radiant and fair skin, it claims to use this facial cleanser regularly. Joy skin care products are very inexpensive and I have seen these available in many shopping sites and also in the shops. This lemon face wash for fairness is extremely affordable and a 50 ml pack can last for a month approximately.
Price: 70 rupees
Best Himalaya Face washes in India
10. Khadi Lemon and Licorice Herbal Face Wash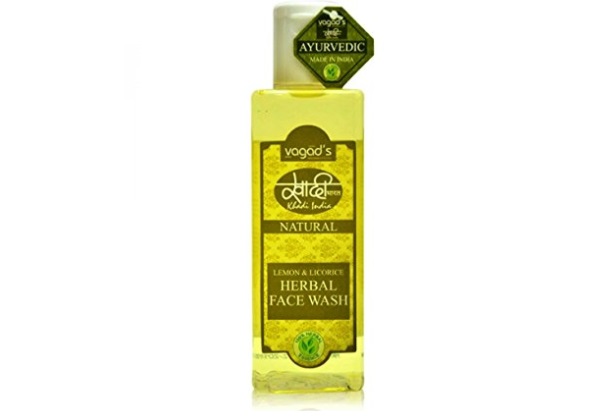 What is when lemon is combined with licorice. Lemon and licorice can be a very effective combination that can gives brightening and whitening. You may have heard that mulethi or licorice is used extensively or the fairness products and so does the lemon. This lemon and mulethi rich face wash can improvise the skin complexion and make the skin spotless. The price is also inexpensive like only for 600 rupees and is suitable for all the skin types.
Skin Type: All skin types
Price: 60 rupees
Best Ponds Face Washes in India
11. Jolen Lemon Face Wash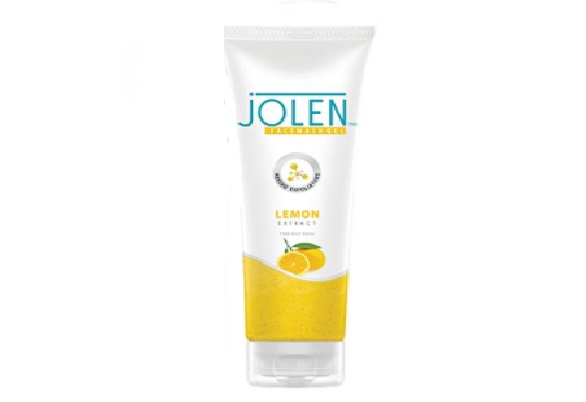 Jolen Lemon Face wash Gel is packed with the vitamin C and is made for the oily skin. The face wash kills the acne causing bacteria and removes the oils that can cause the clogged pores. It also deals with the bad effects of the pollution and environmental damage.
Recommended for: Oily skin and acne prone skin type
Price: 120 Rupees
12. Inveda Lemon and Grapefruit Face Wash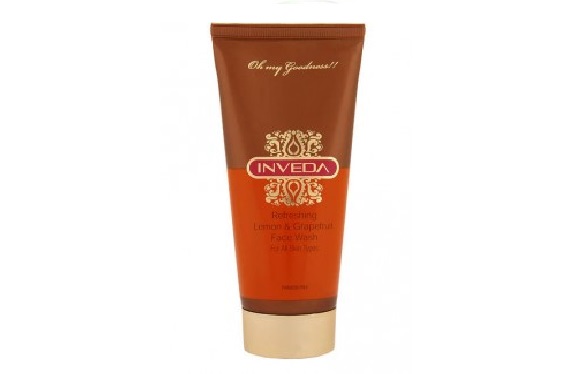 Inveda is also a herbal brand that makes skin and hair care related products. Inveds's lemon face wash is not just with lemon extracts but has got the grapefruit extracts too. It has deep skin cleansing properties that gives a clear skin and also makes the skin appear moisturized. The face wash claims to be rich in the anti aging properties as well with the lemon and grapefruit.
Recommended for: All skin types and even the dry skin.
Price: 175 rupees for 100ml
13. Everyuth Oil clear Lemon Face Wash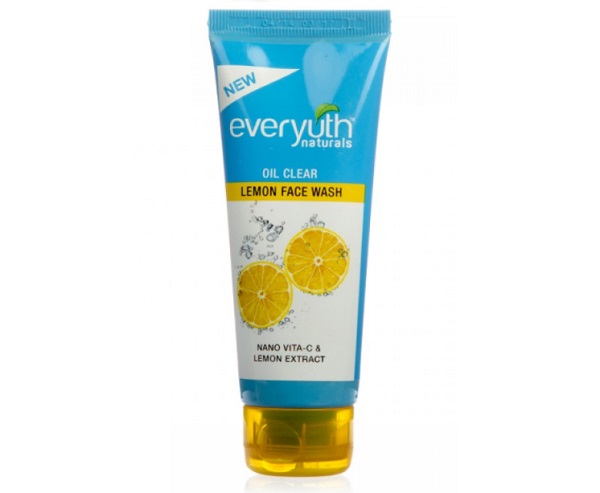 Everyuth is also a worthy brand amongst the younger lot. The face wash is only for 65 rupees and has the lemon extract along with the rose water. It is also an alcohol free face cleanser for oil conrol that is mild and does not irritate the sensitive skin types.
Price: 65 rupees
14. Rustic Art Organic Lemon Face Wash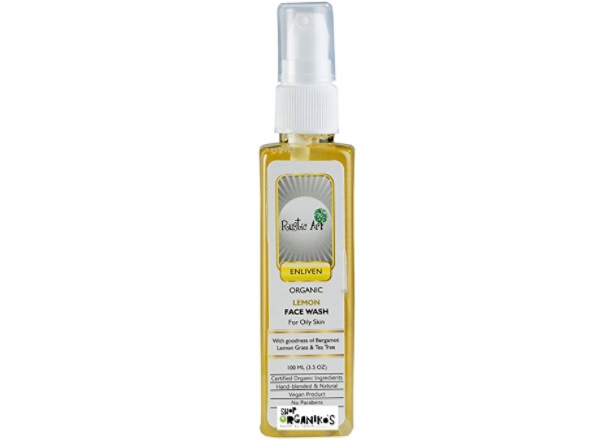 I have started to like this brand Rustic Art after knowing that their products are paraben free and are not tested on animals. This organic lemon face wash has the power of Bergamot Lemongrass and Tea Tree. So, if you have acne and pimples then this can heal them. Additionally, if your skin is dull due to oiliness and other skin problems, then too this can brighten the skin with bergamot extracts which also supposed to soothe the tired skin. Price of this cleanser is also very affordable and a 100 ml pack can last long.
Recommended for: All skin types especially dull, acne prone skin
Price: 230 rupees for 100 ml
So, these were the best lemon face washes available in India which everyone of us can try. Most of them are very cheap in price except for few. So, now you can decide which is the one that you would like to go for? My favorites are Himalaya, Joy, Garnier and from Khadi. Which is the one that you like?
Do check out our video on the Best Face wash for oily skin and subscribe to my channel friends! :)