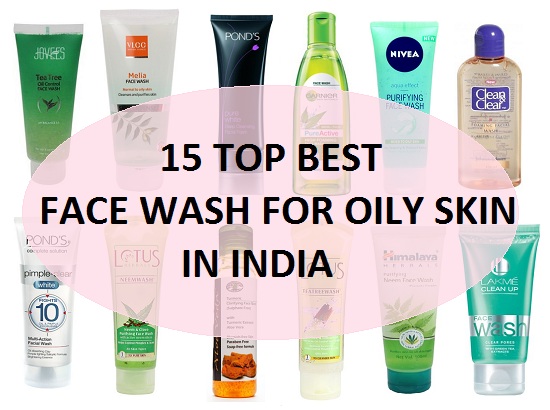 Oily skin needs utmost care else skin problems like acne, pimples, blackheads, whiteheads and blemishes start to show up. The first step in skin care routine for oily acne prone skin is cleansing thus choosing the correct face wash for oily skin is important. There are so many face washes in India for the oily skin types. Most of them have antibacterial ingredients like tea tree, Neem, Tulsi, salicylic acid etc. They also help to combat the oil production for oil free skin. When the skin happens to be oily then pimples are dreaded and getting rid of the oils is necessary. Even neem facial cleansers are proven to be good at pimple eliminating properties.
How to choose a good oily skin cleanser?
People with oily and acne prone skin needs facial cleansers that can get rid of those oils and sebum. So, while you are suffering from the oily skin, acne can be a common thing.
Face wash for acne prone and oily skin should be able to remove the oils without drying the skin. As when the skin gets dry, it further leads to the skin problems.
In facial cleansers for your oily face, you should choose cleansers which has the ingredients like tea tree, neem, tulsi, turmeric, clove etc.
These are able to provide the anti-bacterial benefits to combat the unnecessary oil production. These ingredients and actives also maintains the healthy balance of the skin.
15 Tops Best Face Wash for Oily skin and Acne Prone Skin in India
Oily skin face wash can be foaming in nature which takes off all the traces of oils, sweat and dirt or they can be gel based. I like the gel based face wash over the foaming face wash for my oily skin. This is because foaming face washes are good for very oily skin while gel based face washes are ideal for combination skin types. So, let's proceed and have a look at the list of best face wash products for oily skin, combination skin and acne prone skin in India.
1. Garnier Pure Active Neem and Tulsi Foaming Face Wash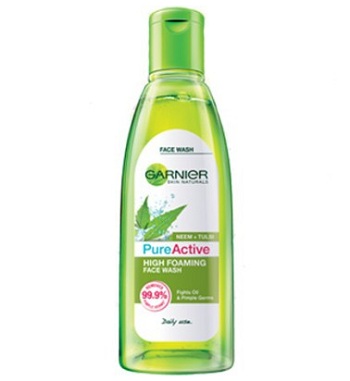 This is the new variant from Garnier after the very popular Pure active neem wash. I am still using it. And loved the way it gently cleanses my oily combination skin without making it dry or sticky. This is best for teenagers and in fact for everyone who faces skin problems. The small bottle is just for rupees 60. I have already reviewed this Garnier Pure Active neem and tulsi foaming face cleanser for oily skin. You can read that too.
2. Aroma Magic Neem & Tea Tree Face Wash for oily skin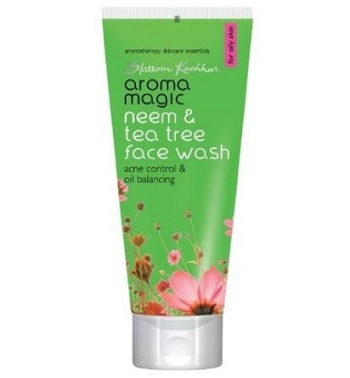 Aroma Magic Neem & Tea Tree gel cleanser is enriched with herbal ingredients like neem and tea tree oil which are anti-bacterial and also help to prevent the breakouts. I have used this and loved the way it cleanses the skin without over drying the face. This is soap free and paraben free. Tea tree oil treats acne and pimples faster.
3. Lakme Clean Up Clear Pores Face Wash for oily skin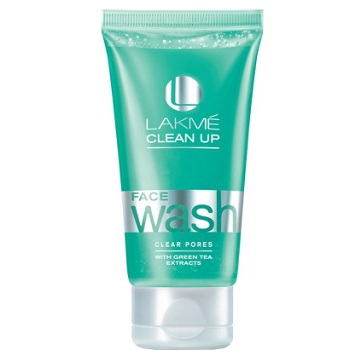 This is one of my most favorite face wash which has green tea extracts which sooth the oily irritated skin. Along with Green tea, it has salicylic acid which controls oils and sebum on face. Besides that, it also prevents the break outs. It prevents excess oils for a long time. The face scrub from this range is also very good. Face wash like these are considered good when the skin is oily and acne prone.
4. Clean & Clear Foaming Face Wash for oily skin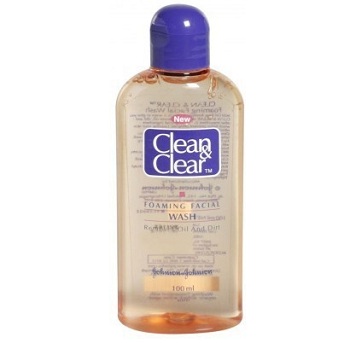 Clean & Clear Foaming gel wash is by far the most loved face wash for teenagers with very oily acne prone skin. It is a foaming facial cleanser thus will remove all the traces of sweat, oil, grease and dirt from the face. This is priced at rupees 99. Smaller pack is also available that can be carried in your bag.
5. Nivea Aqua Effect Purifying Face Wash for oily skin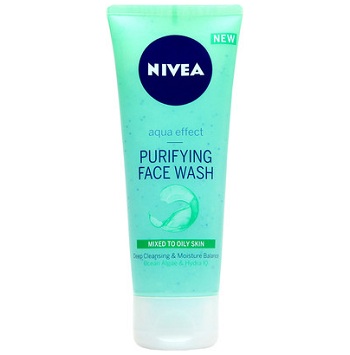 Nivea Aqua Effect Purifying Face Wash cleanser has a cooling sensation and suitable for oily to combination skin. Men can try this too. It removes the extra oils and sebum from the face for a fresh feel and brightened face. The tiny exfoliating particles ensures that the debris, dirt etc are sloughed off thoroughly to reveal a bright glowing face.
Recommended: Best Face wash for Men in India
6. Himalaya Purifying Neem Face Wash for Oily skin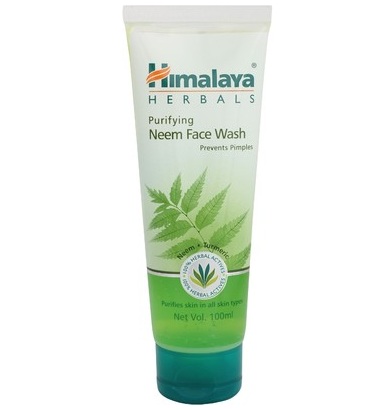 I don't have to stress how much this face wash is loved for oily and acne prone skin. This has neem which is antibacterial and removes the acne and zits off the face. The formula of this is gel, hence it will not dry the skin. This keeps the skin glowing yet takes off the sebum and unclogs the pores. You get this fresh and hydrated feel post using this face wash.
7. Pond's Pure White Deep Cleansing Facial Foam Wash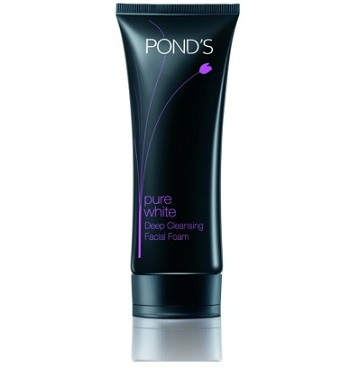 Facial foaming face washes are great for oily skin that produces lot of sebum. Such foaming face wash will remove the oils and control the too much of the oil production. If you have combination skin then Pond's Pure white deep cleansing activated charcoal face wash can be a bit drying for you. This face wash for oily skin is for 90 rupees and comes in a black tube just like the Pond's activated carbon face wash.
8. VLCC Melia Face Wash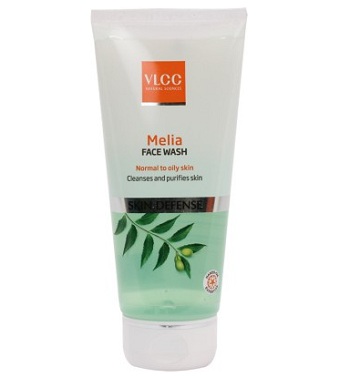 This VLCC Melia face wash is a purifying face wash which has the Melia extracts which help controlling the excess sebum production by the sebaceous glands. Melia deeply purifies the skin causing the sebum glands to release lesser oils. The detoxifying activity of its ingredients is also beneficial when the skin is prone to acne. It is suitable for youngsters and college students too.
9. Jovees Tea Tree Face wash for oily skin type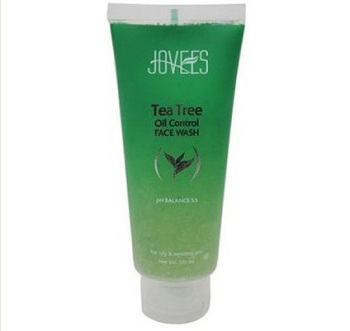 This Jovees facial cleanser has been formulated with the tea tree extracts. Tea tree is an effective anti bacterial so this will heal the acne and pimples on the face. Moreover this face wash will also make sure that the skin is cleansed properly after the wash. Tea tree is also effective in fading the pimples scars.
Also See: 10 Tea tree Face wash in India
10. Himalaya Oil Clear Lemon Face Wash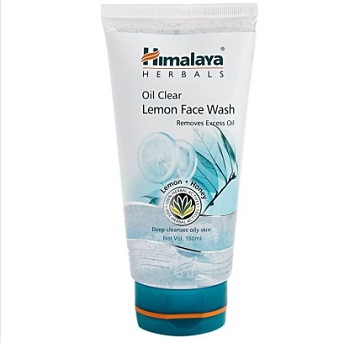 Himalaya face wash for oily skin has the lemon extracts and an oil clearing formula. This cleansing gel is good for combination skin and skin that gets irritated or red soon. Lemon in this facial cleanser helps to tone and tighten the pores. Similarly, it treats the excess unnecessary sebum and oils.
11. Pond's Pimple Clear Multi Action Face Wash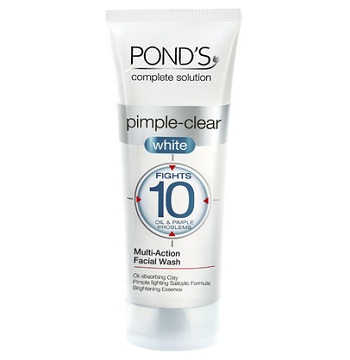 Pond's Pimple Clear Wash is a thick white colored foaming face wash for extremely oily skin. The foaming lathers of this Pond's face wash will make the skin squeaky clean and oil free. It is formulated with Clay and salicylic acid which takes excess oils and prevents pimples. Furthermore, it has brightening essence for beautiful glow. Combination skinned people should skip this as this can be drying at times like in winters. It is not as good as a winter face wash.
12. Lotus Herbals Neem and Clove Purifying Face Wash
Lotus Herbals Neem and Clove Purifying Face Wash has clove and neem as its active ingredients. It has neem which is antibacterial and clove which is one of the best ingredients to heal the pimples fast. You may have seen clove is being used in the pimple creams as well.
13. Aloe Veda Turmeric Clarifying Face Wash (Sulphate free)
Aloe Veda Turmeric Clarifying Face Wash is a very good gel based face wash It is sulphate free and paraben free cleansing gel wash for men and women. The turmeric and aloe vera extracts clarify the oily skin thus make skin free of pimples. Turmeric is purifying and helps in acne prone skin to stay clean and free of the blemishes.
14. Neutrogena Deep Clean Foaming Face Wash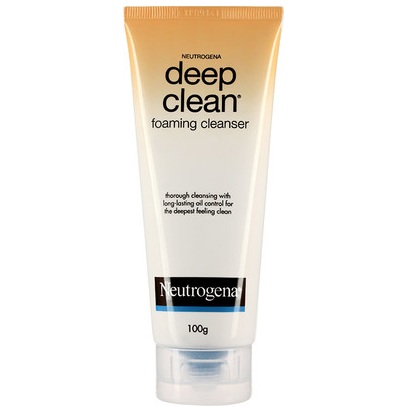 This Neutrogena face wash is like a thick face cream therefore just a little bit of this face wash is enough for washing the face. Taking foaming face wash too much can leave the face dry so take only a pea sized amount. This product is good for oily acne prone skin with over active sebaceous glands. It is an excellent face wash for blackheads free skin.
15. Lotus Herbals Tea Tree and Cinnamon Anti Acne oil Control face Wash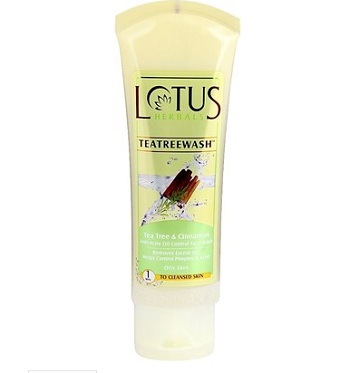 Lotus Herbals Tea Tree and Cinnamon Anti Acne oil Control face Wash is an anti acne and oil controlling cleanser which is for 125 rupees. It is suitable for normal to oily skin for very sensitive skin also. This oily skin face wash cleanses gently thus good for sensitive skin. It heals the acne and also reduces the oiliness.
So, these were the best facial cleansers and face wash for oily skin acne prone skin. Moreover, people with combination skin should also try these. which is your favorite Cleansing gel for oily skin, do tell us!!
Also see these:
Do check out the best face wash for Oily and Acne Prone Skin and please subscribe to my channel friends. 🙂