15 Latest Mang Tika Designs for Brides: When a girl dreams of becoming bride, she thinks about being the most beautiful. So, her dress, jewelery play an important role in that. One such important piece of jewelry for brides is mang tika. Mang tika is not just a piece of bridal jewelery but a symbol of getting married and one of the items from the solah shringar. Basically a mang tika will have a pendant like think at one end which is attached to a thin or thick chain that goes on the middle of the head.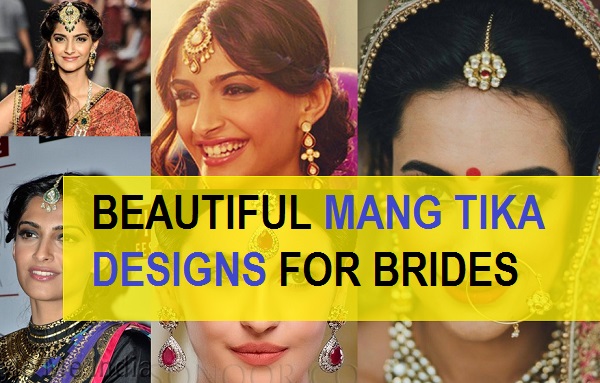 At the moment there are so many different varieties of the mang tika designs that brides can choose to beautify their foreheads. The design selection also depends on the necklace and earrings you will be wearing. One thing, we would like to clear here is that the mang tika is the single piece of jewelery but when it has the other strings attached that goes on each side of the forehead then this is not just a mang tika anymore, but them it is called a matha patti, so, do keep in mind if you wish to wear a mang tika on your wedding or a matha patti.
15 Latest Mang Tika Designs for Brides in India
Here, we have summed up the beautiful collection of mang tika designs for the brides that will increase the beauty of the bride.
1. Elegant Mang Tika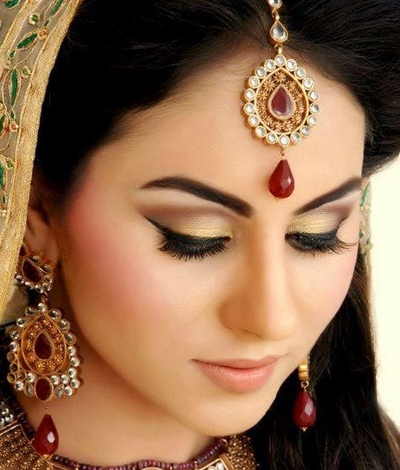 The mang tika here is very elegant and simple looking. It will suit brides with small forehead too as the size of the pendent is not much. The tiny tear drop at the end adds a striking beauty as the place where this ends also marks the presence of the bridal bindi.
2. Rajasthani Style Mang tika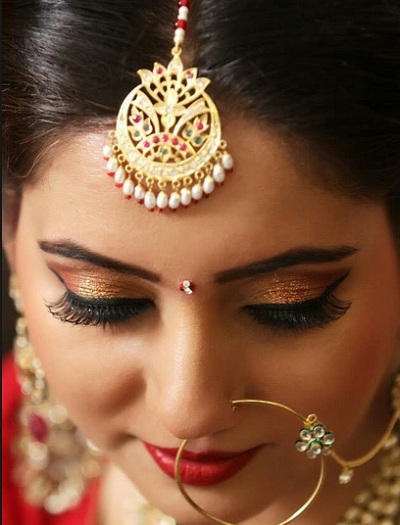 This style is very marwadi inspired. The gold work with red and green colors on the design makes it look traditional. The white pearl with red beads at the end gives it a delicate feel which is good for the traditional Indian brides.
3. Modern Contemporary Design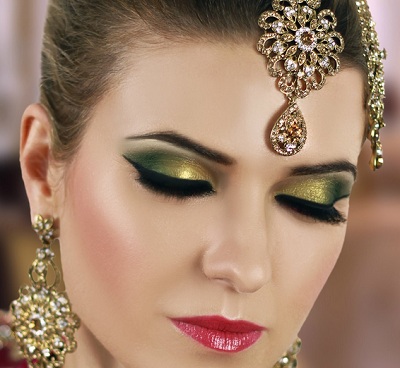 This design looks really classy. The olive green colored stones are set in a floral pattern which makes this appear good for modern brides. This will be ideal for brides with long forehead.
4. Oversized mang tika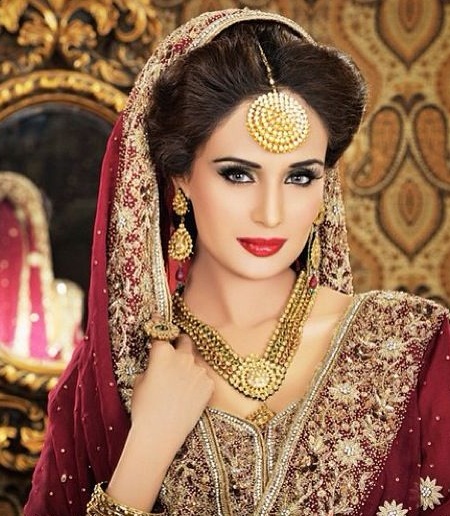 This is an over sized mang tika which looks very very majestic. This will look great for brides who are tall and have bog foreheads. The round design is beautified with pearl work which is the real beauty of this piece.
5. Balled Mang tika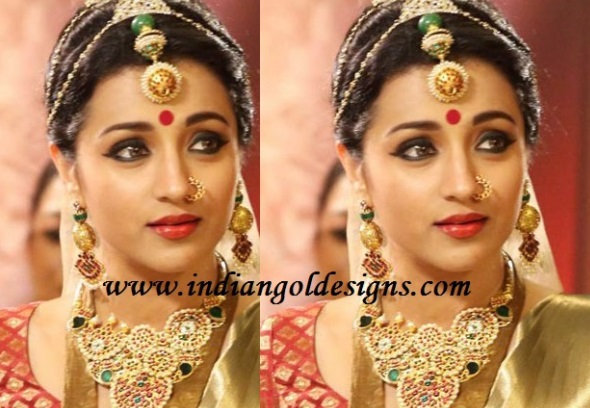 If you want something different that the regular chains and pendent style of mang tikas then try this. A beautiful borla style mang tika which has a small round pendent with big beads and balled motifs that adorn the middle a parting of the hair. This one is brilliant in its designs and gives a very different notion.
6. Majestic style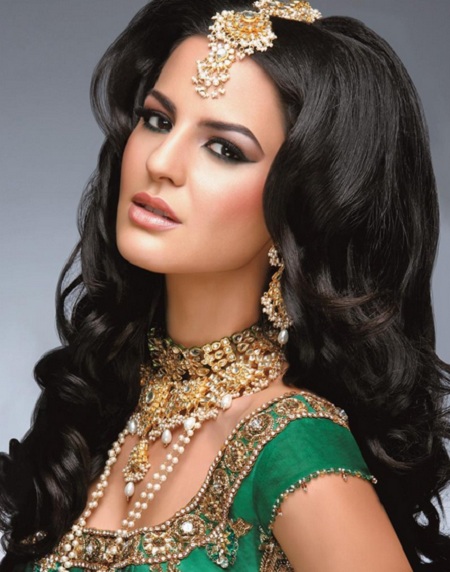 This is truly our favorite and will suit brides with small and large both types of forehand. The pendent alone is not just studded with kundan and pearls but the string that goes till the middle of the parting has also got the similar design. This is royal and rich in feel. Brides who wish to feel like princess should definitely wear style of mang tika designs like that.
7. Simple mang tika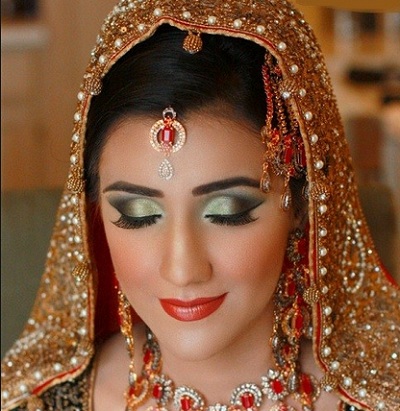 It is truly simple style. The pattern is cute and uncomplicated. The stone in the middle is the highlight. Such small simple designs of mang tikas are suitable for the bride with small foreheads.
8. Dew drops mang tika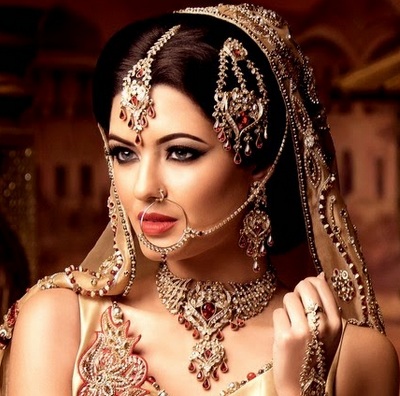 This style has the slight triangular design and hence would suits all the foreheads. The tiny dew drops like beads that fall on the forehead will look elegant and striking especially when the bride has beautiful eye makeup with this style of mang tika.
9. Diamond mang tika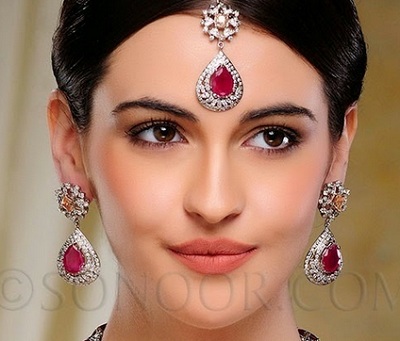 If you like simple and classy mang tika, then this design can be your choice. The simple diamond encrusted design with a centre ruby stone is truly alluring. Such designs can also be worn for pre-bridal ceremonies and post bridal rituals.
10. Tall style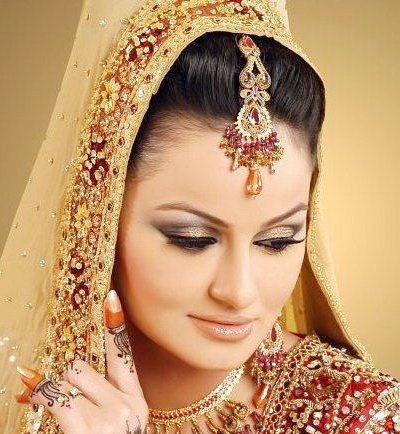 This has a pendent which is taller in pattern that goes a little beyond the forehead. Hence, this will be good for brides who have got small forehead but wish to give an illusion of larger forehead.
11. Classy mang tika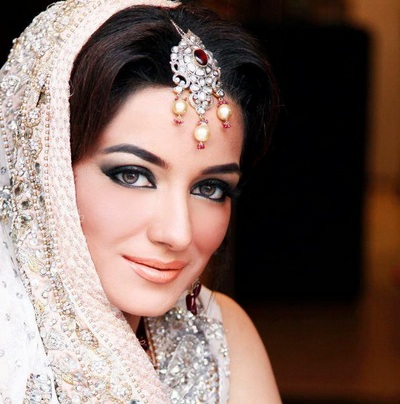 It exudes the charm of Mughal era and looks very suitable for the Muslim brides. The silver metal with pearls complement each other in making this piece look regal.
12. Ring style mang tika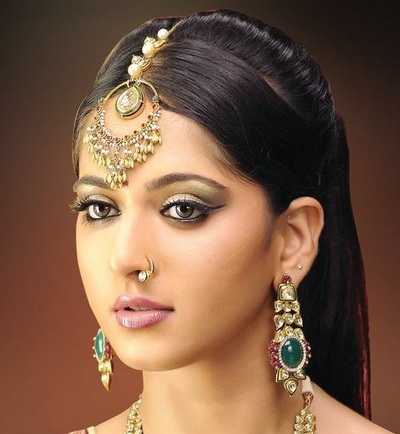 This has a ring like we have seen in the hoop earrings. Inside that there is stone and the ring is decked up with tiny trinklets. This too is for large foreheads girls!! By the way, she looked impressive and stunning as Devsena.
13. Half Moon mang tika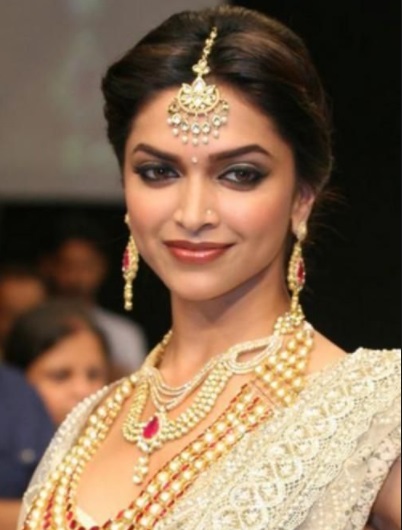 Half moon inspired mang tikas look beautiful on every bride. They made the forehead look beautiful. Such designs are used a lot for runways as they look very alluring yet remarkable. The kundan work is quite evident and the kundan stones are also on the mang tika chain as well.
14. Kundan Mang tika
         
If kundan mang tika is your choice then this simple design with kundan stone sis for you. The floral small pendent with kundan is enticing and so does the chain which is not a plain one but with kundan work. The green stone at the end will add the illusion of longer forehead. This can be used by all the brides no matter what the shape of forehead is.
15. Borla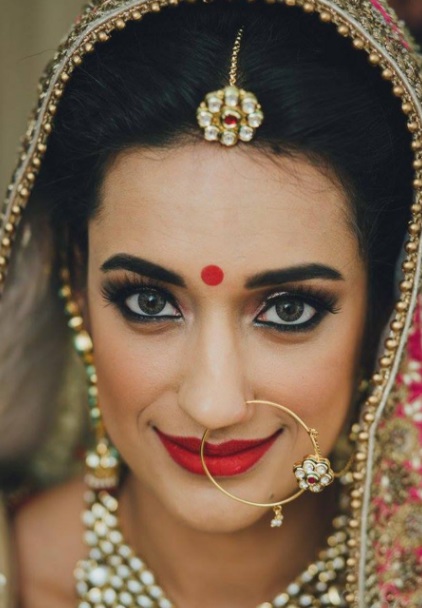 Borla is the classic Rajasthani style of jewelery that is a replacement of mang tika. There is a thin chain and a dangling ball like pendent. It can be made with kundan, gold, silver etc the designs can be very simple or very intricate. But the beauty of borla is that they look grand.
So, these were the bridal Mang tika designs that you should definitely try. Tell us which is the one that you liked the most?