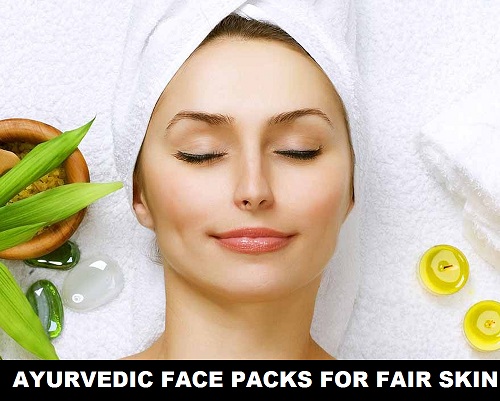 Ayurvedic face packs are great to get fair skin. Ayurveda has cure for almost everything, not only this Aurveda also reveals some of the important ingredients and methods to get fairer skin. When it comes to enhancing skin complexion or to get a fair skin, there are some excellent Ayurvedic remedies that can help lighten the skin tone, make skin radiant and blemish free. Some of the herbs like sandalwood (chandan), red sandalwood powder, haridra (turmeric), Manjistha, tulsi (Holy basil) etc are widely used in homemade Ayurvedic preparations or for the ready-made Ayurvedic face packs. When applied the treatments give you good response in not just lightening the skin tone but also improvises and smoothen the skin texture over the time. Getting the ingredients is also not a problem as these are available online and offline in special shops.

Here are 2 homemade Ayurvedic face packs that will make the skin fairer and blemish free.
Ayurvedic face pack with Raktchandan and Manjistha
How to prepare this face pack for fairness?
Take one teaspoonful of raktchandan and some manjistha powder.

Mix both of these well with milk or Rose water.

Add a couple of drops of lime juice to enhance the efficiency.

Mix the ingredients well to form a fine paste.

Apply this mixture on the cleansed face.

Let it dry for 20 minutes, wash off with cold water.

This Ayurvedic face pack can be used 2 times a week.
Benefits of this face pack
Red Sandalwood is known to cure skin allergies, blemishes and lighten the skin complexion. It also soothes the skin and helps eliminate the acne causing bacteria. This wonderful herb also keeps the skin problems away by making the skin oil free. This face pack will be ideal for oily skin even though it can be used by all the skin types. Manjistha on the other hand heals, makes skin tone fair and fades away the dark spots due to acne and pimples. This herb is a good homemade beauty tips to make skin fair.
Ayurvedic face pack with Haridra, Sandalwood and rose petals
Another good ayurvedic face pack to improve skin complexion is with sandalwood, turmeric and rose petals. This ayurvedic face pack contains all the great ingredients that will make skin fair and blemish free.
How to Prepare this fair skin pack?
Take one tea spoonful of sandalwood powder and add 2-3 pinches of haridra (Turmeric) Powder in it.

Now grind/crush 5-6 rose petals and mix this into the other two ingredients.

Make a paste of all the ingredients with rose water or just the plain water.

Apply it evenly on the face, rinse off after 20 minutes with plain water.
Benefits of this pack
Sandalwood soothes the irritated or sun burnt skin, therefore acting as a face pack to get rid of the suntan or sunburn as well.

Haridra has anti-inflammatory and anti-allergic properties which will treat acne if you have.

Rose petals will add a rosey glow to the face and lightens the skin simultaneously.

This Ayurvedic face pack should be used at least once a week to get the maximum benefits out of this. These face packs not only shows their long lasting results in making the skin better but also makes sure that there are no side effects unlike the ready made chemical laden products. Your patience and time is really important for any remedy to work. Regular application can fetch you good and effective results, so do try and get the benefits. 
Recommended Articles: