Glitter Mehandi Designs are the most used designs these days. As the mehndi designs are evolving we are seeing a lot of different types of artistic designs like the ones where the glitter is used or stones etc. Even the designs vary like they can be Mughlai, Arabic, Indo Arabic etc. Gone are the days when the brides used to just apply the regular red colored mehndi but these days even bridal mehndi has been taken into account. Mehndi artists have tried different methods and decorative things to give a new look to the traditional mehndi. The glittering sparkly colors add further beauty and charm to the mehndi designs and highlight the pattern. Glitter henna designs can also have the stones, pearls etc but a lot of time a pure glitter or shimmer is used as it stays lot longer and are irritation free.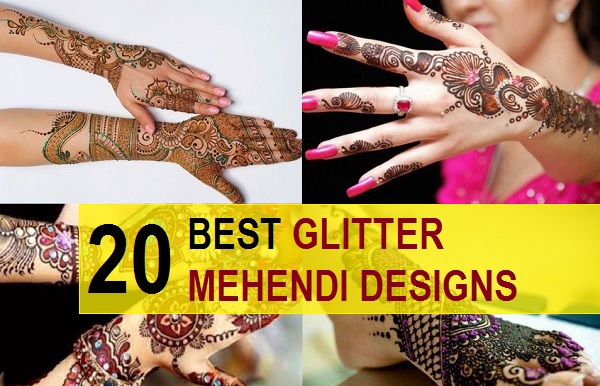 Glitter mehndi is also used for the henna or mehndi tattoo which makes the design look ravishing and luxurious. For glitter mehndi, the normal green mehndi is applied and after that glitter is used on areas where you wish the color and shimmer. Similarly the rhinestones, diamond stones are also used.
20 Best Glitter Mehndi Design Images for Weddings, Festivals etc
In this post, we bring you the most beautiful images and inspirations for the glitter mehndi. Glitter colors like red, blue, green purple etc are used a lot in such design which will actually highlight the mehndi design by manifolds.
1. Green Glitter Mehndi Design
This is a very rich looking glitter mehndi design that has the green glitters used on the designs. The pattern is very intricately made with beautiful floral motifs and paisleys. The design is quite filled in and glitter adds more depth and beauty to this design. 
2. Rajasthani Glitter Mehndi Design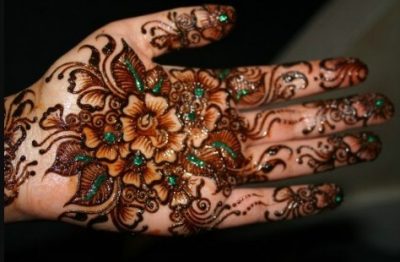 Very artistic and Rajasthani inspired mehndi design using the basic green colored glitter. The green glitter has made the design come alive. The beautiful floral mehndi is astonishingly made and glitter is giving it a new light.
3. Delicate Pink Glitter Mehndi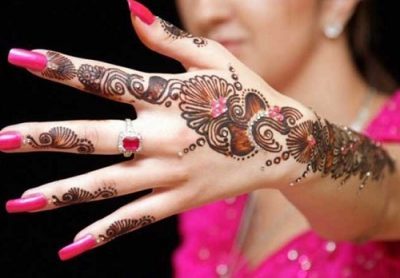 This is a very delicate and feminine looking mehndi design. It is appropriate for engagements, karwa chuth ceremonies like roka etc. the pink glitter and stones make this mesmerizing and attractive. See also: Our best collection of peacock mehndi designs
4. Luxurious Bridal Glitter Mehndi Design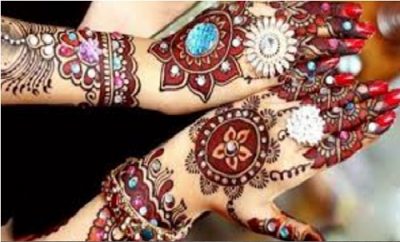 This is royal, grand and luxurious design where the glitter, stones are used in abundance. The mehndi is quite dark and have been used with filled in motifs and shapes there is no delicate or thin lines rather bold shapes are used. Stones of different color are used to adorn and beautify this astonishing design.
5. Feet Glitter Mehndi with Flower design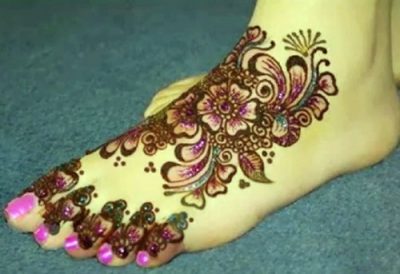 This is a floral feet mehndi design which is beautified with the purple and green glitters. The flower in this design is alluring.
6. Curvy Paisley and green shimmer design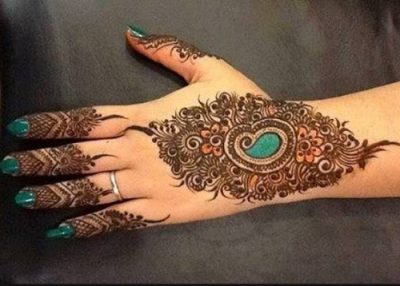 Absolutely stunning!! This is made with delicate and curvy design that has a paisley in the between which is filled with green-blue shimmer. The fingers too are decorated with thin intricate detailing.
7. Geometric Feet Mehndi with glitters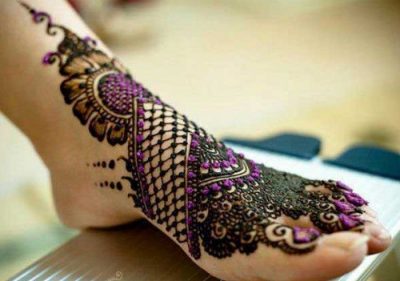 Geometric inspired feet mehndi! The parallel design is wonderful and brides would surely love to flaunt this design.  The top part of the design has a beautiful floral motif. Purple glitter is used to make tiny stone lien effect to fill gaps. This is truly a cute and elegant looking glitter mehndi design.
8. Bridal mehndi for feet with glitter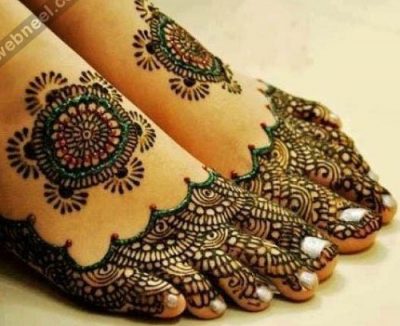 Another feet mehndi that is suitable for brides is this one. The rich looking complexion design is very closely made but still manages to look wonderful. The central round tikki style shape too is adding charm to this mehndi.  The green glitter or shimmer is applied on the borders to give more depth of this style of henna design. You can try it for roka with a stunning green or red outfit to make heads turn.
9. Floral Glitter Mehndi Design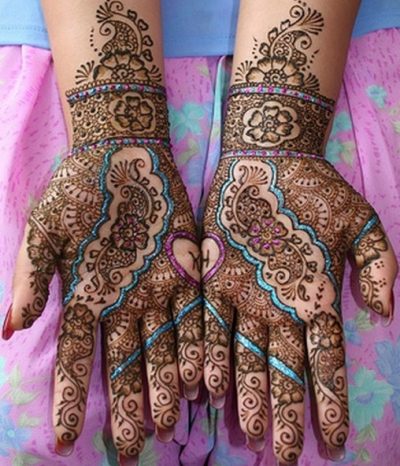 What can we say about this Rajasthani Floral mehndi design with glitters? This is clear and crisply made. The sky blue glitter is used on the borders which gives a beautiful appeal to this design. Flower shapes here and there which highlights the design. Choose this for your wedding to make a lasting impression.
10. Simple Purple Glitter Henna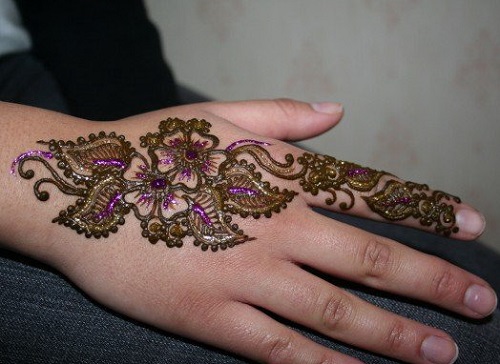 Very delicate henna design with purple glitter!! The glitter is used on certain places just to bring the design to light. This can be used on a friend's wedding to look great in your Indian or traditional attire.
11. Glitter and stone studded mehndi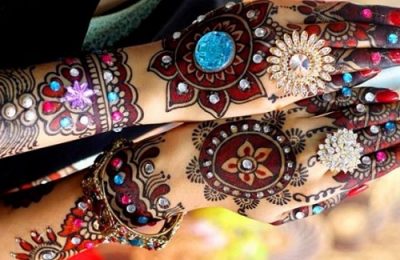 This red mehndi design is old and beautiful! The stone of various color will give a luxurious feel to this royal and grand design. Muslim and hindu brides will love such grand designs.
12. Paisley, tendrils and Glitters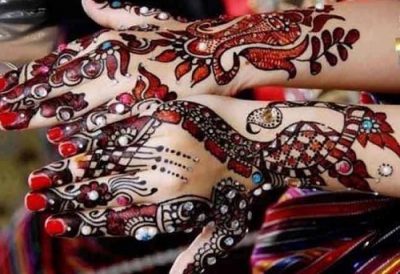 Te design here is filled with paisleys, Curvy figures, tendrils etc. The gaps are used to stick the stone which emphasize the design. It's a very bridal mehndi design with glitters.
13. Golden Glitter Design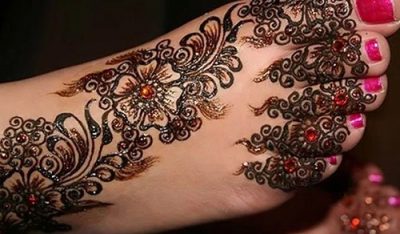 The feet mehndi is glitter based and is floral in nature. The golden glitter is making this truly magical. The next time you are going for a traditional party try this design to make the heads turn. Even groom these days are trying glitter mehndi designs to stay in trend or at a request from their brides.
14. Bridal Blue green mehndi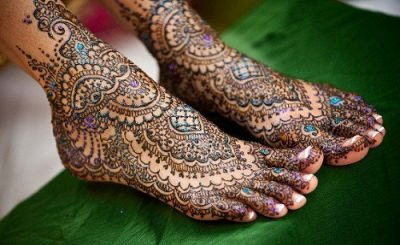 Very complex yet gorgeous design which has a glimpse of Rajasthani architecture!! The Rajasthani mehndi design is good for brides and bridesmaid. There are blue and green glitters which are applied to bring up the design.
15. Pure Silver Glitter Mehndi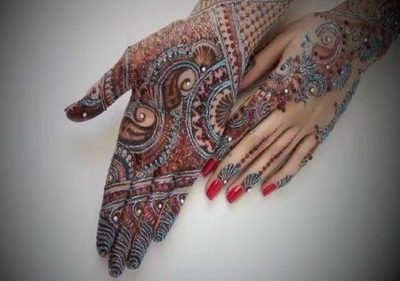 Here you will see the glitter of silver color. The silver is quite evident and it looks nice on the dark red colored mehndi. The lovely paisleys in this design are highlighting the overall design. The back hand design too is rich in the Indo-Arabic design which is ideal for parties and ceremonies too.
16. Spiral Mehndi Design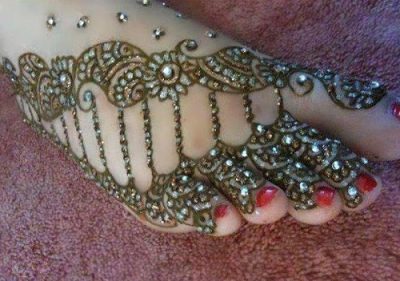 Absolutely a magical design!! The spirals, paisley like shapes are beautifully decorating this back hands henna design. Silver glitter is used wisely and strategically to highlight certain motifs and parts of this design.
17. Floral glitter design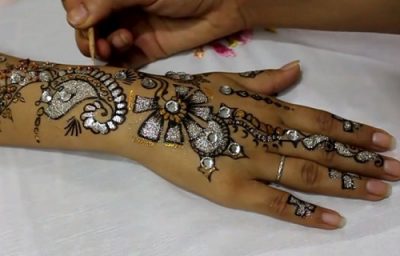 This entire single line henna design is made with silver shimmer. There are paisley and floral in this bail design but every shape is covered with intense opaque glitters.
18. Bail style Glitter Mehndi Design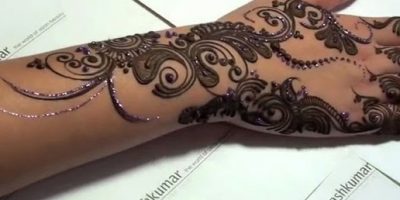 It's a bail style design which comprises of flowers. These are filled with blue glitter which is making the flowers pop. Little girls too can try it.
19. Silver Feet Mehndi Design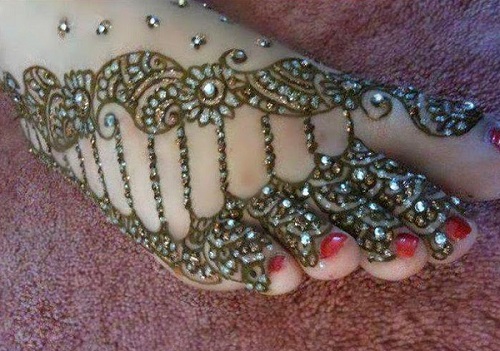 It is undoubtedly one of the best designs for feet with glitters. The silver glitter is doing an amazing thing to this design the parallel diagonal lines are creating such a grand effect. Brides would love this, If your wedding is round the corner then do choose designs like this.
20. Grand Mehndi Design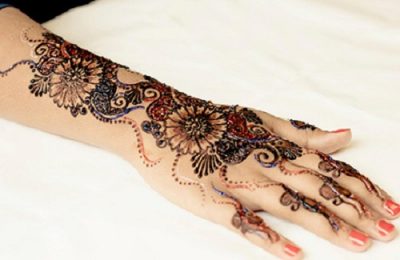 Very grand design on the entire back hand that extends until the arm is breathtaking. There have been used several different colored glitters.
So, these were the latest glitter mehndi designs that brides, bridesmaid, little girls etc can try. Which one do you like? Are you going to try them?