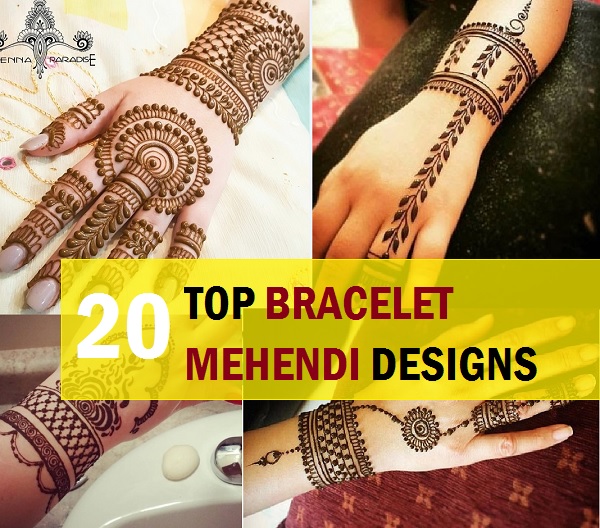 Bracelet Mehendi Designs in trend. While you think of being a part of a wedding, you just can't miss applying henna. Mehendi not just decorates your hands but also make them look stylish. Today, there are various type of mehendi styles like the Arabic, Rajasthani etc but there are another style that is gaining popularity amongst the young girls. And that is the bracelet style mehendi. In such designs the wrist area is beautiful covered with mehendi patterns that give an illusion of bracelets, cuff or kadas in your wrist. The design and the preference depend on individual but it is the most in trend design these days that you must try!
20 Beautiful Bracelet Mehendi Designs for Wedding, Parties and Festivals
Here we have complied the best inspirations and images of the bracelets mehendi designs that you can try. These trendy, fancy and fashionable bracelets mehendi would be liked by everyone in fact.
1. Delicate Ring Bracelet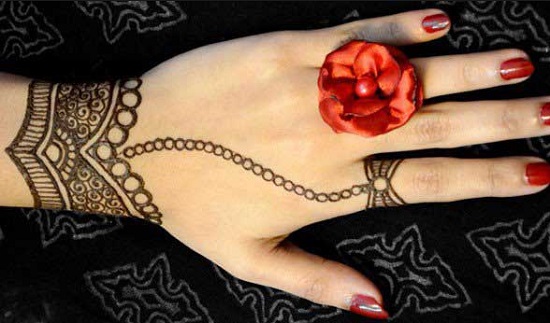 It is a bracelet mehendi design with a chain and a ring design in the index finger. The bracelet is made with the small circles and inside that they are decorated with the spirals. It's a very chic looking bracelet mehendi that can be tried by girls. see the best glitter mehendi designs
2. Floral bracelet mehendi design

This is a floral design with a cuff like bracelet drawn on the wrist. The beaded chain like lines looks lovely and gives this a very feminine and delicate. Don't you think that this is gong to look fabulous an different when you try it for a party. It  also looks like a kada style design. See our best Arabic mehendi designs
3. Trendy Bracelet style of Mehendi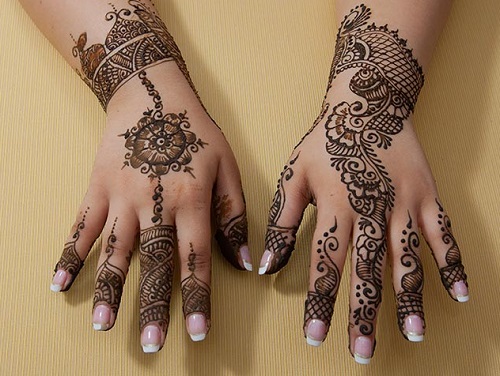 These bracelet designs have the Arabic inspired look with single like peter that goes from wrist to the index finger nail.
4. Circular Broad Bracelet Mehendi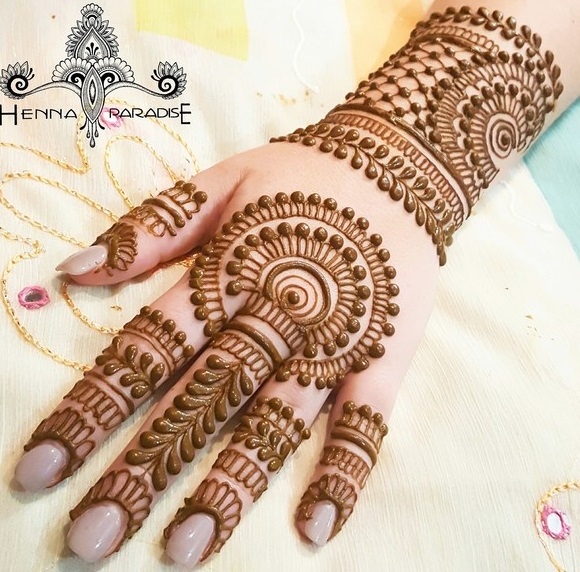 Such a grand and clean design! The bracelet is effortlessly beautiful and is wide filled with dotted design. Glorious circular design in the centre is remarkable and clear cut. The fingers too are decorated with the dew drop leaf designs. The bracelet looks like a broad cuff bracelet. See: Beautiful Finger mehendi designs for everyone.
5. Diamond Inspired Bracelet mehendi design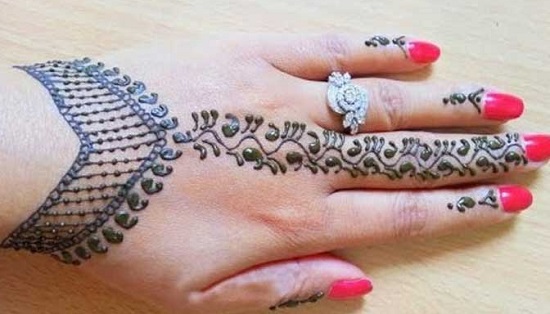 This ring attached bracelet gives a very princess like feel. The design is very diamond like since such delicate designs are seen in diamond jewelry. Such patterns are really uber-cool and looks good on everyone.
6. Delicate Balled Bracelet Mehendi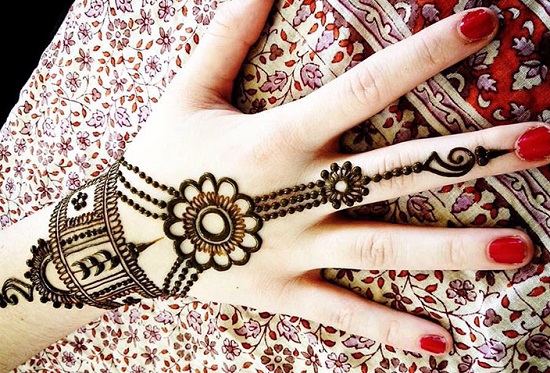 The bracelet at the wrist extends till the middle finger and in between there is a circular motif which is attached with dainty balled chains. The design is very delicate looking and neat hence can be worn just like that to reveal your inner fashionista. See the stone studded mehendi designs
7.  Circular Double Banded Bracelet Mehendi Design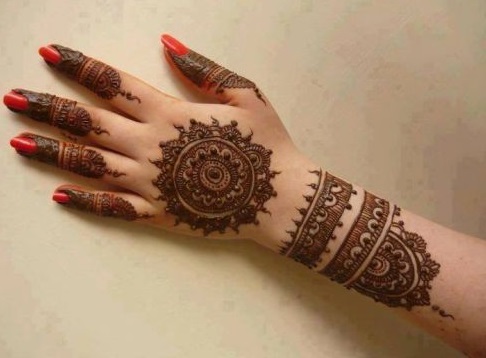 The bracelets in this mehendi design are two row one. It looks like a mess of beads and fringes in this mehendi art with a semicircular decoration. This similar design is seen on the fingers a swell. The big circular pattern in the center looks enticing.
8. Finger Ring Bracelet Design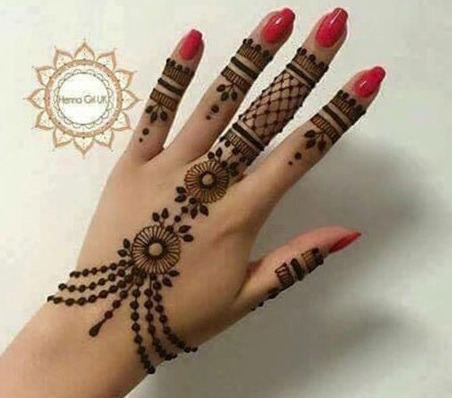 This looks like a lacey beaded bracelet, which is not of metal but gives a feel of those laced hand jewelry that we wear. The button like two circles is graceful.
9. Brooch Style Bracelet Mehendi Design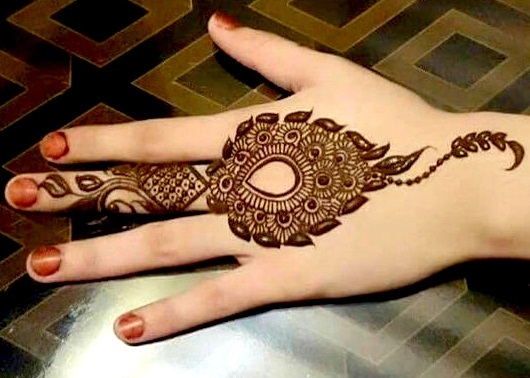 This is not exactly like a bracelet but more like a ring ornament. The beautiful and exquisite design is extremely graceful and looks breath taking. It appears like a super pretty brooch and gives a very remarkable effect. For feet mehendi too such designs can be used.
10. Intricate Bracelet Mehendi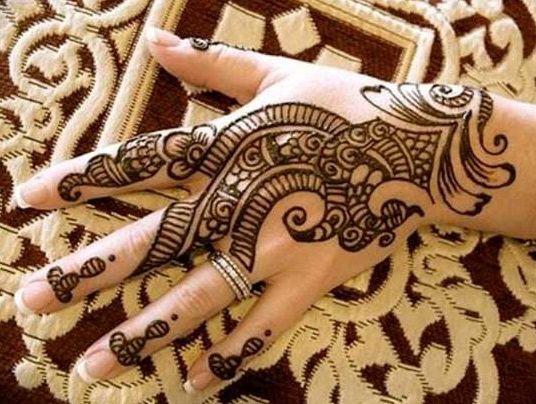 The curvy design is good for back hand and it looks lovely.
11. Dainty Circle style Bracelet Mehendi Design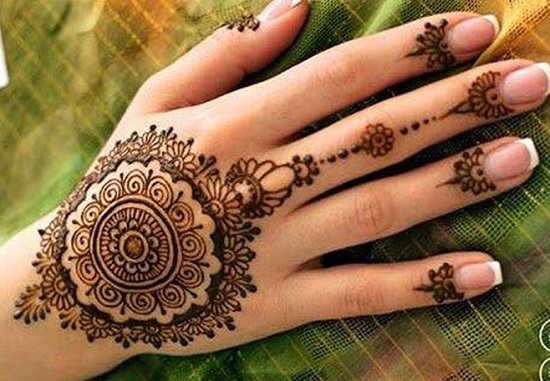 The exquisite circular designs are neat and so beautiful that the same is replicated near the finger nails. The circle is made extremely intricately with fine lines. See the Latest Peacock mehendi designs
12. Laced Bracelet Mehendi with Ring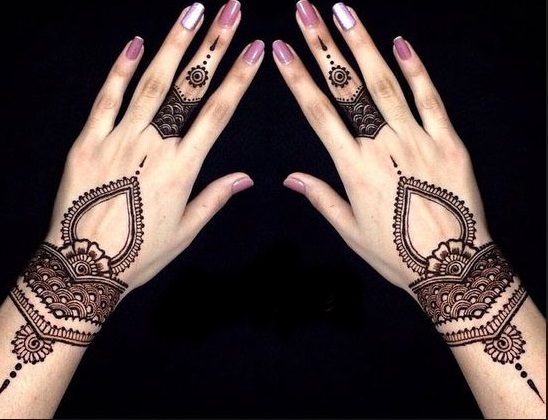 The cuff like design is brilliant and gives a lacey effect. The cuff has an empty pear shaped design which has double lines with dots.
13. Broad Cuff with thin string Bracelet Mehendi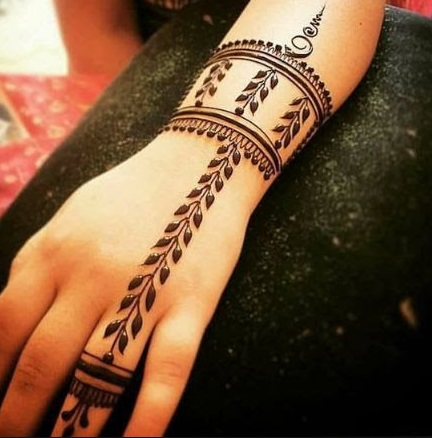 Neat Straight branches filled with lines leaves is just amazing for new age fashionistas. This is not a regular mehendi pattern but has a charm that this can be used otherwise too. The cuff like broad bracelet at the wrist too is made with same leave pattern. It looks like a broad bangleis attached with a ring on the finger through a leafy chain.
14. Beautiful Floral Bracelet Design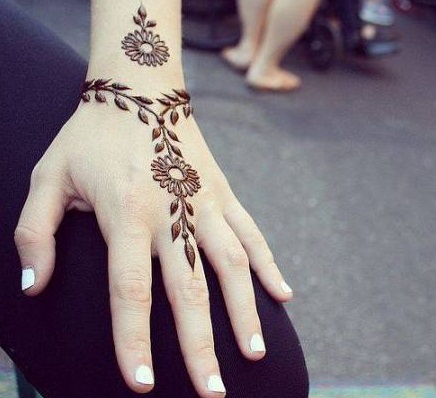 Very simple and classy at the same time! The perfect circular flower in the center unites the two branches coming from each side of the wrist. And then there arises a short branch that runs till the middle finger. Little girls too can use this to try something new.
15. Paisley Bracelet Mehendi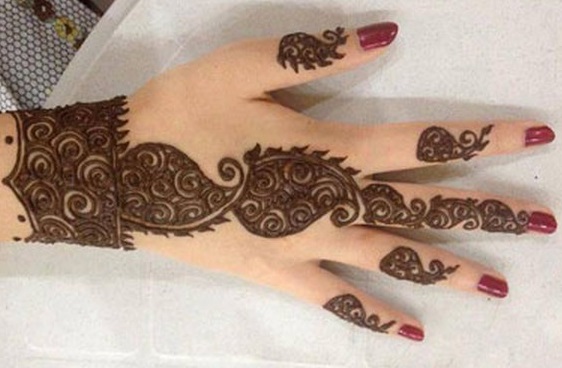 This cuff is made with spiral pattern to fill the gaps. The paisleys are used to take this design further up the middle finger and same has also been used on the fingers as well.
16. Tattoo Bracelet Mehendi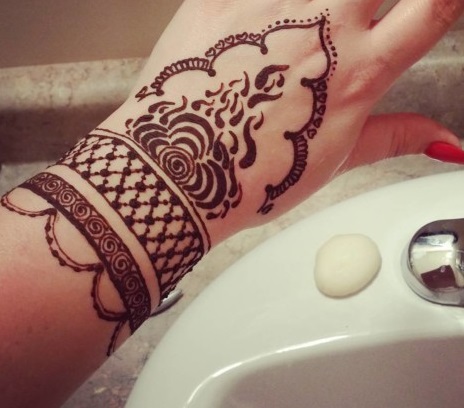 It looks like a cuff or bracelet mehendi with tattoo effects. The thick band with criss-cross is pretty and the floral pattern too amplifies the appeal of this design. One can sport this exquisite design for parties and ceremonies to make people look impressed.
17. Beaded Bracelet with Ring style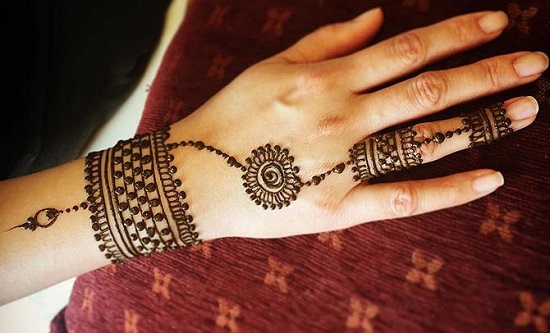 It can be truly called as a ring and bracelet design. This mehendi has everything like a beautiful bracelet design which looks as if it is beaded, then a cute double ring which is also beaded and these two are joined by a beaded chain with a floral decoration.
18. Elaborated Cuff Bracelet Mehendi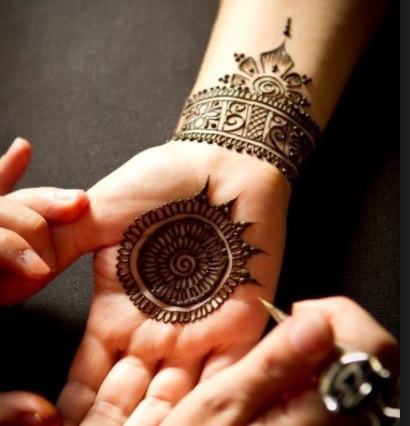 The bracelet here is worth trying. It gives a royal feel for its minute and elaborated design. Same can be used for the back of the hand and even for the feet.
19. Structures Mesh Bracelet Design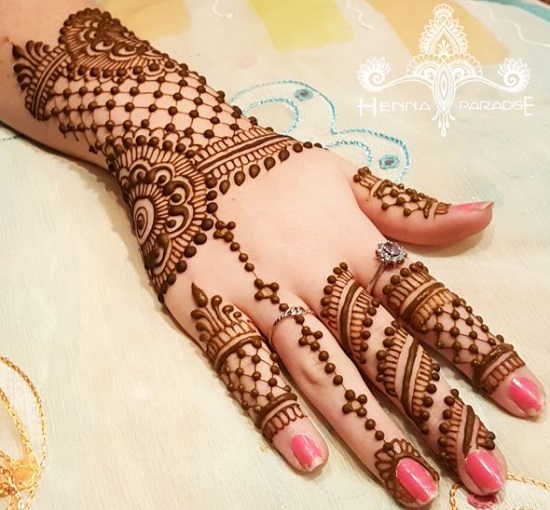 We never knew dots can give such a beautiful design. Here the dots are everywhere and they have enhanced the design by manifolds. Bracelet here is a mazed one which looks excellent.
20. Artistis and floral Design of Bracelet Mehendi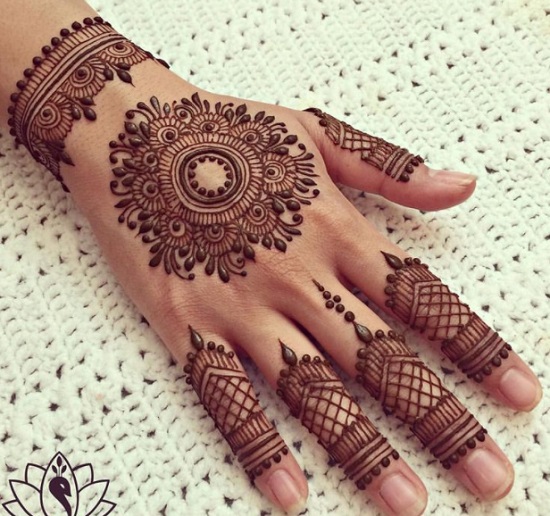 Bracelet mehendi can not only bracelets but here you will see the center circular design is stunning and neat while the bracelet is simple and again very neat. This gives a feel of the Mughal architecture and looks royal. The finger mehendi design too is excellently made with precise detailing.
These are the gorgeous and trendy bracelet mehendi designs that one must try. These styles are trendy, fancy and in demand. Which is the one bracelet mehendi you liked the most?