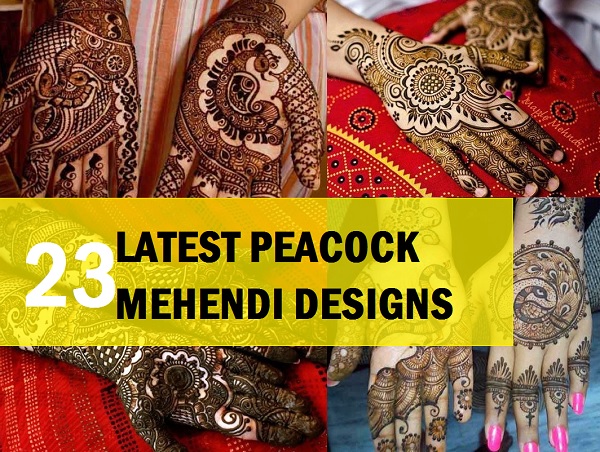 Peacock Mehndi Designs for Hands and Feet: Peacock pattern the mehndi is not a new thing. Henna or the mehndi application is an integral part of various cultures across the world. Peacock inspired mehndi designs look beautiful when applied for special occasions . Such designs are created for hands, feet and for arms mehndi. There are simple or detailed designs which include peacock and its body parts with its beautiful feathers. Mehndi is an art that involves application of beautiful designs. For brides, mehndi designs are lavish and see a variety of different structures and motifs. Let's see the various forms of latest peacock mehndi designs that can be tried by the brides, grooms, their relatives, etc.
Top 23 Best New Peacock Mehndi Designs for 2021
Here are some of the latest and best peacock inspired mehndi designs that can be made on the hands, feet etc
1. Peacock Mehndi Design For Full Hands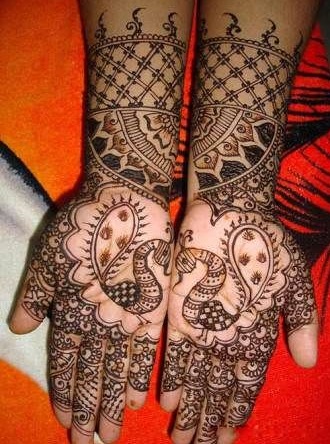 This Eid special mehndi design looks classy and something that has the glimpse of the Mughal Era. The scalloped edges with floral tendril like structures are lovely to look at.
2.  Extensive Peacock Mehndi Design For Hands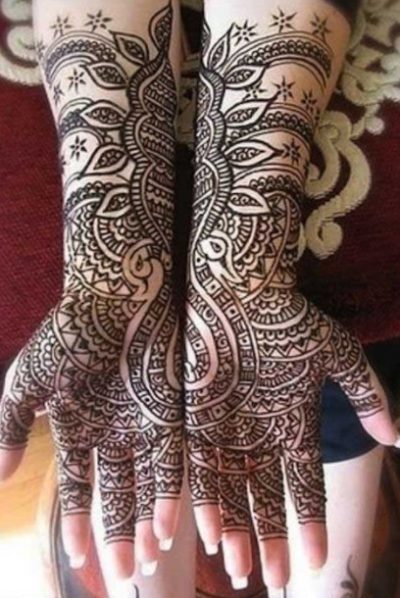 Symmetry is the name for this design with peacock motifs. No, where the design is shaded, filled or the lines have gotten too close. Rather the leaf patterns have been extensively used along with the peacock pattern. It can be the best Eid mehndi for small girls and women.
3. Mor Style Design Mehndi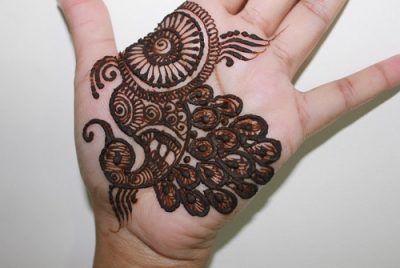 It is a good peacock mehndi pattern for small girls. The design is rich and simple for beginners and small kids. The fingers are bare but can be filled with motifs of leaves, tendrils and semicircles.
4. Peacock Henna Design For Hands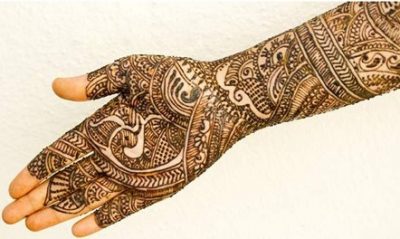 Brides would love the peacock loaded mehndi patterns like this. The bands at the arms give an illusion of bangles. The Arabic pattern and mehndi design motifs and slanted lines makes this gorgeous. It can also be the perfect karwa chauth special mehndi pattern.
5. Latest Mehndi Design Of Peacock On Hand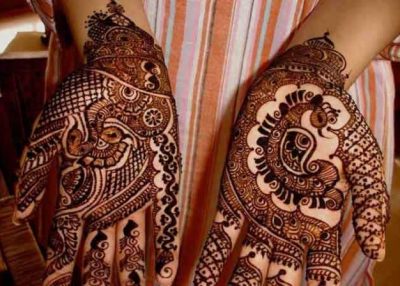 The design includes a beautiful peacock in the centre of the palm of one hand and a smaller one in the other hand. Other than the peacock motif the hands are adorned with the designs like smell round circles.
6. Peacock Feather Henna Design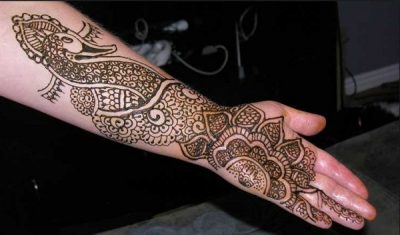 This tall design extends till the arm. The design is a lot spaced out and has a peacock print at the top part of the arm. This look good for the bridesmaid who likes simple peacock things.
7. Bridal Peacock Mehndi Design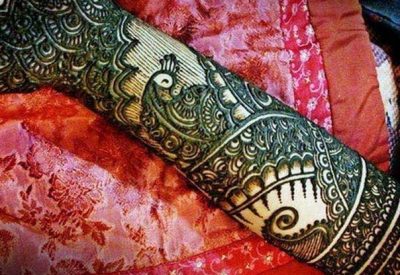 This beautiful peacock design is stunning. It is quite intricate with lines and small circle designs. The tiny circles appear nice on the hands.
8. Rich Peacock Bridal Mehndi Design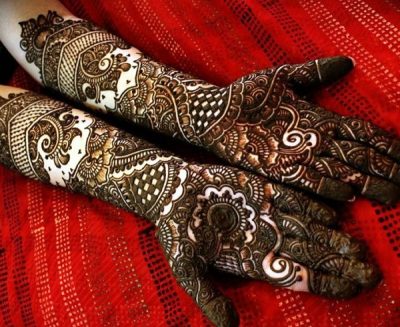 This is such an intricate and lavish bridal mehndi design. The same can be replicated for feet mehendi too. The design and circle pattern, Checkered pattern and also the peacock appearing at various places. The floral design here and there adds an alluring feel to this exquisite bridal pattern of mehndi.
9. New Simple Peacock Henna Design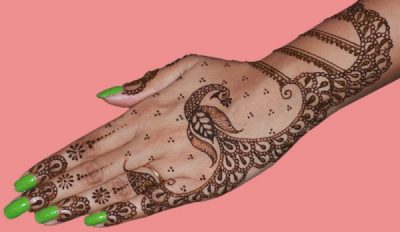 It is simple yet very impressive. For someone how needs simplicity in their henna pattern can try designs like that. The cluster of three dots makes the design very girlish and feminine. It can also be tried by small girls and kids.
10. Beautiful Peacock Henna Design for Back Hands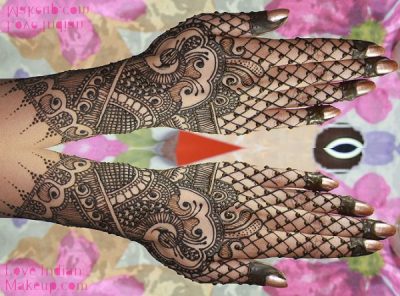 Peacock pattern when mixed with paisleys and geometric print also looks lovely like the one here. This has the criss cross pattern on the fingers and peacock design at the middle of the hand. The same can be tried on the palm and back of the hand too.
11. Feet Mehndi Design with Peacock Motif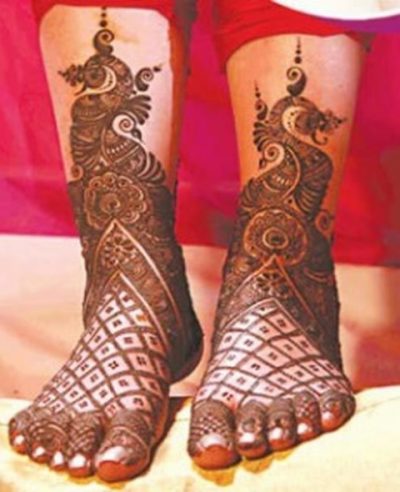 When you are looking for peacock mehndi designs and patterns for your feet then this fits the bill. The double line checkered patched the foot area along with the intricate design all the way across the feet looks royal and amazing. The beauty and perfection of this design lies in the top part where the peacocks are made with finesse and look grand.
12. Beautiful Peacock Henna Tattoo Design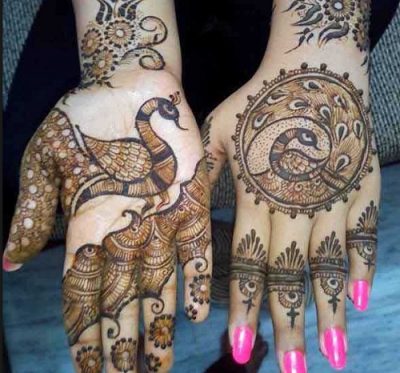 It resembles a fine painting. The circle that embosses a shaded peacock is inspiring.
13. Grand Peacock Feather Henna Tattoo Design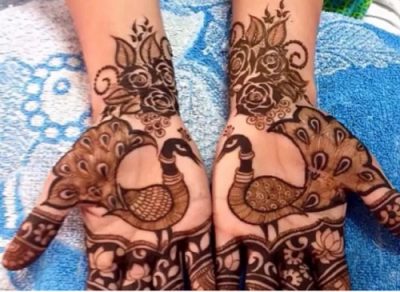 This one does not look like a mehndi design but more like a painting which mixes art with beauty. The beautiful symmetrical peacock with shaded designs looks good with the rose floral design. This is made with black mehndi then the regular green one.
14. Peacock Henna Pattern for Beginners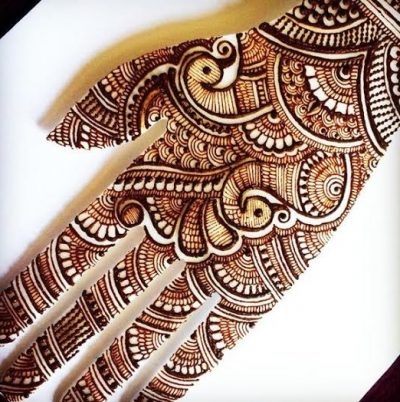 Clean and crisp design for brides and bridesmaid. This design has patterns of semi circles, scalloping and peacocks embedded in the Eid style design. In fact, it can be used for other special days like when you have to get dressed on the traditional wear. The curvy pattern is very interesting to look at.
15. Simple Feet Mehndi with Peacock Motif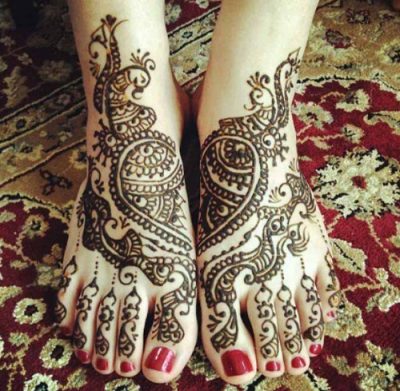 It can be called as a quick easy and minimalistic design that design on the feet is not intricate or vast but has a simplistic approach. This is the beauty of this peacock mehndi design for feet.
16. Peacock Henna back hand pattern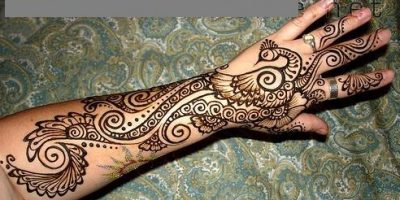 At times, you need something different, than this is it!! Try this elaborate design that has a peacock made with a beautiful tail and feathers that extend till the arms area.
17.  Easy Left Hand Henna design for Eid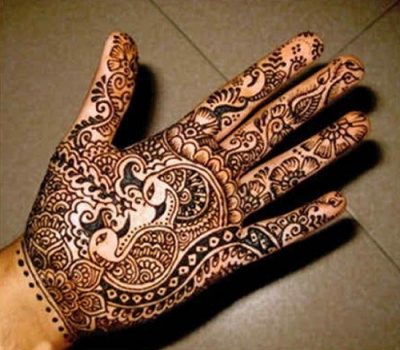 Two are good! This peacock mehndi design includes 2 peacocks facing each other. Moreover, the pattern is not extended till the arm but rather has been kept just on the palm and stops at the wrist area. The design starts with floral pattern and the same continues till the fingers.
18. Bridal mehndi with Mor Design for Full Hands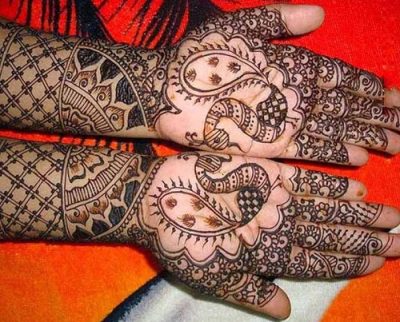 Such an intricate and beautiful design. It also shows the beauty of henna designs. A very bridal appropriate design that can also be tried for Eid and karwa chuth mehndi for ladies and young girls.
19. Elaborate Full Feet Mehndi with Peacock image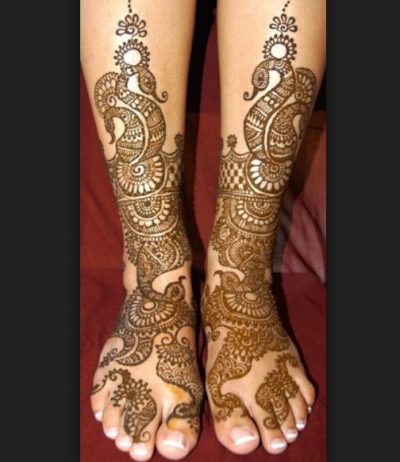 Feet mehndi with peacock designs are also in trend these days. Peacocks depicts royality and grandeur. This design has the multiple peacocks that bring dimension to this beautiful peacock Mehndi design for bridal ceremonies.
20. New Mehndi Design for Eid and Rakhi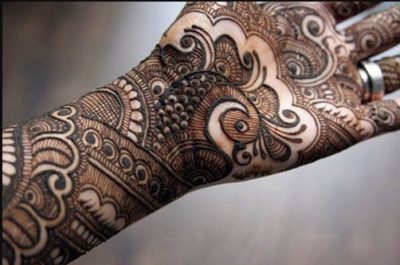 If you like crisp, clean and intricate designs for henna then this is just effect. The perfection is seen in every round, floral and tiny tendrils that are made in this stirring design.
21. Quick and simple Mehndi Art for Kids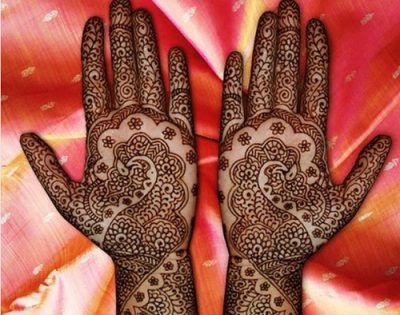 One lined designs like this are also very much in trend. Young girls can try it or one can try this for festivals like Diwali, Eid etc. The design does not have the regular double lined pattern but has a very single lined small patterns.
22. Mor Pankh Design Henna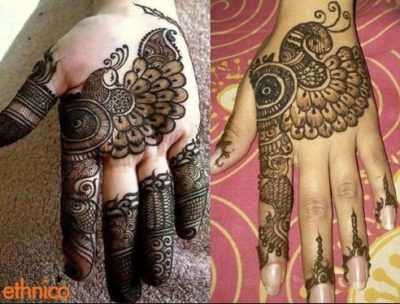 This shaded peacock pattern is like a remarkable art on the hands. This notable design has a big peacock impression on the centre of the palm and rest of the areas has been kept bare.
23. Floral Peacock Henna for Both Hands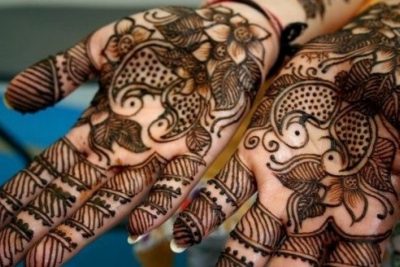 Peacocks with floral designs can be amalgamated like this to make such a dazzling design. The parallel line on the fingers gives it a different grapevine like effect.
These are the latest, innovative and new peacock mehndi design that brides can try. One can try for festivities celebrations etc. Which is the one that you like?