3 Patanjali Bathing Soaps Review: Haldi chandan, Neem and Aloe Vera Soap Review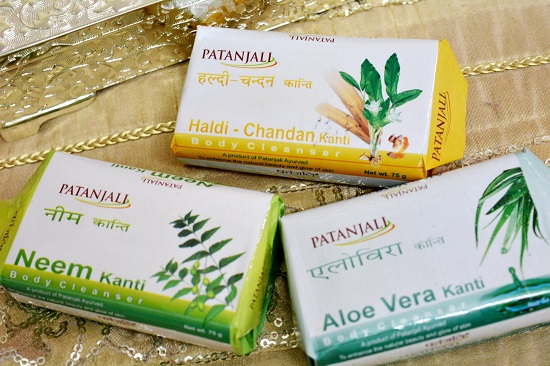 Hi all! Patanjali makes so many skin soaps that I really like to try a different one every time. I got so many Patanjali products and soaps. I know a lot of you like using Patanjali products so today friends, I will be reviewing Patanjali neem soap, Patanjali haldi chandan soap and Patanjali aloe vera soap. You now, I have already done the review of the Patanjali lemon soap and the patanjali rose soap. I so liked the lemon yellow and the rosy pink color of those soaps. By the way, have you tried the swarn Kanti cream as there is a lot of ads coming regarding that product. Okay so let's start the review of these 3 soaps one by one.
1. Patanjali Haldi Chandan Kanti Soap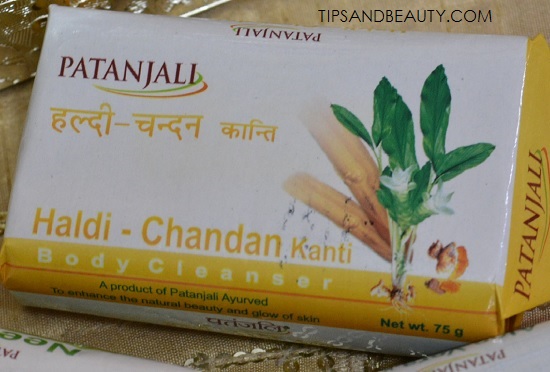 Price: 13 rupees for 75g soap bar
Experience with Patanjali Haldi Chandan Kanti Soap
This soap is packaged in a yellow and white pack. This patanjali soap is yellowish orange in color which is very good and smells really good. The soap lathers well but it does not feel greasy or slimy when used like very slimy soaps. The soap is rich in two ingredients basically that is haldi which is turmeric and chandan which is sandalwood. It helped me to remove the dryness on my skin and also brightens the skin a bit. I am saying this because I felt that my skin was getting tad darker so after using this soap I felt that the skin look brighter. But for dry skin you may feel that it will not be very mositurising. But you can try it and use the body lotion. I will give this 5 on 5 and liked this soap.
Also see: Patanjali ojas mogra soap
2. Patanjali Neem Kanti Soap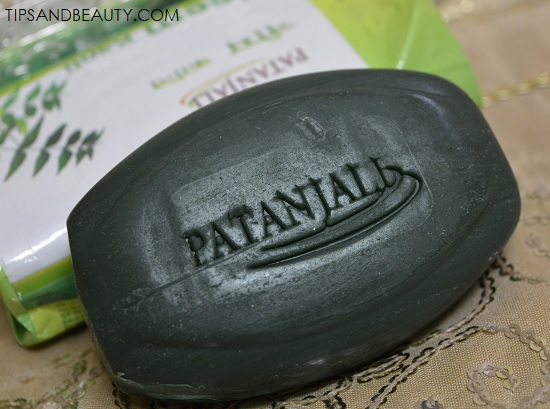 Price: 13 rupees for 75g soap bar
Experience with Patanjali Neem Kanti Soap
This soap is dark green in color that it looks like a black colored soap. I liked that the soap is very rich in the neem extracts and this will help to cure the acne and pimples. This is same as that of the neem soaps like margo etc. It feels good to use a soap like this in summers since that is the time when you are likely to get prickly heat, rashes, boils etc due to sweat and germs. I also used this on my face and honestly this has removed the few zits that I had on my face but at the same time this can be dry for the face, if you have dry skin. I love this and think that this is one of the best Patanjali soap and will buy this again. Some of you may feel that the smell is a little strong but never mind this wont last long. I do not have any problem with that but I said as some people can have sensitive nose. :D
See: Best Soap for oily skin in India
3. Patanjali Aloe vera Kanti Soap Review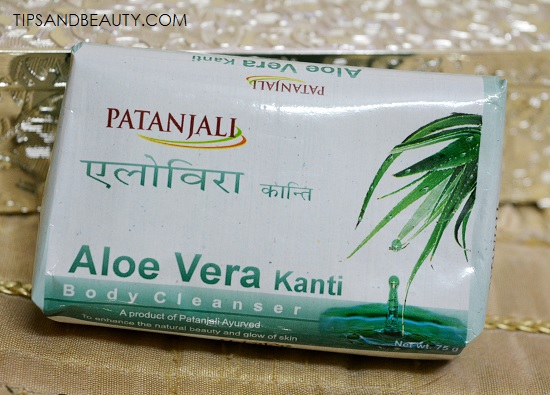 Price: 13 rupees for 75g soap bar
Experience with Patanjali Aloe vera Kanti Soap
Aloe vera is becoming a very popular product that is being used in the skin care and hair care products. This aloe vera spa is good for everyday use and to heal the dull skin. This Patanjali soap is light greenish in color and looks like the color of a fresh green leaf. Apart from the aloe vera, it also has the haldi, Tulsi, giloy, neem, amahaldi etc that actually are very beneficial for the skin. Skin that is itchy, dry or has some infection can be healed with this soap. This has a nice smell and also lathers are also satiny which helps to cleanse the body skin thoroughly. The price is very affordable and it is also one of my favorite but my all time favorites would be neem, rose and lemon.
See: Best skin whitening soaps in India
Pros of Patanjali Soap
They are very affordable and cheap
The soaps will lather well and cleanse the skin so that skin feels good
There is no parabens or harmful chemicals in these soaps
The soaps are natural and made with herbal skin beneficial ingredients
Cons of Patanjali Soap
May not be very hydrating when your skin is dry like many soaps out there.
Rating: 4.5 out of 5