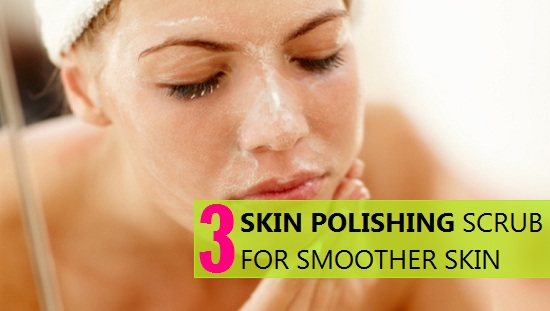 Skin polishing basically means when you remove the outer layer of the skin. Doing so makes the skin appear smoother. When your skin is smoother, it looks glowing and shiny. Smoother surface reflects the light better than the skin surface that is uneven. Skin polishing can be done with the facial scrubs, skin exfoliator or homemade skin polishing scrubs. Skin polishing also helps to achieve a glow and fairness since the external layer is sloughed off. So, read get to know about the skin polishing scrubs that you can apply on the face and body.
Homemade Skin Polishing Scrub for Face and Body
Here are 3 facial polishing scrub recipes using the natural products therefore, you can make them quickly when you wish to apply.
1. Sugar and Honey Skin Polishing Scrub
Take 1 teaspoonful of sugar and then add the equal amount of the honey in it. Mix them well. You should take the medium sized sugar crystals if the sugar has too chunky crystals then you need to keep the honey and sugar mixture for some time before using on your face this will melt the sugar chunks and the sugar crystals will not be too abrasive for the skin. Apply this skin polishing scrub and rub it gently using the circular movement with your fingers. This also tones the skin. This can be tried by all the skin types.
Benefits of this polishing scrub: This scrub has sugar which is enriched with glycolic acid. Glycolic acid does gentle peeling which fades the marks and does blemish removal off the face. Honey on the other hand will make the skin glow and nourishes the newly exposed younger skin. Honey also increase the skin's fairness and is also a great natural moisturizer for the dry skin.
2. Rice Flour Skin Polishing scrub
You will need rice flour for this polishing treatments. If you don't have rice flour then you can get some rice and put them in the grinder until you get a granular powder. Now take one teaspoonful of this rice powder and mix with some besan and honey. Add lemon juice if your facial skin is oily and have acne marks. Use this polishing scrub to exfoliate the face for at least 3-5 minutes. Wash after that. If your skin is oily or combination skin, try this scrub 2 times in a week for dry skin you can do this once in a week.
Benefits: This rice polishing scrub for facial skin will give you a smoother looking skin which has healthy glow. It will remove the dead flaky skin and with regular usage of this polishing scrub you will notice that your skin looks smoother and softer. Lemon juice in this facial scrub will lighten the skin and removes the blemishes from the face. You can also use this for your body. It will be cheaper than the store bought polishing scrubs.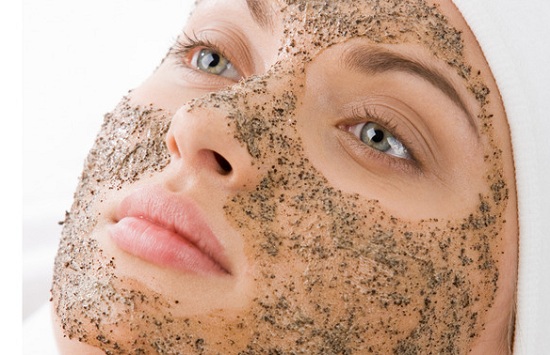 3. Orange Peel Polishing Scrub
Orange peel is a good natural home product to be used for the oily acne prone skin.
Orange peel has orange oil which also protects the skin from getting skin breakouts.
Take 2 teaspoonful of orange peel powder and add some milk in it.

Let this paste be of medium consistency or slight runny.

Take this orange peel polishing scrub on the fingers and apply this on the face.

Massage the face with this.

Keep massaging and exfoliating for 2-4 minutes then wash the face with clean water.
2 Body Polishing Scrubs at home
Benefits of using Skin Polishing Scrubs
Skin Polishing scrub will help the skin to get rid of the outer dull dead skin layer.

This dead skin layer makes the skin tired, dull and darker, so when these scrubs remove that your skin glows.

This polishing beauty treatment makes the skin smoother and glowing

These homemade remedies are tried on regular basis the skin becomes fairer and brighter

Skin polishing also removes the skin scars, marks and blemishes that we have on the face.

It also improvise the blood circulation which indirectly enhances the collagen production.
Always use a light moisturizer or nourishing cream after using any scrub as exfoliation leaves the newly exposed skin which needs the extra care and hydration. Exfoliating at night is the best as when you use your night cream then skin gets nourished on a deeper cell layer.