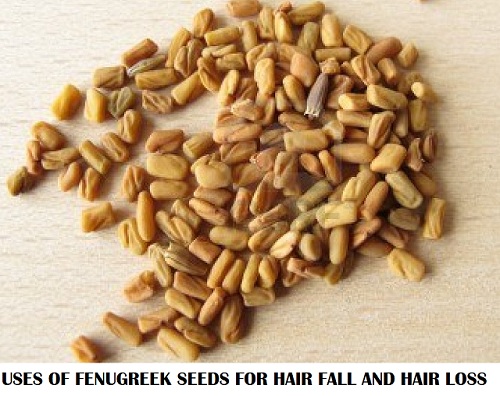 Uses of Fenugreek seeds for Hair fall, Hair loss and Hair regrowth
Methi seeds also called as methi dana or fenugreek seeds are extremely beneficial in hair fall, hair loss etc. These fenugreek seeds have great capabilities of hair regrowth. Methi seeds can be used and applied as hair mask/pack, with hair oil or as a paste. Whichever way you use fenureek, it gives benefits in controlling hair fall, preventing premature white/ greys, making hair roots stronger and enhancing the hair texture in general. Let's read some uses of fenugreek seeds to fight various hair problems.

1. Uses of fenugreek seeds as a hair mask for hair fall
Fenugreek seeds help in controlling hair fall thus fenugreek seeds is used for preparing hair mask for hair fall control. Here's the recipe of the hair mask with fenugreek seeds:
Take a cup of fenugreek seeds (methi dana) and soak them in water at night. Keep this overnight. Let them get swollen with water. The next day, take those fenugreek seeds and grind them to make a paste. Once you get a paste of medium consistency, apply that on the scalp gently. Avoid too much pulling or tugging as that can lead to hair breakage. Be gentle while applying methi seed paste on your scalp. Keep this fenugreek seeds paste on the scalp for an hour and then rinse off with lukewarm water. Luke warm water will help getting rid of the paste easily without much hassle. No need to shampoo though if you wish, use a mild shampoo. Repeat this treatment at least once a week to get maximum benefits.
Read: Use of curry leaves (kadi patta) for hair
Benefits of applying (methi dana) fenugreek seeds paste
It controls the hair fall.

This treatment shows some good results in hair regrowth.

It makes hair shinier and thicker than before.

It cures scalp infections.
2. Use of fenugreek seeds along with the coconut oil for growth
Another, use of fenugreek seeds is to infuse its extracts with the coconut oil. That way, the oil becomes loaded with the fenugreek seeds goodness hence you achieve double benefits of both the coconut oil as well as the fenugreek seeds.
Take a table spoonful of pure coconut oil and add 2 teaspoonfuls of fenugreek seeds in that. Boil the coconut oil and the fenugreek seeds till they turn brownish red. Let the oil cool down to a lukewarm temperature, once it is, take the oil and remove the seeds from it.
Use this mildly warm oil at night to massage your scalp. Again, try to be gentle as rubbing the scalp too hard to make the oil sink in can lead to more hair fall due to breakage and rough handling. Keep the oil overnight and shampoo the next morning. This should be tried 2 times a week.
Read: Uses of reetha for hair
Benefits of using fenugreek seeds infused with oil
This oil helps cure hair loss and hair fall

It makes hair roots stronger.

It shows good results in premature hair greying

Hair becomes smoother and manageable

It cures dry itchy scalp and dandruff
3. Use of fenugreek seeds powder and egg yolk
You can also use fenugreek seeds paste with egg yolk. You need to soak a cup of methi seeds in water and make a paste of it the next day as suggested earlier in the first treatment. Once you get the paste, add an egg into it. As egg white is quite slimy and slippery, you will have to mix it thoroughly. Apply this egg and methi paste on the hair and the scalp. Keep it for 45 minutes and then rinse off with plain normal water. You can shampoo after wards to get rid of the methi and egg's smell.
Read: Home remedies for hair growth
Benefits of this use of fenugreek seeds with egg yolk treatment
It makes hair stronger

Hair becomes silkier and shinier

Helps in hair loos

Promotes hair growth

Treats dandruff and dry itchy scalp
Fenugreek seeds have so many benefits, not just for the hair but skin and health as well that we will discuss later. Till than if you're suffering from hair loss, hair fall or have been thinking of trying some home remedies that could help hair regrowth then (methi) fenugreek seeds are excellent to try to get healthier hair.
You can also read the benefits of uses of hibiscus for hair for hair growth, hair fall.