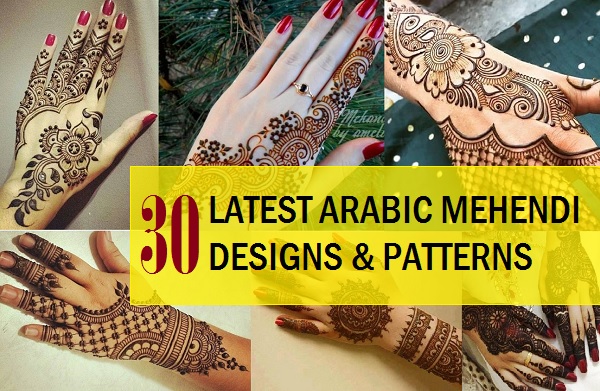 30 Best Arabic Mehendi Designs. There are several mehendi designs and out of that one such design is the Arabic Mehendi Design. This pattern is used all over the world for its beautiful motifs and intricate art. Arabic designs can be used on the hands, feet and back of the hands. Arabic inspired designs have the mix of traditional and contemporary art both, this makes girls and young women love it.  Mehendi is an important thing when there is a wedding, ceremony, festivals etc hence the designs have evolved over the period. Now a days, various patterns are mixed,like the basic Arabic patterns are fused with gulf style, Rajasthani mehendi style etc.
30 Latest Arabic Mehendi Designs for Festivals and Weddings
Let's check out which are the best and beautiful Arabic mehendi styles and patterns that one should try. The designs are easy and simple while some can be extremely symmetrical and intricate. The beauty still is with every design in its own charm.
Paisleys
1. This Arabic design is beautifully adorned with paisleys and flowers. The Leafy shades flowers and curved paisleys make a rich and elegant feel to this gorgeous design.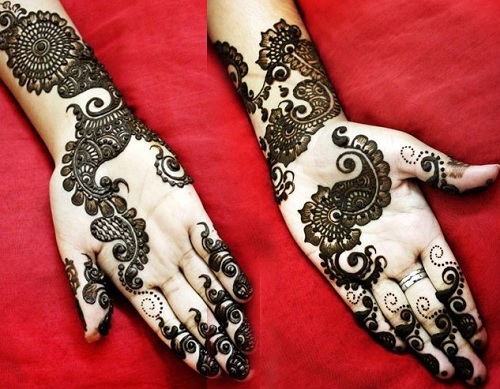 2. This design too is rich and has the circular motifs on the toes and the diagonal pattern on the feet is alluring. The inspiring design is included with this pattern.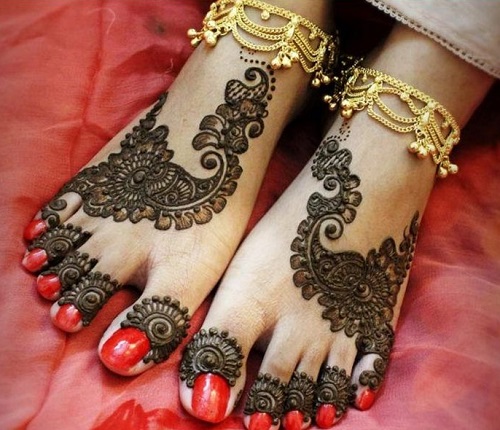 3. Such a contemporary Arabic mehendi design where the fingers have flowers patch and chequered design. It can be tried for a friend's wedding to look different that the rest of the crowd. This is simple but leaves a remarkable impression. The curved tiny flowers, tendrils, dots etc which is also the highlight of this beautiful design. Here the finger mehendi design is too pretty to look at.
Florals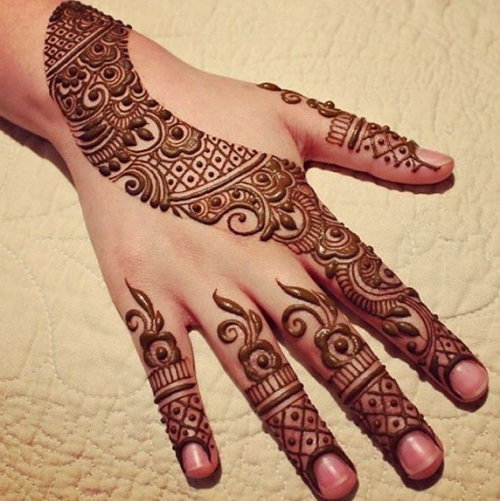 4. It can be aptly called as a floral Arabic mehendi design. The large flower obtains the center part of the palm while the fingers have a very intricate and closely packed design. Try it for Karwa chauth or a friend's wedding.
5. Single line design are very much in trend. Young girls love such simple designs. This single like Arabic mehendi pattern is filled with paisleys of all sizes. Fashionistas can try anyways this designs other than the festivals as well.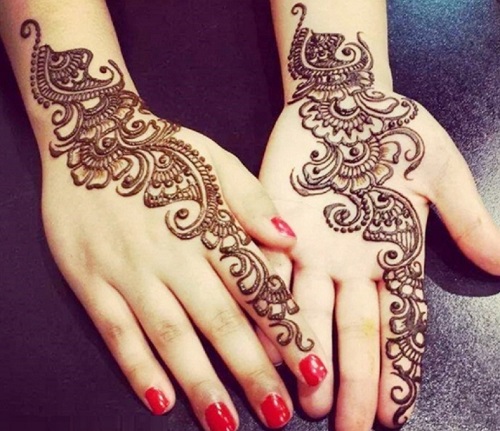 6. New age and modern looking mehendi art which is so gorgeous and neat that we nearly missed a beat. The beauty lies in the clarity and neatness. It is filled with a six leafed flower and tiny filled leaves. A lot of Arabic mehendi designs will have the filled motifs which also make your mehendi dark looking. The pattern on the fingers is also unique and very artistic. The intertwined circles and spiral pattern is beautiful looking.
7. Shaded designs have become quite in vague these days. The mehendi designs are evolving and new creative motifs are being made. It is an Indo-Arabic pattern with lots of shaded designs which is primarily filled with the lines, shading etc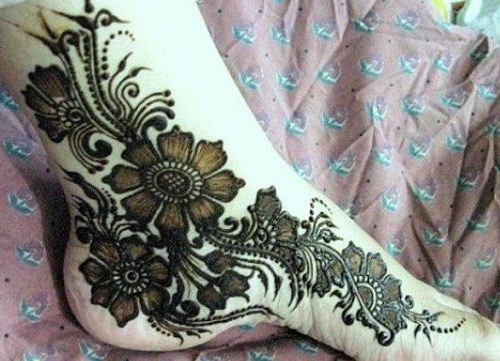 8. Patch piece at the back of the hand is filled with very neatly and symmetrically made dotted flowers. The overlapping paisleys with fringed pattern are pleasant to look at. Small girls too can try it to make their little hands lovely. This decorative piece of Arabic single line mehendi is ideal for the grooms as well.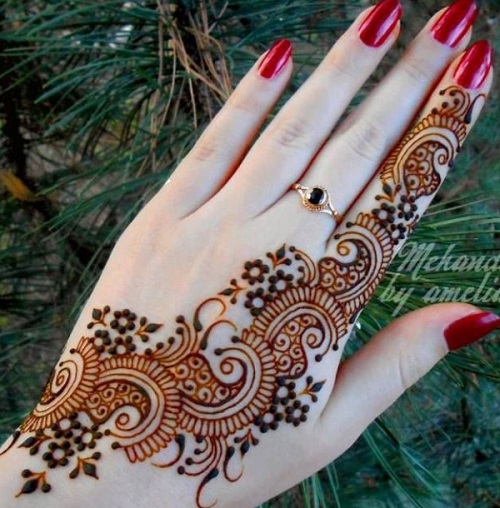 9. Little paisley filled design with some shading is excellent for festivals.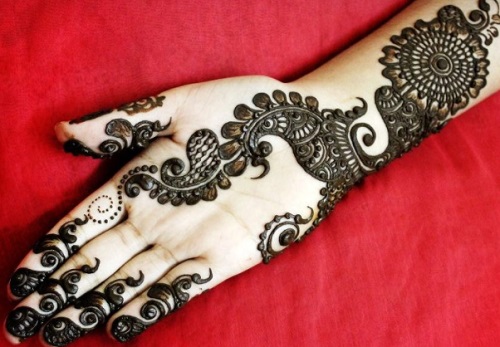 10. Another gorgeous piece which has shading as a dominant form is this one. The Shading is visible in the paisleys, flower petals, and in between we will notice the dotted curves to fill in the gaps here and there. It is truley an Arabic Mehendi designs for weddings.
Shaded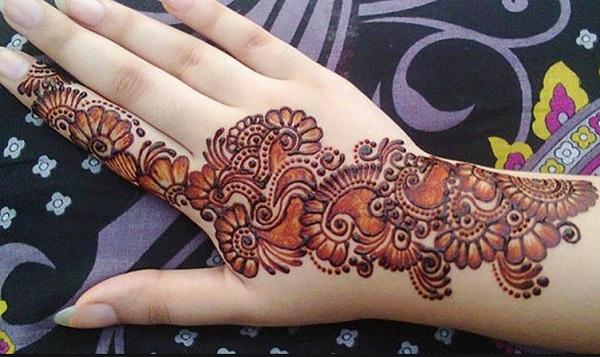 11. Flowers, fringe and cheques can never be so beautiful. In this inspiring Arabic mehendi designs, you will see as paced out design with paisleys, petaled flowers and scalloping is amazing and so neat.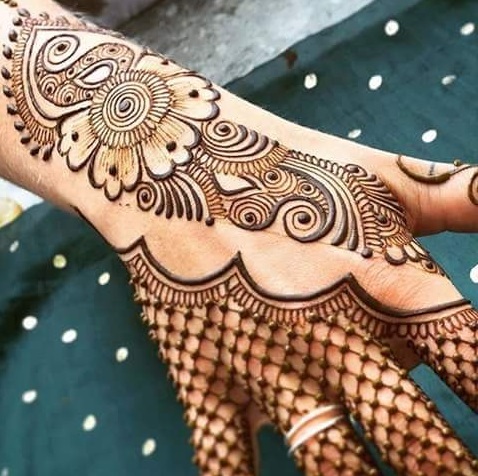 12. This pattern has the glimpse of the Egyptian and Arabic culture. The parallel lined design on the fingers is tidy and opulent. There is also a bracelet at the wrist area which gives it a contemporary feel.
13. This extensive floral vine is loaded with the flowers, leafs which are filled with parallel lines. This is also a bridal design. Check out the pretty bridal feet mehendi designs
Leafy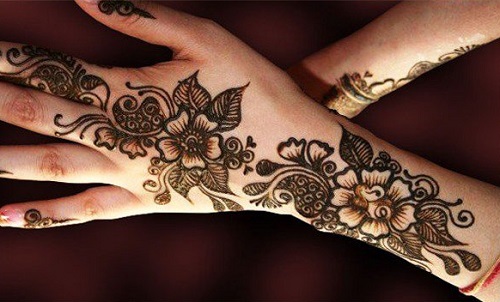 14. This Arabic pattern looks like straight from Arabic architecture inspired. The doted criss-cross pattern with half moon structures and parallel lines are so rich and neat. This trim and proper is like a neat blueprint. Worth trying such an intensive work of art on your hand as henna.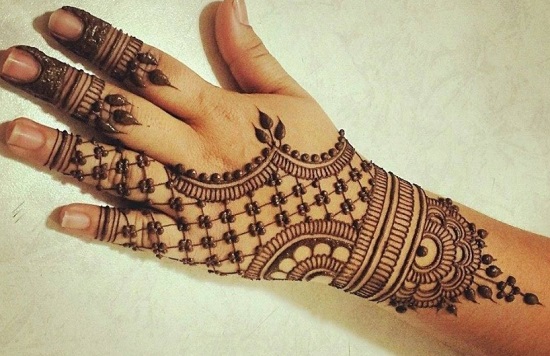 15. It's an all floral pattern that starts from the arm and reached till the first two fingers. If you are a floral mehendi lovers then definitely you will like such extensive floral work on your hands. This same can be made on the palms too. The simplicity of this design is noticeable.Check out the beautiful 23 images of Peacock mehendi designs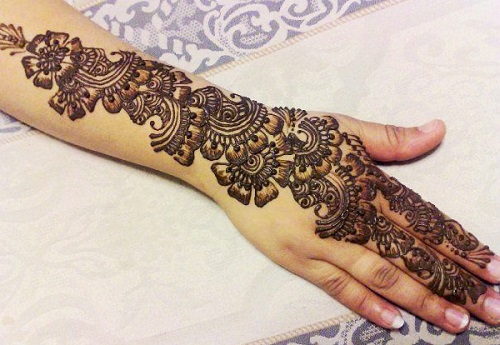 Circular
16. Truly excellent!! It is an Arabic inspired mehendi with a very outlined and classy design. The edge of the feet is lined and dotted above which there are overlapping closely drawn flowers. Some shading with henna itself is prominent and looks lovely. The highlight is the curvaceous dainty branches with elongated leaves. The leaves are filled and would give a darker color of the mehendi. This is one of the best feet mehendi designs that we have seen. It can be drown on brides and married ladies as when they wear beautiful anklets, it will look even prettier.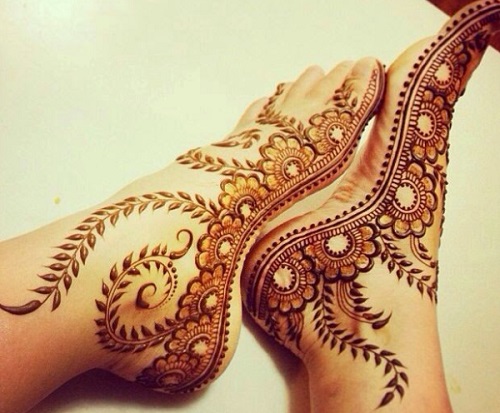 7. Now, what can we say about this magnificent Arabic Mughal themed mehendi design. The lines and curves are very thin and are made with precision, keeping in mind that they do not merge. The Round circular wheel design at the back of the hand is flawless while the similar design is drawn on the fingers too. Another highlight is the bangle like bands at the wrist which further adds the excellence to this visually pleasing mehendi design.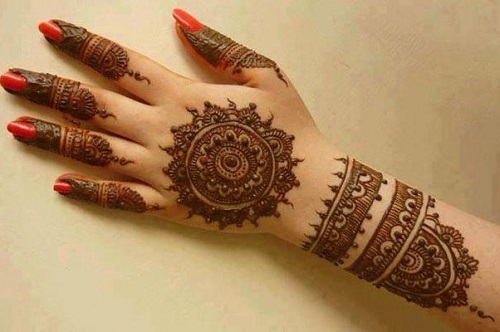 18. Made with black henna this is appropriate for Muslim brides too. The floral rich pattern has a rich feel with flowers of all shapes and sizes.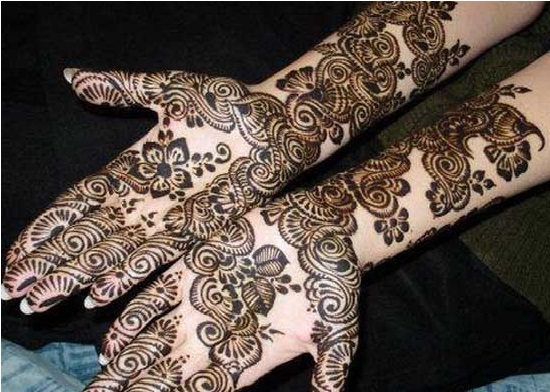 19. It is a very bridal and wedding appropriate mehendi design which is very dark and is made with thicker lines rather the thin and faint lines that we have seen in many design. The idea of drawing thicker lines for mehendi is also to make sure that the design is darker and stay longer on a brides hand. It is also a sign of good luck that the mehendi lasts longer on a bride's hand. It's a close knit design where a lot of semicircles, spirals and other geometric figures are used.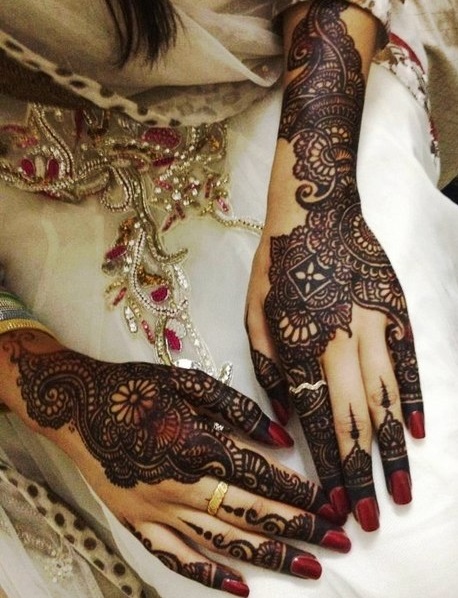 Lines
20. Simple but attractive!! This six petaled flower is beautiful and  the diagonal parallel line so the fingers are complementing the big floral motif. Try this on the palm too.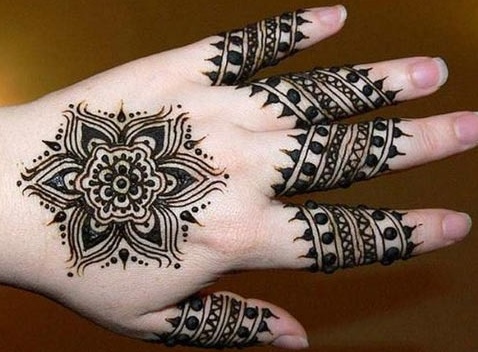 21. Very Arabic in feel! The design is a mix of curvy and straight lines and also of the bold and thin lines. This si truly gorgeous for any festival to beautify the palm and hands.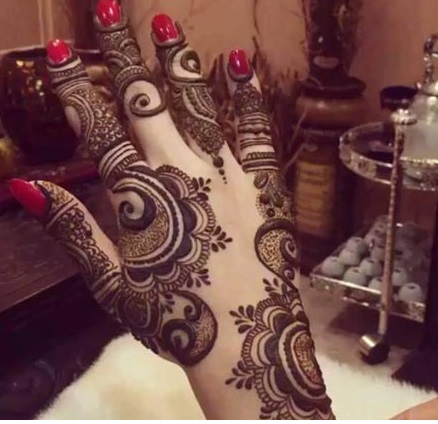 22. This too is a black mehendi Arabic inspired design which is filled with several flowers and gives an illusion of a bouquet. So, don't hesitate to draw a beautiful bouquet like design on your hand, the next time you think of applying henna on the hands.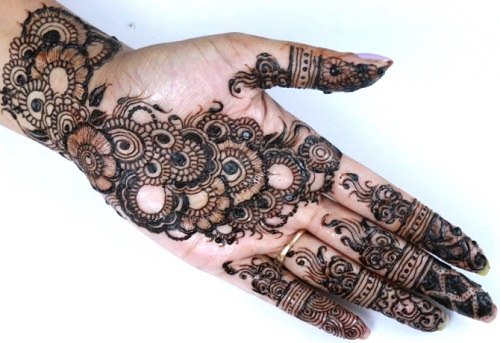 23. It is very feminine and bridal mehendi. The geometric patterns are clearly seen in this neat design the edges are very neatly done. Circles within circles.
24. Finger mehendi design is the highlight of this mehendi. Everyone is going to praise you when this design is on your hands. There is also a wrist band decorated with tiny dark filled floral motif.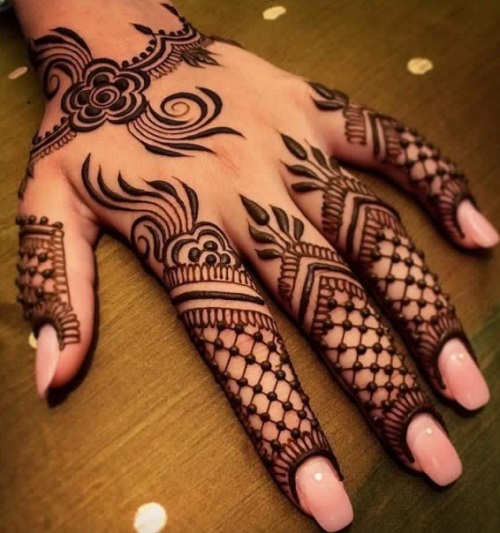 25. This heart shaped design is only on the palms and gives a romantic feel to the design. The hands when joined will make the unfilled heart shape.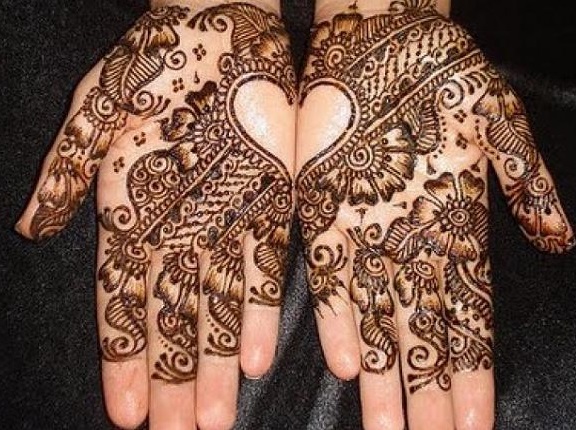 26. Paisleys are highlight of this attractive design. This can be included in simple Arabic mehendi patterns that girls will love to try when the occasions are not that grand.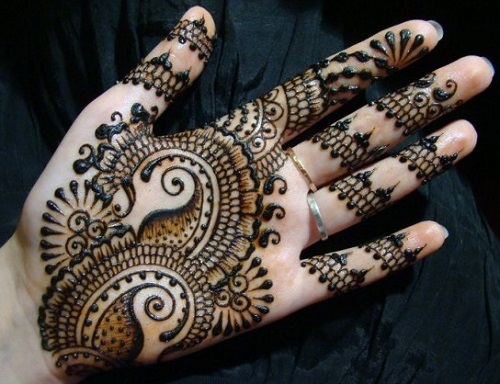 Bridal
27. Very bridal!! Very neat and luxurious! This is an Arabic mehendi that we simply loved. Words will be short to describe the beauty of this neat and crisp pattern. The shading and faint thin lines are seen all over which makes it a two tone design. You may have seen designs where there are only similar lines but here there are thick, thin, shading, filled in gaps etc. All this brings a remarkable illusion.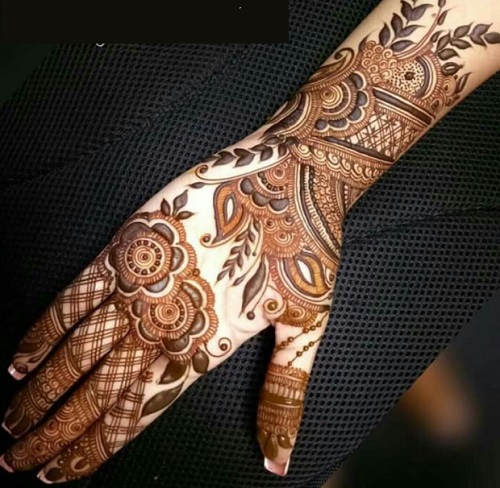 28. This is a very uncomplicated and straight forward mehendi with Arabic feel.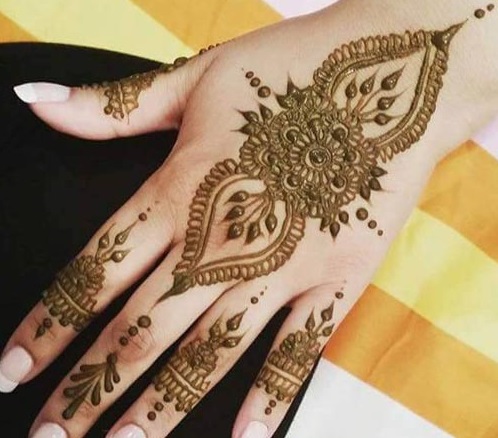 29. Beautiful mehendi design that girls can try on Eid, Diwali etc.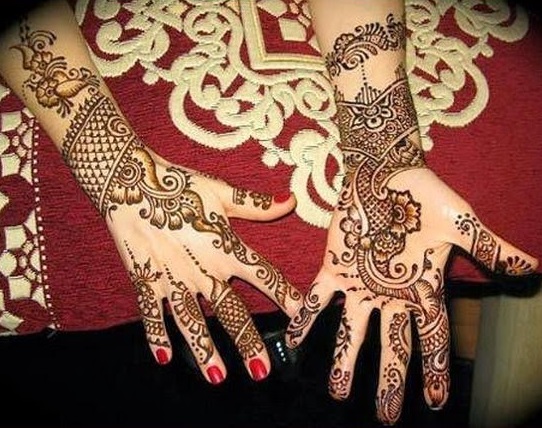 30. We would call this as a mix of Arabic and Rajasthani patterns. There is peacock and cheques along with the paisleys and flowers.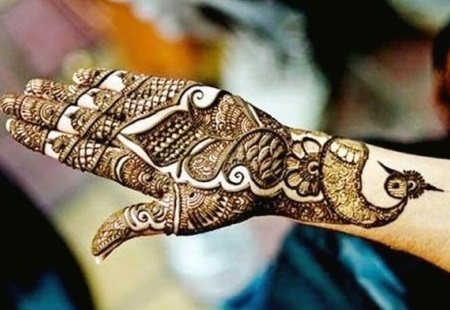 These were the gorgeous Arabic mehendi design images and inspiration that you should try the next time you apply henna on hands. Which is the one that you like the most?