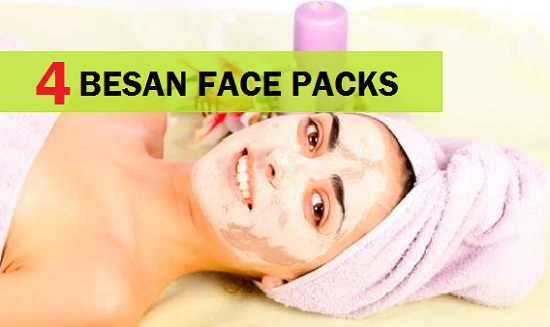 Besan or gram flour is used in Indian kitchen for preparing so many delicacies. But not that, besan can be used in numerous ways to beautify the skin in various ways. We suffer from acne, dark spots, dullness and blemishes. Lack of glow on the skin makes it lifeless and dry.
But do you know this simple ingredient can be used in preparing face packs that can give you the glow you wanted for ever. Yes, that is true. Besan can be used for facial cleansing and other beauty uses. We will share besan face pack for glowing skin so that you can get the radiant skin with no extra cost. Forget the cost with no additional chemicals or preservatives like we see in the creams for glowing skin/face.
Homemade Besan Face Packs for Glowing Skin
Here are the recipes to prepare the face packs with besan at home to get the benefits of glow on your skin.
1. Dry skin glow with besan facial pack
You have to collect 3 products or this facial pack, banana, some besan and milk. Take a little piece of banana and mash it well. Add 1 teaspoonful of besan in it. Use some milk and make a paste which should be of medium consistency. This is the glow pack with besan suitable for dry skin types. Apply this on the face and neck and leave for 20 minutes. Wash after that.
Benefits: It adds a glow and shine on the face.  Banana will take away the dryness and besan will exfoliate the face adding a gentle smoothness on your dry face.
2. Besan Pack for Oily Skin
Take 1 teaspoonful of besan and add tomato juice in it. You should add the tomato juice in a quantity that should be enough to get a smooth medium paste. Use this to spread on the entire face and let it dry for 20 minutes. Wash with tepid water and pat dry your skin. It will take off the oils and leaves the fair and glowing skin.
How to do face clean up at home
3. Milk Cream with Besan Mask
Take besan and milk in equal amount in a small bowl. Mix Both of them with fingers and apply this glowing skin pack on the face. Let it dry for 15-20 minutes. Then rinse the face. Try this everyday to maintain the glow o the dry face.
Benefits: This besan pack is meant for dry skin only as it has milk cream which will nourish the face with the fatty acids. Besan will further helps to glow your face naturally.
4. Besan Face pack for scrubbing
Exfoliation also adds a fantastic glow on your face as when the dull dead skin layer is removed and you get a smoother glowing face. To prepare a besan glow scrub you will need besan and some rice flour. Mix rice flour and besan in equal amount then mix some milk to make paste. Use this on the face and let it dry for 5 minutes. After that take this pack from your face using your finger,. Scrub the face and wash with clear water.
So, these were the besan face packs to give you glowing skin. Try these as per your skin type and get the benefits.