Elle 18 Lipsticks are very inexpensive and great for the college going girls. I had 4 Elle 18 Color burst lipsticks shades that I will review and swatch. These 4 Shades are Rosy blush, Cranberry, Pink fever and Rusty. These 4 shades of Elle 18 lipsticks are my favorite as they are good for everyday use and they are not that loud that I can't wear them.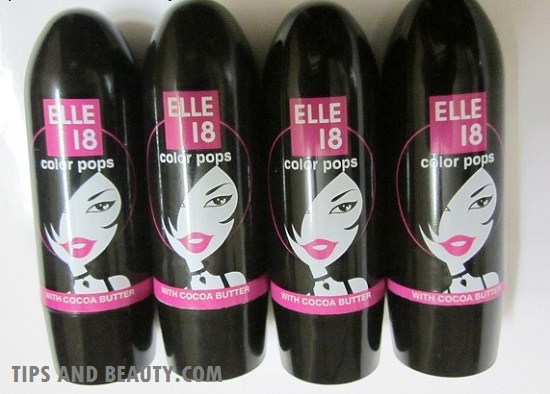 Price: Elle 18 Lipsticks cost rupees 120. Earlier they were for 100 rupees but now they are for 120 rupees. The newly launched Elle 18 Color Boost lipsticks are for 150 rupees. You can see the shades and review of 7 lipsticks by clicking the link.
Experience with Elle 18 Lipsticks Color Burst Range
1. Elle 18 Lipstick in Rosy Blush
Rosy Blush is a matte shade which means that this color do not have any shimmers in it. Just the plain reddish pink color. Such colors are good for everyday for work, office and even college. This is a red only but with some pink mixed therefore a perfect color for those of us who want some color but not you bright and bold like the red lipstick. This lipstick stays for 4 hours on me and when I eat or drink then it will fade and leaves a very gentle rosy tint on my lips. By the way, this color is a Lot like the Streetwear Pink persuasion.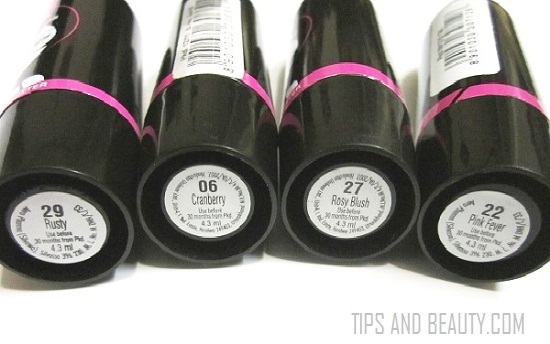 2. Elle 18 Lipsticks in Pink Fever
Pink fever is a brownish pink color with shimmers in it. It is a very creamy lip color which is good for those who have dry lips and wants some extra moisture from their lipsticks. This lipstick doesn't last on me for long, just for 2 hours, it used to last. As it was very creamy it gets wiped off the lips pretty quick but nevertheless it is a good to try color for all the skin tones. People who feel shy to sport bold lipsticks like oranges, pinks and reds for them it is a soft subtle every use color.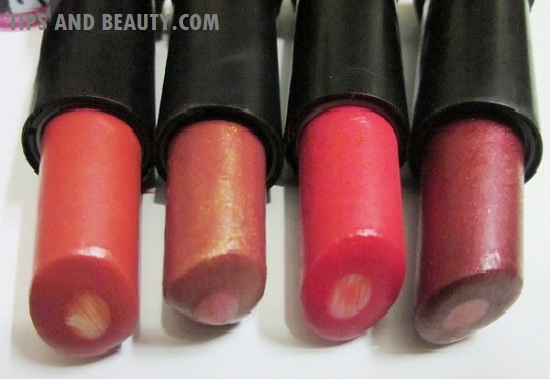 3. Elle 18 Lipsticks in Cranberry
Cranberry Elle 18 Lipstick is a brownish reddish color but does not have any shimmer or glimmer in it. It is also creamy and stays for 2-3 hours. This is a color for those who want some color on the lips but very simple color. This color has similar colors in the Elle 18 shade card.

4. Elle 18 Lipsticks in Rusty
Rusty is also a matte shade with no shimmers in it. It is creamy and moisturizing because of the central cocoa butter core. It is a color that looks like natural peachy colored lips. When I apply this it feels that my lips are of natural looking peachy pink color. It is a brilliants shade for teenage girls.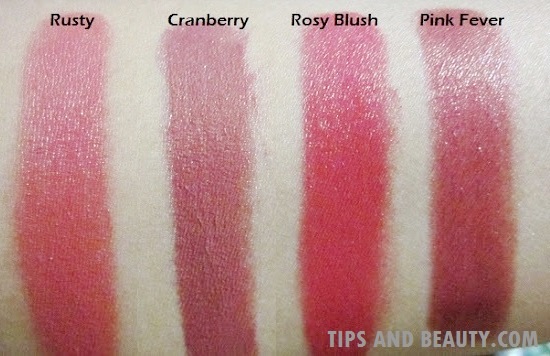 Good about Elle 18 Lipsticks
Price is good and very affordable

Packaging is girly and cute

Gives moisturization to the lips

Feel slight on the lips

The formula is not drying on the lips

Stays for decent 3-4 hours on an average
Not so good about Elle 18 Lipsticks
They are not very long lasting.

It takes 2-3 swipes to get the true intense color

The bullet can break easily
Rating: 4 out of 5
Elle 18 Lipsticks are very inexpensive and budget friendly lipsticks which are of good quality. They have the good moisturization and decent pigmentation. You will need to apply them 2-3 times to darken the color. Most of the colors from this range and soft and subtle which also makes them daily wearable.