Benefits of under eye creams in skin care routine

Under eye creams are specially formulated for the thin and delicate under eye skin that is devoid of glands that could lubricate the under eye area, Moreover, they have active ingredients and more oils, emollients than the normal face creams, lotions and moisturisers, due to which they do work on hydrating the delicate under eye skin, thereby also help reducing the fine lines and wrinkles, which can be the reason behind their slightly expensive price than the corresponding creams and moisturisers.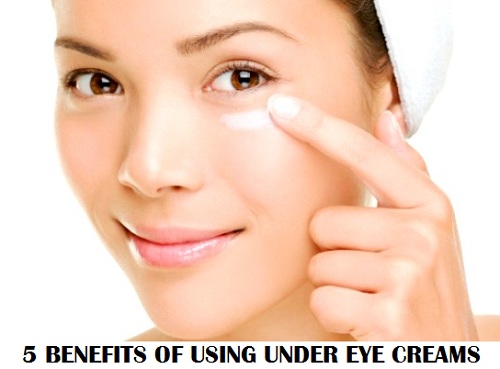 Read: 20 under eye creams in India
So, here are 7 Benefits of using under eye creams:
1. Prevents fine lines and wrinkles
The skin around the eyes is delicate and as it lacks the lubricating glands, that area tends to get dry easily, as a result of which lines and wrinkles are more likely to form. Fine lines and wrinkles are also formed due to sun exposure, which is why whenever you step out in sun, wearing sunglasses greatly help.
2. Skin's Elasticity
Eye creams have active ingredients like a derivative of vitamin A called as retinols, Vitamin C etc that boosts the collagen production. Collagen is the main ingredient that keeps the skin elasticity in good state. More the skin's elasticity, lesser lines are formed.
3. Moisturizes
In addition to these ingredients, under eye creams also contain hyaluronic acid, ceramides that keeps the skin moisturized and prevents water loss. Hydration is the primary benefit of under eye cream.
4. Puffiness
Other than these issues, eye creams are also beneficial in reducing the puffiness and fluid retention under the eyes, making them appear puffy or under eye bags. Regular usage of eye creams gives makes the appearance of under eye bags under the eyes lesser.
5. Dark Circles
Dark circles have become a common problem these days due to insufficient sleep and stress levels going up though genes, sun damage, allergies, sinus problems, aging etc are also to be blamed for dark circles. Benefits of under eye creams can be seen in dark circles too. These creams have vitamin C, Niacinamide, Kojic acid, hydroquinine , Vitamin B3 that can lighten the darkness. To boost the efficacy, eye creams may also contain Chamomile, tea extracts, and cucumber extracts to fade the dark circles.
How much of under eye cream to use and when?
Less than a pea sized amount is more than enough for both the eyes. Rub the cream between your ring fingers and lightly pat under the eyes and you may also apply over the eyelids. Using eye creams twice a day is recommended.
So, the next time you skip them, then think again. It is good to wear eye creams before applying makeup as the active ingredients get absorbed. The above mentioned benefits of under eye creams will definitely make you include in your day and night skin care regimen.