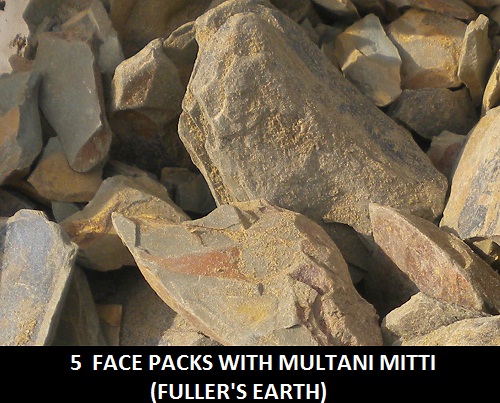 Multani mitti Face Packs

Multani Mitti or fuller's earth is clay that basically contains hydrous aluminum silicates.This product comes extremely cheap in India, but that noways reduces the great benefits that multani mitti (fuller's earth) can provide in beautifying your skin. Multani Mitti face packs has amazing capabilities to cure pimples and acne, eliminating lines and wrinkles, removes excess oils from the skin. Multani mitti packs are even good  to improve the skin complexion or in other words to make skin fairer. I personally love this product for its oil absorbing features since, I have combination skin.

Let's know some beauty tips and wonderful face packs with Multani Mitti for different skin problems. Read: Ayurvedic fair skin face packs

Homemade Fuller's Earth Multani Mitti face packs
1.Sandalwood and Multani Mitti Face Pack for fair skin
Multani mitti when mixed with sandalwood makes an excellent face pack to make skin fair. Sandalwood lightens the skin, soothes and multani mitti makes skin texture better over the time.
You will need:
Multani Mitti powder 1 teaspoonful

Sandalwood powder 1 teaspoonful

Rose water
Mix both the ingredients in a small bowl with some rose water. Keep the consistency medium else too runny will drip down your face making it messy. Apply on the clean face and rinse off after 20 minutes. This is one of the easiest remedy that I recommend. You can try it 2 times a week. Read: Sandalwood face pack recipes for fair skin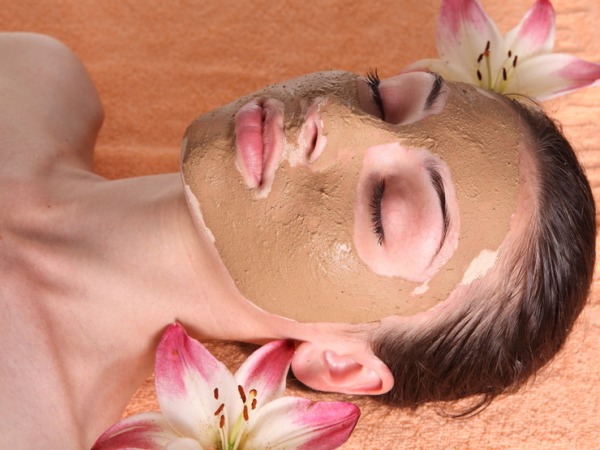 2. Neem, Tulsi and Multani Mitti Face Pack for acne
If you have acne prone skin with frequent pimples and breakouts then this Neem, Tulsi and multani mitti face pack will make skin clear when used regularly. Do you know that Neem and Tulsi are anti bacterial therefore kills the acne causing bacteria while Multani mitti absorbs extra oil from the oily combination skin, which is an important step in keeping the skin pimple free. Read: Face packs/masks for pimples

You will need:
Multani Mitti powder 1 teaspoonful

Neem powder 1/2 teaspoonful or 5-7 crushed Neem leaves

5-7 crushed Tulsi Leaves
Mix the crushed Tulsi and Neem leaves along with the Multani mitti powder and some rose water or plain water. Mix thoroughly. Your face pack is ready! Apply this effective multani mitti face pack on your face and wash off after 20 minutes.
Read: Homemade neem face pack recipes

3. Gram flour and Multani Mitti Face Pack for oily skin
Another good multani mitti face pack to control the oils when you have oily to combination skin is to go with this gram flour and multani mitti pack. It absorbs excess oils and keeps the skin oil free for a lot longer!
You will need:
Multani Mitti 1 teaspoonful

Gram flour less than 1 teaspoonful
Mix gram flour and Mulatni mitti in the above mentioned quantities into a bowl with some plain water. Apply this one cleansed face and rinse off after 15 to 20 minutes. It can be tried twice a week.
Read: Homemade mud face pack for acne
4. Multani Mitti Face Pack and Egg White for wrinkles
When you have lines are wrinkles, you go ahead and try anti aging and anti wrinkle creams which is good but there are certain face packs like this Egg and Multani mitti face pack that tightens the skin and shows good results in wrinkle/fine lines on the face.

You will need:
Multani Mitti 1 teaspoonful

Some Egg white
Mix some multani mitti with egg white. Mixing may take a bit longer as egg white is quite slippery. Once you have mixed it really well. Apply on the face and wash off after 20 minutes.
Read: Anti aging face packs recipes
5. Multani Mitti face pack with papaya for glowing skin
Now, a multani mitti face pack that can give you glowing skin instantly. The ingredients used are very easy to find yet the results are incredible. I would say, this face pack is great for oily skinned people who need glow but no extra oil.
You will need:
Multani Mitti 1 teaspoonful

A medium piece of papaya
Mash papaya piece into a gooey pulp and mix it with a teaspoonful of multani mitti. If you need to dilute it then use some rose water, plain water or milk (for dry skin). Apply evenly on the face and wash your face after 20 minutes and notice the instant glow but no greasiness that this brilliant face pack imparts. Read: Homemade packs for glowing skin

These were some good multani mitti face packs that I am sure will take care of some of your skin woes. Soon we will share some face packs with multani mitti for dry skin.