List of 5 Best Castor Oil Brands in India
Castor oil is very thick oil with strong smell but this oil is highly beneficial. This oil is rich in fatty acids and vitamin, therefore we can use castor oil for skin and hair. Castor oil also has anti inflammatory, anti bacterial properties. Castor oil is used to treat dandruff and itchiness of the scalp. This oil is also excellent to get thicker hair and many people also believe that castor oil thickens the eye lashes and eyebrow hair strands. We believe that too. This oil is appropriate to massage the skin and body, during winters to keep the skin warmer. Here are 5 castor oil brands and manufacturers in India that makes pure and suitable castor oil for skin and hair care.
5 Best Castor Oils in India For Skin and Hair care
So, look at this list of best castor oils which are extracted from the cold pressed technique. Cold pressed technique maintains the purity of the oils and is considered safe and adulterant free. 
1. Satthwa Castor Oil (Arandi Ka Tel)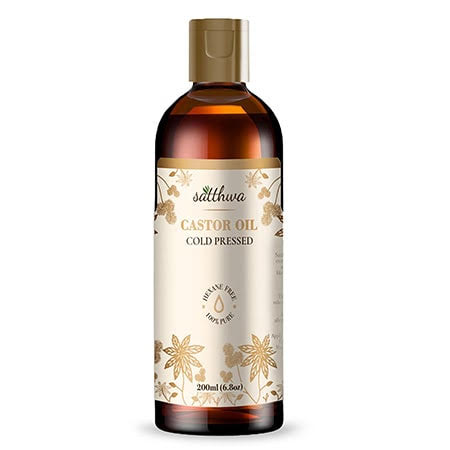 One of the best castor oil brands in India. Satthwa has been selling hair oil etc for last 6 years and have gained a reputation for their quality. The oils are of high grade purity and are extracted utilizing the chemical-free extraction methods. Satthwa Castor oil is packaged in a plastic bottle which is easy to use and carry. You can use it for your skin, nails, hair and for your eyelashes and eyebrows.
Pros and Cons
Hexane free

Suitable for skin and hair

Made from pure castor seeds

Makes hair grow thicker

Improves the hair texture

Strengthens the nails

Rich and fatty acids
See: Caster oil for hair growth
2. Soulflower Coldpressed Castor Pure Natural Carrier Oil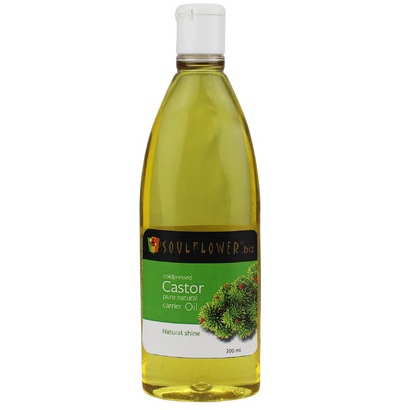 Soulflower also makes good and extra virgin pure oils. This castor oil from soulflower is pure and natural. This is made from the cold pressing technique which ensures purity and quality. This castor oil is highly moisturizing thus is ideal for skin care and hair care. This can be used on the parched and dry skin to heal and repair it. This costs 250 rupees for 200 ml bottle.
See: 10 Best Olive oil brands in India
3. Deve Herbes Pure Castor Oil – Ricinus Communis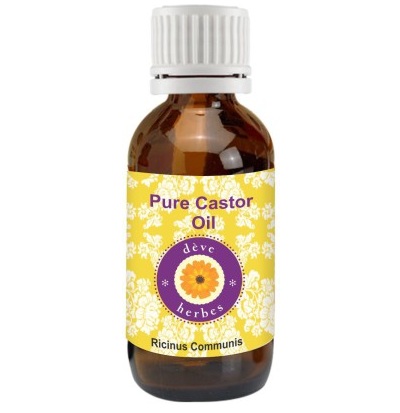 This castor oil is for 200 rupees for 100 ml bottle and is a natural and 100% pure oil. This can be used to get rid of the dandruff, itchy scalp condition, damaged dry skin. Castor oil is also good to make the dry hair ends smoother and bouncier. This castor oil brand makes extra virgin castor oil which is suitable for medicinal uses. This can be used for body massaging and to relive the aches. This oil penetrates deeply into the skin and heals the dry and damaged skin.
See: 10 Best Almond oil brands in India
4. Moksha Castor Oil – Cold Pressed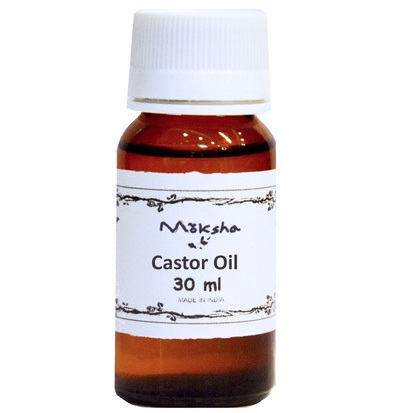 This castor oil is priced at 80 rupees for 30 ml bottle. This can be used for getting rid of the dullness and rough skin. This castor carrier oil is used in massage therapy, aromatherapy and in mixing with other essential oils. Massaging with castor oil promotes the blood circulation and makes the skin feel softer and tighter.
5. Seagulls Olivon Castor Oil
Seagulls castor oil costs 210 rupees for 400 ml. Castor oil can be used for the facial massage for the very dry skin. castor oil is also used in the oil cleansing method but you have to be fully aware about that technique.
So, these were the castor oil brands in India that you can consider buying and trying for the skin care and hair care routine. Let's check out how you can try castor oil for different purposes.
Benefits and Uses of Castor Oil For skin and hair
Castor Oil is also known as Arandi ka tel that is rich in the vital vitamins and fatty acids which aids in the skin healing, curing the dryness of the skin and hair.
The essential natural fats in this oil will also cure the damaged hair from roots to tip and heals the cuticle. Dried damaged cuticle is responsible for the knotty hair and hair fall due to damage.
For skin other than the treatment of dryness, castor oil will increase the skin cell renewal and tightens the sagging skin.
This oil minimizes the appearance of stretch marks as well. Stretch marks can be seen during and after pregnancy that can be reduced considerably by the use of organic castor oil brand.
Pimple and acne marks is a concern for the young adults, teenagers and even for the mature people. So, to get rid of those scars and marks on the face, one can use castor oil which heals the scars and acne marks.
In dandruff too, this oil is a proven remedy. It will cure the itchy dry scalp and due to its anti bacterial and anti fungal features, this will treat the dandruff quickly.
If you have inflamed knees or joint then too application of mild warm castor oil will show relief and pain reduction.
Castor oil acts as a laxative which can regularize the bowl movements. Moreover, it is also used to induce labor during pregnancy.
Massaging lukewarm castor oil will also help in back pain relief and to get relief in the swollen calves etc. Daily application twice in a day will help with that immensely.
For aging skin as well castor oil is considered very useful. It will increase the regeneration of cells and minimization of the fine lines and wrinkles. It deeply nourishes the skin so, that the skin also becomes luminous.
Skin that has hyper pigmentation and patchiness there too castor oil shows effects. This is loaded with omega 3 fatty acids which is helpful in treating the skin issues. You can apply castor oil daily at night to get rid of patchy skin and uneven skin tone.
Castor oil also promotes the growth of hair by repairing the damage and dryness as we said. You can apply the any castor oil brand directly on the hair at night and wash in the morning with mild shampoo.
Regular application of castor oil on scalp and hair will give benefits like delaying the premature whitening of hair. Just mix some with pure coconut oil or even amla oil and apply directly. Warm up the oils a bit for better penetration in the scalp.