5 Great Beauty Uses of Vaseline You should know
Hi girls!! We all have Vaseline at our homes and most of the times, we will use it on the lips or for the dry skin. Right? But have you ever though beauties that this tiny cute jar of Vaseline can be used for a lot of other purposes as well. Yes, Vaseline can be used for other things as well and you should be aware of that. So, what those beauty uses of Vaseline are? Let's check out in our today's post on Tips and Beauty.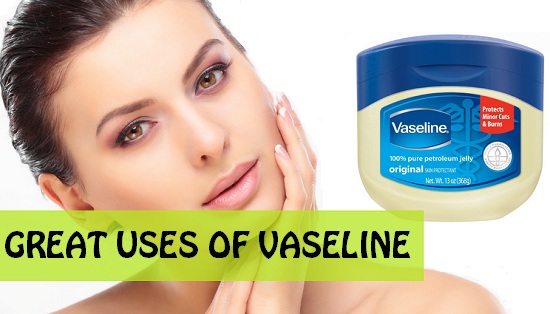 Beauty uses of Vaseline that you must know!!

1. Get softer lips
Vaseline is not just for smooth lips but for flaky lips as well. Now you must be thinking that Vaseline can be used on the lips and this makes them softer. Yes you can do that too dearies but here we will be using Vaseline to scrub the lips. You need and old toothbrush and some Vaseline then follow the technique below:
Apply thick layer of Vaseline on the lips and let it be there for around 1 minute.

Then take an old toothbrush and start rubbing that over the lips like you are brushing your lips.

You will feel that this removes the dead flaky and peeling skin off your lips.

You can then wash the brush and wipe off the lips. They will be a lot softer and smoother now.
Read: Beauty Hacks using and Old toothbrush
2. Tame those eyebrows
Some of us who have got thick eye brows or brows that needs to be lifted. You can easily set the unruly hair strands in place with the help of some Vaseline.
Just apply a little bit of Vaseline on a clean mascara wand.

Then brush this gently over the eyebrows, this will set them and keep the tiny hair in place.
3. Baby hair no more
You may have some tiny baby hair strands sticking out near the neck, forehead or sideburns. So you can also take some Vaseline, just a little bit over an old tooth brush and brush over the baby hair. They will be all set all day long. :)

4. Soften the heels
Just apply some Vaseline on your cracked heels or rough and dry feet and wear socks then go to bed. You will wake up with softer feet. Do this daily for best results.
5. Vaseline scrub
Do you know girls you can also make a quick and easy scrub with using Vaseline. You will need two things Vaseline and rice flour.
Just mix a teaspoonful Vaseline with half teaspoonful of rice flour.

Then mix them and add some almond oil if you feel.

Now using this Vaseline scrub, start scrubbing the hands, nails and palm etc.

This will get rid of the dry cuticle and heal the dryness of hands.
This is one my favorite recipe to be tried in winters as my hands starts to peel in winters.