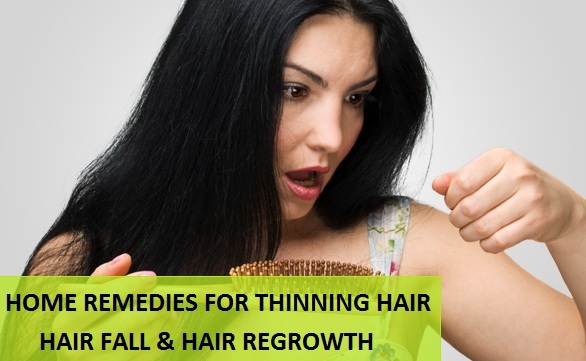 5 Home Remedies for Thinning Hair
Thinning hair is a problem seen by every age group these days. There are several factors behind it. Even though you have had great thick hair then too you may experience thinning of hair at any age due to stress, hormonal imbalance, pregnancy, diseases or certain other factors. Age related thinning of hair is well known but young adults are more likely to face this thing of the hair problem due to the factors mentioned above. So, what can we do to stop the thinning of hair and get back the lost volume of hair to make the hair thicker?

Home remedies for thinning hair
Here are some effective home remedies for thinning hair that will help you combat this hair problem without any possible side effects.
1. Fenugreek Seeds (Methi Dana)
This home remedy is one of the most effective home remedies for thinning hair and for baldness cure. Soak one cup of methi dana at night in water and next day. Grind them to achieve a fine paste. Apply this paste on the hair and scalp. Leave for 60 minutes then shampoo like usual. Try this 2 times in a week and this will give relief in hair thinning problem and hair growth.
2. Aloe vera gel
Aloe vera gel is seen as a potential product to induce the new hair follicles and to stop the hair fall. Similarly aloe vera gel is also known for curing the thinning of the hair. Apply freshly extracted aloe vera gel on the scalp and hair. Wait for 60 minutes then wash the hair with mild shampoo.
3. Coconut oil
Coconut oil is infused with many beneficial proteins, vitamins and minerals which help to make the hair thicker in natural way thus coconut oil is one of the best remedies for thinning hair cure. Apply coconut oil on the scalp and massage gently. You can also put 2-4 drops of lavender oil in it. Essential oil will further boost the blood circulation of the scalp which helps to get rid of the problem of hair thinning.
See: Protein hair packs
4. Castor oil
Castor oil is also an effective home remedy for thinning hair cure. Castor oil is known to make the hair thicker and voluminous. This oil also deep conditions the hair hence improvises the hair texture. Castor oil also increases the growth of hair. Take some castor oil and apply every night before going to bed. Wash the hair in the morning. This can be tried 2 times in a week as well.
5. Olive oil
Mix olive oil along with coconut oil in equal amount as per your hair length. Apply on the scalp and hair and massage gently. Keep for 60 minutes then wash and shampoo. Olive oil nourishes the hair to make hair grow faster and it acts as a fantastic home treatment to cure thinning of hair.
See: Hair packs for shinier hair
6. Henna
Henna is known to thicken the hair strands thus serve as a good way to cure the hair thing problem at home easily. Make a paste of henna with some water and add one egg also. You instead of egg add 1 teaspoonful of amla or shikkakai powder. Mix it and apply on the hair. Wash it after 2 hours. Try this once in a week. It will color the hair but is a great way to put a stop to thinning of hair.