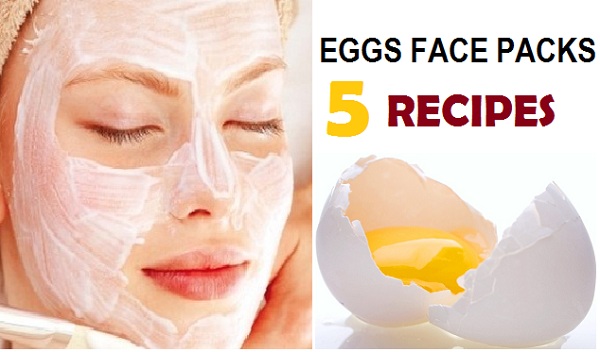 Recipes for Egg Face Packs for Beautiful Skin
Eggs are not just for the nutrition purpose but they help combating various skin problems. Egg Face packs have so many benefits. Egg is very beneficial in giving good healthy skin. Do you know that egg face packs also give glow and reduce lines and wrinkles from the face? Egg white has skin tightening properties and eggs have loads of skin and hair benefits. Have you been dealing with sagging skin, acne, acne scars, blackheads, zits, wrinkles or open pores, then these egg face pack recipes will benefit you. Here are some egg white face packs recipes which will help you tackle skin issues.
Recipes of egg face packs that can be prepared at home:
1. Egg Face pack to tighten the skin
Egg white is excellent for tightening the skin. This face pack makes skin supple and smoother. When the skin feels sagging and dull, this egg face pack will revive the skin instantly. This also makes the skin tight enough to be used for proper makeup application. This face pack with multani mitti and egg helps control excess oil too.
Ingredients:
Some Egg White

1 teaspoonful of Multani Mitti
Preparation of this Face pack:
Mix egg white and 1 teaspoonful of Multani mitti (Fuller's earth) to make a paste. Egg white is slippery thus; you will have to keep mixing it till you get a smooth paste. Apply this pack on clean skin and rinse the face after it gets dry.
[Read: 10 Face Packs with Papaya]
2. Egg face pack to minimize the pores
Some of us have these open pores on the face like on nose, forehead, cheeks etc that looks unattractive. This egg face pack helps tightening and shrinking the pores.
Ingredients:
Egg White

1 teaspoonful of Cucumber juice
How to make this egg face pack:
You will need egg white and cucumber juice. Mix both of them well and apply on the face covering the pores.

Let it dry completely and then wash the face.

You will notice a fresh looking skin with minimized pores.

You can also use some witch hazel to minimize the pores instantly.
[Read: Homemade Face Packs with Besan]
3. Egg and Besan Face pack for lines and wrinkles
When the skin has fine lines and wrinkles, then egg white face packs are excellent to fade lines and wrinkles from the face. The egg face packs will not only tighten the sagging skin or eliminate the lines but it also makes skin firm and fresher looking.
Ingredients:
Egg White

1 Teaspoonful of Besan
Recipe of this face pack:
Prepare a paste of egg white and besan. Mix them well and apply on the clean face.

Wash the face pack when it gets fully dried.

Use this face pack 2 times a week to see excellent results in minimizing lines and wrinkles.
[Read: Anti Aging skin care beauty tips]
4. Egg Face pack with turmeric
Teenagers face acne and pimple problem. They deal with pimples and after the pimples are healed, pimples marks make them conscious. This egg face pack with ingredients like lemon, turmeric and besan makes this a perfect face pack to reduce the spots, marks and blemishes from the face.
Ingredients:
Egg White

1 teaspoonful of Besan

1 pinch of turmeric powder

3-4 drops of lemon juice
Recipe:
Add all the above mentioned ingredients in a small bowl. Mix all of them well. Evenly apply the egg face pack mixture on the face and let it dry. Once the face pack gets dry, rinse it off with tepid water.
[Read: 10 Beauty tips and face packs for Spotless skin]
5. Egg Face pack for oily skin and blackheads
Egg white is also used to eliminate blackheads. This face pack with egg white helps reduce blackheads which is ideal for oily skin, pimples or acne prone skin.how to use garlic for pimples Read:
Ingredients:
Egg White

1 teaspoonful of Cucumber juice

½ teaspoonful of neem powder
Method of this face pack:
Make a paste of egg white, cucumber juice, neem powder in a small bowl and once it gets mixed.

Apply it on the clean face.

Let it dry and wash off after some time.
These egg face packs and masks will soon take care of the skin problems and will reveal a healthy glowing clear, tight skin that you have always desired for. Do read out tips for oily skin with face packs.