How to Make 5 Simple Pomegranate Facial Mask
Hi everyone!! Don't you think pomegranate looks extremely enticing when you look at them? Pomegranate not only enhances the blood in your body but this wonderful fruit well also give you gorgeous looking face. Pomegranate is loaded with antioxidants and vitamins like A and Vitamin C. Vitamin C is highly beneficial when it comes to improvising the skin's natural texture. This fruit will not only brighten your complexion but will also whitens the skin. Pomegranate also adds a rosey glow on the face as this has very rich in nutrients which increases the cell turnover therefore, skin marks, blemishes and spots will be healed.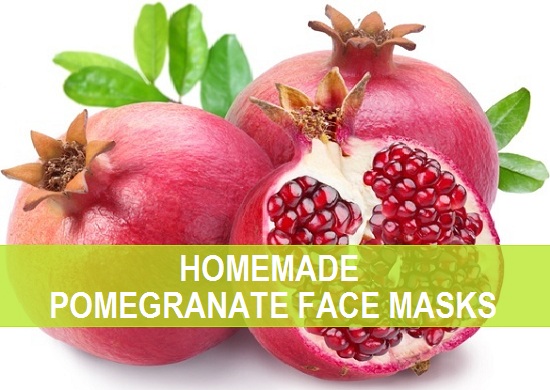 So, let's know in details what are the benefits of pomegranate facial masks
Benefits of Pomegranate face mask
Pomegranate helps to make the skin brighter and luminous.
These face packs are skin rejuvenating which will make the skin glow and appear radiant.
Pomegranate is rich in antioxidants which scavenge the free radicals which causes the oxidative stress of the cells.

Vitamin A, C and K in pomegranate promotes the skin health and firmness.
The spots, acne marks and sun damage that is there on the face is also cured by using these pomegranate face packs and mask. Also see: Beauty uses of pomegranate

The nutrients in pomegranate and the Alpha Hydroxy Acids speeden ups the cell renewal rate therefore the skin look blemish free and flawless. This also makes the skin youthful and younger looking.
Skin that has zits and acne also gets some relief since the antioxidants in pomegranate will also reduce the skin inflammation.
Homemade Pomegranate Facial Masks and Face Packs
1. Pomegranate and Honey facial mask for whitening of skin
Take few seeds of pomegranate and crush them so that the juice can be release. In that 1 teaspoonful of pomegranate juice, add 1 teaspoonful of honey. Now taking this lotion of pomegranate and honey, massage the face with feather light strokes. After massaging for 2-3 minutes. Leave this for 20 minutes, then wash the face. This will whiten the skin and adds a soft glow.
2. Pomegranate and papaya facial mask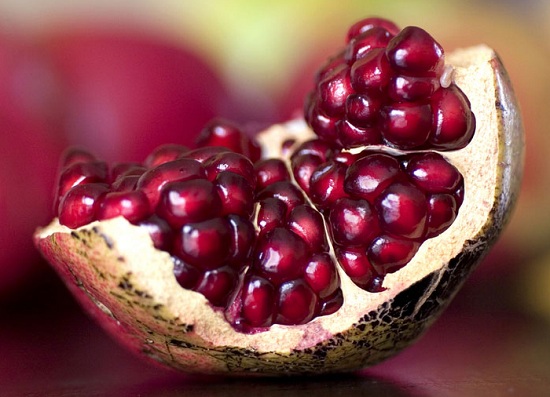 Cut a pomegranate and take out around 2 teaspoonful of pomegranate seeds.
Then take a small piece of papaya and mask them with the help of a spoon.
It will be better if you mash the pomegranate seeds with the spoon first as this will release the juice of pomegranate and it will be easier to take the cream colored seeds out from this pomegranate juice.
So, basically we have to mix some papaya pulp with some pomegranate juice. Mix both of them and apply on the face for 25 minutes. Then wash off.
3. Whitening pomegranate face mask
This is a skin whitening face mask which makes the skin radiant and whiter. In fact, this pomegranate with green tea face mask is also a great anti aging face mask.
Take a green tea bag and cut it open. Take around 1 teaspoonful of green tea.

Then take some pomegranate juice and add to that dried green tea.

Make a paste and apply this on the face. Let it dry for 20 minutes. Then remove the face pack by scrubbing the face and rinse the face with normal water.

This green tea mask is more like a facial scrub that reveal a clear and beautiful skin.
4. Pomegranate and yoghurt face mask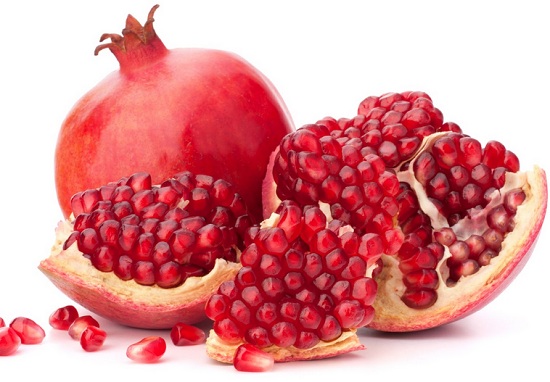 Take 2 teaspoonful of pomegranate juice and add 1 teaspoonful of yoghurt in that.
Apply this on the face and let this hydrating pomegranate face mask get dried for 20 minutes. Wash the face with lukewarm water and notice the subtle glow and youthful skin.
5. Pomegranate and lemon face mask for marks and blemishes
Take a teaspoonful of pomegranate juice and mix with 2 teaspoonful of lemon juice in that. Now, apply this mixture on the face and give the facial skin a gentle massage with 30-40 seconds. Then, leave this for 20 minutes.
Do this daily to remove the dark spots, brown spots, black marks and acne marks on the face. This can be also tried on the body parts as well that has some sought of scars, masks etc.