Street Wear Color Rich Nail Polishes
Hi everyone!! Who doesn't love nail paints? Ever since I was a small kid, nail paint was something that I used to love and once got scolded when I went to school applying a dark red nail paint. Haha. 🙂 I will review 5 nail paints from Street Wear Color Rich. These Street Wear Color Rich nail polishes are the new nail paints which were launched along with the foundation, compacts, lipsticks and kajal. I had reviewed the Street Wear Color Rich foundation already, so, now I will do Street Wear Color Rich nail polish review. These nail paints were actually apart of combo pack where I got these at some discount and who doesn't love when we get product for less.
Price of Street Wear Color Rich nail polish
These are for 60 rupees each. I love these colored nail polishes that Street Wear Color Rich range has. They are just too cute.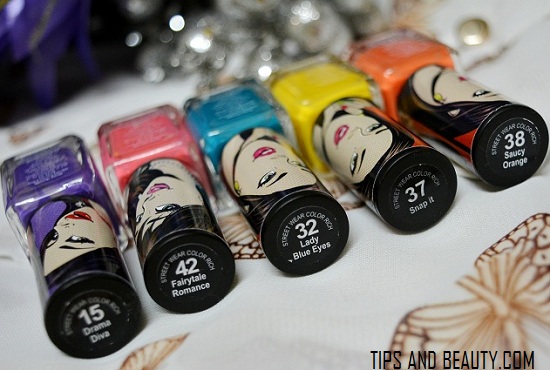 These Street Wear Color Rich Rich Nail Paints come in very cute and tiny squarish bottles. I really like these tiny bottles. They look lovely isn't it? I have bought 5 shades which are:
Fairytale Romance 42

Drama Diva 15

Lady Blue Eyes 32

Saucy Orange 38

Snap It 37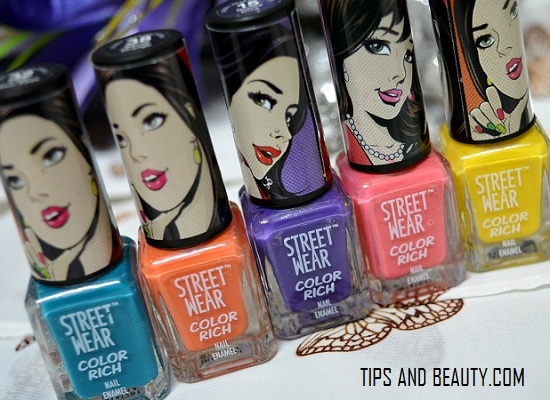 General features of Street Wear Color Rich Nail Paints
The brush of these nail paint is small so, I have to swipe a few times to cover up my entire nail. Consistency is thin so, you will need 2-3 coats to finally get an intense color that looks same as that in the bottle. One coat of these nail polishes will appear patchy but as soon as more coats are applied the patchiness vanishes. These stay for 3-4 days on my nails. It actually depends from person to person and what sought of household chores we do, Like if I am doing some house cleaning thing, then the nail paint chips faster. You should apply a transparent top coat to make the nail polish stay longer on the nails without chipping. You can also read how to get shinier and stronger nail.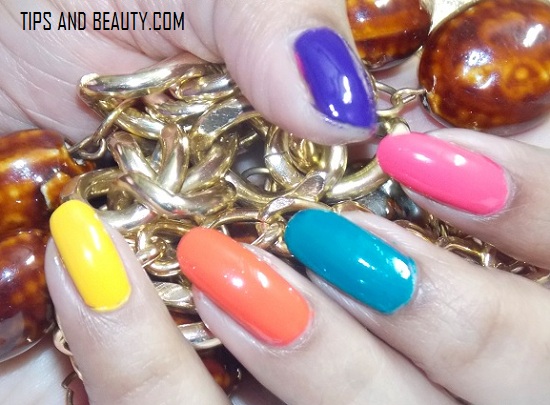 1. Street Wear Color Rich Nail Paint Fairytale Romance 42
Fairytale Romance is such a beautiful pink color that made me fall in love with it literally. This is a color that one can wear for office, college or otherwise. Such a gorgeous fresh and summery color this is. This color will look good on all the skin colors. Even if you think your skin complexion has become darker or have dusky skin color then too this color will look beautiful on the nails. It can make the hands look prettier.
Check out the 3 Blue Heaven nail paints review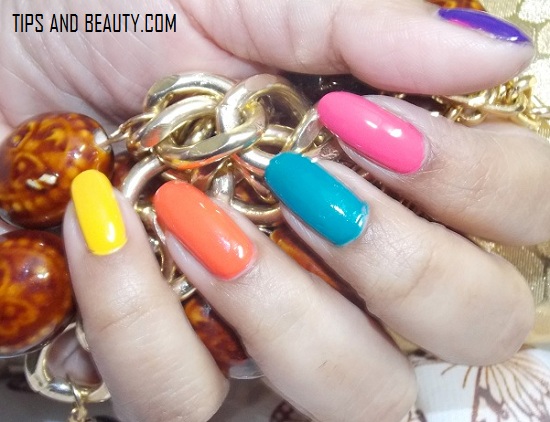 2. Street Wear Color Rich Nail Paint Drama Diva 15
Drama Diva is purple color, just like a brinjal looks. This has a very pretty hue when it is layered twice. When I apply this nail polish, this will not come out as a true intense color on 1 coat so, at least 2-3 coats will be required. But this color can make the duskier complexion even duskier so, this is a color for fair to medium skin colors.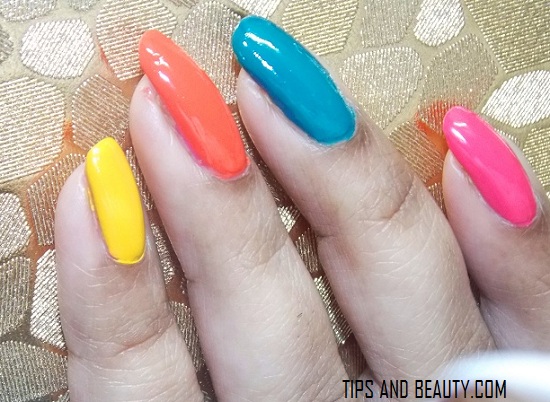 3. Street Wear Color Rich Nail Paint Lady Blue Eyes 32
"Lady blue eyes" nail polish is a blue colored nail paint which is good for teenagers or when you wish to go bold in summers with the nail paints. This will look good with a white dress, or even with a blue dress.
4. Street Wear Color Rich Nail Paint Saucy Orange 38
Saucy Orange is a fresh and refreshing color that is made just for summers. I like wearing orange nail polishes and have got loads of them from various brands like Colorbar, Faces, Maybelline, Lakme etc. Orange nail paints are good for summers and looks brilliant with the white dress. I think with a white dress or salwar kameez, orange nail paint looks lovely.
5. Street Wear Color Rich Nail Paint Snap It 37
Snap it, is nail polish shade which is a bright and cheerful yellow. I am not a fan of yellow color but this can be sported with a colorful dress or with a black dress for a night out. I like bright colors but this yellow color is more for the teenagers I think, No I am not that old 🙂 but not a teenager anymore. 🙂 This is a canary yellow by the way.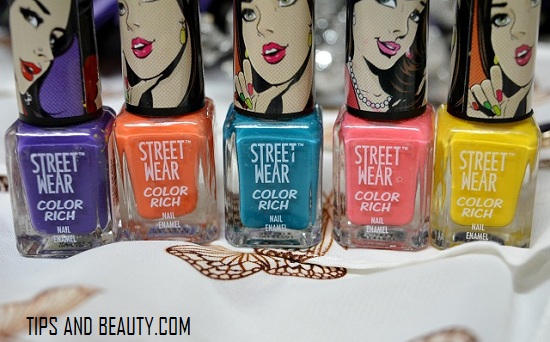 Good about Street Wear Color Rich Nail Paint
Price is good for 60 rupees
Packaging is lovely and very cute
Teenagers will love this collection
Variety of shades and colors
Gives a true color after 23 coats
Stays for 3-4 days on my nails
Not so good about Street Wear Color Rich Nail Paint
The brush is tiny so, I have to swipe them thrice or four times to coat my nail
The formula is not too intense but you will have to apply at least 2-3 coats of these nail polishes to get a true opaque color
One coat is patchy so multiple coats are needed.

Rating: 3.5 out of 5 Overall rating.
Take: Street Wear Color Rich nail polishes come in very cute bottles. The shade selection and the colors are very gorgeous and one can choose the colors as per their liking. The pigmentation and staying span is okay for 60 rupees. I wish the brush could have been a bit broader so that it can be applied seamlessly.