VLCC products are quite popular. In this post girls, I have compiled all the 5 different types of VLCC skin bleach creams that are there. VLCC makes some of the best products which are used for the facials like facial kits and bleach creams. Every skin type is different and the requirement is different too. So, through this post you can check and see which one of these VLCC bleach creams suits your need. I have used all of them except for the saffron and honey which I will try soon.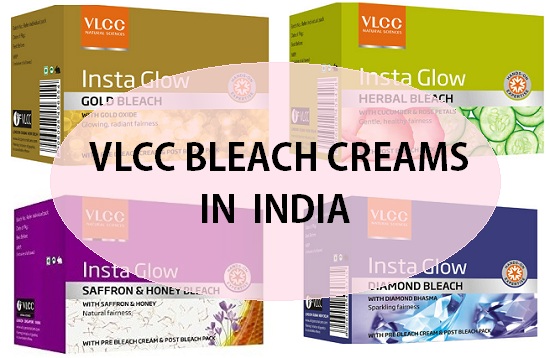 Best VLCC Bleach Creams in India (2021)
So, here we have compiled this list of the best VLCC face bleach creams that one can try along with their brief reviews and prices. It is advisable that you apply face bleach on your own at home to save extra bucks.
1. VLCC Insta Glow Herbal Bleach Cream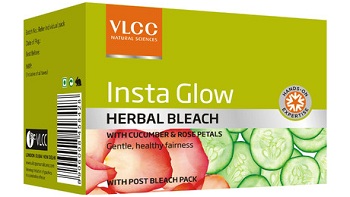 VLCC Insta Glow Herbal Bleach is formulated with the herbal ingredients like cucumber, tomato, seaweed.

These will deeply nourish the skin while the bleach is working to lighten the facial hairs.

This is said to be very good for the sensitive skin due to the presence herbal ingredients in this.

VLCC Gold bleach cream costs 50 rupees for the small pack that can be used 1-2 times.

It is extremely safe for the sensitive skin as the ingredients are mild and safe to be used.

This bleach comes with pre-bleach cream and post bleach cream pack so that the face looks extremely fairer, toned and cleansed with this entire treatment.
If you don't know how to bleach the face check this post on how to bleach the face and benefits of bleach creams.
2. VLCC Insta Glow Diamond Bleach Cream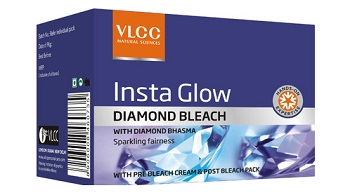 Diamond bhashma in this bleach cream gives a fair and radiant glow within few minutes.

This diamond bleach with diamond ash gives healthy glow, removes the sun tan and dead skin cells also.

It is easy to apply due to its creamy texture.

Diamond bleach comes along with pre-bleaching cream that has to be applied before the bleaching.

There is also a post bleaching pack that needs to be used after using the bleach.

This actually tones the skin and purifies it from deep within.

Also tightens the skin due to diamond particles.

Suitable for people with mature skin.

Diamond is also known to deeply detoxify the skin and releases the toxins off the epidermal skin layers.
Price
Diamond VLCC bleach cream is for 130 rupees for 30 g pack.
3. VLCC Insta Glow Gold Bleach Cream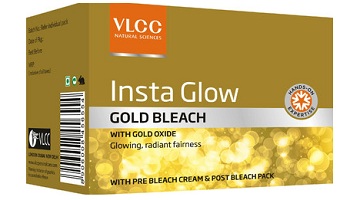 VLCC insta glow gold bleach cream is one of my favorites as this is very similar to that of the fem gold bleach that I like.

This has gold particles in the powder activator that gently lightens the dark facial hair to match with the skin color.

It makes the skin looks radiant, fairer and glowing. The fairer look that this VLCC bleach cream gives is natural and safe. 

It removes the patchiness of skin and also even tones the skin complexion.

Gold bleach creams are considered beneficial for the oily skin as this deeply purifies the skin layer when the skin look greasy and dull.

It also comes with a pre-bleach cream and post bleach pack also for a complete salon like clean up beauty treatment at home.
Price
VLCC gold bleach cream costs 60 rupees for 30 g pack.
Do check the best skin bleach creams for oily skin in India
4. VLCC Insta Glow Oxygen Bleach Cream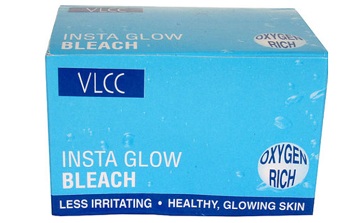 This VLCC bleach cream, bleaches the unwanted dark facial hair to match them with the skin for a natural glow.

This bleach cream releases the nascent oxygen while this works on the face so, this gas flushing action unclogs and deep clean the skin pores for a smoother skin.

This has a floral smell and also comes with a pre-bleaching cream which enhances the bleaching experience thus also makes thus suitable for sensitive skin.
I recently reviewed this VLCC Insta Glow Oxy bleach, you can read the review beauties.
5. VLCC Insta Glow Saffron and Honey Bleach Cream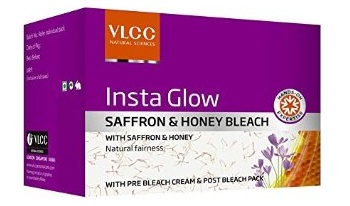 I think this is a new variant. So, I have not used this so far. But would like to use this the next time I buy a bleach cream. I think as this has saffron and honey, this will also lighten the skin color. Both of these ingredients will also deep cleanse the skin.
Saffron and honey also acts as vital nutrients for the skin.

This bleaching kit also comprises a pre-bleach cream and post-bleach pack for effective results.

I like honey as it helps to even out the skin. i think this will be good for oily skin.
Price:
This saffron VLCC bleach cream costs 118 rupees.
So, these were the VLCC bleach creams but if you are interested in the top best gold bleach creams in our Indian market, then read the post girls. :)