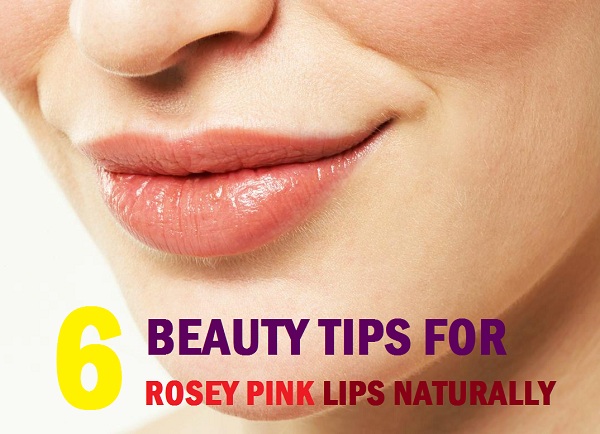 Best Beauty tips to Get Rosey Pink Lips naturally
Most of the girls want pink soft lips. Tanned or dark lips are unflattering and you may think of getting them covered with the help of lip stains, lip products etc, but what if your lips can get rosy pink with some natural remedies. Yes, natural ways are harmless and they will make sure that the lips get back their pink tone naturally so, that you don't have to make them cover with lipsticks etc anymore or feel embarrassed with dark, pigmented lips.
Here we will share some good beauty tips and remedies to make lips pink naturally:
1. Moisturization
Moisturization is extremely important as when the lips are dry or chapped then they are more likely to get dark. Hence, it is good to always keep the lips hydrated. Use lip balms daily or when your lips are dry.
2. Scrub/Exfoliation
Exfoliation makes the lips smoother and also reduces the darkness and pigmentation so that the natural pink color of the lips is accentuated. Do you know that regular scrubbing not only makes lips softer but naturally pink. It is quite simple yet very effective.
You can scrub the lips with the help of an old toothpaste or some Vaseline. Apply Vaseline on the lips and rub off with the brush. Alternate remedy to scrub lips is by a lip scrub. Mix some sugar and honey and apply on the lips to scrub them.
3. Lemon and Turmeric for pink lips
Take 8-10 drops of lemon juice and add a pinch of turmeric powder into it. Apply on the lips at night and wash off the next day. Make sure that your lips are not cracked else it will burn when you apply this. This natural simple remedy is the best to get pink lips naturally. It removes the pigmentation and darkness form the lips, when done regularly.
4. Milk cream treatment for smoother pink lips
Another remedy to make lips pink naturally can be tried with some milk cream and a pinch of turmeric powder in it. Apply this on the lips and keep it overnight. It lightens the darkness and lips appear pink within few weeks. This is very easy remedy that will heal the dry chapped lips too.
5. Olive oil and salt treatment for pink lips
The next beauty tip for pink lips is with olive oil and salt. Take ¼ spoonful of olive oil, sweet almond oil and add some salt into it. Apply the oil over the lips and massage gently. Keep the oils on the lips overnight and wipe off the next morning. Soon, this will remove the darkness and rosey pink lips will be yours.
6. Rose petal remedy for pink lips
This beauty tip with rose petals is very efficient in giving you rosey pink lips quickly. You need some rose petals. Crush them and add some milk cream to make paste. Apply this rose petal and milk cream paste on the lips. Wash off the next morning to see the pinkier lips. It will soon fade away the darkness and lip will become pink.
Do's and don'ts to get pink lips naturally
Do not use cheap quality lip products, they darkens the lips.

Apply lip balms with SPF when going out in sun.

Always remove the lipsticks while going to bed.

Apply lip balms daily at night to keep them hydrated
Following these tips will give you the attractive desired pink lips soon.