Best Gold Facial Kits available in India 
Hi everyone!! Whenever we girls have to go to a wedding or a party. The first thing we will think about is to get the gold facial done. This gold facial gives a glow on the face and deeply refines the skin. Gold particles in these gold facial will polish the skin and makes the skin refresh and revived. For a youthful glow, we get the gold facials. Especially girls who will be getting married are more interested in getting gold facials for themselves. But you can also do gold facials at home by using the gold facial kits that are available in the market. This way you have save the time to sit in the parlor. And also you can save a lot of money. So, here we have compiled some popular Gold facials kits in India that you can try at home. If you don't know how to do that, then read our post on how to do a gold facial at home. Okay, so let's start with the gold facial kits in India with different brands with their prices. Let me also tell you one thing, I have noticed that people who have got sensitive skin they should use fruit facial kits as gold, diamond, silver particles can be not so good for their skin type.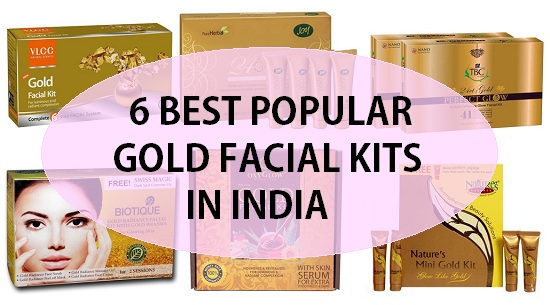 6 Best Gold Facial Kits Popular in India with Price
1. VLCC Gold Facial Kit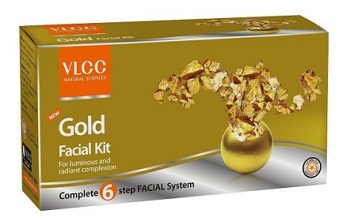 VLCC makes some of the very popular and easily available facial kits in Indian market. I have used this kit and will be reviewing this soon. This has a free gold bleach inside that you have to use first then the gold cleanser, scrub, massaging cream and the gold peel off mask and a gold moisturiser that has to be used after the gold peel off mask. It's the best gold facial kit in India that can be used by all skin types.
2. Joy 24 carat Gold Facial Glow Kit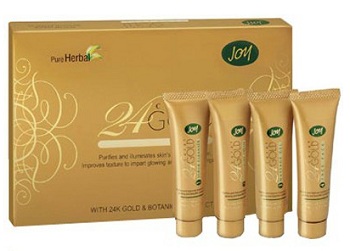 This is a kit that has tiny tubes inside so this facial is also a single time usage pack. The tube contains 10 g of products inside. Here are only 4 steps in this kit. A gold cleanser, scrub, a gold massaging gel and the gold pack. Apply the gold cleanser first and cleanse the skin. Then, apply the scrub to remove the dead skin and any pore clogging dirt and debris. Go with the massage gel for at least 15-20 minutes. Then apply the gold pack. It's the best gold facial kit for people with oily to normal skin.
3. TBC By Nature 24 carat Gold Perfect Glow Gold Facial Kit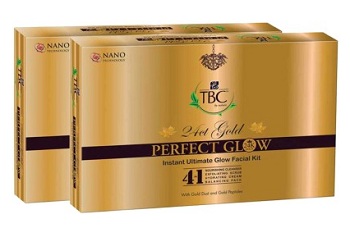 This also has 4 steps but it is advisable that you try gold bleach first or any bleach that suits you. I like using Fem gold bleach. Try the 4 steps and apply a light moisturiser. This has gold particles with botanical extracts that purifies and illuminates the skin.
4. OxyGlow Gold Facial Kit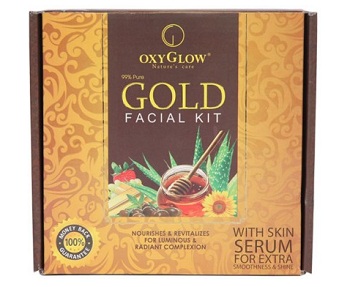 This oxyglow gold facial pack has 4 steps inside. Like the cleanser, scrub, massaging gel and the pack. Additionally they have incorporated a gold serum as well. You have to apply the serum after the face pack. The gold extracts help in improving the skin's elasticity and firmness so that the skin looks youthful and glowing naturally.
5. Nature's Essence Mini Gold Facial Kit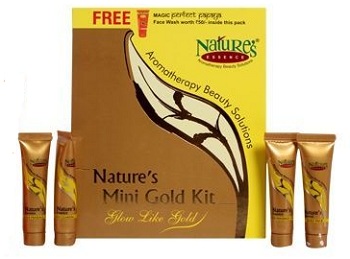 This home facial kit comes with a free face wash inside. This too is a mini kit that you can use for one time facial at home. This is priced for 200 rupees. Other than the face wash. You will receive gold cleanser, scrub, massaging gel with gold ash and the gold glow pack.
6. Biotique Gold Facial Kit with Gold Bhasma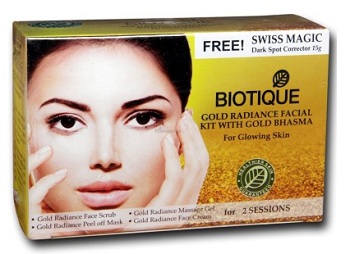 Gold bhasma is also called as gold ash which has been used in this gold facial kit. In fact most of the gold facials have gold bhasma only. This is a set of 4 that means you will get the 4 steps. You can use bleach first, and then try the 4 steps. After completing the facial, it is always good that you apply a skin cream or light moisturiser if your skin is oily. This gold kit is for 235 rupees for one time facial.
Benefits of Gold facials
Gold facial helps in detoxifying the skin.
This facial deeply cleanse the skin pores so that the pores are refined and no dirt is there on the ace
Gold scrub helps declogs the pores and keeps them clean hence skin looks refreshed
Such facials also makes the skin to appear supple and brighter,.
Gold facial helps in regeneration of skin cells as per the studies which is why this is a good facial for mature ladies.
This is the list of the best selling gold facial kits in the Indian market available at reasonable prices.