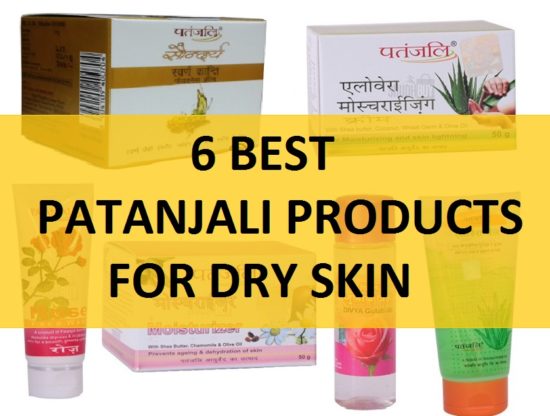 List of Best Patanjali Products for Dry Skin with Prices in India: Dry skin can be hard to manage and dryness will also cause the skin to get stretchy and dull looking. Patanjali Ayurveda has made some very good products for dry skin types. The products like the moisturizing cream are very good for the dry skin healing. When we do not take appropriate care of our dry skin then the skin becomes prone to the wrinkle and fine lines. Once your skin gets filled with fine lines and wrinkles then this become very difficult to get rid of these fine lines and wrinkles on the face. Here we will share some of the best Patanjali products for dry skin.
6 Top Best Patanjali Products for Dry Skin
1. Patanjali Moisturizer Cream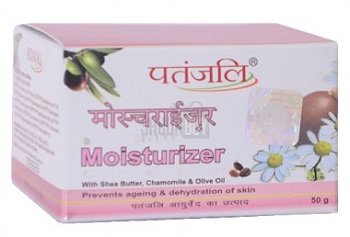 This Patanjali moisturizer is rich in the skin healing emollients like the shea butter, chamomile, olive oil and this prevents aging and skin dehydration. This skin cream is for 75 rupees. You can just apply this twice in a day to treat the dry skin with the goodness of herbals ingredients. The shea butter is extremely moisturizing and skin healing while olive oil is rich in fatty acids that increases the cell turnover and skin renewal.
2. Patanjali Aloe vera Gel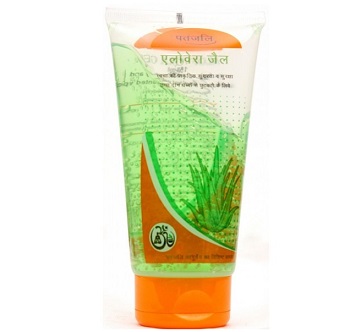 Aloe Vera gel and the plant is medicinal and beauty giving plant.  This gel and juice of aloe vera is used to make the skin fair, brighter, free from acne and dullness. When the skin is dry then too aloe vera gel can be wonderful. Just apply this pure aloe vera gel on the face and then keep this overnight. You can also mix little bit of almond oil in this aloe vera gel and then massage on the face. This will boost the skin's radiance and elasticity. This is just for 99 rupees for 150ml. Read how to remove darkness around mouth

3. Patanjali Aloe Vera Moisturizing Cream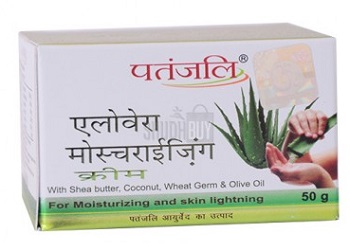 If you wish to use aloe vera gel in the form of a moisturizing skin cream then this moisturizing cream is highly beneficial Patanjali products for dry skin. This can be used during the winters to keep the skin free from dryness and white ashyness on the face. Moreover men to can try this aloe vera rich skin cream. This will make the dry skin glowy and beautiful. It's a multipurpose skin cream that you can keep at your home. This Patanjali cream is for 160 Rs for 100g rupees. See: Best products for dry skin in India

4. Patanjali Saundarya Swarn Kanti Cream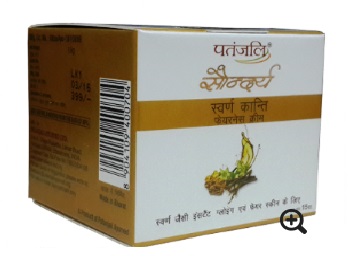 This Patanjali swarn kanti fairness cream is for oily and dry skin both since the cream has a very powder satiny like texture. This is not greasy but still is able to provide adequate moisture to the dry skin. You can use this once in a  day but this is also true that this Patanjali product is quite expensive as this is for 399 rupees for 15 g only.
5. Patanjali Divya Gulab Jal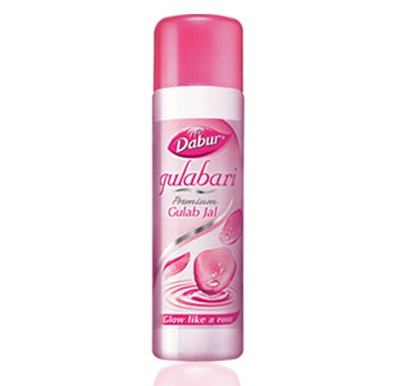 This Divya gulab jal is truly magical as this is made from the fresh roses and has the rose essence. Roses are known to have rose oil which will heal the dryness and gives a rosy glow on the face. This can be used like a medium for mixing face packs and mask. You can also mix this with some vitamin E capsules and then apply that on your dry skin. You will see that how beautiful this will help to make the dry skin glow. This is for 30 rupees.
6. Patanjali Rose Face Wash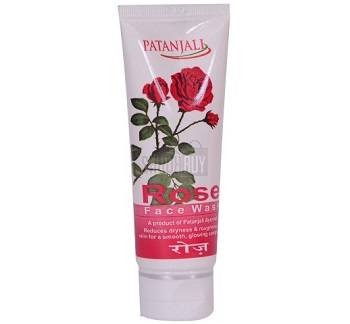 This rose based face wash is made from the pure and natural extracts of Rose, Neem and Aloe vera. This will clean the skin gently. The natural ingredients will nourish and revitalize the skin tissues and skin layers. This will make the dryness heal and increase the glow and increases the fairness in men and women. This Patanjali product for dry skin costs 45 rupees which is also very cost effective. Also see how to get rid of chin pimples faster

These are the best Patanjali products for Dry and flaky skin that can also be applied during the winter season.