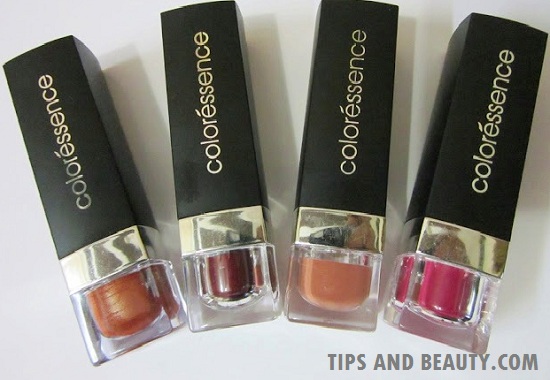 6 Coloressence Lipstick Review, Price and Shades
Coloressence lipsticks are very cheap and cost effective lipsticks. I have used around 7-8 of these lipsticks some time ago even though I have so many lipsticks over 1000 bucks, as a user, I can say that these Coloressence lipsticks are also great for the price. In this post I will review 6 of the Coloressence lipsticks in the shades Nud* Suede, Pristine Pink, Summer Look, Merry magenta, Peachy Pink and Back to basics. Hope you like.
Price of Coloressence lipsticks:
These lipsticks from Coloressence are for rupees 175 and you can but them from stores or from online.
Packaging of Coloressence lipsticks: These lipsticks come in a black plastic packaging with the name Coloressence written on the cap of these lipsticks. The bottom has the shade indicator. There is a transparent thing where we can see the color inside the lipstick. The packaging is not that good in terms of the plastic used etc but for a lipstick that cheap this is decent.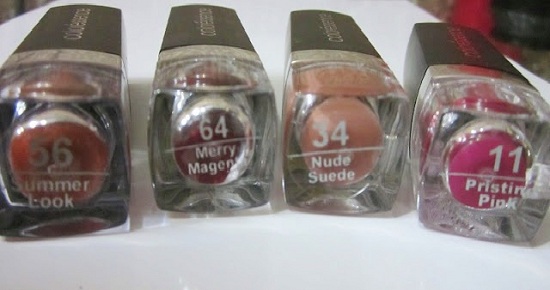 Coloressence Lipsticks Shades Review
Coloressence lipsticks are very affordable makeup product in India other than Elle 18 products that makes good decent makeup stuffs. So, let's start the short reviews of these lip products.
1. Coloressence lipstick in Pristine Pink Review
Coloressence Pristine Pink is a matte shade of fuchsia pink. It is a color which is a plummy pink in other words. It will make the fair skin look better and is good for the darker skin tones as well. But I did not like the formula of this Coloressence lipstick as it is very drying. As it is matte and very hard to apply over the lips. It will make the lips dry. I liked the color but I wish it was a bit moisturizing. If you like shade then make sure you apply a lip balm before and then use this lip color.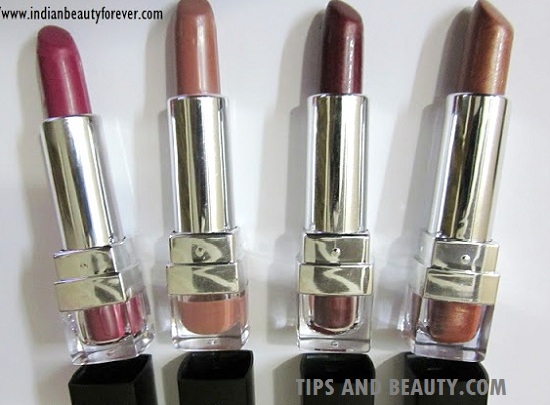 2. Coloressence lipstick in Summer look Review
Summer look is a brownish mixed with some orange hues and has fine silver shimmer in this. I liked shimmery lip colors earlier but not anymore but for those of you who like some glossiness on the lips such shimmery lipsticks are good. This is not drying and moisturizes my lips well but this color makes my complexion dull. It is a color that will look good on fair skin tones but medium to dusky skin tones should try something bright.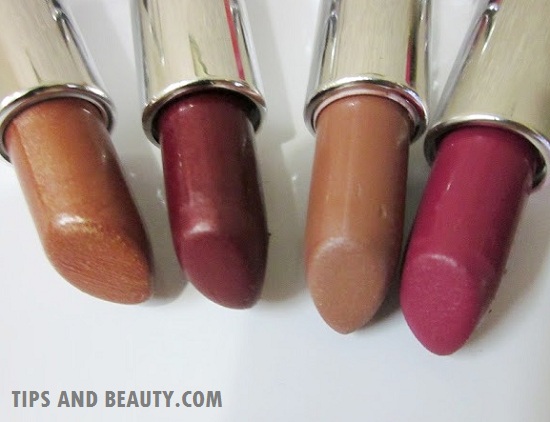 3. Coloressence lipstick in Nud Suede Review
As the name suggests this Coloressence lipstick has a neutral shade like the color of the lips. I honestly do not like such colors and got this by mistake. I like using bright colors and this color is good for girls who like such neutral shade on their lips. This Coloressence lipstick doesn't last long on my lips as when I eat something it gets wiped off then reapplication is needed.
4. Coloressence lipstick in Merry Magenta Review
Merry magenta is a deep magenta maroonish color which is a bridal lip color. I have used it couple of times. It looked good. It is okay not too moisturizing or too dry. This is a color that will look good on all the skin tones. Dark or dusky skin toned women can try this color when they are married and need some inexpensive lipsticks for them. This lipstick stays on my lips for 4-5 hours which is a plus point.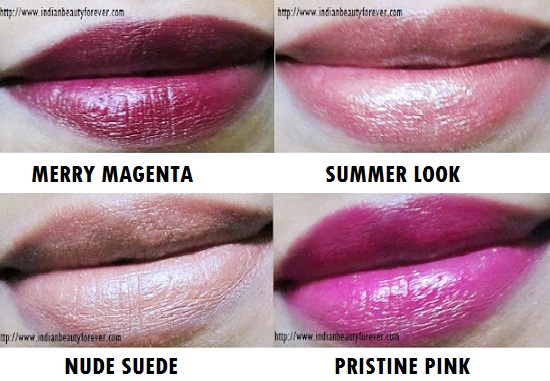 5. Coloressence Lipstick in Peachy Pink Review
Peachy pink is my most favorite lipstick from Coloressence lipsticks range. This lipsticks has a very beautiful shimmery orange gold color which suits my medium skin tone. I had used this lipstick a lot when I had it and it lasted for about 4 hours. I lost this lipstick when I lost my makeup bag; this lipstick along with the back to basic was lost. But I will highly suggest this lip color if you like such peachy gold shimmery color this is not drying which is a good this about this Coloressence lipsticks shade. Thsi shade can be applied on evveryday basis by people who liek such antural looking colors.
6. Coloressence lipstick in Back to Basics Review
Back to basics is also a great color as this lip color has a beautiful pinkish golden shinny shade which looks good on most of the skin tones. Dusky skin girls can try such colors such colors do not wash out anyone and makes the face look bright and beautiful. This Coloressence lipstick shade too is not drying and is decently moisturizing. If you feel dry then you can apply a lip balm before using this lipstick.
So, these were the 6 Coloressence lipstick shades that I had. Now, I do not have anyone of them since I gave the first 4 and lost the other 2. But after these review I am getting tempted to try them again. I will try some other color from this Coloressence lipsticks range as the price is cheap and good.