Lemon Beauty Hacks

We love lemons they are great for making refreshing lemonade. Lemon are highly rich in Vitamin C which gives body its dose of vitamin C which keep the skin, hair and gums healthy. Vitamin C is also a great antioxidant which help to freshen up the body in summers. But other than these benefits there are numerous beauty hacks with lemons that will surely make you love this inexpensive product. Let's have a look how can we use lemons for beautiful skin, shinier hair and nails.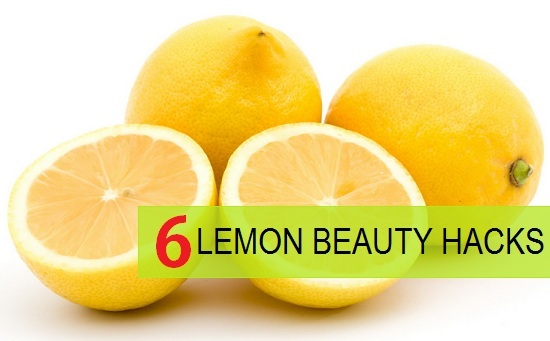 Homemade Lemon Beauty Hacks for beautiful Skin and Hair
1. Lemons for Acne scars
Acne scars are unwanted and none of us will want them. They can make the complexion look blemished and flawed. So, this is how you can try lemon juice to remove the acne scars and blemishes on the facial skin.
How to use lemon for scars:
Take a lemon and squeeze it to extract the lemon juice.

Then take a cotton ball and apply some of this juice on the marks and scars.

Wait for 30 minutes, then wash the face. Do this daily to get marks free skin.

Lemon and rose water treatment:
Another way to use juice of lemon for pimple marks is with rose water.

Mix 1/2 teaspoonful of lemon juice with same amount of rose water.

Apply this on the facial scars, marks etc with the help of a cotton ball.

Then leave this overnight. This will soon give you flawless clear face.
2. Lemon and Sugar scrub for smooth skin
At times, we may feel that the skin looks glow less and rough to touch. There can be roughness due to blackheads, dead skin cells and hardened sebum as well, which is a common problem in extremely oily skin. To scrub off the dead skin, blackheads etc to make the skin smoother then this scrub can be tried. This is such an easy recipe that you will love to try this out. Moreover, you will just need 2 ingredients lemon juice and Sugar.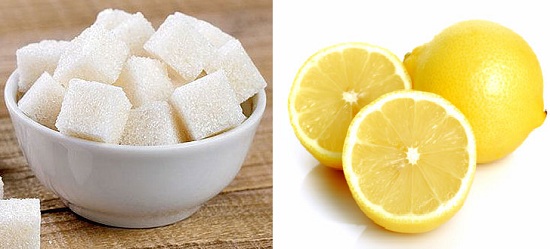 Take 1 tablespoonful of sugar and then mix 2 teaspoonful of lemon juice.

Let the sugar and lemon mixture get little bit gooey.

You can then use this mixture to get rid of the rough dead skin on the face and your body.
This will make a very inexpensive body scrub. Another great benefit of this scrub would be that this has lemon juice which will fade any marks that you have on the body like stretch marks, insect bite marks, burn marks etc.
See: 4 Homemade Stretch Marks removal Cream recipes
3. Lemon for dark elbow, underarms and knees
You must be quite embarrassed with the dark underarms, knees etc specially when your overall complexion is fair. This beauty hack with lemon with surely give you great results in lightening the darkness of the underarms, knew, elbows etc. here is how to do this beauty treatment:
You need to squeeze some lemon juice.

Apply this all over the skin areas that you think are darker like your knees, elbows etc.

Keep this for half an hour then rinse with clean water.
See: Lighten the dark underarms with baking soda
4. Lemon juice for dandruff care
Dandruff flaking on the hair is not nice to notice. In winters, the flakes and the dryness of the scalp is even more therefore, you can get a squeaky clean scalp within a day with lemon juice.This lemon beauty hack will need lemon and coconut oil only.

Here's how you can try lemon juice for dandruff problem.
Take 2 teaspoonful of lemon juice and mix that with 3 teaspoonful of coconut oil.

Mix both of these very well. Then apply on the scalp.

You can apply this dandruff removing oil mixture just like you apply any other oil in your scalp.

Keep this overnight then wash the hair with a shampoo.
Also See: D'free overnight anti dandruff lotion review
5. Lemon for yellow stained nails
Have you noticed that your nails are getting yellow? Yellowness of the nails can be due to wearing nail polish all the time or using nail paints with low quality. So, how to remove stains on the nails then. This is really easy when you have lemons with you.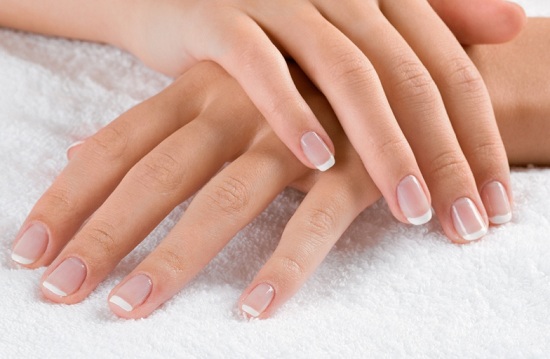 How to use:
Take a bowl of warm water and squeeze and entire lemon into it.

Dip your fingers in that water and keep for 20 minutes.

Do this 2 times in a week and soon you will see that the nail will be back to their original color.
6. Lemon for shinier hair
For dry and shine less hair lemon juice can instantly transform your shine less locks to shinier and smooth. To bring back the shine to your hair, you can try a lemon rinse. Lemon water rinse is a very easy trick that makes the hair shinier. This would also remove the products build up if you like using hair styling products a lot.
How to prepare lemon water rinse
Take a mug of water and squeeze a lemon in that. This is your lemon water.

Now, take that with you when you go to take a shower.

After the hair wash the shampoo out of the hair. Then use this water to give your hair a last rinse.

This will add a beautiful healthy shine.
These were some very easy to follow lemon beauty hacks that will make your skin, hairs and nails beautiful.