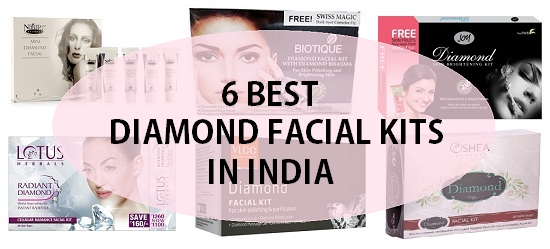 Best Diamond Facial Kit in India: For Oily Skin, Dry and Sensitive skin
Diamonds are said to be girl's best friend but why use diamonds only as jewelry. We can also go for diamond facials. Now the most loved facial is the gold facials and they cost high so, think how much the diamond facial will cost if you will visit a beauty parlor or a salon. Hence to make this cheaper and yet effectively get the results, we can try diamond facial kits at home. There are many good brands that make diamond facial kits and the leading brand is VLCC. I recently reviewed the VLCC pearl facial kit. So friends, here  in today's post at Tips and Beauty.com, I will be sharing 6 popular and best diamond facial kits in India. If you have got very sensitive skin I will suggest using papaya or fruit facial kits instead. Okay girls, so let check out the various options that we have.
5 Best Top Diamond Facial Kits in India with Reviews
1. VLCC Diamond Facial Kit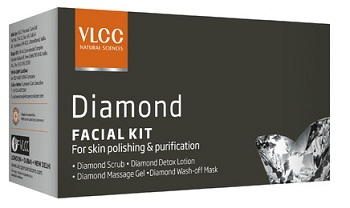 The single time use of this facial kit is for 335 rupees which will have 4 steps or 4 sachets for that. The steps are: diamond scrub, diamond detox lotion, diamond massaging gel and the diamond wash off mask. This claims to leave the skin smoother and glowing. This kit has diamond ash which polishes the skin and brightens it.

2. Nature's Essence Diamond Facial Kit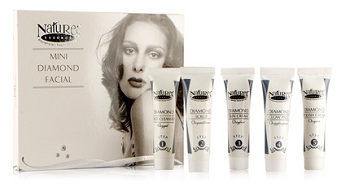 This kit includes a free face wash. This Nature's Essence home facial kit costs 225 rupees. Apart from the free face wash. This kit includes 5 other tubes which are a diamond face cleanser, scrub, diamond polish cream, face pack and the diamond skin cream. You can also use diamond bleach cream before starting the facial.
3. Oshea Herbals Diamond Facial Kit
This includes 4 step products like the facial scrubber, energizing skin cream, diamond whitening mask and the skin cream to give a softer looking beautiful skin. Not only that this kit will give you glow but also detoxifies the skin. The basic 4 steps are easy to do at home, therefore you do not have to visit a salon to get your facial done. In fact salon facials are also quite expensive especially the diamond ones.

4. Biotique Diamond Facial Kit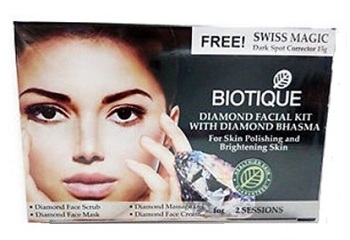 This kit has natural plant and botanical extracts along with the diamond ash. This naturally rejuvenates the skin that is dull looking. This kit is for 350 rupees and includes 4 set of products. You should use such kits once in a month to get a gorgeous glow on the skin. By the way diamond facial is also good for oily skin.
5. Lotus Herbals Radiant Diamond Facial Kit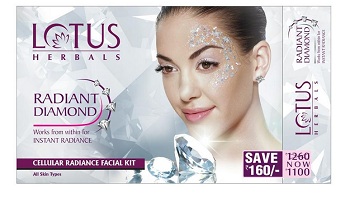 Lotus herbals makes several kit for glowing skin, gold facial kit etc. This kit is for 300 rupees and 4 products like the basic cleanser, scrub, massaging gel and the facial mask. This is only a once time usage kit price. The other kits that we have shared they are also the mini one time usage kit.
6. Joy Diamond Facial kit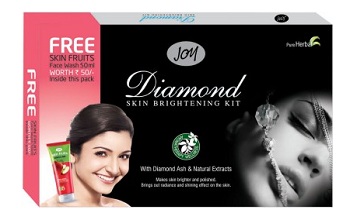 This kit comes with a free face wash. This kit costs 225 rupees. This kit has been formulated with diamond ash and natural extracts to make the skin brighter and polished. This contain a diamond face scrub, diamond skin brightening massaging cream, Diamond youthful shine pack and the Joy Diamond Polish cream which is a non oily skin cream.
Benefits of Diamond Facials
Diamond facial will help the skin to get deeply refined and toned.

This also finely exfoliates the skin and polished the skin by removing the upper layer of dead skin. Hence the skin becomes smoother.

Diamond facial also boosts the skin's blood circulation and improves the elasticity.

Regular use will also helps to treat the clogged pores and skin problem like whiteheads, blackheads etc.

This facial also makes the skin a lot softer and glowing.

Trying such facial kits once in a month can be quite good for pigmentation and skin with lots of blemishes.

You can easily try these kits to get a better skin in texture and reduced dark spots.

For aging skin as well facial with diamond extracts are considered wonderful.
So, these were the best diamond facial kits in India. Which is the one you have tried or would you wish to try? Do share that in the comments below!!
Recommended Articles: