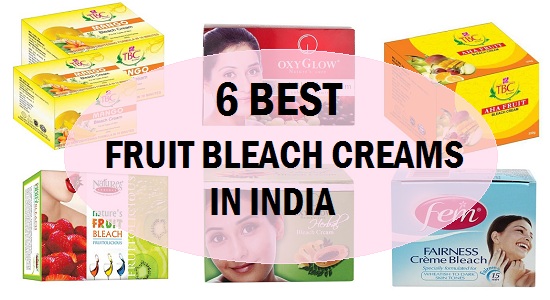 Best Fruit Bleach Creams in India for oily skin and dark skin
We love fruits for our skin. Fruits are enriched with the Alpha hydroxy acids which makes the skin glowing and fair. Fruit extracts also exfoliates the skin gently and a youthful clearer skin is exposed. These benefits of fruits extracts make fruit bleach as the most loved bleach cream. In salons too fruit bleach creams or gold bleaches are quite popular. Let's know some of the possible skin benefits of the fruit facial bleach creams.
Fruit face bleach are rich in fruits which helps to gently minimize the sun tan and skin darkening that we have accumulated over the time due to UV rays.

Skin hyper pigmentation is also faded with the regular use of bleach creams with fruit enzymes

Most of the fruit bleaches are safe and herbal in nature there are pretty safe for the sensitive skin. 

They gently aid in lightening of the dark and unwanted facial hair and even the body hair.

Fruits are loaded with the Alpha Hydroxy Acids which are known to accelerate the skin's natural cell renewal. This process helps in minimizing the lines and wrinkles as well.

They are also wonderful for the oily skin and acne prone facial skin.

It also keeps the blackheads and whiteheads under control as it clean the pores deeply.
Best Fruit Bleach Creams in India with Reviews
Here are top best fruit bleach creams in India. You can try these the next time you think you using the skin friendly bleach creams. These can be safely used at home. You just have to follow some quick instructions as in how to apply, when to remove, how much time to keep the bleach etc.  
1. Fem Blueberry, Milk and Pearl Bleach Cream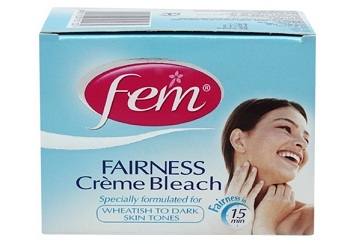 Fem is the most popular skin bleach brand in India. This Fem bleach is enriched with milk and blueberry extracts. This face cream bleach ensure that the skin becomes tan free and looks a lot brighter by matching the facial skin hair with that of the skin color. This particular variant with the milk, pearl and blueberry which is best suited with the wheatish to darker skin complexions. This is also suitable for oily skin. Blue berries also fades the dark spots and blemishes.
Price:
25 rupees for small pack
Best Diamond Bleach Creams in India
2. TBC By Nature Mango Fruit Bleach Cream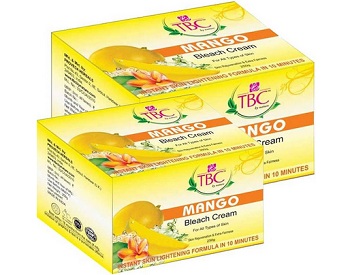 This fruit bleach cream has extracts of Mango and Kiwi fruit. TBC by Nature mango bleach cream is specially formulated to give natural glow on the skin and for an improved skin texture. I matkes the skin fairer by lightening the unwanted hair to match with the skin tone. This bleach is enriched with Vitamin A and Vitamin B which are very important for our skin and helps to keep it healthy.
Price:
120 rupees
3. Nature's Essence Fruit Bleach Cream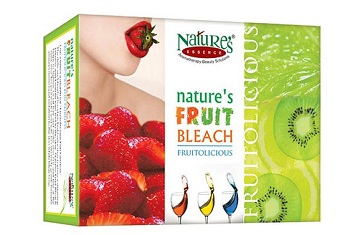 Nature's Essence fruit bleach cream has strawberry extracts along with other fruits. It helps to remove dirt, oils, dust and skin darkening. This gives and instant fairness to the skin is just 15 minutes. For darker skin complexion, it should be kept for 10 minutes only to bleach the facial hair. Strawberries are rich in the skin whitening ellagic acid which also aid in the regulation of sebum. It can also give you oil control benefits. You will be glad to know that this is a good bleaching cream for oily skin and for acne prone skin as well.
Price:
70 rupees
Fruit Facial Procedure and steps at home
4. Oxy Herbal Bleach cream with fruits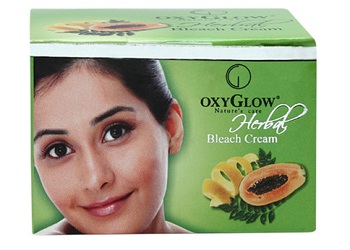 This herbal bleach has the extracts of papaya. Papaya has skin lightening properties. It also makes the unwanted hair gets invisible by bleaching them. It is made from herbal extracts and makes skin fairer. This is mild thus even suitable for the sensitive skin types. People who get red face after using bleach can try such mild herbal bleach to lighten the dark hair on face.
Price:
45 rupees
5. Oxy Facial Fruit Bleach Cream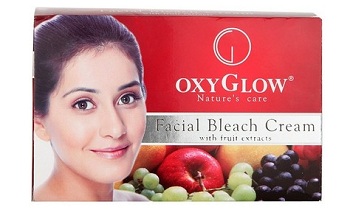 Oxy has this another fruit bleach which is loaded with fruit extracts. It has fruits like pineapple extract, Strawberry extract and Sweet orange peel powder. The AHAs in these fruits take the external dead and dull layer of skin thus makes skin smoother and softer. This multi-action preparation will blend the facial hair with the natural complexion so that they are not visible while the fruit extract give the natural glow. It also fades the dark spots on the face due to acne and pimple break outs. Moreover, It is suitable for oily skin as well. In fact most of the fruit rich bleaching creams are.
Price
50 rupees
7 Homemade Fruit Face packs for glowing skin
6. TBC BY Nature AHA Fruit Bleach Cream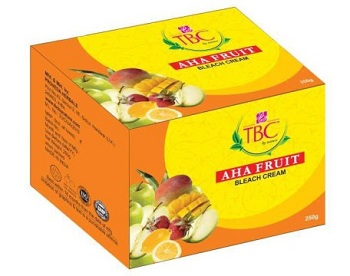 This fruit bleach is enriched with the natural extracts of Strawberry and Grape seed Oil. These extracts will give a smoother and fairer effect and also improves the complexion of the skin. It reduces dark spots, facial blemishes and lightens the dark, unwanted facial hair for a radiant and gorgeous skin. Girls with dry skin can try it to treat the dry skin and also for the sensitive skin. The dry sensitive skin needs bleach that should mildly discolor the facial hair.
So, these were the best fruit bleach creams in India. How did you like these? Which is your favorite out of these?