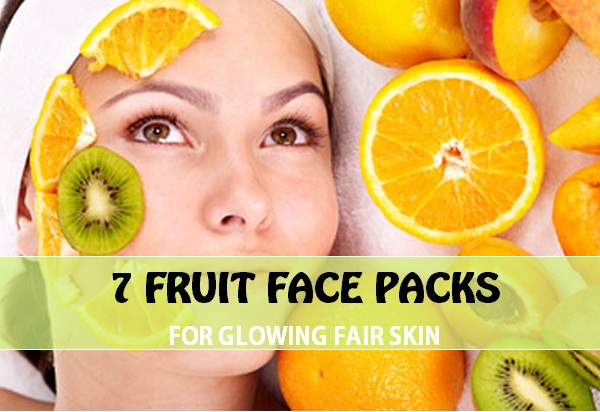 Fruit Face Masks and Packs for Glowing Fair skin
Fruits have some incredible enzymes that can make many of the skin problems like dark spots, melanin excess formation, fines lines, sun tan etc go away. Moreover fruits also have properties to act as natural skin bleach for fairness, skin whitening, skin lightening and brightening, This sounds amazing, So, how exactly to utilize fruits for the face. This can be done by making fruit face pack or fruit face masks will give impart the benefits of fruit enzymes and nutrients to the skin to get all the benefits and above all a healthy looking great skin. Here are some fruits face packs and mask that you can prepare without hassles at home.
Homemade Fruit Face Packs Recipes

1. Banana and honey homemade fruit face pack
This homemade fruit face pack is for instant glow on the skin. Mash a small piece of banana to make a pulp of smoother consistency. Add one teaspoonful of honey and mix it well. Banana is rich in phosphorus and iron and honey is natural moisturiser which imparts this face mask the goodness of both the ingredients.
Read: Banana face packs and masks
2. Grape fruit face pack for wrinkles and light skin
Grape fruit is rich in Alpha Hydroxy Acids. You may have seen AHAs in various skin creams with anti aging benefits. AHAs give mild exfoliation and makes lines to decrease. Press few grapes to extract the juice out of them. Apply this juice on the face and start to massage the face for 2-3 minutes. Wash the face with tepid water after 20 minutes. Try to do this thrice a week to get anti aging benefits. This homemade fruit face pack is brilliant for wrinkles and fine lines on the face.
3. Papaya, lemon juice face pack for skin whitening
Take some milk powder and mash a piece of papaya to give a pulpy texture. In this mixture, add few drops of lemon juice which enhances the efficacy. This goodness of fruits loaded face mask is excellent method to get skin whitening when it is used twice a week.
Read: Papaya face packs and masks
4. Strawberry fruit face pack for brighter skin for oily beauties
When you've oily skin, the first priority is to get rid of the excess oils which make the skin look dull. This strawberry fruit face pack is to give skin brighter and glowing look by removing the oily skin off the face. Mash some strawberry in a fine pulp and add few drops of lemon juice and some Fuller's earth. Mix it well and apply over the face to form an even layer. Rinse after 20 minutes.
5. Saffron and Apple fruit face mask for dark spot removal
Another fruit face pack that targets the spot left behind by the pimples and acne is this apple fruit pack which is delicious but does really great for keeping the skin spotless and glowing. Like we have mentioned above, you will have to mash a small piece of apple to form an even pulp. In that, add few strands of saffron to make it even more power packed with the benefits of saffron which also lighten the skin. Instead of saffron, you can also put honey, if you've dry skin.
Read: Saffron face packs for fairness
6. Orange juice fruit facial pack with Besan for skin tightening
Another homemade fruit pack which can be made with orange juice and some gram flour. This pack makes the skin tighter and keeps the pores clean. It is worth trying and good face pack for the oily skin since it removes excess oils and dirt from the oily face. This orange juice fruit face pack also prevents the chances of acne. The greatest benefit of this pack is skin brightening plus the dark scars and spot removal. 
Read: How to keep pores clean

7. Mango fruit pack and neem for pimples
Mangoes are seasonal fruit which are found in warmer season. You can use mango pulp to make mango pulp face pack to keep the pimples away. Mangoes are also rich in Vitamin C which makes this fruit good for oily pimple prone skin. Take mango pulp and add some neem powder in it. Use this paste as a face pack. This would definitely give you clear skin in no time.
Benefits of fruit face packs
Fruits are rich in Alpha Hydroxy Acids which is why they are beneficial in making skin brighter and light.  Fruits are loaded with essential vitamins and minerals. You see whenever you are not well, you're advised to eat fresh fruits, so, are fruits only for the body? They do but they're also for the skin. Try these various fruit packs and mask as per your skin type and availability of the fruits. Seasonal fruits are always best to try for teh home remedies for facial skin and to include in your diet.