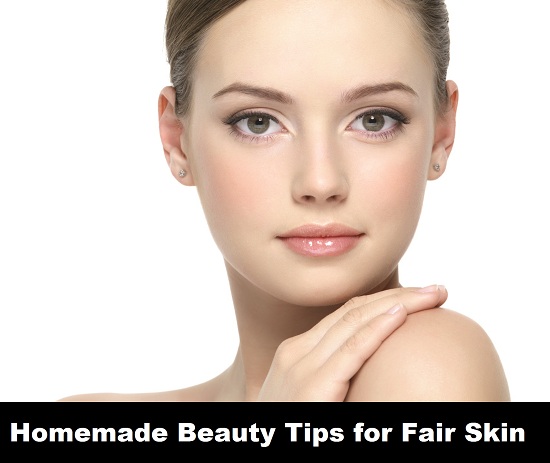 Homemade Beauty tips for Fair skin
A fairer glowing and clear skin is a dream that most of asians desire for. Every skin color is beautiful but still we wish to enhance or brighten it up so that the skin looks fairer. Markets are flooded with skin brightening or fairness creams that are chemical laden and may cause harmful effects in the long run. You for sure don't want any of that skin damage. Here come the natural and home made beauty tips for fair skin with no harmful effects attached. These fairness tips and home remedies are the safe way for attaining a fairer complexion. Moreover, apart from that these beauty tips will also improve the skin texture, skin firmness and smoothness. Nature has given loads of fairness inducing products like lemons, milk, honey, papaya, apple, yoghurt, potatoes, tomatoes etc which can be tried to make skin fair and glowing. These natural ingredients also work like natural skin bleach to lighten the skin. With gradual and continuous use of these products you're bound to get fair skin naturally within days at home.
Read on, to know more on homemade beauty tips for fair skin.
1. Milk powder and honey for fair skin all skin types
Milk is by far one of the best product to make skin fair. Milk powder contains lactic acid which is known to give fairer skin. Mix a teaspoonful of milk powder with half a teaspoonful of honey to make a paste. Apply it on the face and wash off after 20 minutes.
2. Tomatoes and yogurt to improve the complexion
Another milk product that can do the skin lightening for you is Yoghurt. Being a milk derivative Yogurt too has lactic acid and tomatoes have essential enzymes that lead to fairer skin when used regularly twice a week.
Take some tomato juice or pulp and a teaspoonful of yoghurt and apply it on the face.

Keep this for 15- 20 minutes, then rinse.
3. Almond and milk for fair skin and toned complexion
This is by far the most effective fairness tip or remedy to make skin fair for all skin types including the sensitive skin. Almonds are one of the important and common ingredients which you will come across in fairness products. It lightens the skin, improves the tone, and enhances blood flow. It's vitamin E content gives skin a radiance.
Mix some almonds in water and after some hours grind them with milk.

Apply this paste on the face.

Read the full recipe in this post on face packs for fairness.
4. Oatmeal and milk for smoother fair skin
Oatmeal is very good skin exfoliators. Exfoliation is important in achieving a smooth, radiant fairer skin and oatmeal does that brilliantly. It mildly scrubs off the dead skin layers off your face and milk lightens to make skin fair. It is a good scrub face mask.
5. Lime juice with turmeric for spotless fair skin
Both of these ingredients are the best to make skin fairer faster and naturally though if you have sensitive skin, you should add some milk in this treatment to make it suitable.
Mix a pinch of turmeric in a teaspoonful of lime juice and apply it on the face.

Leave for 2-3 hours, if you can else half and hour is okay.

Then wash the face.
6. Orange peel with banana pack, fairness for oily skin

You might have heard that fruits are very beneficial for good skin. Exactly, this orange peel and banana face pack is very good for oily skinned people who wish fairer skin complexion.
Mix some orange peel powder with banana pulp and use on the face.

Wash after 20 minutes.
7. Coconut water for sensitive skin to get fair skin

Coconut water is wonderful remedy for fair skin when you have sensitive skin and no other treatment seems to be suitable. Coconut water is mild yet shows some very good results in improving the skin's tone and texture apart from the skin color. Apply coconut water on the face every alternate day to get the results.
These quick homemade fairness tips will definitely make the skin tone lighter when used regularly. Other than these beauty tips you need to make sure that you minimize the sun exposure which could darken the skin and leads to skin tanning. It is better to avoid the sun between 12 to 3 pm. Use the sunscreens whenever you have to face the sun to protect the skin and take loads of water which will keep you hydrated throughout the day.