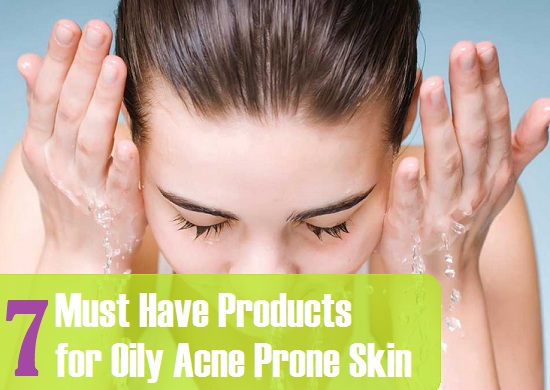 Image credit: Pinterest.com
Products for oily acne prone skin
Oily Acne prone skin is annoying when we are teenagers and the hormones are in their full swing but the pimples and acne can still follow us even when we reach adulthood. So, what should be done to prevent the acne and pimples on the face, especially when we have oily acne prone skin? We should take care of certain things like cleanliness and exfoliation etc which keeps the skin clear and acne, pimples, breakouts away. In this post at Tips and Beauty, we will share the must have products for oily acne prone skin which will greatly help those who suffers from pimple problem.

Essential Products for Oily acne prone skin
1. Cleanser for oily skin



Face Cleanser is a must have product for oily acne prone skin as face cleansing is the most important part which keeps the skin free from oils, sebum, dirt etc. You should try a face wash or cleanser that has salicylic acid, benzoyl peroxide, tea tree oil or even the neem and Tulsi face wash are good for oily skin that is prone to acne/pimples. You can see the list of acne/pimple clearing  face wash in India

2. Facial scrubs
Facial scrubs will make the blocked pores with sebum and dirt open up. Thus less skin problems like whiteheads, blackheads are experienced. Exfoliation keeps the pores clean and you enjoy a healthier looking smooth skin. You know you can try homemade facial scrubs for your oily acne prone skin rather than buying the scrubs from market.

3. Facial Sprays
Though out the day whenever the skin feels oily then a facial spray can helps to remove the dirt and sebum off the face. This way the skin problems can be reduced to certain extent.

See: Homemade Rose water and glycerin toner
4. Face Packs
Image credit: thetipz.net
Face packs which have ingredients like neem, Tulsi, turmeric, mint etc are excellent to combat the pimple infection since these herbal stuffs are anti bacterial. You can also read about this easy homemade Pimple clearing face pack.

5. Mud face packs
Mud face packs like Multani Mitti face pack or any other mud pack helps to squeeze out the excessive oils from the pores thus is a must have product for oily acne prone skin. These mud masks should be tried at least once in a week. You may see the recipes of mud face masks here.
6. Anti Acne Cream/gel
A pimple cream or lotion is undoubtedly a vital product have for oily acne prone skin too. As oily skin is susceptible to acne so whenever acne erupts you should immediately apply the cream/gel. I like creams like Phosphate gels, benzoyl peroxide creams etc which are good for minimizing bacterial infection. You can read on the best pimple and acne treatment products in India.

7. Blotting Sheets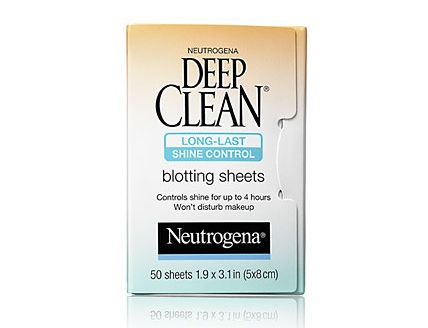 Image credit: Neutrogena.com
If you wear makeup and cannot wash the face or use facial sprays in between the day, then blotting sheets are there for you. These sheets will absorb the excessive oils and skin looks matte. Moreover you will not have to use compact powder again and again thus it will also will prevent the cakey look and blockage of pores due to frequent compact touch ups.
So, these were the must have products for your oily acne prone skin to prevent the break outs, zits and pimples as far as possible. If you too have some essential products the n do share them too!!