When it comes to makeup, Lakme is a known brand in India. The affordable and high quality    makeup products can be found in every women's makeup kit. This proves the popularity  of this brand. There are certain Lakme products that worth trying. Such products are value for money and can be referred as the best selling products. Make up gives confidence and happiness as when you look good you feel good. So, let's see which are the Lakme products that girls should try!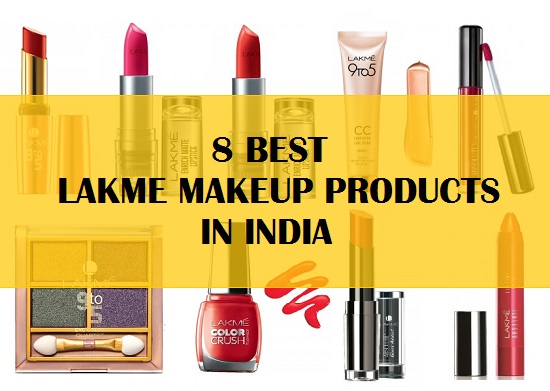 8 Top Lakme Makeup Products for Girls in India with Reviews and prices
1. Lakme 9 To 5 Eye Quartet Eye shadow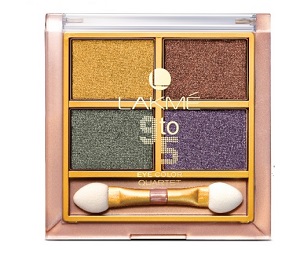 These eye shadow quarts are an absolute must have in the makeup lovers kit or even for the bridal beauty boxes. The shades are alluring and something that goes really well with the Indian skin tones. The texture is shimmery and satiny so, if you like to get decked up at night, then try these eye quarts by Lakme. The colors are blend-able and have got a little sponge tip applicator though using eye shadow brush would be the best. You can get these for 500 rupees for each quart.
2. Lakme Complexion Care Face Cream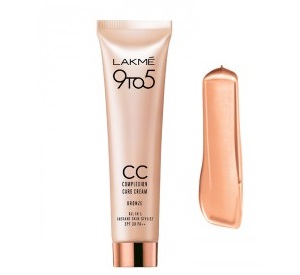 Lakme's Complexion Care cream is for the complexion care. This CC Cream has UV filters that protect your skin from harmful UV rays. Moreover, it also double up as a light coverage foundation. This evens out the skin tone and improves the skin texture visually. The light concealing effect also makes the skin look a bit better. Hence, every girl or woman can try it as an everyday base product. Application is easy just like the regular skin creams. Therefore, you do not have to worry too much about blending this CC cream. These CC creams are for 275 rupees.
3. Lakme Enrich Matte Lipsticks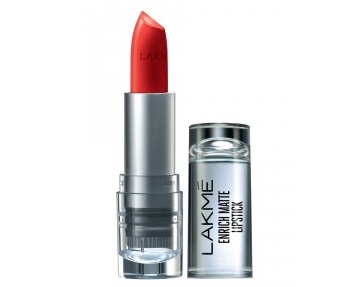 Lakme Enrich satins are extremely popular so, when Lakme launched their matte lipstick they became instant hit amongst the girls. There are 20 vibrant and trendy shades. These Lakme Enrich Matte lipsticks give a true pigmented long lasting lip color. The shades are versatile and delicious that evenly coats the lips. The matte texture can be a bit drying hence these matte lipsticks from Lakme are formulated with the Vitamin E that nourishes the lips and olive extracts that replenish the lost moisture. These are for 295 rupees.
4. Lakme 9 To 5 Matte Lip Color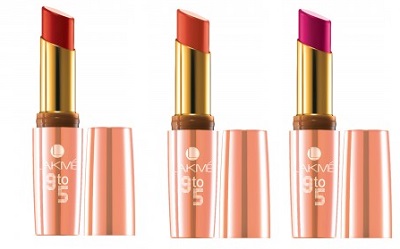 Lakme 9 to 5 Matte Lip Colors are light weight and have several colors to try out. These are formulated with vitamin E and Wheat Germ Oil for extra hydration. 9 to 5 matte lipsticks are a bit expensive than the Lakme enrich matte lipsticks as they are for 400 rupees each. The feather light texture is just amazing of these lipsticks. It would be good, if you use a light balm over the lips before using matte lipsticks. Doing so will prevent the flakiness. Or you can simply scrub the lips first in the morning and then use the lip balm followed by the lipsticks.
5. Lakme Absolute Lip Tint / Pout Creme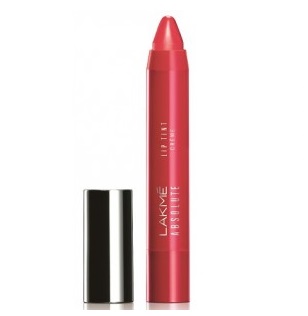 Lakme Absolute Lip Pout are thick creamy Crayon that coats the lips with rich deep color and incredible shine in just one swipe. These are extra creamy hence good for dry lips and the color pay off an pigmentation is also excellent.These are for 650 rupees.
6. Lakme Absolute Gloss Addict Lipsticks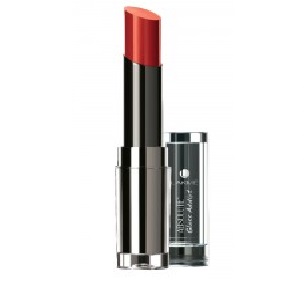 If lip gloss is your pick then Lakme gloss addicts are for you. They are not just the regular lip glosses, but they are very pigmented and gives a high shine. The smooth color and high shine in one stroke is brilliant. These are priced at 800 rupees.
7. Lakme True Wear Color Crush Nail Paint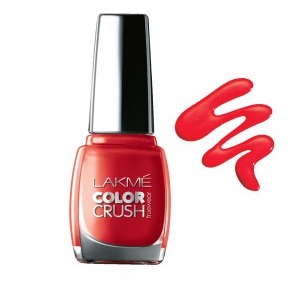 Lakme True wear Color Crush Nail Color comes with Color Lock Technology that makes the manicure last longer. These nail colors are chip-resistant and keeps the color intact. They also strengthen the nails and have matte, shimmery and glossy shades to pick from
8. Lakme Absolute Plump & Shine Lip Gloss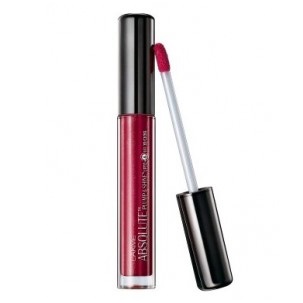 Lip Gloss is an ideal choice for girls who like to keep it simple. These glosses have the incredible shine with a light weight formula that does weigh on the lips. There are high shine pigments that make them ideal for the night out. These are dermatologicaly tested and good for everyday use. These are for 450 rupees. Girls who have got dry lips can rely on lip glosses as they are highly moisturizing.
These are the best Lakme product suitable for Indian Girls and women. Have you tried any?