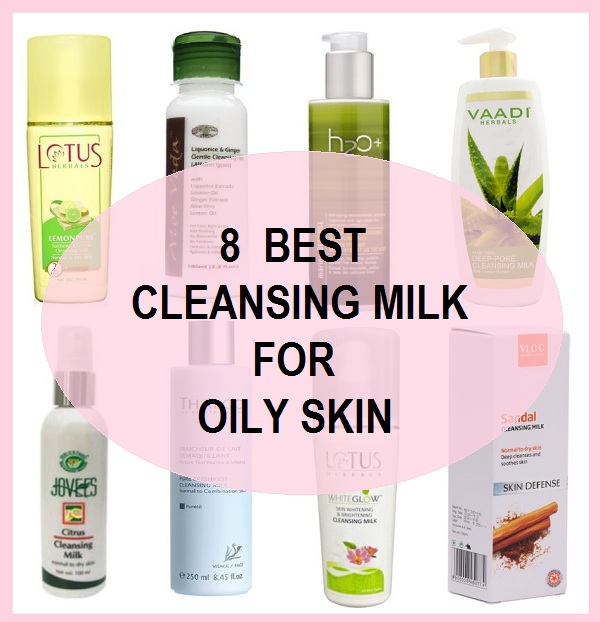 8 Best Oily Skin Cleansing Milk in India. Cleansing milk can be the easiest way to cleanse the skin without actually having to use the water. Cleansing milk has gentle formula that actually deeply cleanse the skin without drying the skin surface. This is why most of the cleansing milks are suitable for dry skin. Having said that, there are cleansing milks that are great for the oily and combination skin. These facial skin cleansers also contain emollients that keep the skin moisturized and heals the skin. This is why they are also capable to get rid of the traces of makeup. But it is always advisable that you cleanse the makeup first with a makeup remover then go ahead with cleansing milk. Especially, if your base makeup is waterproof. Men too can use cleansing milks as they are ideal for men who wish to take care of their skin. We do think men should take care since beautiful skin is in. We are sure you all would agree to that.
Benefits of Cleansing Milk for Oily Face
Cleansing milk is enriched with natural herbal extracts which are beneficial for all the skin types.
This cleanse the skin gently that even the sensitive skin and skin with some problems like psoriasis, rashes, redness, acne etc can use these milky cleansers.
They are very moisturizing and if your oily skin feels a bit heavy after using cleansing milk then you can also splash some plain water and then pat dry the face.
Cleansing milk have emollients which helps to keep the skin in good condition and de-clogs the pores as well.
How to use Cleansing milk
To use the cleansing milk, just take a cotton pad or cotton wool.

Take some cleansing milk lotion on that ball, then apply this ball all over your face as if your are wiping and cleansing the facial skin with this.

Roll and wipe the face gently covering all the places.

Once you are done, you can take a clean cotton and just wipe your face off again so that any traces of the left cleansing milk can be washed off.

You can also splash some water and then wipe off if you think the cleansing milk that you are using had made the skin greasy.
Alternate method: we have another method of using the cleansing milk. For this method, take around a teaspoonful of cleansing milk on your palms and using the fingers apply all over the face. Then massage your face and spread this all over the face. Keep this for 10 seconds then taking a cotton pad or tissue. Wipe off the face. This is also a very effective method to apply cleansing milk on the face. This takes off all the makeup and skin feels so fresh.
8 Best Cleansing Milk Products for Oily Skin and Combination skin in India
So, cleansing milk can be formulate for dry skin oily skin type both. Therefore, the first section we have dedicated to the best cleansing milks for oily skin type. In our other post, we have done for the dry face too.
1. Lotus Herbal Pure Turmeric & Lemon Cleansing Milk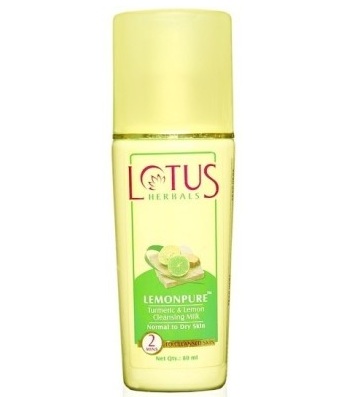 This Lotus cleansing milk is gentle in nature and efficient enough to uproot the deep sated skin impurities.

This is ideal for a thorough cleansing of the face and to maintain the adequate level of moisture.

The turmeric extracts and lemon extracts in this cleansing milk acts as antibacterial which kills the bacteria that may cause the skin problems.
2. Jovees Citrus Oily skin Cleansing Milk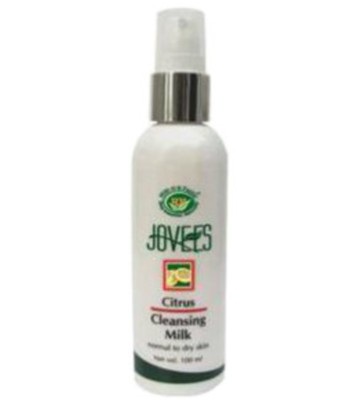 Jovees cleansing milk is enriched with natural herbal ingredients.

These are aloe vera, honey, cucumber and apple juice.

Apple juice is rich in AHAs which gives this cleansing milk anti aging properties as AHS helps in cell renewal.

Aloe vera is skin calmer and soothes the redness, rashes and dryness while cucumber and honey tones the skin and also brighten the skin.

This is why this cleansing milk is a herbal remedy to keep the skin cleanser and non greasier.
3. Aloe Veda Liquorice & Ginger Gentle Cleansing Milk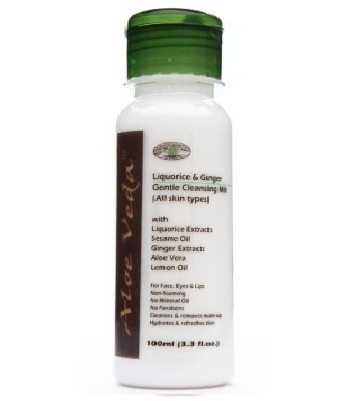 Aloe veda is also a good brand that makes herbal skin and hair care products.

This Aloe Veda liquorice and ginger cleansing milk is very gentle and does not make the skin greasier after the usage.

It is devoid of the harmful parabens, minerals oils etc. Rather this cleansing milk is rich in glycerin, jojoba oil, sesame oil and has skin toning properties.

Not all oils make the skin oilier hence the jojoba oils etc makes the skin cleanser and also declogs the clogged pores.
4. Thalgo Pure Freshness Cleansing Milk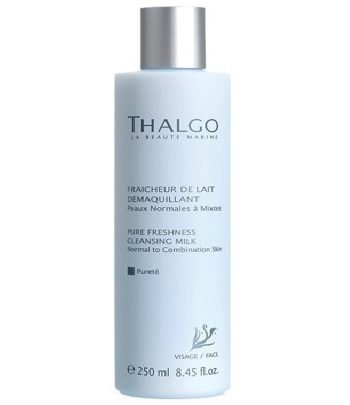 Thalgo is a luxury brand which is expensive but their products are of great quality.

This Pure Freshness cleansing milk is suitable for all the skin kinds yet will not make the skin greasy.

Thalgo cleansing milk tones the skin and removes dullness by cleaning the pores.

This cleansing milk for oily skin has active ingredients like gelidium sequipedale which moisturizes the skin.

It also has grapefruit which is an excellent skin toner and skin revitalize.

This cleansing milk will works even for the sensitive of the skin.
5. H2O Plus Marine Defense Green Tea Antioxidant Cleansing Milk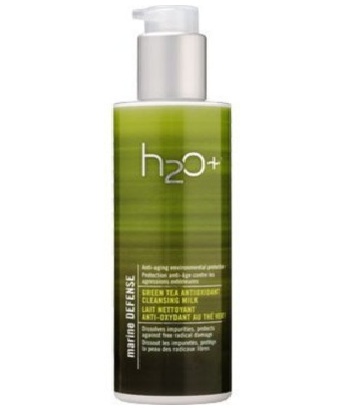 Just like Thalgo, H2O is also an expensive skin acre brand with quality products.

This H20 soothing cleansing milk that gently dissolves impurities and gives a radiant clean skin.

It will slough off the pollutants that are likely to damage the skin.

This milky skin cleanser is a blend of potential antioxidants which keeps the skin oil free and pure.

It is also a cleansing milk for sensitive skin since the ingredients and the formula  is mild.
6. Lotus Herbals Whiteglow Skin whitening & Brightening Cleansing Milk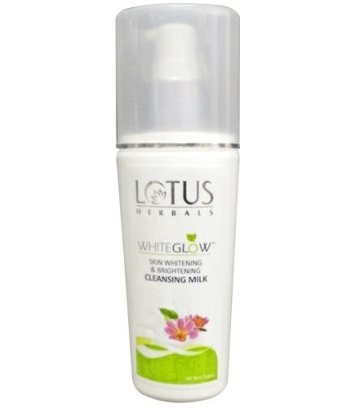 This cleansing milk is a part of the Lotus herbals Whiteglow brightening and whitening skin range.

We love this skin acre range and their gel cream is just amazing.

This is enriched with natural minerals, milk enzymes and Aloe Vera gel.

All of this will give a translucent skin and also reduces the heavy melanin production.
Do you know that melanin is to be blamed for the darker skin complexion? This is gentle or oily skin and can be used everyday.
7. Vaadi Herbals Deep Pore Cleansing Milk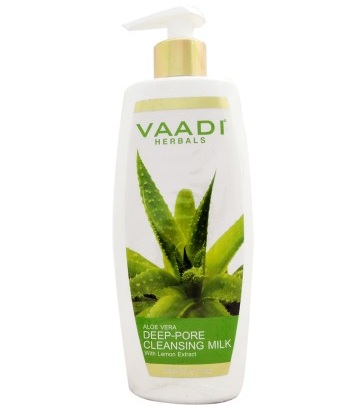 We have used this cleansing milk which is filled with the goodness and purity of aloe vera and lemon.

Lemon gives this cleansing milk astringent like properties that helps to tone and tighten the pores.

This will uproot the stubborn impurities and skin feels revived.

This is a suitable cleansing milk for all the skin types and for the oily skin since this will not give a greasy face after the usage.
8. VLCC Skin Defense Sandal Cleansing Milk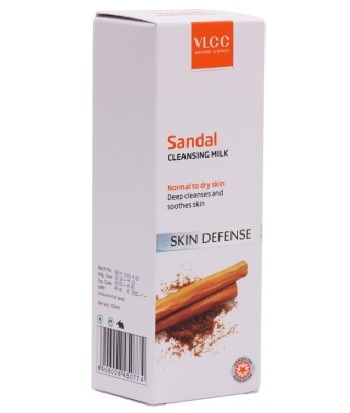 We love this VLCC Skin Defense Sandal Cleansing Milk.

This is a very gentle and mild cleansing milk for oily skin which is non-foaming and refreshing in nature.

This cleansing milk is full of natural ingredients like almond oil ad sandalwood extracts.

Sandalwood is such a great product which helps to declogs the pores, brightens the skin and also has skin soothing properties.
So, when there is no face wash or skin cleanser suiting you then this can be tried. This cleanser product is priced at 130 rupees. 
These were the cleansing milk for oily skin which you can try. Have you tried any of these.
If oily skin is your concern then you will love our oily skin related posts like:
10 Best Lakme Products for Oily Skin in India
10 Best Skin care products for Oily Acne Prone skin
10 Best Face Scrubs for oily and combination skin in India