8 Best Patanjali Face Wash for Men and Women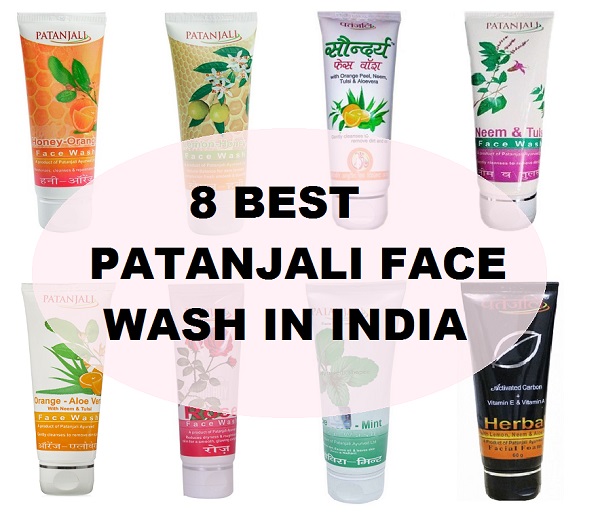 These days the popularity of Patanjali beauty products have reached to another level. Patanjali is a brand that is being started by Baba Ramdev and his trust. This brand makes skin care, hair care, grocery products etc. In short, this brand can be an all in one brand that has everything that one needs. Face wash has become an integral part in today's time. My grandmother too used to apply face wash to cleanse her face when she was alive. This is because they are so easy to use and have more hydration else the soaps that we generally use for body can make the face dry. Patanjali too makes several face wash that we will talk about in this post at TipsandBeautyBlog. Let's see, what are the good Patanjali face wash that had been lunched in India till now.
Best Patanjali Face washes in India for men and women
1. Patanjali Activated Carbon Facial Foam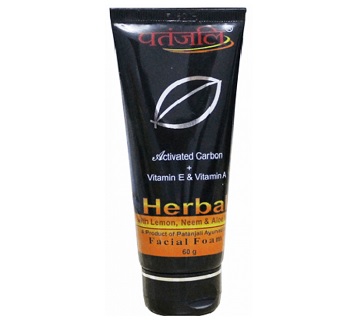 This facial foam is rich in the activated carbon. The activated carbon is a recent innovation in the face washes. Active carbon soaks the deepest seated dirt, dust particles and pollutants so that the skin looks clean and stays fresh. Such face wash with activated carbon are good for the skin with acne and oiliness. The extra sebum can be a cause for blackheads, whiteheads and skin breakout. So, the activated carbon face wash are good to control the too much sebum production. This Patanjali activated carbon face wash will be good for men with oily face.

2. Patanjali Aloe Vera Mint Face Wash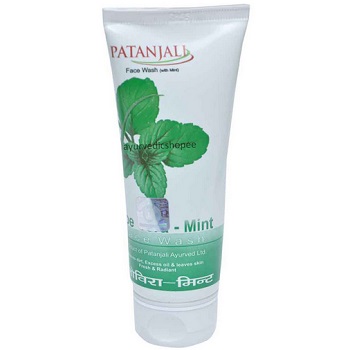 Mint is a natural ingredient that is beneficial for skin, hair and health.  Mint is used to cool and sooth the irritated skin. Mint is also used in brightening the dull looking face. Mint will give calmness to the skin that has acne redness inflammation etc. This Patanjali face wash not only has mint but also has aloe vera. Aloe Vera will further boost the efficiency of the mint face cleanser. This too can be used by men also.
3. Patanjali Rose Face Wash
When we talk about fresh glowing skin we also think about roses. In ancient times rose was a popular ingredients that people used to apply on the skin. The use of rose in skin care is very old. Therefore, this rose face cleanser is ideal for tissue rejuvenation and renewal of cells. This will keep the skin to look and feel younger. Roses will freshen up the tired skin complexion. This Rose face wash is also rich in other organic products like aloe vera and neem. You just have to apply this Patanjali face wash on the face and massage for 10-12 seconds then wash off.
4. Patanjali Orange Aloe Vera Face Wash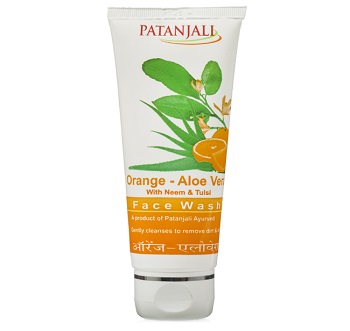 Patanjali orange face wash is highly beneficial for the skin that is oily and acne prone. This face wash is laced with the natural herbal aloe vera extracts and oranges. These will clarify the skin pores and skin appears fresh and clear. 
5. Patanjali Neem-Tulsi Face Wash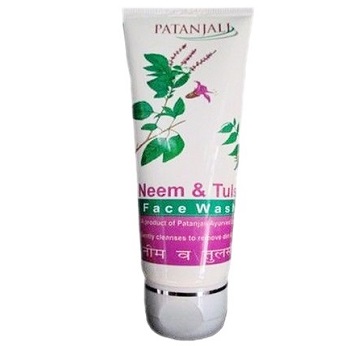 It is a soap-free herbal formula. This face wash that is rich in neem extract and Tulsi extracts is great for all the skin types especially for teenagers skin and young adults skin that is pimple prone. The oil control formula is effective enough to make sure that the skin stays moisturized and free from the problems like acne.
6. Patanjali Saundrya Face Wash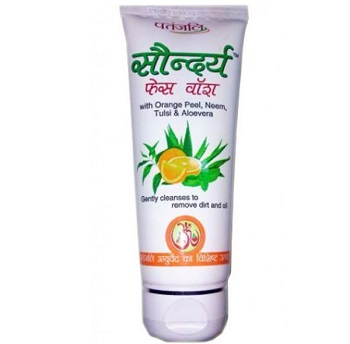 Patanjali Saundrya face wash is for the boys and girls who wish to adds a subtle glow on the skin. This facial skin cleanser is free from chemicals and has natural herbals products. This organic Patanjali face wash will enhance the skin's texture and smoothness as it cleanses from a deeper level. This is ideal for normal to oily skin.

7. Patanjali Lemon Honey Face Wash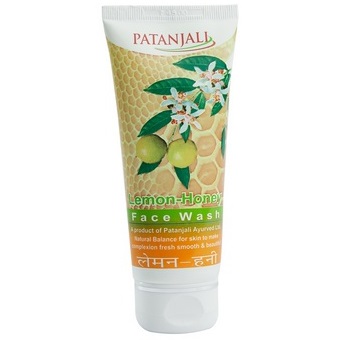 Patanjali lemon and honey face wash is a mild and effective cleaning product for men and women who have very oily skin. The honey is natural moisturizer which kills the bacteria and also increases the skin's natural glow. This also has lemon. Lemon is rich in Citric acid that helps to boost the skin's elasticity and vitality. Vitamin C or citric acid also improves the fairness and removes sun darkening. Other than that, this face wash also has Tulsi which is known as holy basil. Holy basil is anti bacterial and anti fungal.
8. Patanjali Orange Honey Face Wash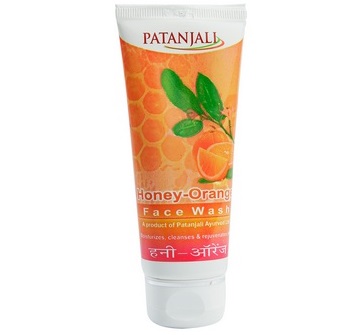 Just like the lemon honey combination face wash, this Patanjali face product has orange and honey. Like I said honey will hydrate the tired skin while oranges will tone and tighten it. Orange extracts make this face wash also rich in Vitamin C. Vitamin C will mildly exfoliate the dead uppermost layer of skin. This process will also clear the pores. Problems like clogged pores can be avoided by this facial cleanser.
So, these were the Patanjali face washes friends? Which is the one that you like the most?