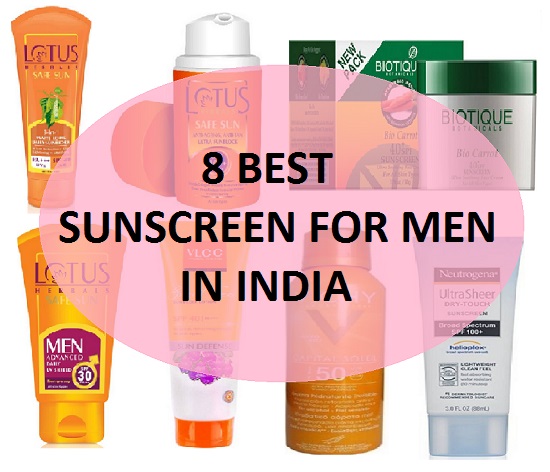 8 Best Sunscreen for Men in India in India: When we go out in the sun then our skin looks tanned and darker. We can get rid of this thing by using sunscreen regularly. Men need sunscreens too but as their skin needs something extra we have compiled a separate list of all the best sunscreen for men in India. These sunscreens will benefit you by fading the sun tanning, skin darkness etc. Do you know that, when the skin is sun damaged, and then men can also see the wrinkles on the skin. Due to over exposure to the sun rays, men can see that little lines etc are also formed on the skin, this is called premature aging. Hence guys, application of sunscreen is extremely beneficial and recommended. Let's see which are the best men's sunscreens in India. Also see how to choose sunscreens
8 Best Sunscreen for Men in India in India with Price
1. Nivea Sun Moisturising Immediate Sun Protection – SPF 50 PA++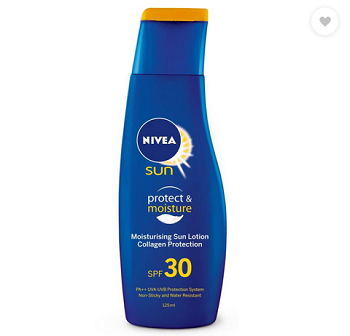 You can shield your skin from the harsh UVA and UVB rays of the sun with the use of this Nivea Sun Moisturizing Immediate Sun Protection sunscreen lotion. This gives quick protection and is for 425 rupees. Moreover, this will also act as a summer body lotion which not just hydrates the skin but will also make the skin stay protected from sun rays. This has the SPF 50 PA++ for high sun protection factor.
2. Lotus SAFE SUN Men Advanced Daily UV Shield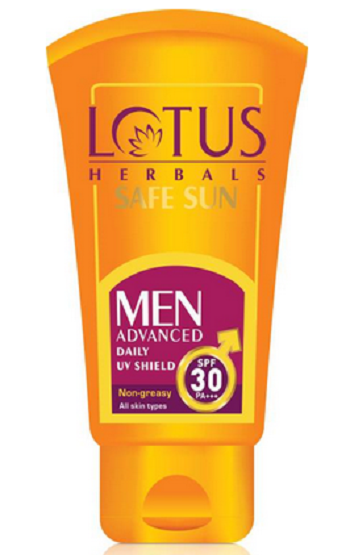 This lotus sunscreen costs Rs 335 and is formulated for men only. This men's sunscreen has SPF 30 which is ideal for daily wear. Men who stay in sun a lot will like to use this as this will prevent sun damage and tanning. The formula of this sun protecting cream is matte and non greasy hence you can try a cream like this which can help you get sun protection and matte finish.
Best sunscreen for Dry skin in India
3. Lotus Herbals Safe Sun 3 In 1 Matte-Look Daily Sunblock SPF 40 Pa+++  
This sunscreen will not just shield the skin form sun rays but will also help in the enhancement of the skin complexion. This is for Rs 365 for a 100 g pack. Lotus Herbals Safe Sun 3 In 1 Matte-Look Daily Sun block  has the SPF 40, which is good for everyday usage for men in Indian climate. This has a unique formula that gives broad spectrum protection from UVA and UVB rays. This also has a very light weight formula that will help you in not feeling greasy.
4. Lotus Herbals Safe Sun Ultra Sunblock – SPF 100 PA+++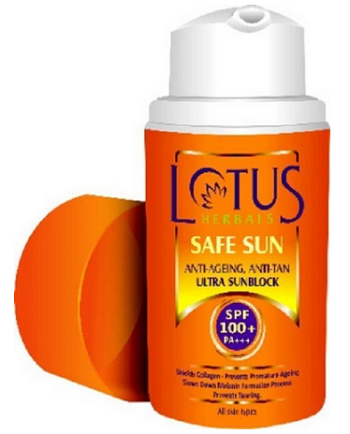 This is a slightly expensive for 745 rupees but this is worth since the SPF 100 is in this sunscreen. Lotus Herbals Safe Sun Anti-ageing Anti-tan Ultra Sun Block can be applied on the face and body parts that will block the UV rays that causes the sun damage and aging of the skin. This men and women sunscreen has the soy protein that will increase the elasticity of skin and also stimulates collagen production. This also contains thyme that is a potential and effective antioxidant which fights aging of skin and helps improve skin tone. Moreover, this has licorice which makes the skin tone fairer and lightens the sun tanning faster on men's skin.
Best sunscreens over SPF 50 in India
5. Biotique Bio Carrot SPF 40 PA+ Sunscreen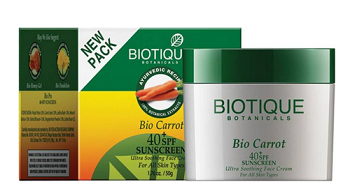 This Biotique sunscreen has the rich nutrients and is formulated with the pure carrot oil, extracts of carrot seed and lodhra bark, quince seed and aloe vera. These ingredients will help you get a beautiful skin and sun protection at the same time. This has SPF 40 and costs 275 rupees.
6. VLCC Sweat Free Sun Block Lotion – SPF 40 PA+++ 
If you need a sweat free or water resistant sunscreen for men then this VLCC sunscreen can be tried. This has the sweat free formula which will not get wash off even when you sweat. Hence, men who stay outdoors in hot sun can try this sunscreen to protect their skin from aging. Suitable for use by both men and women of all age groups. This is laced with Vitamin B3 which is great for the skin.
7. Vichy Capital Soleil Invisible Hydrating Mist Spray SPF 50 PA+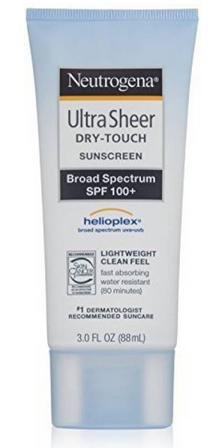 Vichy Capital Soleil SPF 50 Invisible Hydrating mist is a spray sunscreen which is alcohol free and is also paraben free, therefore men with sensitive skin can use this worry free. This is for 1890 rupees. It can be a bit expensive but a spray sunscreen is rather easy to use and is a non greasy formula.
8. Neutrogena Ultra Sheer Dry Touch Sunscreen SPF 100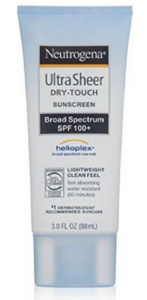 If your skin is oily then this dry touch sunscreen is good since this will not make your oily skin greasy or sticky after using sunscreens. Neutrogena sunscreen with dry touch is suitable for men with oily face. Men with oily skin can face that their skin gets greasy after the application of many sunscreen. So, when you try a matte sunscreen then they get absorbed better and also leave a non greasy finish on top.
So, guys these were the best sunscreens for men in India that the boys can try according to their skin type. Apply the sunscreen 15-20 minutes before leaving the house so that they get absorbed well to give you proper shielding in the sun.