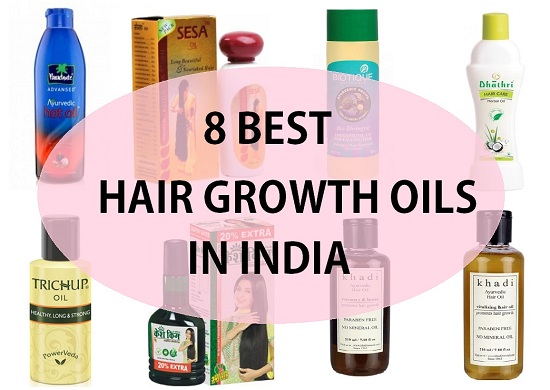 Hair growth hair oils in India? Yes, people who lose hair or get stagnant hair grow cycle needs such products the most.Thick and beautiful hair is not only a woman's desire but men too want that their hair should be thick and lustrous. However, due to the problems like hair fall, hair loss, brittleness etc hair lose their charm. These hair related problems can be due to lifestyle, illness, hereditary, pregnancy, stress and other factors. Here in this post, we will share the best hair growth oils in India. These herbal hair oils are herbal in nature made from natural effective ingredients. Therefore, they don't have side effects and suit majority of people in combating hair loss, and boosting the hair growth. Application of such hair oils also help getting long hair for women.
Features of Effective Hair Growth Oil?
You can just not apply any hair oil thinking that it will curb the hair loss and initiate the hair growth. But it depends which oil you are using. There are some oils which are not for the growth purpose but mainly focuses on dryness of the hair or some other issues reading the hair fall. So, what are the qualities of a good hair growth hair oil. Check below:
The oil should be herbal in nature as chemical loaded products are not that effective or they have adverse affects in the long run.

Hair oils should be Ayurvedic and should be able to induce the new hair follicles.

They should also promote the re-growth. Now what is the different between hair growth and re-growth of hair. Well, Hair growth means the increase of the hair in the length wise. While re-growth means growing the hair back from the shed follicles. Like when a hair is shed then it is said to be grow back.

Such oils should also be herbal in nature that can control the hair fall and should deep condition the scalp. When your hair fall is not under control then naturally your hair volume will be low.

Other quality should be that these hair oils must deep condition your hair and roots. Rough and dry hair are prone to breakage. Have you noticed that when your hair is rough they break more. Yes, this is why a good hair oils should be deeply conditioning.

Now the most important point, which are the best ingredients we need to look for in the good growth hair oils? The ingredients like also, brahmi, bhringraj, hibiscus, neem are ingredients or herbs that are responsible in making the hair get back from the roots faster.
So, while we conclude this let's check the hair oils for the faster growth of hair that are available in India.
List of Top Best Hair Growth Oils in India for Fast Growth
Here are some of the best hair oils that are good for long and thick hair. Men and women can try these herbal oils to get back the natural glory of the hair. Hair massaging is good and you can massage the hair using these oils. You should massage the hair at night for the better absorption of the oil. Plus also try some home remedies to make the hair grow soon.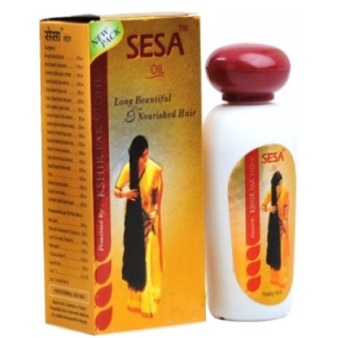 Features and Review 
Sesa hair oil has the numerous herbs that makes this a good oil for fast sprouting of strands. The herbs like amla, licorice, Brahmi, jatamasi, coconut oil etc in this oil helps to improve the texture of the hair and makes hair thicker and beautiful. The hair oil is rich in the milk proteins and coconut oil which are good for combating the hair loss and aids in the hair follicle stimulation. Men with alopecia and bald patches too can try this Sesa Ayurvedic hair oil to increase hair thickening.
Price: 110 rupees, buy it here
2. Satthwa Premium Hair Oil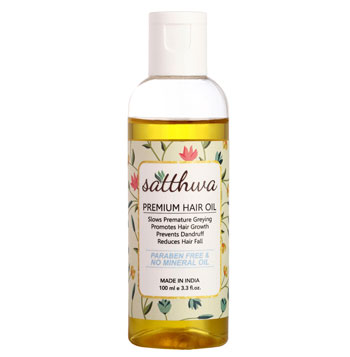 Features and Review
True to it's name, Sattwa hair oil contains 9 premium and high quality oils. Sweet almond oil, Jojoba oil, Extra Virgin Coconut oil, Castor oil, Grapeseed oil, Extra Virgin Olive oil, Emu oil, Vitamin E and Amla oil. Each oil has its strength and together they reduce excessive hair fall, help in development of hair thickness, prevent premature greying and also help prevent dandruff. Castor oil shows very good results in getting back the new follicles in abundance.
Price: Rs.599, Buy it now 
3. Parachute Advanced Ayurvedic Hair Oil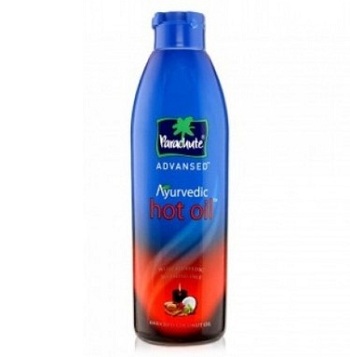 Features and Review
Ayurveda has the power to heal the various issues. Hair loss and hair fall is a major issue that can leave you stress. So, while the hair oil will work to give relief in hair fall, the Ayurvedic ingredients will helps to make the hair come gain on the scalp. Parachute advanced hot oil brings the benefits of hot oil massaging which helps to boost the blood circulation in the scalp and to make the hair deeply conditioned. This also makes the hair grow rapidly and getting luxuriant. 
Price: 120 rupees for 200ml, Buy here
4. Trichup Healthy, Long and Strong Hair Growth oil
Features and Review
Trichup Healthy, Long & Strong Oil has the goodness and essence of the beneficial Ayurvedic herbs like Bhringraj, Amalaki, Neem, Gunja etc along with Sesame and Coconut oil, which improvises the quality of hair along with hair growth. This hair growth oil brand is well known as it nourishes and strengthens the hair. Regular application will boost the hair multiplying process and also alleviates the excessive hair loss. Sesame oil also makes hair grow faster within few months. If you really like home remedies then we will advise you to try bhringraj for hair loss and long hair
Price: 90 rupees for 100ml, Buy it Here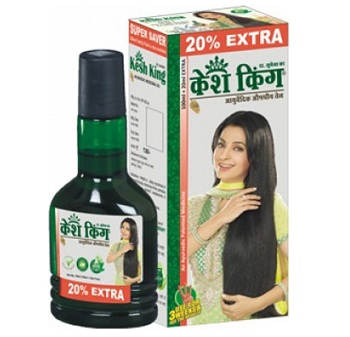 Features and Review
Kesh king is a good hair oil which has been formulated with the Ayurvedic herbs which promote the hair health  and gives relief in hair fall. This hair lengthening oil is not too thick and is greenish in color thus is not difficult to wash it from the scalp. This non-sticky hair oil also gives good results is curing the dry scalp and dandruff problem. 
Price: 90 rupees for 120ml, Buy It Here
6. Khadi Ayurvedic Hair Growth Vitalising Hair Growth Oil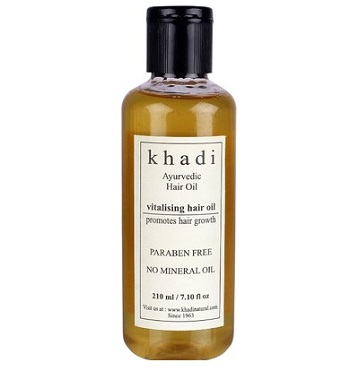 Features and Review
Khadi hair growth hair oil is rich in the herbal hair growth inducing ingredients. Other than that it is paraben free and also helps in treating flaking dandruff, dry hair and dry scalp. This herbal length boosting hair oil when applied regularly also promotes the hair regrowth and prevents hair loss. You should try such oils at least 2 times in a week to get maximum benefits in the hair troubles.
Price: 120 rupees
7. Khadi Ayurvedic Hair Growth Hair Oil with Rosemary and Henna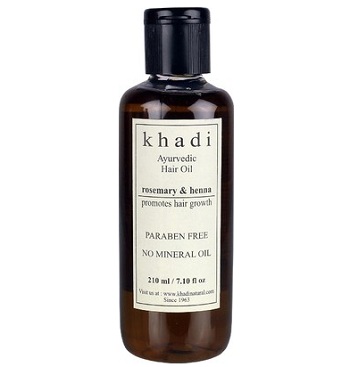 Features and Review
Rosemary and henna are good to make the hair stronger and sturdier. This Khadi herbal hair oil is also paraben free and works effectively on the hair fall, hair loss and any hair related problems. Rosemary essential oil is also anti inflammatory in nature thus will also treat any sought if inflammation and scalp problems. You get stronger strands from the roots.
Price: 120 rupees for 210ml, Buy it Here
8. Biotique Bio Bhringraj Therapeutic Hair Growth Oil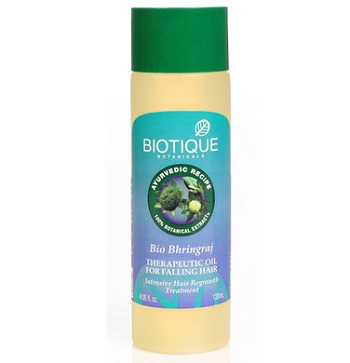 Features and Review
Biotique Bio Bhringraj hair oil is not just for hair loss but also works for the hair texture. It stimulates new growth of hair as per the claims and decreases the graying of hair. The pure bhringraj in this hair care oil will make the hair spread well on the scalp to combat baldness. Alternately, you can also take supplements for the growth of hair. 
Price: 159 Rupees for 120 ml, Buy it Here
9. Dhathri Herbal Hair Oil for Growth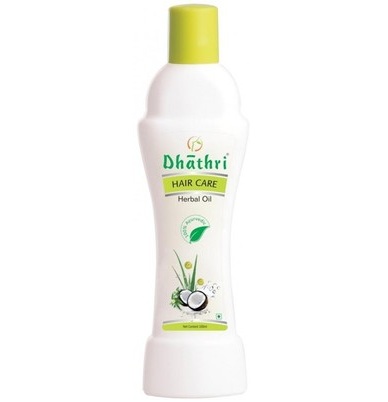 Features and Review
Dhathri herbal growth oil is also good for making the hair grow long. It is loaded with so many herbal ingredients which make the hair thick and smoother. The smell is good and the oil is a light greenish in color. This natural oil has the coconut oil as the base which is one of the best ingredients to promote hair thickening and length.
Price: 249 rupees for 120ml, Buy it Here
10. Indulekha Bhringha Hair oil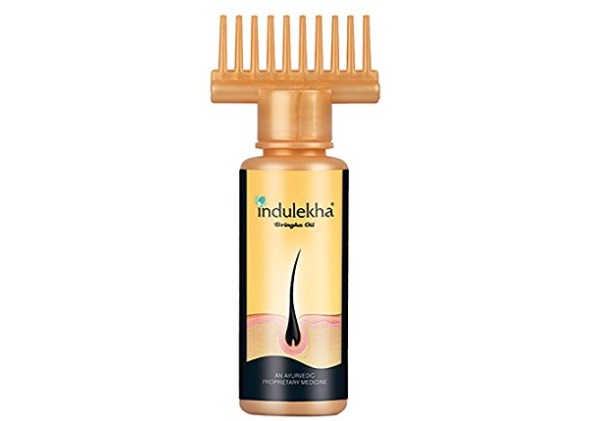 Features and Review
Indulekha Bringha Oil is an Ayurvedic medicinal hair oil made for the regulation of hair and scalp conditions like hair-fall, hair loss, baldness and dandruff etc. This bhringa oil is made with the Swethakutaja leaves which are dipped in the coconut milk oil. The hair fall control hair oil aids in the strengthening of the weak roots and brittle hair strands. It reinforces the shine and strength of the hair thus, making them stronger and conditioned. Other than amla this thickness hair oil has aloe vera, neem, bhringraj, amla and virgin coconut oil.
Price: 390 Rupees for 100 ml, Buy it Here
11. Nuzen Gold Herbal Hair Oil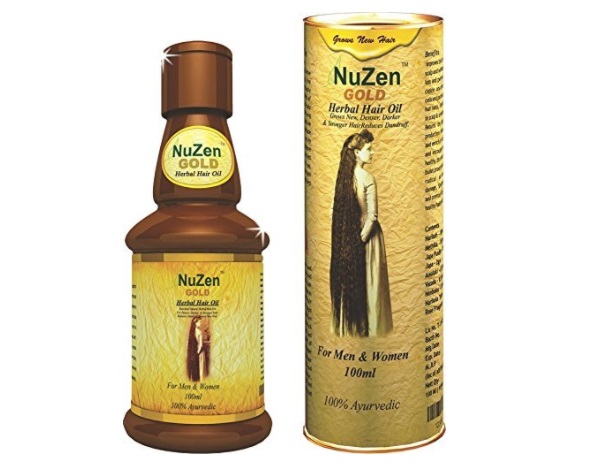 Features and Review
Nuzen Gold Herbal Hair Oil is made with the Ayurvedic ingredients that boosts the scalp's circulation and aids in the hair to sprout again. The tiny follicles that are not growing well can also grow fast with this oil. The oil has a strong smell but it is a common feature of most of the Ayurvedic oils. With the regular application of this oil one can have benefits and reduction in the hair loss. The only thing is that even this is the best oil for hair thickness but is expensive for a 100ml bottle. The bottle too is not that good packaging wise. It appears quite boring. It also loosens the dead skin cells that further give way to the new follicles by opening the pores. It also lessens the sebum production which is a cause of hair fall.
Price: 395 Rupees for 100 ml, Buy It Here
So, these are the best hair growth oils in India. You can apply these oils at least once in a while like twice in a week for best results. 
Here is a quick remedy for you to make the growth oils at home itself.
Take 1/4 cup of amla powder and 50g of shikakai powder in a bowl
Then take 1/2 cup of bhringraj and 1/2 cup of hibiscus leaves
Pour all these ingredient in 500ml of pure coconut oil
Boil for 20 minutes.
Add some more oil, if needed.
Allow this to cool down
Mash the herbs with hands
Strain and fill in a bottle.
Apply when needed or 2 times in a week.
How to apply Hair oils for Growth Quickly
To get the complete benefits, you should always try these oils with some suggestion, like these:
Apply the oils at night, doing so will help to get better absorption.

Massaging is crucial, do you know that massaging will improve the circulation of the blood. This will further boost the hair follicles which are dormant and as a result of new follicles will erupt.

Gentle massaging with the finger pads will increase blood flow which enhances the hair regrowth. Moreover, this process will cure the hair fall and hair loss.

Application of such herbal hair oils should be at least 2-3 times in the evening because if you will use this just once in a month or like week, then the results will not be much. Therefore frequency of application should be increased.
Next day, you can wash the hair with herbal shampoo and conditioner.
These were the best hair growth hair oils in india that you must try to get the hair back. Moreover, follow the tips mentioned above to achieve the results faster. These can be used by men and women who are facing extreme hair fall, hair loss and wish to get formation of new hair.
Recommended Articles:
For hindi check this video and subscribe friends.