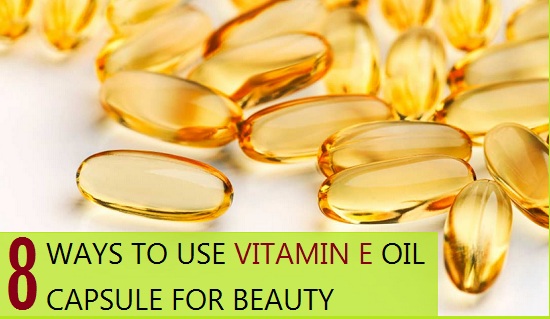 Vitamin E oil is extremely beneficial for hair and skin. You may have seen that this vitamin E oil is extensively used in baby care, skin care and hair care products. This oil is a great nourisher and natural moisturization to the skin and hair. Vitamin E oil is sold in the form of capsules also other than the regular bottle version. You know that there are lots of uses of Vitamin E oil capsule that you can try in your every day beauty routine like skin cream, foot creams, skin care, hair care etc and moreover it will help you save a lot of money from buying lots of different skin care products. So, let know how you can use Vitamin E oil capsule to make yourself beautiful.
Vitamin E Oil Capsule for Beauty Care
1. Skin serum with Vitamin E oil Capsule

Skin serums can make the skin nourished as our skin goes through a lot like dullness, uneven skin tone and dry patches. Therefore, when you give adequate nourishment an moisturisation, the the skin is bound to get a softer and younger appeal. Vitamin E oil capsule can be used to make natural skin serum for all skin types with some lavender oil. Prick a Vitamin E oil capsule. Take 2-3 drops of Vitamin E and mix with 2-3 drops of lavender oil. Mix and massage the face. This is great for dry skin to get the moisturization. 
2. As hand cream
Using good products for hands make sure that your hands stay smoother and youthful, you do a lot with the hands and that can make them dry and rough, Therefore, apply hand creams every night before going to sleep. Mix 2-3 drops of Vitamin E oil with 2-3 drops of coconut oil and massage the hands every night and soon the hands will be beautiful. Vitamin E will also treat and cure any burns and cuts you have on the skin effectively. 
3. Nail cuticle cream
Your nails can say a lot about the health, So, use of a good nail cream can heal the dry cuticles and make them feel nourished. So, when you apply a cuticle cream rich in vitamin E can allow the nail to grow well and become beautiful. Apply Vitamin E oil on the nail and cuticles every night before going to bed to get the smoother cuticles and stronger nails. Vitamin E oil also makes the nail shinier. 
4. Under eye serum
Darkness and puffiness under the eyes makes you look older than you are. Your eyes speaks a lot about the age hence, you can apply an under eye cream daily to keep the eyes look brighter. An under eye serum can be made with Vitamin E oil by mixing few drops if pure olive oil. Apply it under the eyes and massage. This will brighten the under eye areas and also fades the dark circles effectively. 
5. Foot cream
Mix half teaspoonful of Vaseline and the oil from the Vitamin E capsule. Use this on the feet and the heels. Vitamin E oil will moisturize the dry rough feet and Vaseline the locks the moisture in. This great combination will also help to get relief in cracked heels. The cream is suitable for rough and dry feet. The pain that cracked heels get can also be subsided by the application of a rich foot cream. 
6. Hair serum
To tame the flyaways and frizzy hair, try a Vitamin E oil hair serum. Cut a Vitamin E oil capsule and mix 2 drops of jojoba oil on it. Take all that in the palm and rub over the hair where the frizz and flyaways are. Apply some on the dry hair ends as well for smoother ends. This will also protect the hair against the sun damage.
7. Itchy scalp cure with Vitamin E oil

When the scalp is itchy massaging the scalp with some pure coconut oil and Vitamin E oil helps a lot. dandruff too can be tamed by the application of such rich products. The itching scalp also lessens the concentration, therefore while you sue a product that is rich in anti fungal ingredients and moisturizing ingredient like Vitamin E, you can cure the dryness of the scalp.
8. Night moisturizer from vitamin E oil 
Vitamin E oil can also be used to prepare a night time skin moisturizer for dry skinned people. Take a Vitamin E oil capsule and prick it. Take the contents in the palm and add 3-4 drops of glycerin. Mix them and massage on the face smoothly. These two ingredients are excellent in providing the nourishment to the dry face.
So, with so many amazing benefits of Vitamin E oil capsules don't you think you should get some of these capsules so that you can use them to replace some of the beauty products that you use. You will save a lot of money that way.