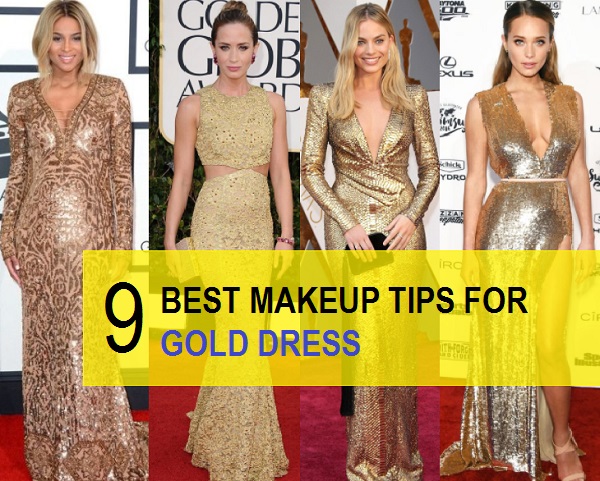 Amazing Ideas and makeup for your Golden Dress: A golden dress looks ravishing on any one. It doesn't matter if you are fair, medium or dark skinned, a golden colored dress will look fabulous. It complements the skin color and makes you a head turner. Gold dresses looks good when you are wearing them for prom, parties etc. Its a color that looks good during the evening. So, are you thinking what makeup you should do for the gold dress? We will let you know. Gold will unleash the inner goddess in you. It transforms you in a diva. Gold dress can be that little gold number or a cocktail gown, a fish tail cut gown or a sequin studded flared dress.
What makeup for Gold dress for Prom, Party or Wedding?
Let's see how you can do your makeup with gold dress.
1. Face Makeup 
Gold is a color than complements most of the complexions, but you should be a bit careful as that can also make you look like a disco ball. For the face makeup with gold dress, we will put enhance on the smooth skin. A smooth and even toned skin looks the best no matter what dress you are wearing. Therefore, hiding flaws should be the target. A smooth skin is a must have hence we have put this first on our list. After this what color of eye shade would work or the lipstick that you will be using is another thing. But once the base is done properly half the work is done.
Use a good concealer according to the skin type. Use 2-3 shades lighter concealer on the eye circles. Hide them to look awake and younger.
Apply foundation with either a brush or finger, whatever suits you to create a smooth canvas for the next steps of makeup.
2. Blush for Gold dress
We are talking about the blushes in general,  with gold dress it is good that you keep them subtle. Blush to add a glow to your face to emphasize the makeup look, but too much can ruin the look as well. So, if you have fair to pale complexion, apply an apricot, peachy blush while for the darker skin tones, a wine would be good.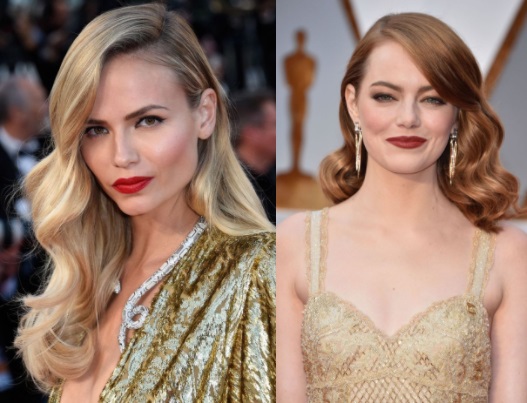 You can also use some highlighter on top of the blush to create more emphasis on the cheekbones. Moreover, a contouring powder can also be used on the hollow of your cheeks to create a slimmer face look.  Try to blend everything well with big brush as unblended makeup look terrible with gold dress.
3. Deep Dark Lips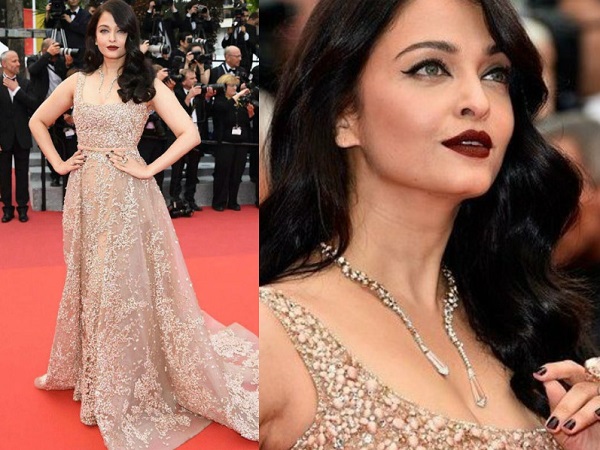 For this look, you have to apply the base makeup and then follow the steps:
For the eyes: Put a light pale gold on the eyes if you have medium skin complexion. For fair skin, try a champagne colored shadow. Then taking pen eyeliner, draw winged eyeliner. A little extended one will look gorgeous. Then finish it up with multiple coats of thickening mascara. Your eye makeup is complete with the gold dress.
For the lips: As you can see the bold lip color is complementing the dress like no one's business. It is stunning. You can try a deep red, marsala, deep wine, Even a magenta will work but shades of red are the most flattering with red dress, when the eyes are kept simple.
4. Bronzy Glow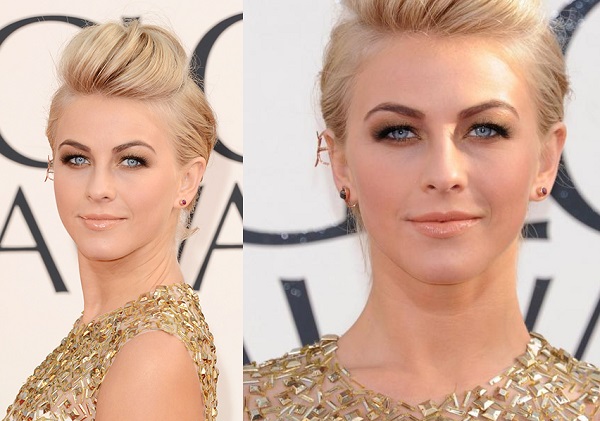 With your Gold dress, a glowy face looks amazing unless you have applied too much of shimmer here and there. In this picture here, she has a beautiful neutral peachy lipstick along with a lovely bronzey eye makeup. To create this look, follow the steps.
For the eyes: Use a bronze colored eye shadow and apply that on the lids. Use a medium brown on the crease to darken them a bit. Using a darker grey or charcoal grey, line the eyes and apply some bronze eye shadow on the lower lids as well. Apply mascara or false eyelashes if it's for the evening wedding, party makeup.
Lips: With such glowy look with gold dress, one can choose lip colors like peachy, pink, pale orange, light pink, skin tone colors etc.
5. Go Red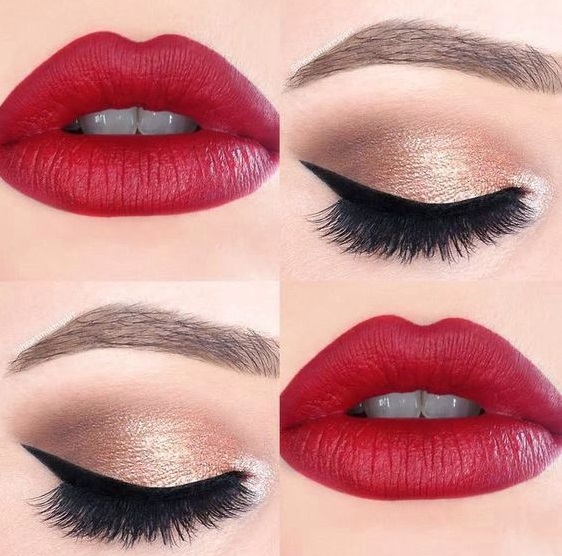 A red lipstick with a gold dress, is a classy combination which can never fails to impress and turn heads. You can apply a neutral eye makeup using colors like bronze, gold, soft browns, copper etc. For the lips, Red lipstick is the one to make you look like a diva.  Apply some highlighter on the cheekbones and brow bone for that glowy effect. Use a lip liner to line the lips before using the lipstick. This will create more dimension and gives a finished look to your pout.
Now coming to the red lipstick, we will suggest that you try red lipstick according to your complexion. Like for dark skin shades of red like deep wine, rich red, maroon works the best. While for fair to medium skin, reds like pure red, orange red, pinkish red, cherry red will look captivating.
Check Out:
Best Makeup Tips for Black dress
Celebrity makeup with Gold dress
Now, it's time to have some inspirations from the charming looks of celebrities wearing Gold dresses.
6. Aishwarya Rai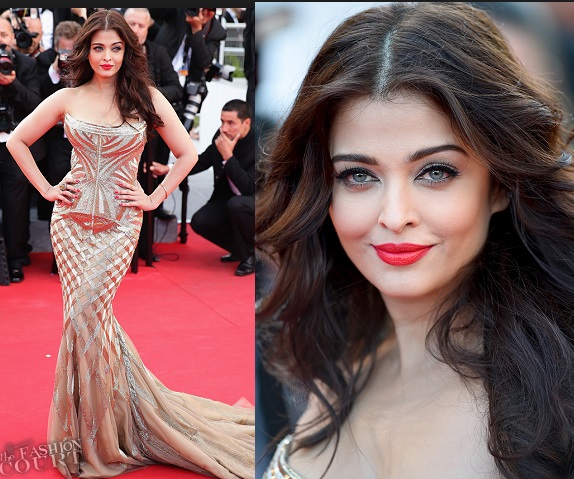 Aishwarya wore this look for the Cannes and no doubt her look is one of the best. The red lipstick along with the soft eye makeup is a deadly combination. It makes her look young and exudes so much of confidence. The eyes are simple yet strike an impact. Rosy cheeks add more warmth and color to her porcelain skin.
7. Rosie Huntington Whitley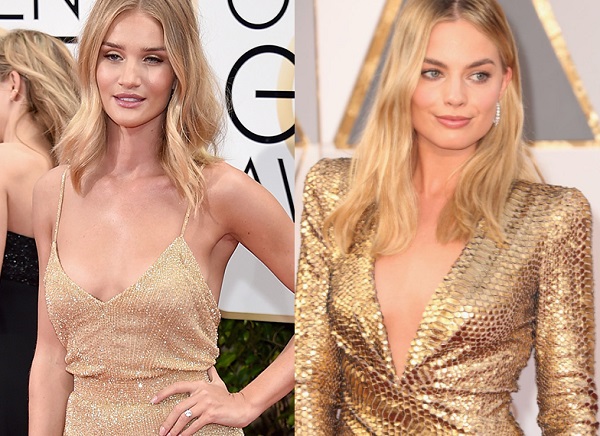 Rosie chose to keep it simple with her gold dress. She has a beautiful gown and she looks perfect. The gold on her eyelids with liner eyes is the perfect makeup when you wish to keep your makeup with gold dress simple. The lips are very natural and neutral hence, such looks will give a youthful appearance.
8. Priyanka Chopra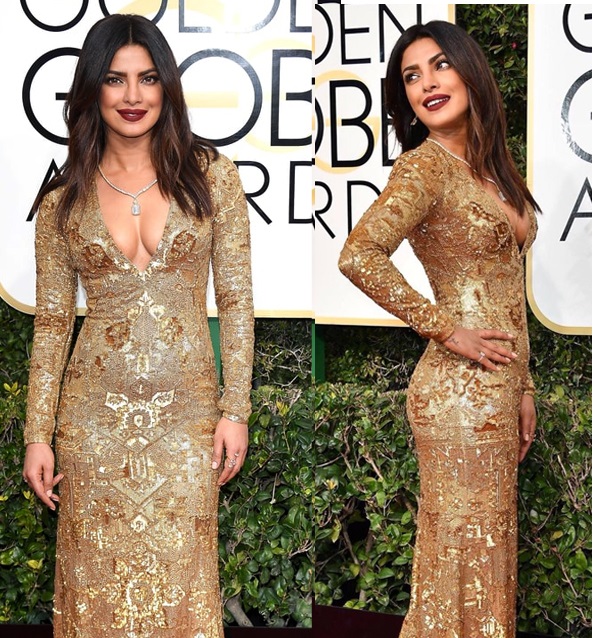 Priyanka, who was last seen in Quantico donned this gold dress for the Golden Globes Awards night. Her medium skin complexion complement with the dress color and so does is her lip color. Her lips are coated in a deeper wine color which makes her pout look sexier and hotter. Eyes are done not over the top but with subtle eye shadow and liner. Bold brows could have been a bit softer though.
9. Selena Gomez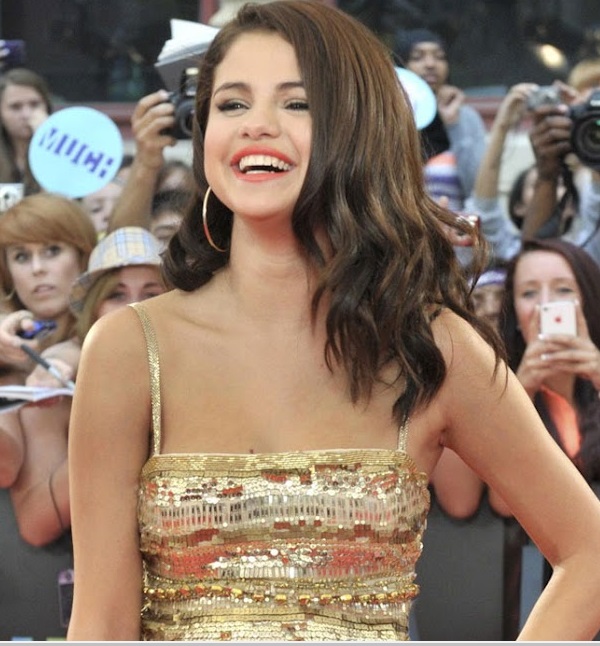 Selena Gomez looks like a fresh English Rose with her less eye makeup and a peachy orange lip color. There is some faint stroke of peach blush and some mascara on the eyes. This is the makeup with gold dress that can be tried when you are wearing gold for the day time or are attending your prom.
So, which is the makeup that you would be trying with your gold dress? We are sure that we have given you ample amount of information on the makeup with gold dress and the related makeup ideas.