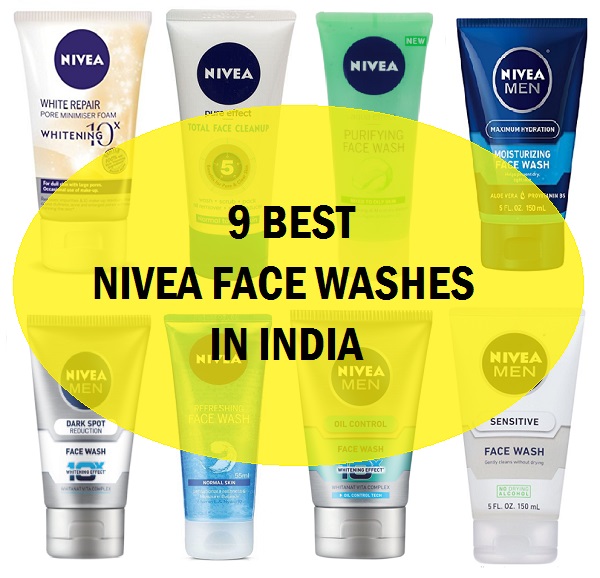 Best Nivea Face Wash Available in India. Nivea is a popular brand in India. This brand has been here since ages. I still remember using that Nivea cream which used to come in a dark blue round packaging. In this post, we have compiled a list of all the Nivea face washes which one can try and are available in India. These are the best Nivea face wash for men and women with different concerns like skin whitening, oil control, moisturization, acne cure etc. Nivea products are widely available in India and you can easily procure them. Even from the online shopping sites, these products are sold. Their products are formulated for a variety of skin concerns and the younger population is enticed towards these Nivea skin care products.
9 Best Nivea Face Wash Available in India with Reviews 
Here are the top Nivea face wash and face cleansers in India along with reviews and prices. Do check out and pick as per your skin condition and skin type like for oily skin, dry skin, sensitive skin etc. For men as well, Nivea makes several products and face washes under the range Nivea for Men.
1. Nivea Total Face Cleanup Face Wash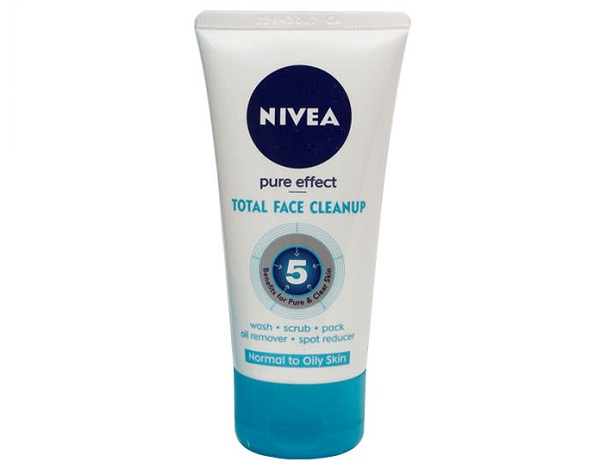 Nivea total clean up face wash is rich in the magnolia extracts that is considered good for the oily and combination skin. This is not just a face wash product but a face cleanup product. We had shared how you can do a face clean up at home earlier. So, this can be at home clean up product which will wash, scrub and makes the skin tighter. The texture is white clay like and has an excellent oil absorbing power. This helps to squeeze out the traces of sebum and oils from the face.
How to use this:
Just splash some water on the face and then take around a dime size of this clean up.

Rub this all over the face and then massage.

This will also scrub the dead skin cells that makes the skin unsmooth.

Wash after 1-2 minutes.

It can also be used as a face wash twice in a day but reduce the quantity and as a Scrub 3-4 times a week and as a facial pack 2-3 times a week.
Suitable for
Oily and acne prone skin type
Price
50 ml for 120 g
2. Nivea Refreshing Face Wash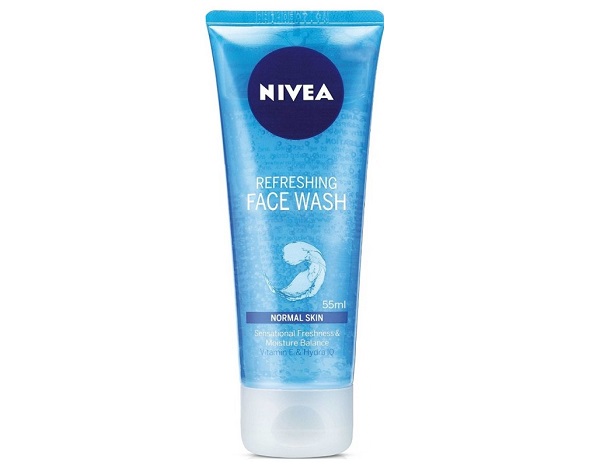 NIVEA Aqua Effect Refreshing Face wash is formulated for the normal skin type. This is rich in the vitamin E that moisturizes the skin and also Hydra IQ. It replenishes the skin's moisture levels. Refreshing Nivea face wash gives a boost of freshness and skin appears radiant with the intense moisture.
Pros
Has hydra IQ
Moisturizes the skin
Good tube packaging
Gel formula
Cons
Not for oily skin
Recommended for
Suitable for normal skin
Price
55 ml for 85 rupees
3. Nivea Purifying Face Wash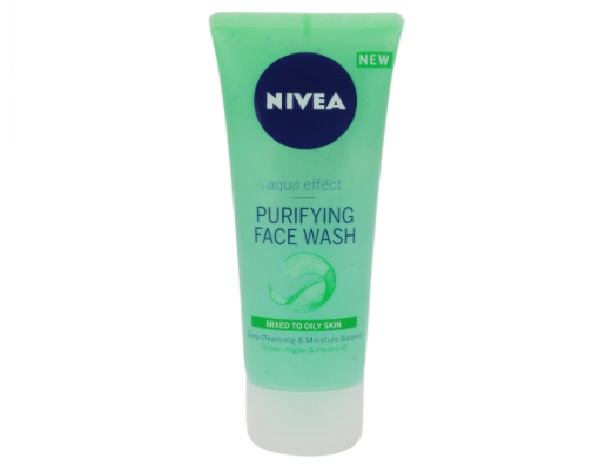 NIVEA Aqua Effect Purifying Face wash is designed for the oily and combination skin. The Nivea face wash is enriched with Ocean Algae and Hydra IQ. This means that this will control the sebum and also makes the skin free of oils. But when it works to get rid of the oils, it will not strip the skin from the natural moisture. Hence, this Nivea Face wash will not leave the skin dry unlike some other facial cleansers. Ocean Algae helps to revitalizes the dull and tired skin. It also performs deep pore cleansing which is an appropriate face wash for the oily skin and combination skin.
Pros
Has ocean algae
Does not dry the skin
Controls oils and sebum
Cons
None
Key Ingredients
Ocean Algae & Hydra IQ
Suitable for
Oily skin and combination skin
Price
85 Rupees for 55 ml
4. Nivea White Repair Pore Minimiser Foam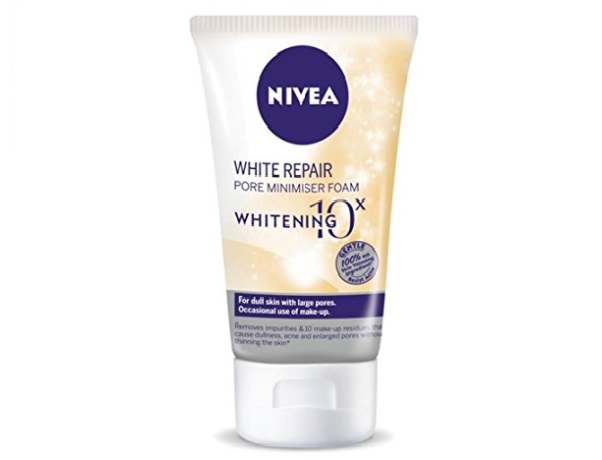 Nivea White Repair Pore Minimiser Foam is made for the dull skin. This removes impurities and also the makeup residues that cause dullness, acne and enlarged pores. It has the deep cleaning formula which has the pearl whitening complex. It provides the better whitening results than vitamin C. With all this you get a refined skin within a week's time. This cleanser is free of the silicone, sun filter, dirt, fragrance, minerals, alcohol, chemicals, talc and colourants.
Pros
Foaming formula
Lathers well for fully clarifying the skin
It has vitamin C for skin whitening
Free of harsh chemicals and alcohols
Ideal for dull and dark skin
Cons
None
Suitable for
Dull skin with large pores and Oily skin
Price
799 rupees
5. Nivea Men Dark Spot Reduction Face Wash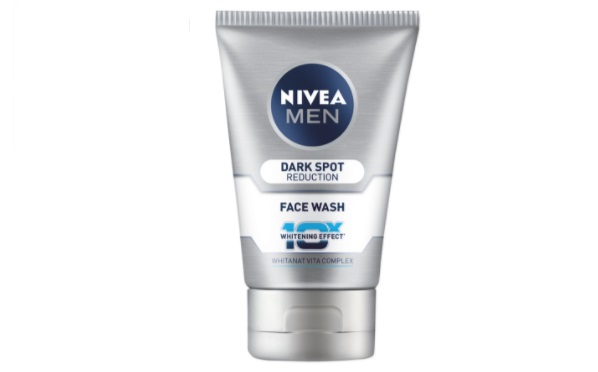 Nivea Men face wash is designed for men who have got the dark spots. This dark spots removal facial cleanser is suitable for men who have got blemishes and spots on their face. This is also ideal face wash for oily skin and also for men who have acne prone skin. This is laced with salicylic acid which further cures the acne problems.
Pros
Good packaging
Inexpensive
Treats dark spots and marks
Lathers well and keeps skin oil free for sometime
Easily available
Cons
Not for dry face
Recommended for
Men with oily skin and with dark spot problem
Price
95 rupees for 50 g
6. Nivea Men Whitening Oil Control Face Wash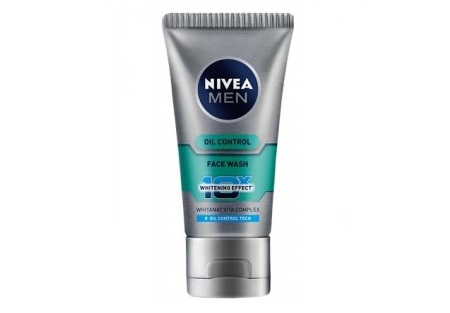 Nivea Men Whitening Face Wash Oil Control is especially made for the Indian men. This Nivea face wash comes with the presence of 95% Vitamin C that helps to mattifies pores without clogging them. It also cures the spots and whitens the skin complex with its powerful vitamin C content. This is a fairness skin whitening cleanser that will be appropriate for the all skin type. This is one of the best men's face wash.
Pros
Whitens the skin
Availability
Matte finish
Power of vitamin C to lighten the skin
Oil control features
Ideal for teenagers
Cons
Does not control oils for long
Recommended for
Men who wants fairness and all skin types
Price
95 rupees for 50ml pack
7. Nivea for Men Sensitive Face Wash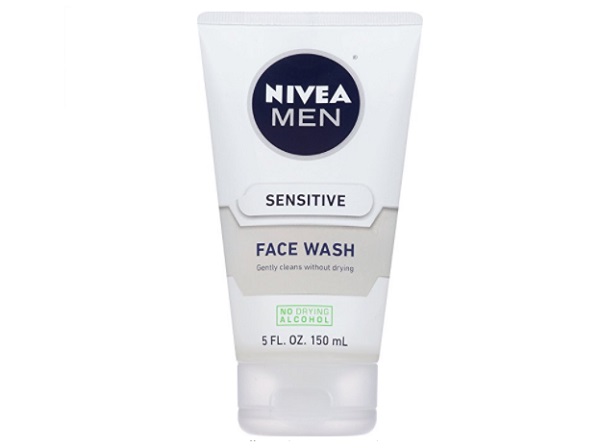 Nivea for Men Sensitive Face Wash is a non-drying Nivea face wash which is developed specially for men with sensitive skin. This face wash is a soap and harsh chemical dye free face wash. It does not have any drying alcohol. This facial cleanser is enriched with the Vitamin E and soothing Chamomile and Witch Hazel extracts. Witch hazel is ideal for oily skin and open pores. Therefore, this face wash is excellent for dry skin and normal skin.
Pros
Suitable for men's sensitive skin
Free of alcohol
Witch hazel and chamomile soothes the irritated sensitive skin
Cons
None
Recommended for
Dry skin and normal skin
Price
858 rupees
8. Nivea for Men Double Action Moisture Rich Face Wash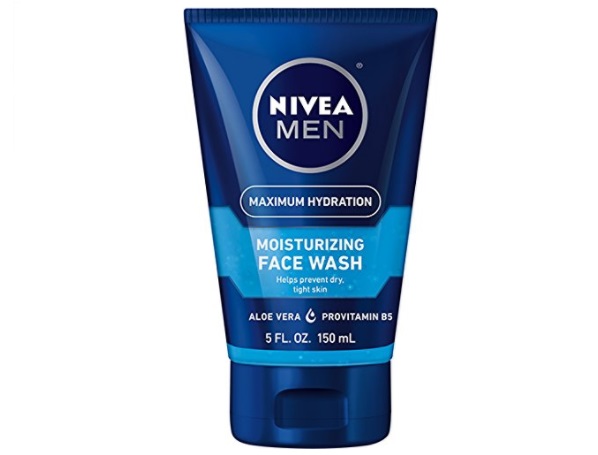 Nivea Men Original Moisturizing Face Wash has an effective gel formula. This is highly rich in the menthol and skin moisturizing Vitamin E. This helps to make the skin appear healthy. Double action face wash for men also contains the Provitamin B5 to improve your skin. This is also specially formulated to clear away everyday dirt without drying out the skin. It is also a soap free product. It is also a Dermatologist tested product.
Recommended for
All skin types
Price
770 rupees for 150ml
9. Nivea Men Oil Control All In One Face Wash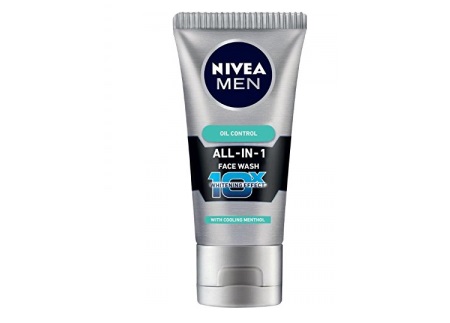 Nivea Men All in One face wash is a cool menthol face wash that is developed for the male skin. This facial cleanser is suitable for tough men's skin to get rid of those stubborn deep seated impurities. This will also help to even out the skin and prevent the acne and pimples. The cool menthol properties in this cleanser aid in controlling the sebum production and prevent acne. You can easily get a clear skin with the regular use of this face wash.
Pros
Easy to use
Menthol or cooling sensation
Gets rid of the skin impurities
Even out the skin tone
Cons
None
Recommended for
Men with Oily skin and acne prone skin
Benefits
Oil control
Price
99 rupees for 50g
So, these were the best Nivea face wash available in Indian market. You can try these face wash according to your skin type and availability in your area. The prices are quite on the affordable side so that even the teenagers and people who are on budget can use these.