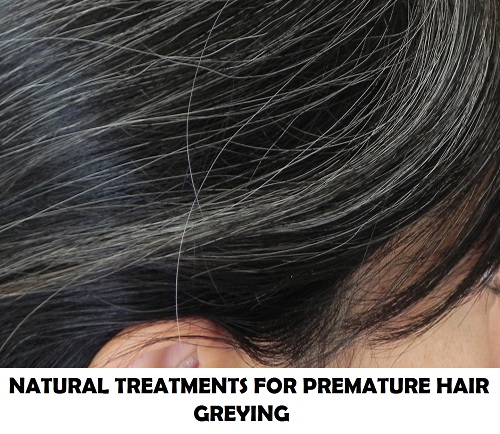 Natural treatments for premature greying of hair
When the hair strands turn grey/ white, it is regarded as a sign of growing old. These days even the young individuals like teenagers, children can notice grey hairs. For that premature graying of hair several reasons are to be blamed like stress, pollution, genetics, nutritional deficiency, smoking etc. Do you know that the same pigment, melanin that determines the skin color is also responsible for determining the hair color. Cells containing this pigment are present at the base of every hair follicle. Whatever may be the reason, premature hair greying can be prevented and stopped with natural remedies. These herbal remedies for premature hair graying are easy, costs less and have loads of benefits for the hair like other than preventing premature hair graying and turning the hair black naturally. These treatments will also make hair thicker, shinier and healthy looking.
1. Coconut oil with curry leaves for premature greying of hair
This is one of the best remedies to cure premature greying and retaining the lost pigment. This remedy makes the hair strands darker naturally. Curry leaves also known as kadi patta are used as flavouring in various cuisines but when it is used with coconut oil both these powerful ingredients make the hair healthier, thicker and darker. The treatment and preparation of this recipe is quite simple.
Take 2 cups of coconut oil and 3-4 curry leaves. Boil the coconut oil in a pan and put the curry leaves in it. Keep boiling it till the curry leaves turns black. Once it does, remove the curry leaves extracts and let the coconut oil cool which is now infused with curry extracts. Once it cools down. Massage the oil in the scalp and hair strands. Keeping it overnight is highly recommended. Store the rest of the oil in a plastic or glass bottle. The oil can be stored up to 3-4 weeks. As it contains coconut oil, it may turn solid in winters therefore, when you wish to use, warm up this oil in a small microwave safe container and use it to massage your hair.
This oil should be used at least 2-3 times in a week. This natural treatment can be used by men, women and kids who are facing premature greying of hair.
2. Onion with lime juice to cure premature greying of hair
Onion has sulphur content that is known to aid in hair regrowth in case of extreme hair fall and baldness. Onions benefits though are not limited till here onions can also help prevent premature greying of the hair and also bringing back the original pigment so that the hair look darker, like the same way they were earlier. This remedy will require Onion juice and lemon juice.
Take 2 medium sized onions and extract the juice out of them. Squeeze a lemon into it. Apply this on the scalp and hair. Keep it for at least 2 hours and then rinse off, shampoo using a mild shampoo to ward off onions smell.
3. Indian gooseberry (Amla) treatment for grey hairs
We have posted earlier about the importance and benefits of amla for health, skin and hair. One such benefit of amla that makes it a wonderful ingredient for healthy hair is its capability of making hair strands thicker, darker, and shinier. Amla can be eaten raw, in the juice form to reap its benefits for hair or used as topical treatments like hair oils, hair shampoos, hair rinse water etc. Here are two recipes on how you can use amla for curing premature greying of hair.
4. Amla powder hair wash for premature hair greying
This remedy is excellent to get healthy thicker hair and to get back the lost pigment to your hair. Take some dried amla. Take out the seeds from the amla fruit. Take 4 cups of water in a bowl and boil the water. Once the water is boiled put half cup of dried amla into it. You can also use amla powder in the similar manner. Let the water boil till the amla gets soft and pulpy so that it can be easily mashed. You can adjust the water in between though by adding more water.
Let the mixture cool down. Once it does, mash the amla which are now swollen with water. Mash them to make a pulp out of it. Now the water will get thicker as the amla is being mashed into pulp. You can add some more water, if the water is too less. Extras the water using a sieve. Use this water to gently massage your hair when you're in shower. Keep it for 15 minutes and then wash it off. Your hair can get slightly dry therefore use a mild conditioner afterwards only on the hair strands, not on the scalp. For men, there is no need to use conditioner as their hair is mostly short.
5. Coconut oil infused with Amla (Indian gooseberry) to make white hair darker
Take 2 teaspoonful of amla powder or less than half a cup of dried amla. Put 2 cups of coconut oil in a pan and put the amla powder or dried amla in the pan in the above mentioned quantities. Boil it till the amla turns very dark black and the oil gets muddy black. Let it cool down. Use this oil to massage the scalp and hair. This oil too can be stored for 3-4 weeks. Whenever you use it take some oil and warm it up so that while you massage, the hot oils can get absorbed by the scalp in a better way.
Both these remedies are easy and will help retain the original hair color of the hair. Indian Gooseberries, Amla are rich in antioxidants and vitamin C therefore, make sure that you eat some portion of this fruit or drink its juice daily to get the maximum benefits and stop the premature hair greying. Other than that it will take the skin healthy too.
6. Rosemary and sage for premature grey hairs
Rosemary known as mehendi leaves in hindi and sage which is known as Rishi patta, both can be extremely beneficial in treating premature greying of hair. They make hair darker and stop the hair from getting white.
One cup of rosemary leaves and one cup of sage leaves. Put them in 3 cups of boiling water. Boil them till the water gets half and the leaves get mushy with water. Let the mixture cool. Mash the leaves with your hands and then sieve the leaves extracts from it. You will get slightly thicker water, which you have to apply on the scalp and the hair strands for 2 hours. Wash them with water. Do not shampoo immediately. Shampoo the other day. Regularly with this herbal treatment makes white hair darker and stops premature hair greying. This should be tried 2 times a week.
7. Sesame seed oil, coconut oil and olive oil remedy to treat white hair
Oils have always been the secret behind beautiful hair. Sesame oil, coconut oil and olive oil concoction is a very effective remedy to get back the original hair color, stop the premature hair greying and to get shinier hair that are stronger at the roots. You will need three oils like olive oil, coconut oil and sesame oil.
Take one cup of all these oils and mix them in a bowl. Boil them and add 2-3 curry leaves into it. Boil the mixture, till the curry leaves turn red. When it does, let the mixture cool down. Store it in a clean bottle. This can be used for 3 weeks and should be used at least 2 times in a week.
The powerful oils that are high in vitamins, nutrients and the curry leaves will make the hair darker, stronger and prevent premature greying of the hair.
8. Coconut oil and fenugreek seeds for premature hair greying
You might be thinking that coconut oil is being used in most of the remedies. It's because coconut oil is great nutrient rich oil that has the great potential to make hair darker and stay stronger. For this recipe you will need 2 cups of coconut oil and half a cup of fenugreek seeds. Fenugreek seeds are also called as Methi dana in Hindi. Put the coconut oil in a pan and boil it, put the mentioned fenugreek seeds in the pan. Boil the contents till the fenugreek seeds get black in color. The oil will be slightly yellowish too due to the fenugreek seeds extracts mixed with the coconut oil.
Use this 2 – 3 times a week to get good results in your premature grey hairs. I also aids in to make white hair darker. The coconut oil infused with fenugreek seeds can beep for 2-3 weeks and the quantity that is mentioned above should ideally last for 7-8 usage, depending on the length of your hair. You can always make the oil again when needed. This remedy will soon get rid of the premature greying.
9. Mustard oil and Brahmi oil as premature grey hair treatment
Another useful natural remedy to reduce premature greying of the hair naturally and to help them retain their original color, is with mustard oil and brahmi oil. Mix both the oils and warm them up slightly before massaging them into the scalp. Use these oils to massage the scalp at night so that maximum benefits can be retained. Brahmi darkens the hair naturally and mustard oil makes the hair roots stronger.
Natural remedies to control premature greys are safe and cheaper. They have added bonus like healthy, shiny, stronger hair just like cherry on top other than soling the premature greying of the hair problem for you. All you have to do is to be regular ad consistent.