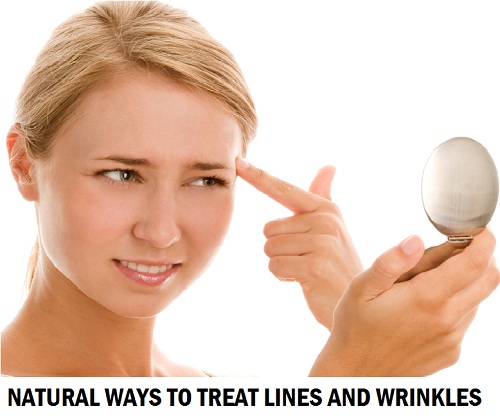 Home remedies to cure lines and wrinkles
Fine lines and wrinkle appearance is a part of skin aging. As we grow old, skin starts to sag, lines and wrinkles are formed which indicates that the skin is aging but at times due to ignorance, negligence, skin can show the signs of aging even when you're still in your twenties and early thirties. This is referred to as premature skin aging. There are certain things that one does like, skipping sunscreens, using unsuitable skin care products, harsh products on the skin etc, can be the possible reasons for skin's aging. Whether the skin aging is premature or as a part of growing old. Lines and wrinkles can bother you. There are creams and lotions available in the market to treat fine lines and wrinkles though nothing is safer and cheaper than the natural ways to cure wrinkles and fine lines on your face, hands legs and the body skin. Here are some natural ways to treat fine lines and wrinkles.
1. Almond oil for lines and wrinkles
Almond oil is a very rich source of Vitamin E which is beneficial for healthy skin and hair. Vitamin E reduces lines and prevents wrinkle formation n the skin. Almond oil is also rich in antioxidants. That is why almonds when taken internally also slow down the aging by reducing the free radicals from the body. Apply almond oil after coming out of the shower on the skin, to fetch good results especially in winter season, when the skin tends to get dry and scaly. Almond oil restores the moisture and hydrates the skin. Almond oil also prevents fine lines under the eyes. Apply almond oil daily before going to bed with gently patting to keep the fine lines away. Almond oil is also a natural cure to lighten the dark circles as well.

2. Aloe Vera gel remedy to treat wrinkles
Aloe vera gel has a healing and soothing nature. It helps fight acne pimples and keeps the skin hydrated. This actually prevents the formation of fine lines and wrinkles. Applying aloe vera gel makes skin plump therefore fine lines are lesser visible. Using aloe vera gel regularly will fade fine lines. Aloe vera gel can be applied on its own to massage the face and body or it can also be used as a body lotion when mixed with some almond oil. Here is the recipe for that:
Take a teaspoonful of fresh aloe vera gel and a teaspoonful of almond oil.

Mix it well and use it like a body lotion to treat skin's fine lines and to prevent the formation of lines.
This natural aloe vera gel lotion can be used by people with dry skin on the face as well though oily skinned ones should use it only on the body. This is really good natural remedy to treat fine lines and wrinkles.
3. Olive oil treatment for lines and wrinkles
Olive oil is a miraculous oil for both skin and hair. It is hypo allergic and suits all the skin types. It contains strong antioxidants, vitamin E and Vitamin A that are essential for cell repair and skin renewal. Olive oil has polyphenols as antioxidants that minimizes the damage of the free radicals. Olive oil's emollient property makes skin smoother, radiant and treats lines and wrinkles.
Apply olive oil on the skin to prevent wrinkle formation especially when the dry is dry. Olive oil can also be a good eye makeup remover that keeps the under eye area hydrated. Olive oil can be mixed with Avocado oil. This concoction is excellent to massage the skin.
4. Honey to cure lines and wrinkles
Honey is antimicrobial and is a natural moisturiser.  Do you know that honey rejuvenates the skin, revives and keeps the skin youthful? Its anti aging properties are widely known. Honey fades lines and wrinkles. It can be used as face pack or applied on its own. Honey also keeps the skin moist when mixed with some glycerin and used as a pack on the skin for 10 minutes your dry skin will love this remedy. Honey with multani mitti (fuller's earth) tightens the sagging skin. Skin looks plumper and younger when the lines are less visible. It also gives moisture due to which skin appears young and plump. Here's how to preapare:

Take one teaspoonful of honey and one teaspoonful of Fuller's earth.

Mix both of them well in a small bowl.

Apply this on the face and wash off after 20 minutes. Notice the instant youthful glow.


Repeating this 2-3 times a week will fetch good results.
5. Egg white to treat wrinkle and lines
Egg white is known to tighten the skin when used as a face pack/ mask. It minimizes the appearance of fine lines and wrinkles. Egg face pack also boosts the blood circulation in the skin and gives a mini massage to the skin. This makes skin radiant and glowing. Preparation of egg white face mask is very easy. Here are two recipes to prepare anti aging egg face pack to treat wrinkles and fine lines on the face.
Egg white and gram flour face pack to cure line and wrinkles
Take egg white in a small bowl and mix some Besan (gram four) into it.

Adjust the consistency and add more gram flour if needed.Keep the paste tad thicker.


Apply this on the clean face. Let it dry completely and wash off with tepid water.
This face pack is excellent to tighten the skin. It reduces the appearance of fine lines.
Egg white and honey face pack for dry skin to treat fine lines
Honey and egg white both are ideal ingredients to tighten and keep the skin plump. When the skin is supple, plump and hydrated, the lines appear less and the skin aging is also delayed as mentioned earlier.
Take egg white in a bowl and add equal quantity of honey into it.

Mix it well and apply on the face. Wash off after 20 minutes.

Do this 2-3 times in a week.
6. Grapes for wrinkles
Grapes are known to treat lines and wrinkles from the face wonderfully. this is due to the presence of alpha hydroxy acids present in the grapes, that exfoliates the skin gently. it also enhances the skin's elasticity. It can be either used as a face pack mixed with some other product or just its juice on the face to reap the anti aging and skin tightening benefits. Grapes juice tightens the skin and reduces the lines.
Cut a grape into half and apply it all over the face.

Keep it for 15 minutes and the wash off to reveal a glowing skin naturally.
7. Sesame seed oil for lines and wrinkles
Sesame seed oil is yellow colored oil that is very rich in the Vitamin E and other antioxidants. Antioxidants are associated with skin aging when they come in contact with the sun rays. Sesame seed oil heals, hydrates and replenishes the lost moisture back in the skin. Skin appears smoother and radiant. Sesame seed oil is also regarded as a natural sunscreen for the skin. It contains palmitic acids, linoleic acids along with Vitamin E, repairs damaged skin cells. This oil is wonderful to slow down the skin aging, formation of fine lines and wrinkles, dark spots reductions. With regular usage sesame oil tightens the skin and lines are lesser visible.
8. Avocado oil for wrinkle prevention
Avocado oil bears the same texture, lightness and composition to that of the natural oils of the skin. It is non pore clogging, keeps the skin hydrated, nourishes the skin and treats lines. Applying avocado oil regularly everyday ensures that the skin remains tight and young for a longer time. It can be also used as a under eye moisturiser to prevent fine line formation.
9. Green tea for lines and wrinkles
Green tea is a rich source of antioxidants that flushes out the toxins and free radicals causing aging. A green tea face pack can help the skin to stay moisturised, toned and as a natural way to treat lines and wrinkles.
Take some green tea and put it in water.

Once the water gets infused with green tea, take that water and mix some Fuller's earth into it.

Use this paste on the face and wash off once it gets dry.
These were the treatments to cure fine lines and wrinkles under the eyes, jaw line, near the corners of the moth, hands, legs, neck etc. Make sure that the oils mentioned above should not be used on the face if you have combination to oily skin since they have some comedogenic rating, hence can block the pores though they can be used for the rest of the skin though these oils can be used for dry facial skin especially the almond and avocado oil which heal the dry patches.