How to care for silk sarees so keep them new for ever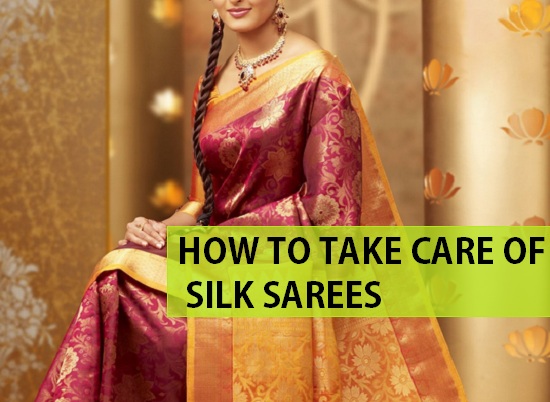 Silk sarees has their own charm and grace. There are mostly popular amongst the South Indian ladies who love to wear silk sarees. Silk sarees looks classy and elegant but they have to be taken with care as they are expensive. So in today's post on Tips and beauty.com we will share some helpful tips to take care for your silk sarees and to store them properly so that they look as beautiful as when they were new.
Silk Saree maintenance tips and taking care of silk sarees

1. Storing the silk sarees
Silk sarees should be stored or wrapped in a muslin cloth or a cotton cloth. This helps to keep the silk fabric rich and vibrant. Do not wrap then in the newspaper as the black ink from the newspaper can get smudged and stains the saree.

2. Sun drying
At times, when you keep your silk sarees for really long and have not used them, then you can feel that the saree can also a damp foul smell which comes like in the monsoon months. So, this will be good if once in a month, you let the dry in the sunlight. This will reduce the smell and any bacteria or germs can also be prevented.
3. Hangers for silk clothes
Silk can easily get stains so make sure you wrap them in muslin cloth. Moreover the hangers which have rust or are metallic should not be used. Wooden hanger are better for silk clothes. Also never store the silk sarees in contact with an embellished sarees as the sequins and beads can let the silk fibers comes out and rupture.
4. Washing the silk sarees
Silk sarees do not need harsh detergent. Use milk detergent and then rinse with cold water. Cold water ensures the color and fabric stay as rich and vibrant hence never use hot water.
5. Naphthalene balls
We use naphthalene balls to prevent the worms and any cloth termites to damage the clothes but they should not be placed near or on the silk sarees as that can make a faint stain. It is always better to tie naphthalene cloth in a cotton cloth and then keep under the clothes.
Washing and stain removal of silk sarees
6. Washing the silk saree
While washing you can also add some salt in the water and soak the saree in that. This will prevent and minimize the color bleeding while you wash.
7. How to remove stains from silk sarees and clothes
For stain removal from silk sarees and silk clothes. You should soak them in cold water. Then take out and apply some vegetable glycerin over the stain and keep it for an hour. This will minimize the stain.
If this doesn't work try a mixture of vinegar and water, both should be in equal amount, Put over the stain and wait for half an hour. The stain will get lightened.
If still you are not able to remove the stain and the saree is really expensive in that case, dry cleansing will be the best way out.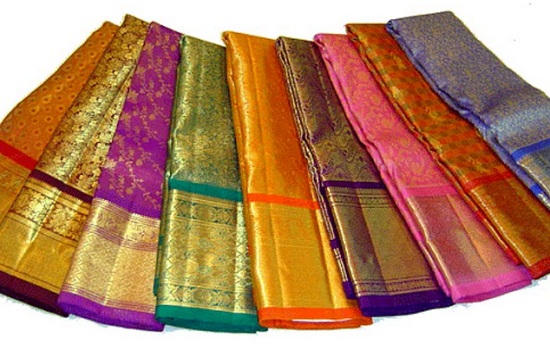 8. How to iron the silk sarees
First and for most thing that you should remember is to keep the temperature low as silk sarees more likely to get burnt or scorch with high temperature.. If you feel even the lowest temperature is high for that delicate silk saree, then put a thin cotton cloth and now swipe the iron over that cotton cloth.
9. How to keep the silk sarees shinier
To maintain the shine for the silk sarees, you can try to wash them as per the care and the tips mentioned above. Then as a last rinse take ¼ cup of water and put in half bucket of water. Put the washed silk saree and give that a last rinse with the vinegar water.
So, follow these tips to take care of your favorite and expensive silk sarees which can be your wedding Saree or a cherish gift from your loved ones. 🙂