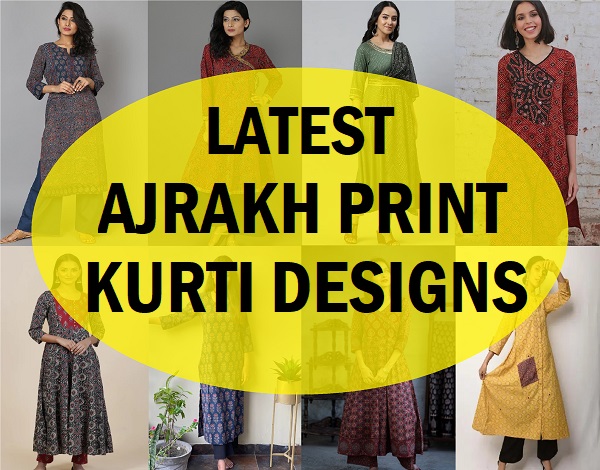 Ajrakh print is a unique form of block print in the form of tiles and motifs that are found especially in the fabric and craft products of Western India, Kutch, Pakistan and other parts of India. The entire block print of these beautiful designs includes both the mineral as well as the vegetable dyes. However, Indigo is the key dye in this Ajrakh print.  At the moment ajrakh print has been done using the artificial dyes as well. The original natural dyes that were used for the ajrakh print makes it quite expensive however to reduce the cost, the same print has been done using the other forms of cheaper and synthetic dyes. There are so many ajrakh print kurtis and suits available, which women can try. The other print dupattas and dress materials are also available. The other pattern and designs have bold geometric patterns in combination and the design actually repeats itself. The symmetrical patterns are made with the prints and dyes and mostly they have the dark blue Indigo background. However, because of the fusion and the combination of other forms of prints and patterns, the original craft have been evolved a lot. Let's take a look at the latest Ajrakh print kurti designs.
Ajrakh Print Kurti Designs
1. Straight Pocket Kurti Design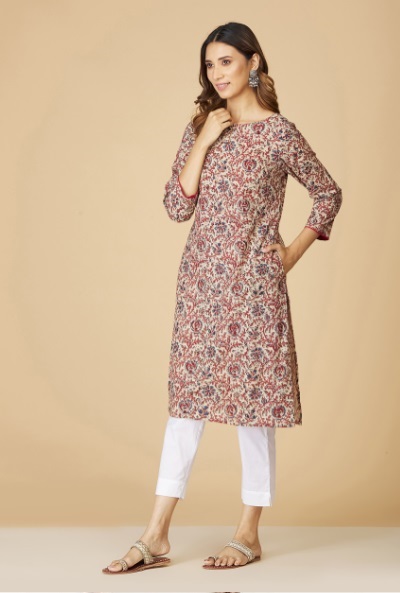 The kurti has pocket on one of the sides and it has boat neckline with the slightly full length sleeves. The pretty dress has beautiful version of print which makes it quite refreshing. This print is actually all over the kurti and it makes it gorgeously eye pleasing. The cotton kurti is surely a summer fabric which keeps you cool and easy breezy.
2. V Neck Long Frock A Line Kurta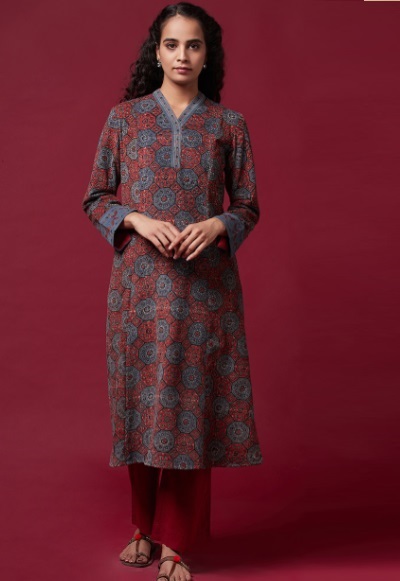 The A-line kurta has loose sleeves and is quite loose overall. It's not a well fitted kurta but it's an A-line kurta that has full sleeves and a big neckline.  This is also quite comfortable to wear, which is why even though it is full sleeves it can be worn during the summers as well as the spring season. Putting ona  nice pencil heel or the wedges will make the look complete.
3. Short Ajrak Print Tunic
The kurti has unique design which looks beautiful. The kurti has short length and it's more like a top. It comes with the folded three fourth sleeves and a V notch neckline.  Certainly, it can be used for creating the Indo Western fusion look and most importantly; this kurti also has the beautiful print that goes with different types of bottoms. Bell bottom pants and cropped trousers can look really amazing and well blended with this type of short tunic.
4. Printed salwar suit dress material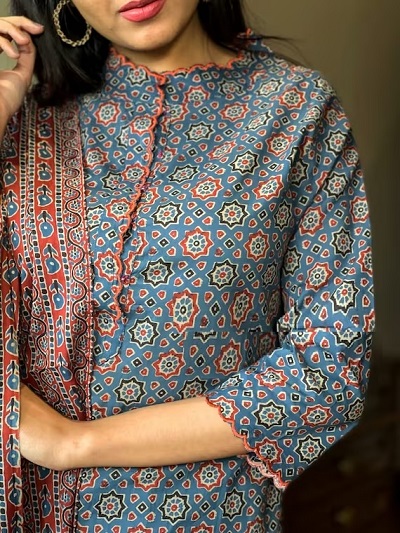 This is a gorgeous design where in the beautiful easy on the eyes block print has been given to the entire suit. It has embroidered scalloped neckline and comes with matching dupatta. This is surely a summer dress material and most of the women who would like to wear something formal for any occasion would definitely like it.
5. Long anarkali Ajrakh print kurta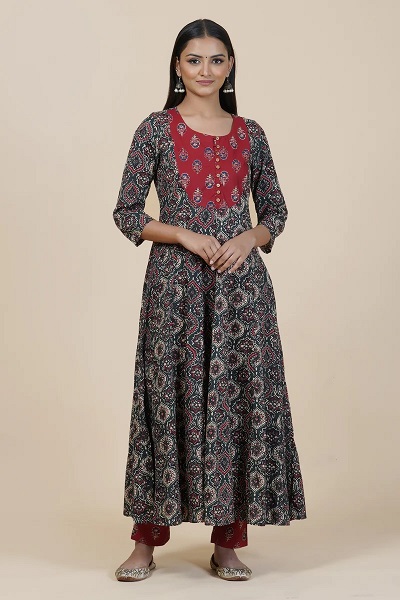 This kurti comes with a yoke design. The full sleeves kurti has an A-line pattern and is a long kurta. The Abstract print kurta is definitely a must have when you would like to try something which should be comfortable yet looks beautiful and formal. This kurti has a contrasting colored Yoke that has round neckline and buttons on it. Yoke patterns are pretty popular and therefore, we have seen that different patterns of yoke designs have been made.
6. Front pleated Printed kurta palazzo set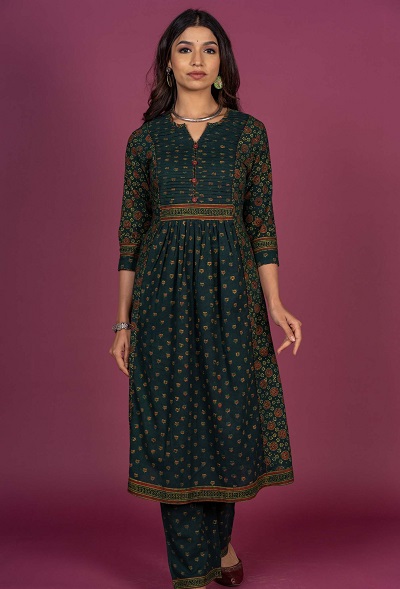 The ajrakh printed kurti palazzo set has a beautiful design and comes with front pleating. The kurti is surely a festive wear and party wear kurta for women.
7. Designer Pleated ajrakh Print Kurta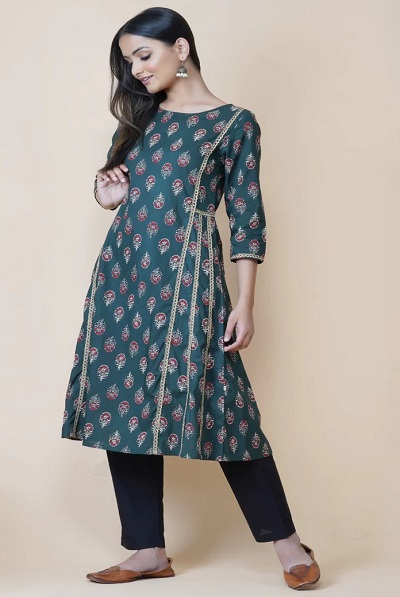 This is an A-line kurta with a direct print all over looks so captivating and attractive. It has panels and lace work on the sides which actually makes it so beautiful. Otherwise, it's an a-line kurta that comes with three fourth sleeves. The captivating kurti also has boat shape neck line pattern which makes it pretty amazing. Don't you think so? This could be is so versatile that it can be tried for office, college festivals and so on. Just by pairing up different types of bottom wear, you can do so much with this kurta.
8. Side Slit ajrakh Print Kurta Design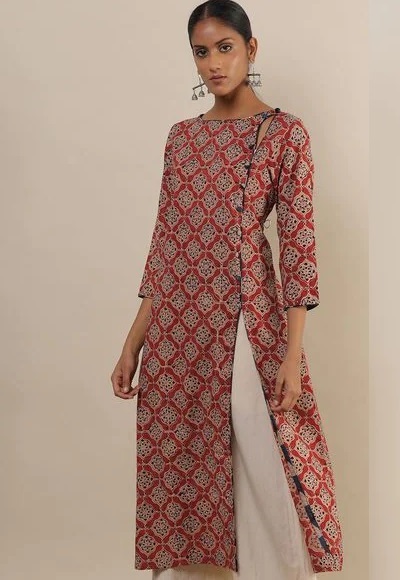 A side slit A-line kurta is the highlight of this dress. It comes with a keyhole pattern that is also on one of the shoulders. The boat neckline is quite high and it's not deep enough. The kurti is quite comfortable and when paired with the proper bottoms, it would certainly give this overall dress a festive look.  A clutch would be ideal if you would like to try it for the festivals.
9. Full length York print kurta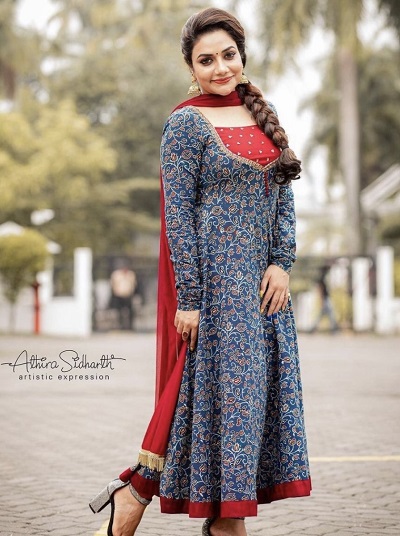 As we mentioned earlier, yoke pattern is very interesting and looks beautiful. This yoke pattern looks more like an inner and a jacket over it. It is full sleeves bearing full length. It is an Anarkali or an A-line kurta that has full flair. Certainly, it is a party wear kurta or kurta for the festivals.
10. Panelled stylish Yoke kurta design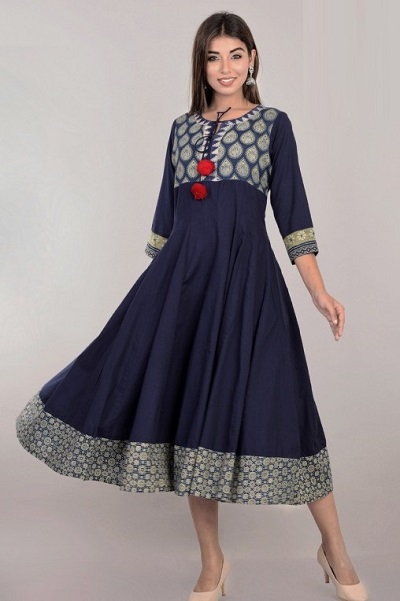 The dark navy blue kurta is ideal for festivals. It comes with the pom pom string and round neckline. For sure this kurti has an interesting pattern and looks beautiful when paired for the festivals. Loose fitted palazzo looks pretty and cropped trousers can also work beautifully. With this dress wedge Heels or stilettos would complement the best.
11. Stylish Centre Slit Kurti Design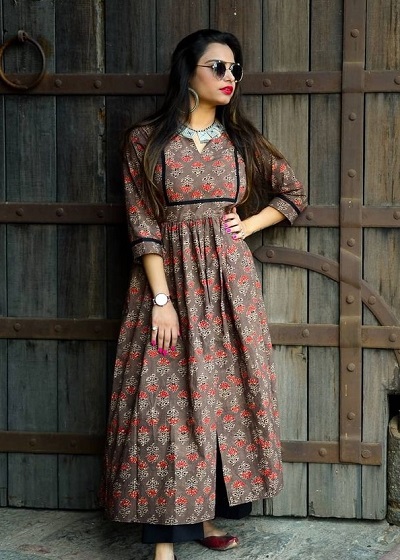 12. Full Length A Line Ajrakh Print Kurti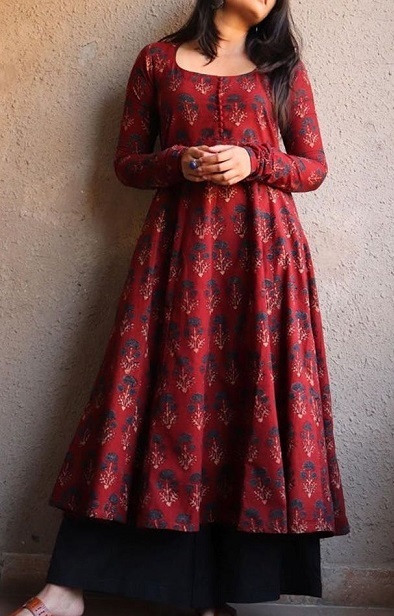 13. Button Work Straight Fit Kurti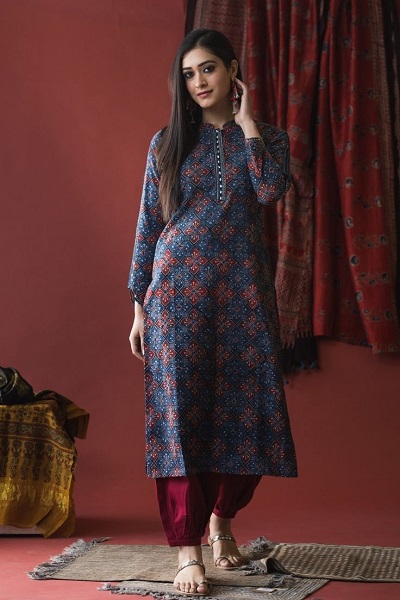 14. Centre Panelled Block Print Kurti Design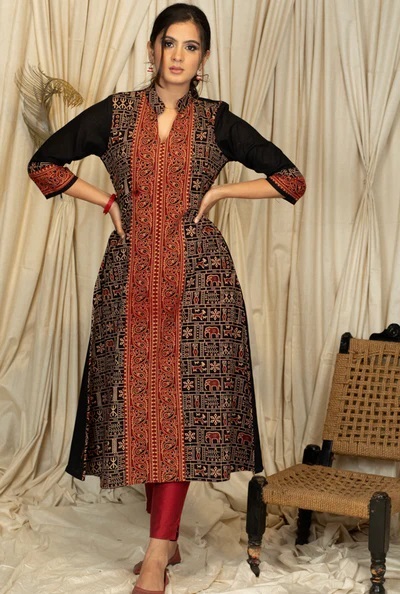 15. Colour Blocked Printed Kurti Pattern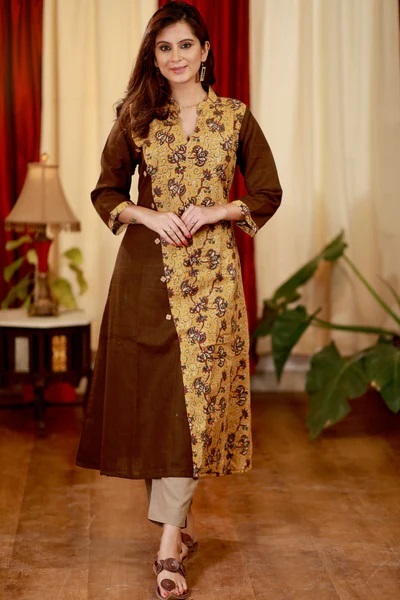 16. Straight Fit Ajrakh Print Kurta Palazzo Set
17. Anarkali Panelled Ajrakh Block Print Kurti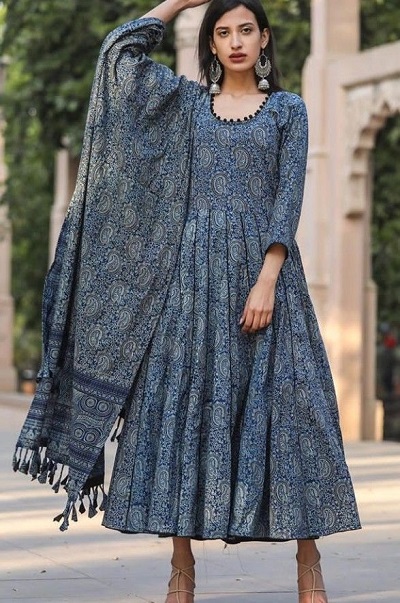 18. V-Neckline Ajrakh Kurti Design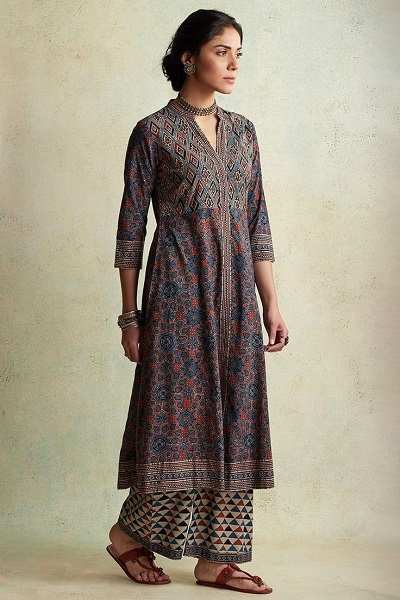 19. Formal Shrug Pattern Office Wear Kurti
20. Straight Print Office Kurta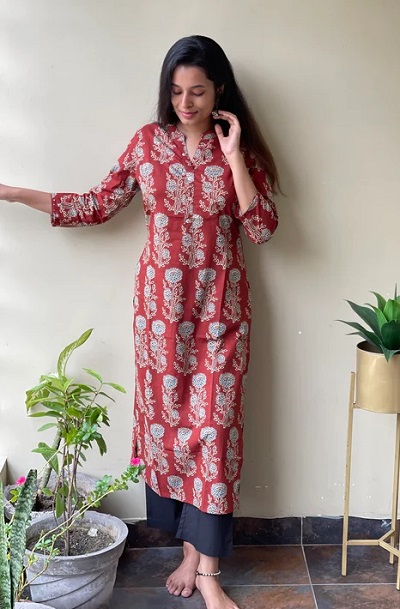 21. A Line Pocket Style Centre Slit Kurti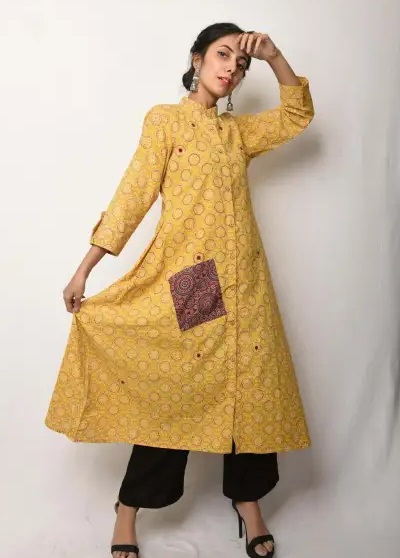 22. Sleeveless Angrakha Pattern Block Print Kurti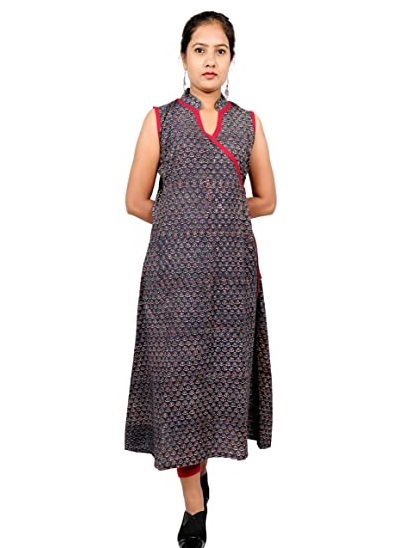 23. Sleeveless Jacket Style Kurti Design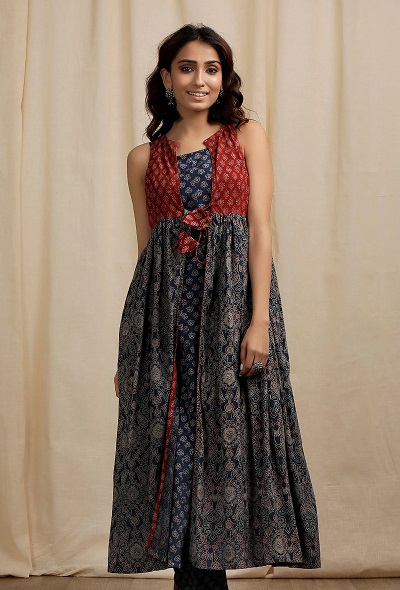 24. Ajrakh Print Jacket Shrug Kurti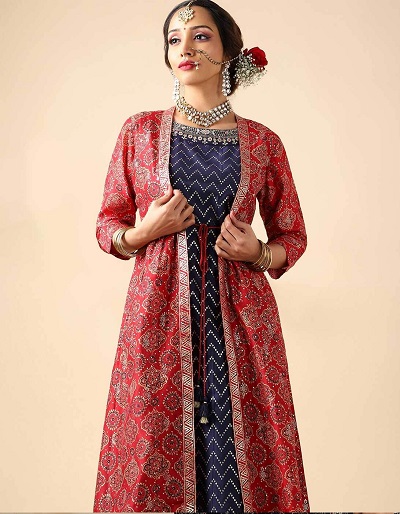 25. Summer Block Printed Kurti Design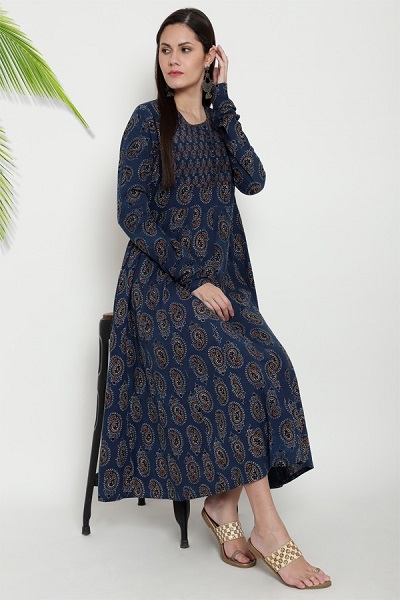 26. Boat Neck Pattern Kurti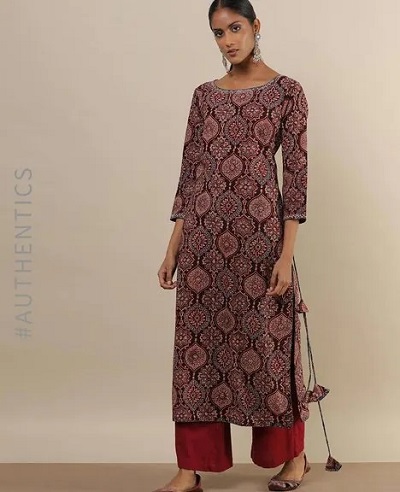 27. Yoke Pattern Block Print Kurti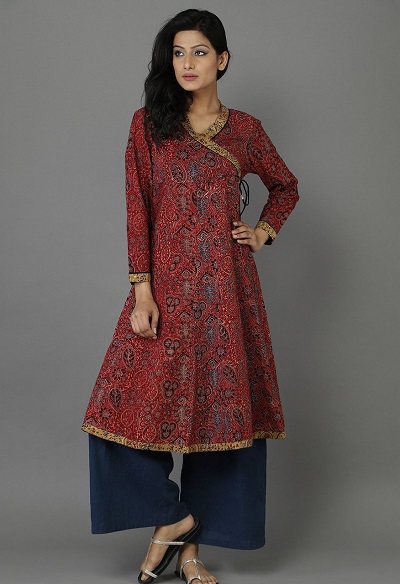 28. Pattern Yoke Design Kurti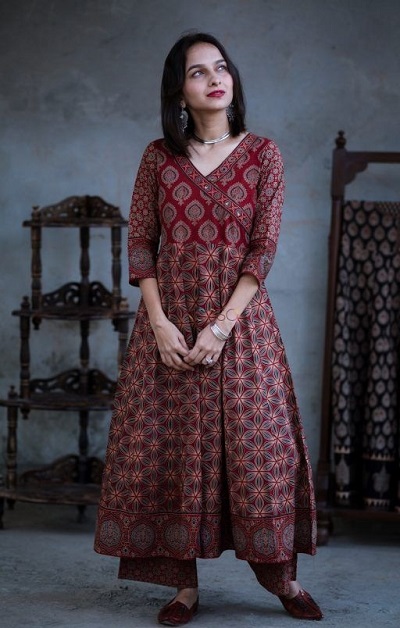 29. Angrakha Style Overlapping Kurti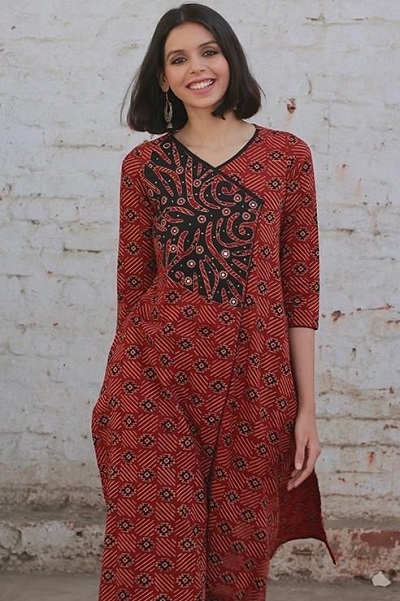 30. Blue Straight Fit Summer Kurti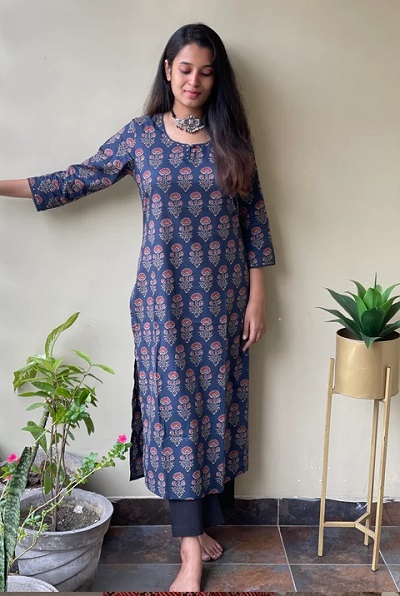 31. A Line Angrakha Style Short Kurti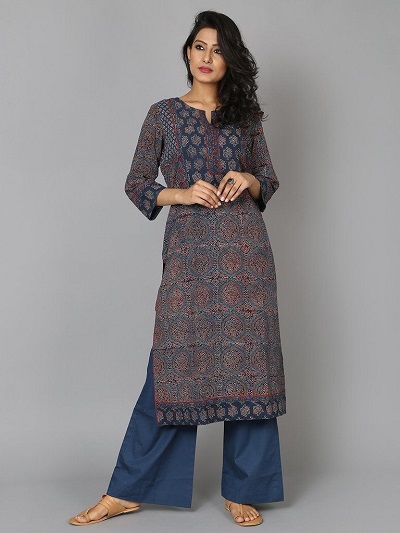 32. Jacket Style Long Azrakh Print Kurta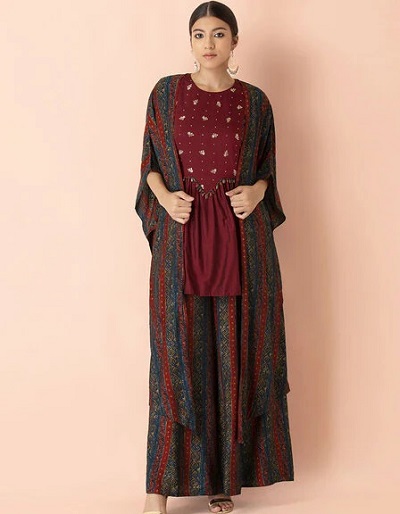 33. Designer Kurti For Parties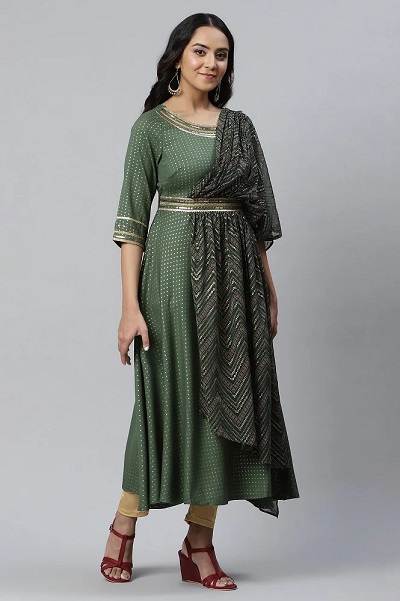 These are the latest Azrakh pattern kurti designs. This can be for the summer season as well as for the festivals and office wear.